The macroeconomic picture is looking increasingly bleak for XAUUSD, due to the following reasons:
First, we had a surprisingly hawkish Federal Reserve meeting in June, in which the Fed for the first time provided details on how they planned to go about normalizing their balance sheet, slated to begin in September. The hawkish tone gave a boost to the USD, and we now see the USD Index starting to rally from 96+ levels, around which it had consolidated for the past couple of weeks. Typically, a strong USD has proven to be detrimental to XAU prices.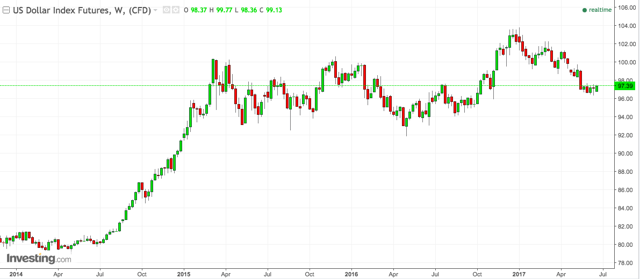 Second, the equity markets have recovered surprisingly well following the mini sell-off in the Nasdaq Composite on the 9th of June. The Dow Jones Industrial Average and S&P 500 have even gone on to make new highs since then, and chances are, the Nasdaq Composite will recover the losses and follow suit. Even when equity markets were wobbly following the sell-off, XAUUSD actually closed near the lows for the past 2 weeks. Typically, we should have seen a rally in safe havens like XAUUSD, but perhaps the selling pressure on XAUUSD was too great.
In the chart below, we see the Nasdaq Composite holding up pretty well following the sharp sell-off 2 weeks back. In such a risk-on climate, there would typically be less demand for safe havens like XAUUSD.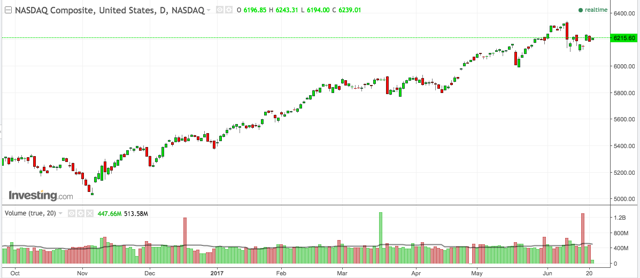 Third, from a technical perspective, we see a potential "double top" on the weekly charts just above 1,280, signaling strong resistance around those levels. Price action currently appears to be rolling over, along with the 50-period Simple Moving Average demarcated by the red line. Using a simple Fibonacci Retracement, we see price action has broken through the 50% level, and there is a strong possibility we could revisit 1,217 next, and 1,180 if the former support level fails to hold.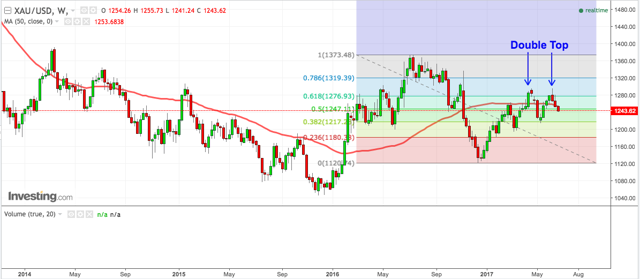 Lastly, I also note that XAUUSD is typically used as a hedge against inflation. Inflation levels have remained stubbornly low in developed economies around the world, save perhaps for the UK, which is currently observing a strong set of inflation numbers. Taking a look at inflation numbers coming out of the US from the chart below, inflation levels are arguably still relatively low at 1.9%. This speaks volumes about inflation levels in other economies considering the US is the only developed economy in the world that is on an upward interest rate trajectory.
Even then, there is debate amongst Federal Reserve members on whether inflation levels in the US are sustainable. Federal Reserve member Evans for one, prefers a more gradual pace of rate hikes given the recent soft patch of inflation data. According to trading economics, inflation level in the Eurozone is at 1.4%, and 0.4% in Japan - both anemically low. To sum up, inflation levels around the world are still on the low side, which should reduce the demand for XAUUSD as an inflation hedge.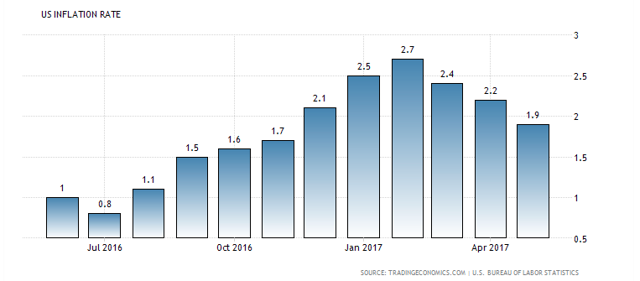 In conclusion, looking at the current macroeconomic picture, I strongly feel XAUUSD is looking at some very bearish headwinds. I suggest initiating a short position in XAUUSD at spot price of 1,243, with a stop loss just above 1,280 (where the double top resistance area is) and with a take profit at 1,180 (23.6% Fibonacci retracement level).
Disclosure: I/we have no positions in any stocks mentioned, and no plans to initiate any positions within the next 72 hours.
I wrote this article myself, and it expresses my own opinions. I am not receiving compensation for it (other than from Seeking Alpha). I have no business relationship with any company whose stock is mentioned in this article.