Good Fertilizer Makes For Good Crops... Same Goes For Stocks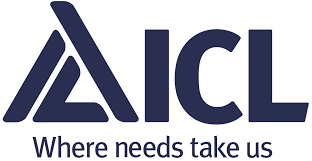 (Image Source: Wikipedia)
Israel Chemicals Ltd. (NYSE:ICL) appears to be finally sprouting and it may be time to consider initiating a position in this company. Israel Chemicals is a company based in Tel-Aviv, Israel, focusing on fertilizers and specialty chemicals. ICL is the world's sixth-largest potash producer and third largest producer of bromine. The company also has exclusive rights to extract minerals from the Dead Sea. The company was founded in 1968 and has over 13,414 employees. ICL primarily operates in three segments: Performance Products, Fertilizers, and Industrial Products. Performance Products produces specialty phosphates like phosphate salts, food additives, food grade phosphoric acid, wildfire safety products, and other chemicals. The Fertilizer segment produces standard, granular, white and fine red potash from three main sources; as well as produces phosphates, phosphate rock, fertilizers, and animal feed additives. The Industrial Products segment produces flame retardants, like brominates, and other chemicals.
Although the company is almost 50 years old, ICL has only been on the US exchange since 2014. The company has had a cold welcoming, dropping over 35% from its IPO price of $7.00 a share. A few other things worth mentioning: the Israeli Government holds a special state share in the company; Potash Corporation (POT), a competitor of ICL, also currently holds a 14% stake in the company but has no board seats. All's not lost for this stalwart, and on the contrary, I'd argue this company is just getting started. The fundamentals are looking positive so far in 2017 and the sector, in general, is getting favorable reviews. Consider adding this stock to your portfolio as a value and growth play.
ICL By The Numbers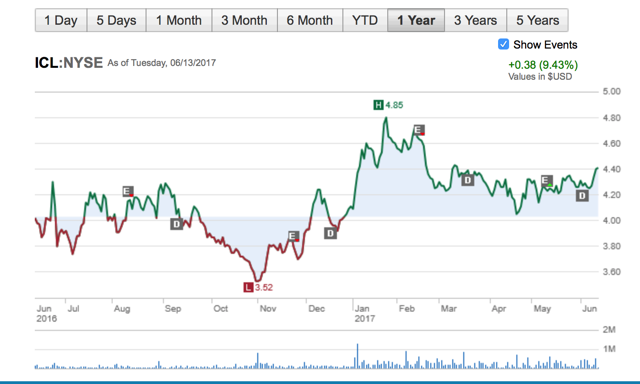 (Chart Source: Charles Schwab)
ICL reported first-quarter revenue of $1.3 billion beating the previous year's $1.27 billion. The company also beat Non-GAAP expectations by a modest 1.92% ($.053 vs. $.052). Profits, however, were down, reporting $68 million compared to $85 million the year before. The chart below in many ways represents a Rorschach test, in so much as you could argue successfully on both the buy side and sell side for ICL and its sector.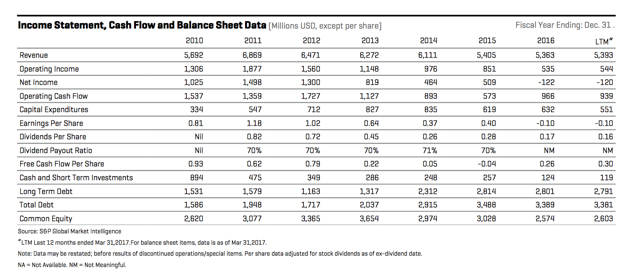 (Image Source: S&P Global)
Revenue, Operating Income, and Dividends had been declining for years starting in 2012. However, Long Term Debt has decreased the past two years, and Revenue and FCF have increased YoY.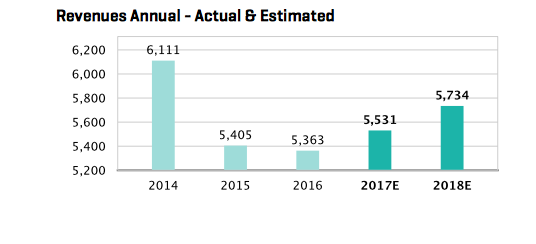 (Image Source: S&P Global)
As the chart above shows, S&P Global has reported that revenue for '17 and '18 shows a much more optimistic picture than '15 and '16. If the numbers are indicative of a pattern within the company, then revenue could be back to when it peaked in 2011 at $6.869 billion, and continue to grow from there, as the sector looks towards a healthy recovery.
Do Fertilizer Companies Still Stink?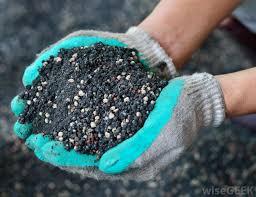 (Image Source: Wise Geek)
Agriculture companies seem to be just as much tied to global food demand and commodity prices as they are to the actual cost of the fertilizer they produce. There has been an excess of corn since 2013, causing the demand side to decrease, along with its prices and the speculation that the less corn and crops required due to oversupply, the less fertilizer required to create more crops. As seen on the chart below, the Fertilizer & Agricultural Chemicals Sub-Industry has underperformed the S&P the past twelve months by almost half.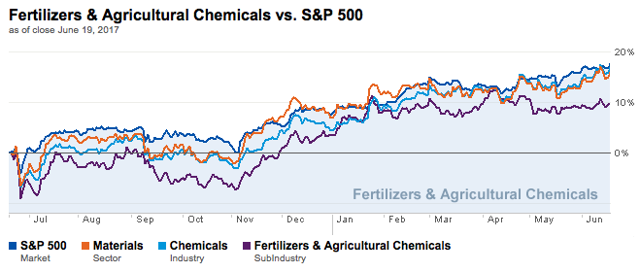 (Chart Source: Charles Schwab)
The three main commodities are corn, wheat, and soybeans. According to the USDA, farmers planted 88 million acres of corn in 2014-2015, 94.5 million in 2015-2016, and are forecasting for a drop this year down to 90 million. Soybean planting is forecasted to perform better with 83.7 million acres, up from the previous year's 82.7 million.
The eight major crops: corn, sorghum, barley, rice, wheat, cotton, soybeans, and oats are expected to see declines of nearly 5.2 million acres to a total of 248.9 million this year. The USDA, however, does see global growth in the developing countries and emerging markets, as their populations and economies continue to expand. Agriculture companies that can continue to pierce and develop these markets successfully will foster long-term sustainable growth. The unabating consumption of meat and the relative affordability of fertilizer prices compared to grain prices should also stimulate growth. As seen on the chart below, the fertilizer prices have begun to pick up since extreme lows in late 2016.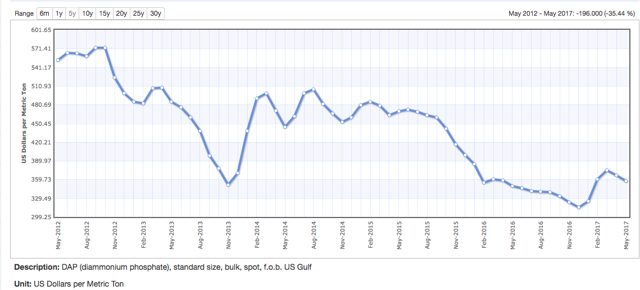 (Chart Source: Index Mundi)
Natural gas, which is a major component of nitrogen/fertilizer producers, has seen a considerable drop in price, prompting companies to consider expanding their production capabilities; and coupled with China's production cuts over the past few years, may spur more demand opportunities in North America. So suffice it to say, not all stinks in the sector, but it's not coming up roses just yet.
Tale of the Tape
ICL is in a unique position among its peers, primarily because it doesn't play by the same rules, in the sense that it is uniquely diversified outside of just fertilizers. ICL's CEO Stefan Borgas had this to say last year:
ICL's balanced business model continues to mitigate the impact of the downturn in the commodities fertilizers market. Our Industrial Products business achieved strong results, benefiting from higher bromine prices, strong sales of our next-generation polymeric flame retardants and from efficiency measures previously implemented, while our ICL Food Specialties unit experienced strong sales of dairy proteins and new blended solutions. We are now taking steps to strengthen our YPH phosphates joint venture in China, which was affected by weaker domestic phosphate demand and lower prices, by accelerating efficiency measures that will reduce YPH's labor count as well as its G&A expenditures and by establishing a marketing organization in China to improve the JV's phosphate sales volumes.

Company-wide, we have begun to implement an alignment of our corporate organization with our '2020-Next Step Forward' strategy to focus our capabilities based on business needs and to improve our execution capabilities and market orientation. The structural alignment will also create additional efficiency opportunities. In addition, our Board has adjusted the company's dividend policy to strengthen ICL's financial position amid the volatile situation we are facing in the agricultural commodities market. I am confident that these changes will strengthen the company and better enable us to meet macro-environment challenges while creating an optimal platform for growth."
This diversification appears to already be bearing fruit, as it is outperforming its peers the past year significantly.

(Chart Source: S&P Global)
To provide further context, I also charted Mosaic (NYSE:MOS), Potash Corp. and ICL over the past month. ICL (in blue) is much less volatile and continues upward mobility. While I personally hedge my bets in more ways than one (I own all three stocks mentioned), I have a higher position in ICL and do expect it to outperform its peers longer-term.

(Chart Source: Google Finance)
Final Thoughts
Israel Chemicals is not a tech company, nor a company that gets a lot of attention on Main Street or Wall Street. It's for that reason why I like it, and why I think it will continue to grow slowly until more people notice this company, and its sector can unlock true value that can be used as a hedge against riskier stocks in Tech or Financials. Zacks isn't in love with ICL and has it as a 4 on its scale. However, it also furthers my point about the value and growth play in regards to this stock, by issuing As for both. Unlike its peers, ICL is not entirely focused on the fertilizer/potash business which provides further share price stability with the cyclical nature of farm crop commodity pricing.

(Image Source: Zacks Investment Research)
The dividend payout ratio has hovered between 62% and 71% and stands at ~33.5%. The general consensus from analysts covering ICL is to hold, and this is usually the perfect time to buy in my opinion. This stock will not bring you double-digit returns for years to come, but you could be buying into a stable and tenured company, with a diversified portfolio and assets for the prospects of long-term growth. If the revenue trajectories play out as analysts predict, the company can easily climb back to its IPO price in the high $6s within 36-48 months (over 50% return) and from there it's anyone's guess.
If you enjoyed this article, please scroll up and click on the "Follow" button next to my name to not miss my future articles.
May your falling knives never cut too deep,
Remy Kouffman AKA The Knife Catcher
Disclosure: I am/we are long ICL, MOS, POT. I wrote this article myself, and it expresses my own opinions. I am not receiving compensation for it (other than from Seeking Alpha). I have no business relationship with any company whose stock is mentioned in this article.