The narrative in the oil and gas markets is "lower for even longer." I think that narrative is driven with a backwards view of the oil and gas markets, not a forward looking one. Those jumping on the downtrend now are short-term traders who think they can somehow outmaneuver supercomputers, hedge funds, prop traders and the traders who were in on the trade early. No, late comers to the downtrend in oil and gas stocks will get run over soon - just like every other late comer to an almost every other fundamentally questionable trend.
As I have been touching upon, I don't believe the hype of lower for even longer on oil. OPEC production cuts, over estimation of what shale can really do and the very real likelihood of intermediate term oil supply disruptions in the Middle East tell me that now is the time to fire with effect and buy oil stocks. Energy companies with solid financials, assets in the Permian Basin, natural gas assets to develop over time and a management that understands oil's future is no longer long-term, are the companies to invest in. Encana is one such company.
Throw the Book at Encana
Encana (ECA) is an independent oil and gas producer formed in 2002 from the merger of PanCanadian Energy Corp and Alberta Energy Company. The most interesting part of its early history was a brush with Enron (yep, that Enron) as part of a round-trip trading scandal. Today, through a long series of transactions, culminating in a transformative acquisition of Permian Basin assets in 2014, the company operates in what it calls its "Core Four" assets.
Financially, the company has undergone a major transformation the past several years. Management has sold assets to bring its total liabilities down to $8.17b ( just under $4.2b debt and $4b obligations) from 14.85b to end 2014. Earlier this month, the company sold another non-core asset, this time in Colorado to raise $735 million. This is the sort of transformation that highly leveraged companies like Chesapeake Energy (CHK), Whiting Petroleum (WLL) and Oasis Petroleum (OAS) are hoping to make.
The sale of Encana's western Colorado natural gas assets in the Piceance Basin appears to be another smart move by Encana management. While buyer Caerus Oil and Gas, LLC is excited about the acquisition, I question whether the assets can be fully developed or are developable at economic costs. While Enanca loses 3,100 active wells, I believe monetizing the assets and exiting Colorado is a smart move given uncertainty in that basin (BTU Analytics has written about the Piceance Basin on Seeking Alpha recently here and here).

The real theme with Encana is that their turnaround is now essentially complete from a strategic transactions standpoint. If oil and gas prices rise, the company's core assets will generate significant profitability.
The money from exiting Colorado will be used to further reduce debt as increasing production is coming out of cash flow at this point. In addition to the cash from the balance sheet, Enanca offloads $430 million of contractual pipeline commitments. The net benefit to total liabilities is over a billion dollars, or about one-eighth of liabilities in one fell swoop.
Prior to the transaction, Encana's price to book value had reached 1.2 and is now closer to one. Price to book ratios near one often imply a strong investment opportunity. It is important to know which direction book value is likely to head however when using this metric.

I believe that investors should expect that with the write downs of assets across the industry the past few years will reverse due to the prices of oil and gas do rise in coming years. As oil and gas prices rise, proven reserves increase and so does book value.
While predicting oil and gas prices is extremely difficult short-term, I believe the intermediate term trend will be back upwards. I base my opinion of oil and gas prices rising on the already in balance oil demand and supply picture, as well as, on my expectation that there will be at least some supply disruptions in the Middle East intermediate term that will weigh on inventories in oil which are 292 million barrels above the 5-year average currently according to the IEA.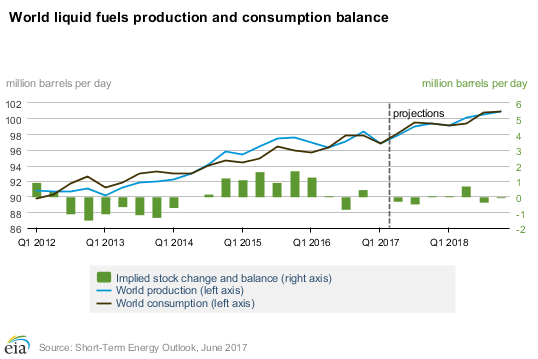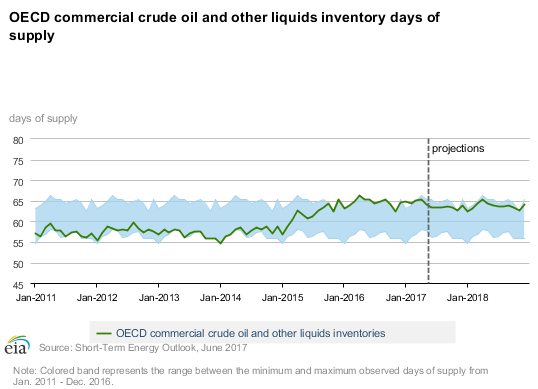 Encana's revenue the trailing 12 months was 3.46b and it's quarterly YoY growth rate was 72%. The company was cash flow positive in the first quarter at $106m, but did not turn in positive earnings. I believe the company is about to turn in positive earnings, possibly by Q3 2017 as reduced Colorada expenses impact the bottom line, but certainly if oil and gas prices in 2018 reach the high points of early 2017 again by then.
Much is dependent of course at the realized prices of oil and gas for Enanca. In this regard, Encana is in good position as it is strongly hedged per its Q1 report:

"As at April 26, 2017, Encana had hedged approximately 81,000 bbls/d of expected 2017 oil and condensate production for the balance of the year using a variety of structures at an average price of $51.33 per barrel (BBL). The company has hedged approximately 865 MMcf/d of expected 2017 natural gas production for the balance of the year using a variety of structures at an average price of $3.15 per thousand cubic feet (MCF). For 2018, the company has hedged approximately 31,000 bbls/d of expected oil and condensate production at an average price of $55.45 per bbl and approximately 500 MMcf/d of expected natural gas production at an average price of $3.06 per Mcf. "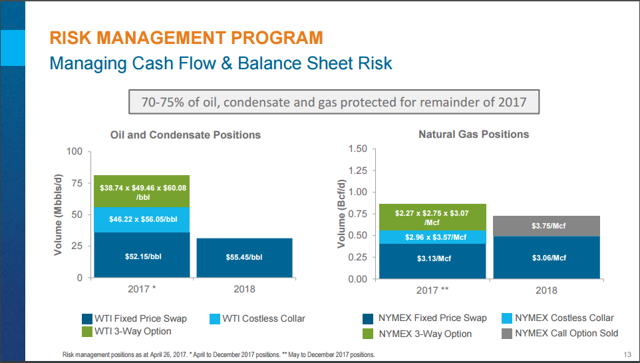 Again, if should oil and gas prices rise by 2018, then Encana is in a very good position. The company is forecasting Q4 2017 over Q4 2016 core asset production growth of 20%, and that is again out of cash flow, not debt like many companies are doing.
The company's goal is to double margin by 2018 through increasing liquids production. Again, if oil prices rise, the company's projections will be light and therefore exceeded. In my opinion, at this point of maximum pessimism, investors are getting an almost free call on rising oil prices in the intermediate term.
Encana's Core Assets are Excellent
Encana is able to ramp up cost effective production at due to the strength of their core assets. Their four core assets are a potential 12,000 well position in the Permian Basin, 650 wells locations in the liquids rich Eagle Ford, 1,000 well locations in the gas rich Duvernay and 9,300 well locations in the Canada's biggest natural gas play the Montney.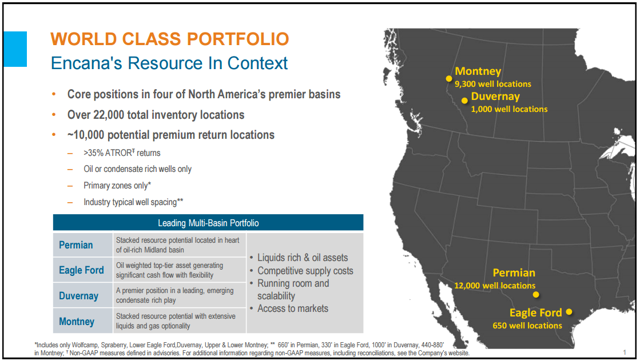 The company's position in the low cost Permian Basin is very important in the short run. With a fantastic position, the company is looking to expand on recent productivity improvements.
Encana has used a technique called "Cube" to to drive capital efficiency, boost well performance and grow its inventory. The technique is leading the company to expect 2017 completions to remain at level costs to 2016 despite oil services seeing significant inflation this year. Management further impresses with its focus on keeping expenses low in order to maximize shareholder value over time.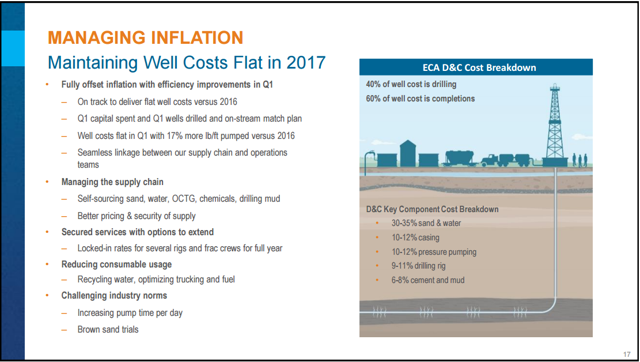 Execution at scale in the Permian is critical. With infrastructure going into the region the company is well positioned to succeed. It does have hurdles for storage at this point and is assessing its options. It will be important that the company not get into an onerous storage agreement. I don't believe it will as management has discussed the issue in their most recent conference call and did not come off as anxious.
Ultimately, it is my belief that companies focused on oil today, must be able to transform into natural gas leaders by the 2020s as coal continues to decline, electricity needs continue to increase in the Gig economy and alternative energy is still constrained due to storage issues. Enanca will be able to do that. It's position in the Montney in Canada is one of the best natural gas plays in the world. It is second only to the Marcellus/Utica region in the United States.
Encana is the largest Montney producer with core positions in the basin. The region is rich in condensates which carry some premium pricing value. The liquids CAGR should grow at about 30% through 2021 generating significant cash flows. Based on projections, the company expects approximately $6/BOE on 70Mbbls/day by 2019.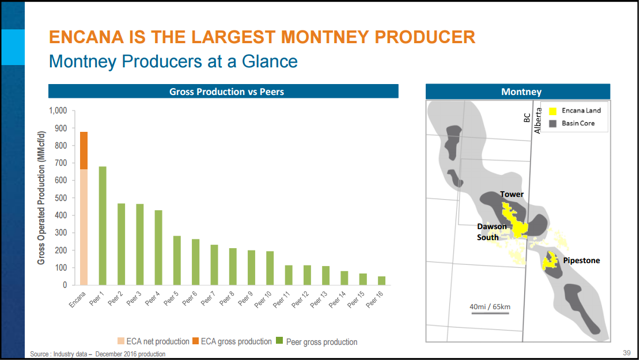 The company's infrastructure in the Montney is leading. Their ability to process and transport via midstream is strong. They maintain an agreement with Veresen Midstream which bought a portion of Encana's Montney infrastructure in 2015. The fee-for-service agreement is based upon a pre-agreed rate of return on capital that is firm for 30 years. The agreement does not contain a tradition take or pay obligation which gives Encana considerable flexibility and minimal obligations. This is of course important if the oil and gas pricing downturn persists.
Encana's Eagle Ford position might prove to be too valuable to somebody else to hold onto. So, while the company's current plan is to hold and develop the acreage, it could very well be sold at a premium price on an oil and condensate price spike. The Eagle Ford assets generate about $28/BOE operating margin at current hedged prices which is a premium return. The returns are driven by a combination of strong well completions and low expenses leaving an income margin of $14/BOE.
Duvernay is currently yielding strong returns as well, however, is a more volatile play. It has access to strong infrastructure to deliver natural gas to the midwestern U.S. and condensates to Edmonton. A subsidiary of PetroChina is involved in a joint venture with a 49% interest and a total financial commitment of C$2.18b. In 2017, Duvernay costs to Encana will only be C$95 million.
Last Trade Word
The bottom line for all of the oil and gas industry is that pricing power needs to return at least in some way. Companies that are in high debt positions will once again come under major pressure later this decade as bank lines and bond commitments come due if oil and gas stays cheap.
Companies like Encana, which have wisely delivered and focused on strong core assets, rather than chasing production growth as any cost will be the last men standing and winners. I can not sing the praises of Encana's management enough for recognizing the big picture in oil and gas.
I rate Encana stock a buy right now on the maximum pessimism in the oil and gas space.