The focus of this article is a broad view of key economic indicators in the following areas, with respect to U.S. Markets:
Employment
Yield Curve
Household Debt
International Economies
Housing Market
Equity Market Valuations
Auto Sales
Energy
Overall, the picture is mixed. Evidence suggests we are close to a downward correction in equity markets and/or a near-term recession.
Employment
Employment is one of the most broadly followed economic indicators in the markets. Once a month, the BLS and ADP give us a general outlook on employment with an unemployment rate and payrolls data. Buried in these reports, we can also see a more detailed look at whether the economy is at full employment with the government's U-6 report. On a weekly basis, some follow the initial unemployment claims reports.
The broadest measure of unemployment is showing top of the cycle metrics. The unemployment rate now stands at 4.3%. This is near lows seen in the past few decades.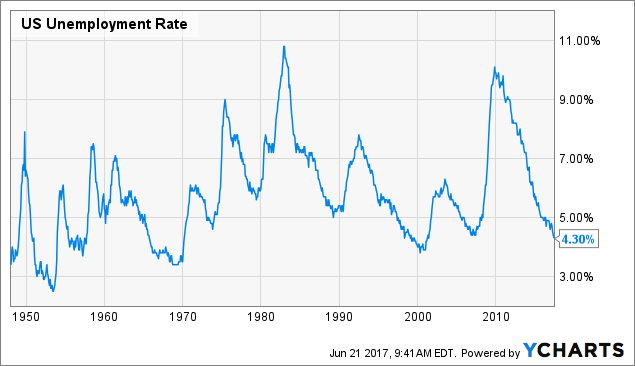 US Unemployment Rate data by YCharts
Job openings are equally strong, as you might expect. In fact, at 6.044 million open jobs in the United States, the level of open jobs is near 20 year highs.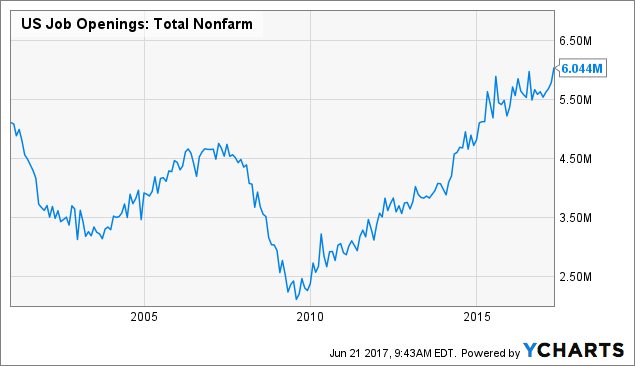 US Job Openings: Total Nonfarm data by YCharts
And the U-6 unemployment rate, which is a strong measure of full employment, is near levels seen before the last major recession, but not quite as low as the "dotcom" era.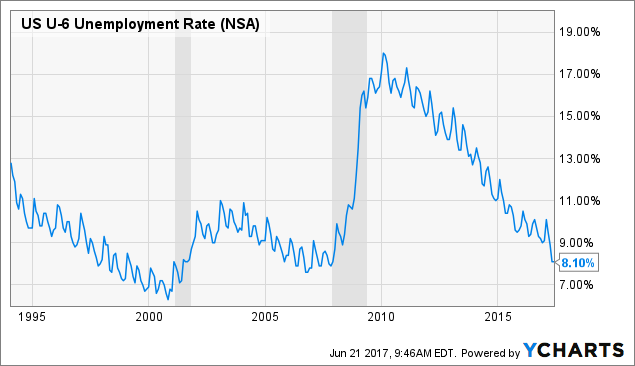 US U-6 Unemployment Rate data by YCharts
Initial jobless claims, unadjusted for population growth, stand near the lows of the 1970s. This figure has enjoyed an extraordinary streak of being less than 300,000 for more than 120 weeks.
US Initial Jobless Claims data by YCharts
Employment Outlook: A Little Too Rosy
Regarding employment, this may be the strongest picture of employment the United States will see. If you follow these indicators, you know that investing in markets when this picture is cheery will lead to jumping into the markets at exactly the wrong time.
Steer clear of index funds that track broad swaths of stocks like the SPDR S&P 500 ETF (NYSEARCA:SPY), PowerShares QQQ ETF (NASDAQ:QQQ), iShares Russell 2000 (NYSEARCA:IWM) and SPDR Dow Jones Industrial Average ETF (NYSEARCA:DIA). If a recession comes, the stocks underlying these investments may sell off. Recessions tend to follow periods of strong employment.
Yield Curve
The yield curve by itself isn't the best measure of the economic cycle. As the economy grows, the spread between long-term and short-term rates will narrow. This is partly due to the short-term end of the curve being controlled by the Federal Reserve, while the long-term end is free to move with market rates. So, a flattening yield curve is not always cause for alarm. It may indicate that the Federal Reserve is adjusting rates for inflation concerns.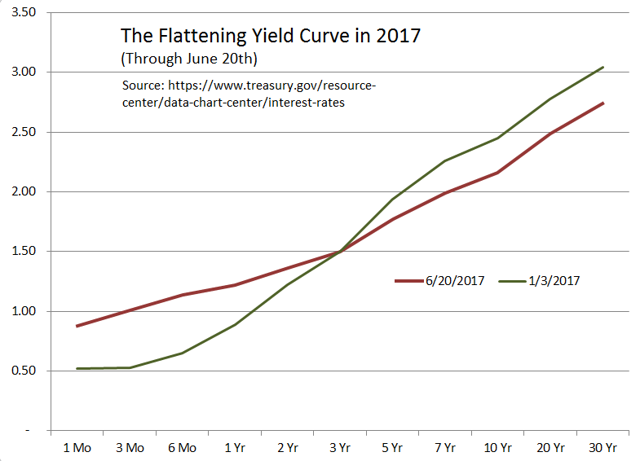 Yield Curve Outlook: Storm Clouds in the Distance
You will notice that the yield curve sometimes inverts during a period leading up to a recession. This is where investors should be concerned. Inversion of the yield curve happens after the yield curve becomes completely flat. In 2017, the spreads have consistently flattened. Watch for rapid changes in Treasury yields are a pre-cursor to yield curve inversion.
If the yield curve continues to flatten, then longer duration bonds will rally. The danger here is inflation, which the Federal Reserve believes to be a problem. If inflation is an issue longer duration bonds will eventually sell-off. Bond markets may be at the end of a historic cycle. Therefore, the outlook is unclear.
Household Debt
There are three broad measures of household debt that figure into the current economic picture, auto loans, student loans, and mortgage debt. As you can see, in the past ten years, student loan and auto debt growth has far outpaced mortgage debt growth. This is partly due to very tight lending standards for mortgages coming out of the financial crisis.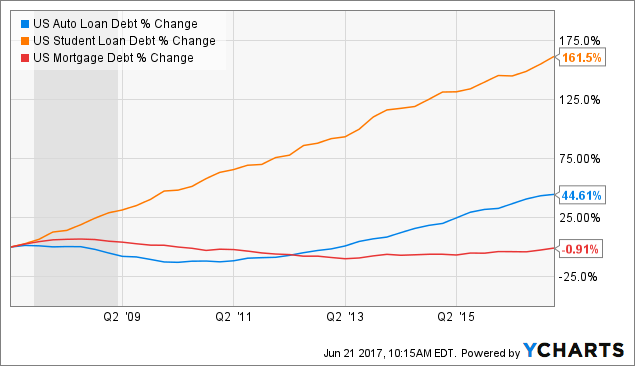 US Auto Loan Debt data by YCharts
Overall, the lack of mortgage debt growth has actually kept total household debt growth in check. This could be an area where policy makers could unlock additional economic growth through mortgage lending.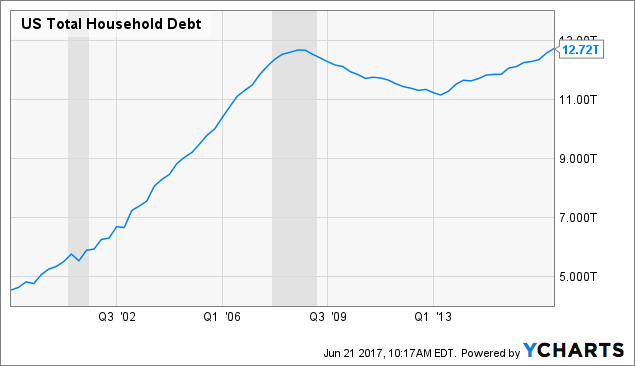 US Total Household Debt data by YCharts
The weakest debt area, auto loans, is showing danger signs. Auto loan delinquencies are rising. This indicates that lenders have taken too much risk and saturated the market with too much supply.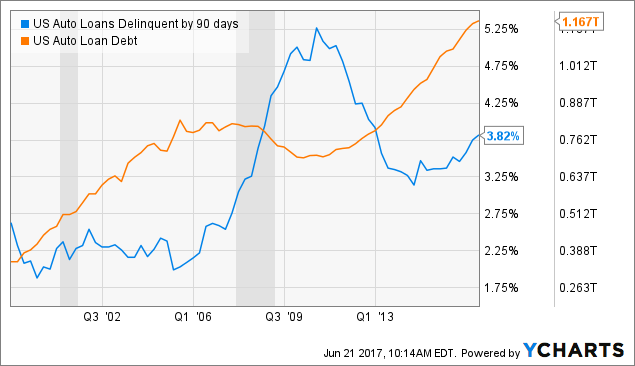 US Auto Loans Delinquent by 90 days data by YCharts
Student loan delinquencies are largely driven by employment. It appears that the strong economy is keeping student loan delinquencies from spiking. However, this might be an area of concern, given the growth in loans.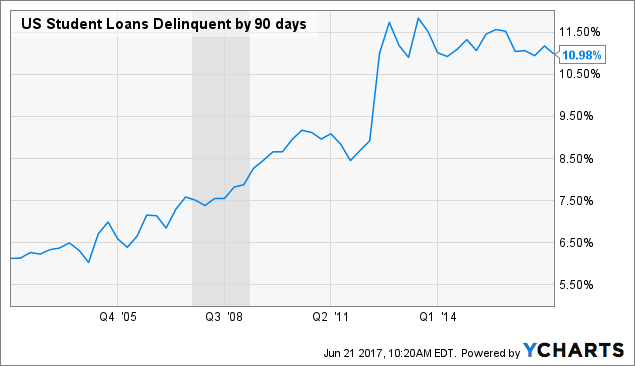 US Student Loans Delinquent by 90 days data by YCharts
Household Debt Outlook: Cautiously Neutral
If policy makers find a way to stimulate mortgage demand and production, especially in the non-prime area, some of this debt could be rolled into home loans, extending the duration. This could drive further growth. However, there are warning signals, especially in delinquencies. Even mortgage delinquencies are showing a slight uptick recently.
Another concern is the lack of any progress on GSE reform. Fannie Mae (OTCQB:FNMA) and Freddie Mac (OTCQB:FMCC) have been shrinking their retained earnings balance, but they remain dominant in the mortgage sector. This has exposed taxpayers to billions in potential losses, if the sector were to sour. By January 1, 2018, the companies are expected to be drained of all capital, despite the fact that they still have public equity. Nobody should expect taxpayers to bail them out again. The preferred shares of these companies remain an investment opportunity, but the politicians in D.C. only seem to act when things get really desperate.
There is an opportunity in smaller capitalization companies focused on non-QM mortgage production. One such company is Impac Mortgage (NYSEMKT:IMH), which will soon be in a position to securitize non-QM mortgage loans. There is tremendous growth opportunity in this segment.
International
Growth rates in the European Union remain strong with GDP growth topping 2.0% for the last two periods. This still leaves some room to grow though. It is unclear how the BREXIT will affect the EU GDP growth rate.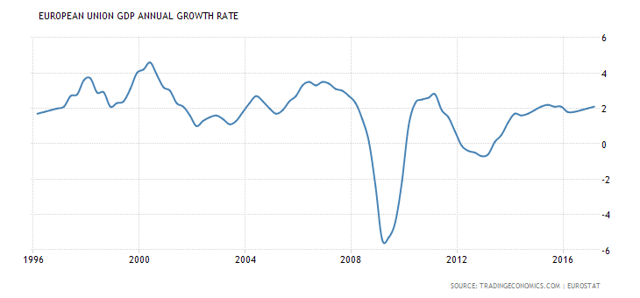 Meanwhile, Chinese GDP growth has settled in at about 6.6%. This also leaves some room for improvement, given China's historically large growth rate.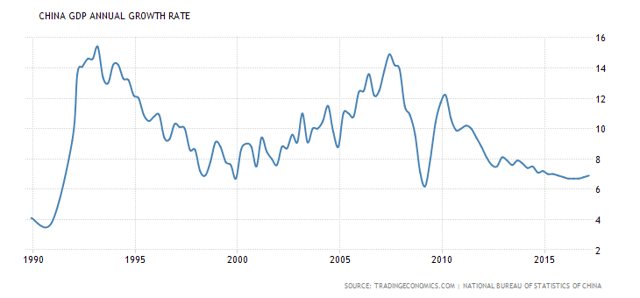 Japanese GDP growth remains anemic at 0.3%.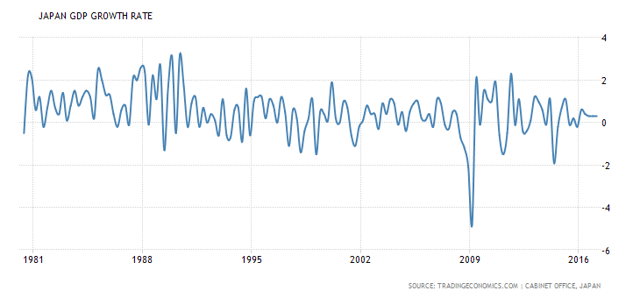 Central bank interest rates in Japan remain below 0%, while the European Central Bank has rates held steady at 0.0% and has recently hinted that they may extend Quantitative Easing.
International Outlook: The Grass Could Be Greener
With the Federal Reserve raising interest rates, shrinking their portfolio, and other central banks keeping things easy, the grass may be greener on the other side of the ocean. Currently, the U.S. is seeing an influx of capital. This could be why the bond market and equity markets have been rising in 2017. However, a stronger dollar and higher rates may eventually hurt the economy. Keep an eye on BREXIT too.
Steer clear of the major market indices, as outlined above. These are all over-valued.
Housing Market
The housing market may be a bright spot in the U.S. economy, along with mortgage lending, as mentioned above.
Housing starts have not recovered to previous levels. This indicates a lot of room to grow in this sector.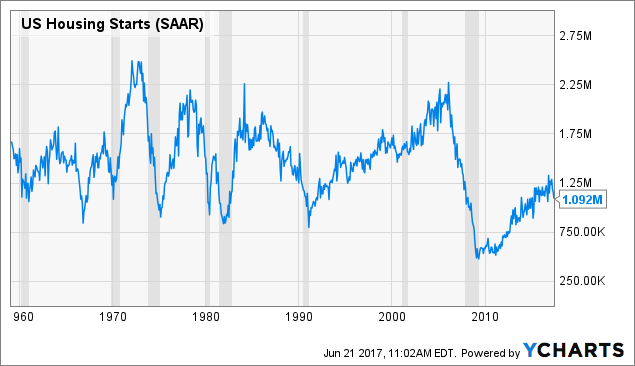 US Housing Starts data by YCharts
Residential construction spending is also far from previous peaks. Currently, the industry leaders point to a lack of available labor and land to make serious gains in production.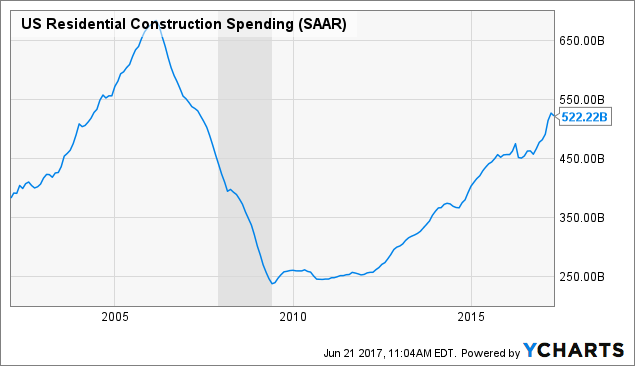 US Residential Construction Spending data by YCharts
Housing inventory has not recovered to levels seen 20 years ago.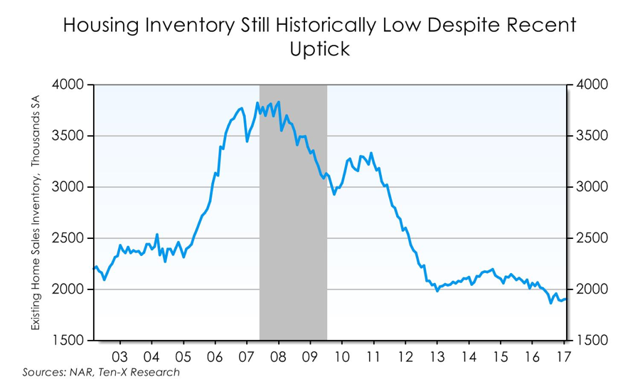 This is despite the fact that the U.S. population has grown by 13.91% since the year 2000. So, housing inventory in proportion to the overall population is at multi-decade lows.
Housing Market Outlook: Still Shining Bright
Growth in home prices should be expected to continue. If mortgage standards loosen, this area could spur growth though the entire economy.
The iShares US Home Construction (BATS:ITB) still trades at a decent P/E ratio of around 14. Recently, homebuilder components like Lennar (NYSE:LEN) have reported orders and backlogs that were up 12% and 13%. Meanwhile, the stock trades well below market multiples at a P/E of 15. If the market crashes, this would be an area to begin buying, especially given the lack of U.S. housing inventory.
Equity Market Valuations
Current equity market valuations are stretch. This is not really a subjective statement. The following graph shows equity market capitalization as a percentage of GDP.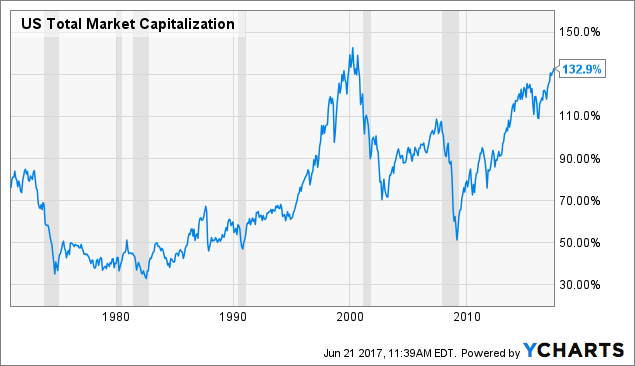 US Total Market Capitalization data by YCharts
The current expansive period of equity valuations matches a period of irrational exuberance seen in the past. It's not clear why investors are so excited. GDP growth is currently below 2%.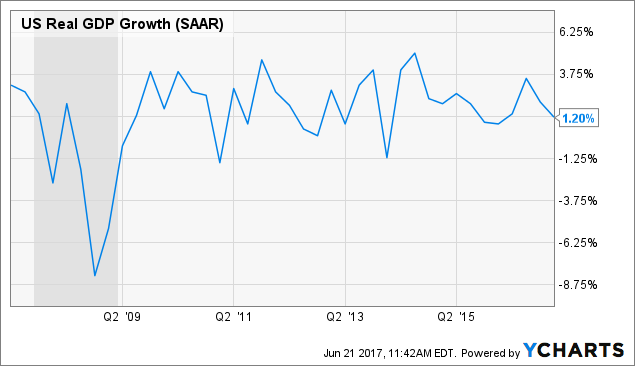 US Real GDP Growth data by YCharts
Legendary investor Jim Rogers was recently asked if the stock market is in a bubble. He said, "Of course it is" and "the worst crash in our lifetime is coming."
Meanwhile, Warren Buffett is sitting on $90 billion in cash. There's nothing else to say about that.
Equity Valuation Outlook: Red Alert
Follow in the footsteps of these legendary investors and hold cash. Or like me, take a small short position in something like ProShares UltraShort QQQ (NYSEARCA:QID-OLD) to hedge long positions.
Auto Sales
U.S. Auto Sales have been in decline for several years. This indicates that the sales cycle has topped out.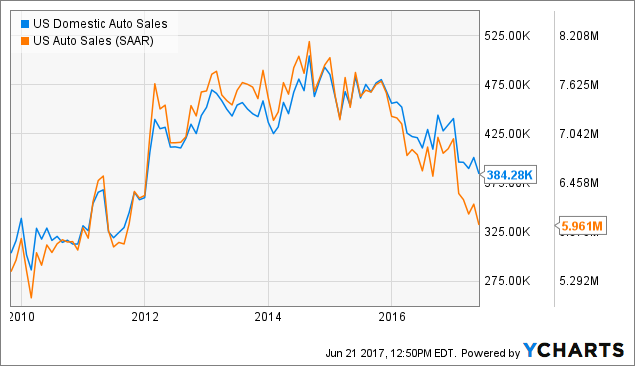 US Domestic Auto Sales data by YCharts
Meanwhile, auto inventories remain elevated.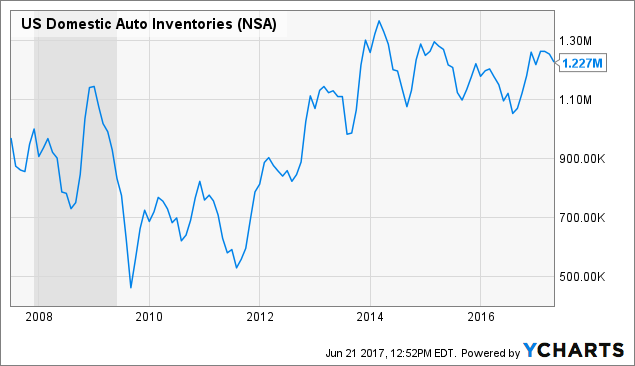 US Domestic Auto Inventories data by YCharts
The extra inventory comes with a cost and companies like General Motors (NYSE:GM) and Ford (NYSE:F) recently announced that they will extend their summer factor shut-downs to sell down inventory and even some layoffs.
Auto Sales Outlook: Simply Negative
These companies can't turn to 0% financing to push additional sales, especially true when the Federal Reserve is raising key rates. Avoid cyclical manufacturers that may be connected to this sector. This also includes companies like Toyota (NYSE:TM), Honda (NYSE:HMC), and even Tesla (NASDAQ:TSLA). Yes. Tesla is not immune to an overall slowdown in demand for automobiles.
In the next downturn, investors may want to consider a used car dealer like Carmax (NYSE:KMX) as a long position. The company has a great long-term growth trajectory and sells used cars even when consumers are wary of brand new options.
Energy
The boom in oil production in the United States has benefited the country by making the US a net exporter of oil. The added side effect was a significant drop in oil and gasoline prices. This culminated in market turmoil as oil prices dropped in late 2014 and early 2015.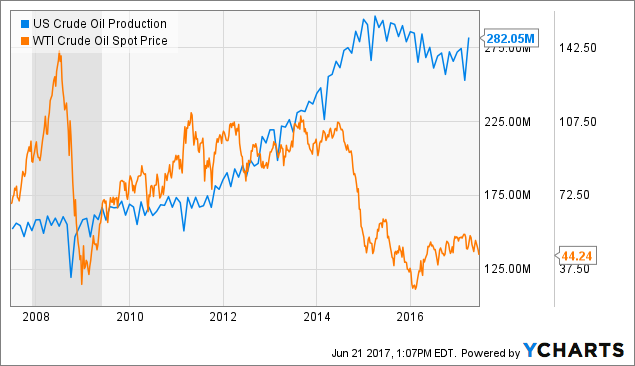 US Crude Oil Production data by YCharts
At that time, energy company dividends were cut and equities plummeted. Some companies have recently emerged from bankruptcy. Others are still struggling to regain lost ground.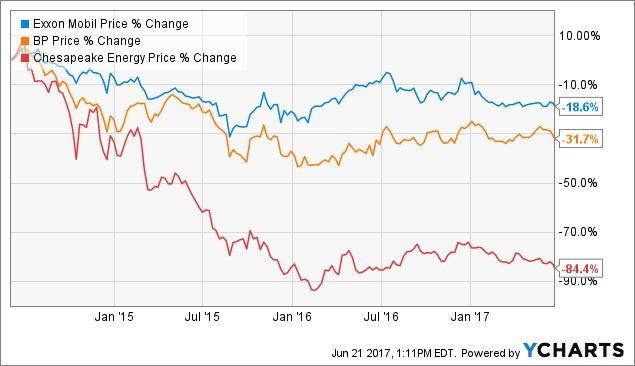 As a result of oversupply, rig counts initially dipped, but have been making a comeback for several quarters.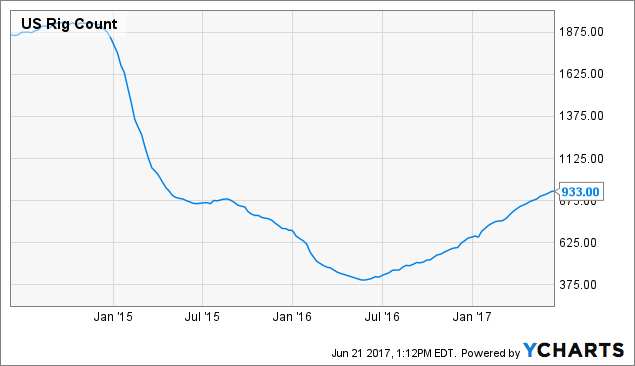 US Rig Count data by YCharts
More startling, however, is the growth in DUC wells (drilled but uncomplete wells), which continue to grow and cap the energy price recovery. Overproduction continues.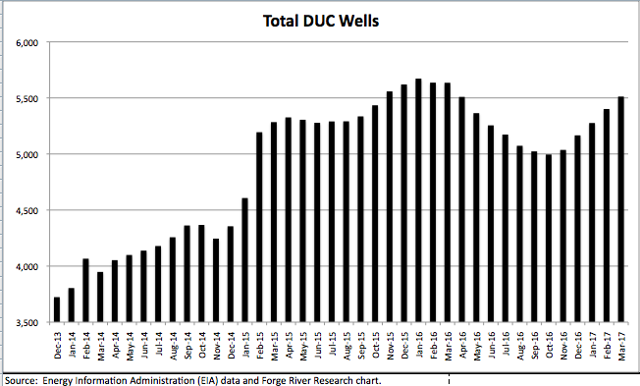 Energy Outlook: Still Negative
Expect energy prices to drop again. In the long-term, this will benefit consumers, but in the short-term, this creates additional deflationary pressures. This bubble in energy is beginning to look like the housing bubble due to the fact that the housing bubble took a few years to play out and the oversupply issue was fixed after a few massive bankruptcies. Who will go bankrupt? Not sure, but you may want to avoid some of the larger players in this sector until after the next recession chops down the valuations of companies like Exxon (NYSE:XOM) and BP (NYSE:BP).
Disclosure: I am/we are long IMH. I wrote this article myself, and it expresses my own opinions. I am not receiving compensation for it (other than from Seeking Alpha). I have no business relationship with any company whose stock is mentioned in this article.
Additional disclosure: It's my best intention to follow-up on these ten areas of the economy on a regular basis and publish that information on Seeking Alpha. Currently, I am long mortgage and housing related stocks and short the Nasdaq 100.