Ten years ago, the economic crisis was gathering pace and shares in the financial sector were in freefall. Since then, the fortunes of individual U.K. banks have been very mixed. These once-popular shares became pariahs that had no choice but to restructure and recapitalize. Plus they had to deal with various scandals and the challenge of low interest rates - and they still do.
So it's no surprise that financial stocks - especially banks - have been marked down by the market over the past decade. Until now, only hardened value investors have shown much interest, but that has started to change. A trend we're seeing right now in a number of shares across the financial sector is that they fit the investment profile of Turnarounds. It suggests that after a long period in the wilderness, some of these beaten up stocks are picking up momentum.
Banking on a recovery
One of the lessons of the credit crisis was just how difficult it is to understand banks and the assets they're exposed to. Take Royal Bank of Scotland (NYSE:RBS), which was a poster child for the crisis. Back in February 2007 it reported a record operating profit of £10.3bn and surprised the City with a 10% dividend hike. Even the write-downs RBS was making against bad debts in the U.S. mortgage market didn't seem like a major problem. Yet eight months later the bank essentially failed and was forced to take a government bail-out.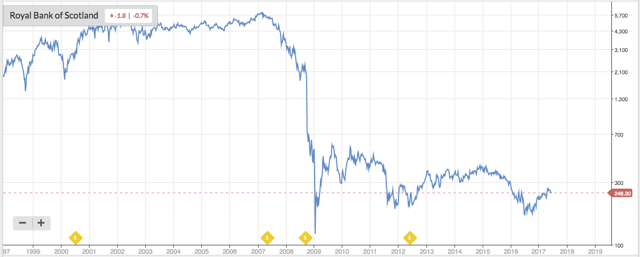 But RBS wasn't the only bank with problems - the stories across the sector are well known, and some still rumble on. For instance, Barclays managed to recapitalize itself with the help of sovereign funds in Qatar. But the details of those deals have come back to haunt it, and its former executives are now facing fraud conspiracy charges!
But while the credit crisis caused problems for many banks, one of the biggest pressures for the sector since has been low interest rates. A longer-for-lower policy by the Bank of England to stimulate consumer spending has been tough on banks' net interest margins. While rates have started to rise in the States, the U.K. is yet to follow suit.
But not all investors have been put off by these problems. Last September, Nick Kirrage who runs Schroders' deep value-focused recovery fund, told me why he was bullish on the outlook for stocks like RBS. He argued that their competitive and strategic strengths meant it was likely that some of these stocks will inevitably recover. Indeed, his top holdings currently include HSBC (NYSE:HSBC), Standard Chartered (OTCPK:SCBFF), RBS, Barclays (NYSE:BCS) and Lloyds (NYSE:LYG).
So while problems remain, there's a rough agreement that most banks are now in much better financial shape than they were. It's also seems that the Bank of England is walking a tightrope on interest rates, with all eyes on the impact of Brexit negotiations on the economy.
Trends among financial stocks
Bad behavior in the financial sector and the savage repercussions of the credit crisis mean it's a sector that divides opinion among investors like few others. Frankly, on a personal level, it's arguable that most people don't like banks much. But are they investable?
Right now, financial stocks - particularly those in banking, insurance and investment services - easily have a majority in the list of companies with the strongest blend of factors that point to them being Turnarounds.
You can find these using the menu in the StockRanks Portal (select StockRanks > VM Ranks and Style > Turnarounds).
Turnarounds are one of Stockopedia's classification of StockRank Styles. They're the shares with the strongest combined exposure to both attractive valuation and improving price and earnings momentum. It's a category of stock that may not have strong financial quality (the third factor in the StockRanks), but their value and momentum are nonetheless very powerful return drivers.
Typically, value and momentum are two factors that are uncorrelated, meaning that each one works well when the other doesn't. But when the two factors do exist together you may find the types of situations beloved by academics and investors like James O'Shaughnessy and Josef Lakonishok. The work of both men found that value and momentum were a very powerful combination. Indeed, the chart below shows a strong performance from portfolios of stocks with the very highest blends of value and momentum in the market over the past year.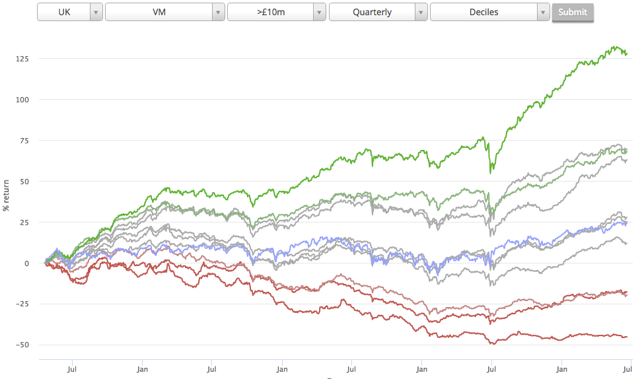 At the moment there are 27 financial stocks in the top turnarounds list, and below is a snapshot of some of them. Not all of them are recovering from crisis. But it's interesting that in amongst bigger names like Standard Chartered, HSBC, RBS and Barclays, it finds others in the sector like the buy-to-let lender Paragon, Close Brothers (OTCPK:CBGPY) and the challenger bank Aldermore. Likewise, it picks up smaller insurance specialists like Chesnara (OTC:CSNRF) and Randall & Quilter, which are rubbing shoulders with larger players like Aviva (NYSE:AV) and Legal & General (OTCPK:LGGNY).
You can find the full screen here.
| | | | | | | |
| --- | --- | --- | --- | --- | --- | --- |
| Name | Mkt Cap £m | VM Rank | RS 1y | StockRank Style | Risk Rating | Industry Group |
| Chesnara | 568.2 | 98 | +4.13 | Turnaround | Balanced | Insurance |
| Randall & Quilter | 118 | 98 | +15.4 | Turnaround | Balanced | Insurance |
| | 5,494 | 97 | +3.79 | Turnaround | Balanced | Investment |
| Paragon of Companies | 1,213 | 97 | +25.1 | Turnaround | Balanced | Banking |
| Aviva | 21,862 | 96 | +4.24 | Turnaround | Balanced | Insurance |
| Standard Chartered | 24,804 | 95 | +13.6 | Turnaround | Adventurous | Banking |
| Close Brothers | 2,344 | 94 | -0.52 | Turnaround | Balanced | Banking |
| Aldermore | 790.6 | 93 | -6.88 | Turnaround | Speculative | Banking |
| HSBC Holdings | 138,005 | 92 | +30.8 | Turnaround | Conservative | Banking |
| Legal & General | 15,567 | 90 | -3.94 | Turnaround | Balanced | Investment |
| Royal Bank of Scotland | 29,407 | 89 | -13.2 | Turnaround | Adventurous | Banking |
| Barclays | 34,541 | 87 | -4.68 | Turnaround | Adventurous | Banking |
Turnarounds under way - but uncertainty remains
Mark Carney, the Governor of the Bank of England, signalled this week that now isn't the time to be raising interest rates. So the outlook for improving profitability in the banking sector is still uncertain. Added to that the unknown impact of Brexit and concerns about the economy, and it's hardly an appealing set of circumstances for financials right now.
Yet the signs are that warming sentiment to banks and other financials over the past nine months or so is still intact. Some are still struggling to move on from troubles of the past, but sustained improvement in momentum suggests that some of these shares aren't just for bargain hunters any more.
Editor's Note: This article discusses one or more securities that do not trade on a major U.S. exchange. Please be aware of the risks associated with these stocks.