Quick Take
Intelligence technology provider Vencore Holding (VNCR) has filed an S-1 registration statement for an IPO of up to $250 million.
The company provides a range of information security and analytics solutions to U.S. Government agencies involved in defense, intelligence, space, and public health.
Topline revenues have recently stalled while cash flow from operations has grown significantly.
When we know more proposed terms about the IPO, I'll provide an update.
Company
Chantilly, Virginia-based Vencore Holding was incorporated in 2010 to provide government agencies with information solutions, engineering, and analytics to improve operations in cyber security and intelligence operations worldwide.
The company was originally divested by Lockheed Martin in 2010 as the SI Organization.
Vencore has more than 3,800 employees at over 17 offices in the U.S. and serves as the primary contractor for 89% of its work, which is primarily provided to the U.S. federal government.
Management is headed by president and CEO John Curtis, who has been with the firm since July 2013 and previously was president and CEO of Vangent, an information management firm that was sold to government contractor General Dynamics (GD) in 2011.
Indirect shareholders, who hold interests via the company parent The SI Organization Holdings, include The Veritas Capital Funds (56.71% ownership pre-IPO), TSIO Holdings (13.84%), PGSI Holdings (19.04%) and CEO John Curtis (1.25%).
Technology
Vencore provides a range of technology solutions to U.S. government agencies, organized along the following business lines:
Systems Engineering & Integration
Data Analytics
Cyber Security
Applied Research
Government agencies that it provides the above services to include:
Space
Defense
Civilian
Homeland Security
Intelligence
Health
Below is a brief overview video of Vencore:
(Source: Vencore)
Market and Competition
According to management, 'The primary market for our services is the U.S. Government, which represents an approximate $120.0 billion annual market opportunity across the Intelligence Community, DoD, DHA, NASA and other federal civilian agencies.'
Many of these 'market' sizes are impossible to estimate or confirm since the actual amounts spent by the U.S. Government aren't publicly available.
The company earns the majority of its revenues from the intelligence community, followed by NASA, as the pie chart below shows: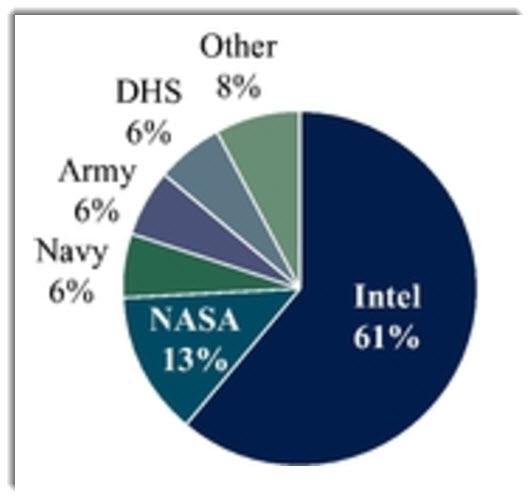 (Source: Vencore S-1)
Major competitive vendors that provide related intelligence and information security services and technology include:
Management says that its competitive advantages lie in the breadth of its capabilities which allow it to integrate complex systems; in addition, its Applied Research group, Vencore Labs, which is 'largely funded by our customers', enables the firm to develop new technologies in information 'security, optical networking, mobility solutions, wireless communications systems and information analytics.'
Financials
Vencore's recent financial results can be summarized as follows:
Slightly increasing topline revenue
Uneven gross margin
Significantly growing cash flow
Below are the company's operational results for the past 3 ¼ years (Audited GAAP for full years):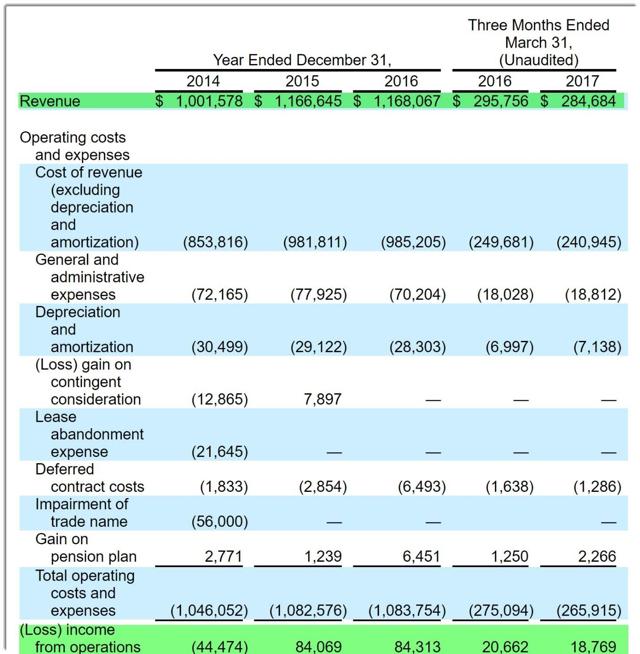 (Source: Vencore S-1)
Revenue
2016: $1.168 billion, no change vs. prior
2015: $1.166 billion, 16.6% increase vs. prior
2014: $1.0 billion
Gross Margin
2016: 15.6%
2015: 15.8%
2014: 14.6%
Cash Flow
2016: $65.2 million cash flow from operations
2015: $48.5 million cash flow from operations
2014: $492,000 cash flow from operations
As of March 31, 2017, the company had $34.3 million in cash and $1.06 billion in total liabilities. (Unaudited interim financials)
IPO Details
Vencore Holding intends to raise $250 million in gross proceeds from an IPO of its common stock. Its primary asset is Vencore, Inc., which is the operating entity.
Management says it will use the net proceeds from the IPO as follows:
We intend to use the money if the underwriters exercise their over-allotment option in full, giving effect to the Class A Dividend) of the net proceeds from this offering to repay a portion of the outstanding indebtedness under our First Lien Term Loan and our Second Lien Term Loan and to pay fees and expenses related thereto, including a prepayment fee under our Second Lien Term Loan equal to 1% of the principal amount prepaid. As of March 31, 2017, our First Lien Term Loan and our Second Lien Term Loan had a weighted average interest rate of 7%. Our First Lien Term Loan matures on November 23, 2019 and our Second Lien Term Loan matures on May 23, 2020.
Assuming a $250 million IPO and the underwriters exercising their customary over-allotment options, some of the proceeds would be paid to The SI Organization (Parent LLC) in the form of a Class A dividend. It isn't known at this time how much the dividend would be, but the company will announce the amount 'immediately prior to the consummation of' the offering.

Listed managers of the IPO are Goldman Sachs & Co. and Wells Fargo Securities.
Commentary
Vencore is operating in a demanding environment – that of providing information security and intelligence solutions to the U.S. Government as a prime contractor.
One of the most difficult aspects of its business is the attraction of talented InfoSec programmers and operators with advanced knowledge of government systems.
In addition, the U.S. Government is placing increased requirements on information contractors for the purpose of secrecy, while at the same time needing the services of companies like Vencore even more.
It's a great problem to have, but Vencore is subject to the budgetary forces that shape government spending.
In an era where information security and intelligence gathering has exploded, I'm concerned that Vencore's topline revenues haven't shown more growth in recent years.
While the company has passed the $1 billion revenue mark, it's revenue growth has slowed to a crawl.
Prospective investors who believe that information providers to the U.S Government are in an enviable position given the proliferating cyber- and real world-security threats should temper their enthusiasm with the actual financial results.
Vencore management has yet to disclose the proposed share price or post-IPO market capitalization, so we don't know the final terms of the IPO.
When more details are known, I'll provide an update.
I write about M&A deals and IPOs. Click the Follow button next to my name in this article if you want to receive future articles automatically.
Disclosure: I/we have no positions in any stocks mentioned, and no plans to initiate any positions within the next 72 hours.
I wrote this article myself, and it expresses my own opinions. I am not receiving compensation for it (other than from Seeking Alpha). I have no business relationship with any company whose stock is mentioned in this article.