High-yield corporate bonds have been a remarkably resilient asset class throughout the post-crisis period. This included emerging from the rising default wave that spread across the asset class in 2015 and 2016. And, while high-yield bonds continue to hover near all-time highs, a renewed threat that first emerged for the category back in the spring is continuing to pick up steam. It remains to be seen how much longer high-yield bonds can resist the pressure.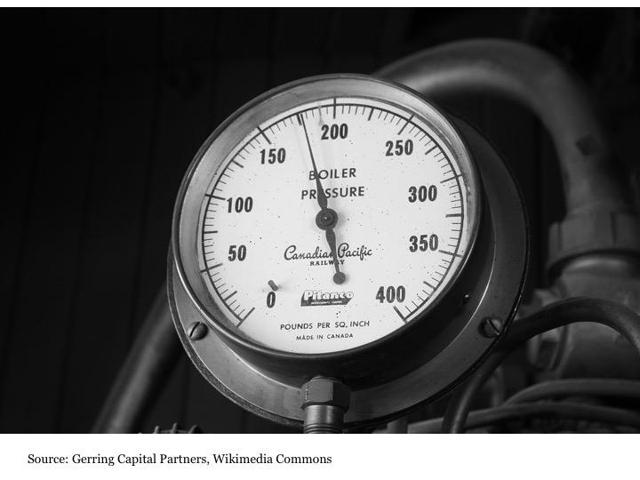 Pressure Rising
It is worth noting that high-yield bonds (NYSEARCA:HYG) are a category that remains as expensive as ever. For example, high-yield bond spreads relative to comparably dated U.S. Treasuries are as tight as they have been throughout the post-crisis period. What does this mean? That the premium being paid to investors for taking on the additional risk of lending money to a company that may or may not meet the interest payments or repay the loan at some point in the future versus the guarantee of lending money to the U.S. government is as low as it has been since before the global economy nearly imploded.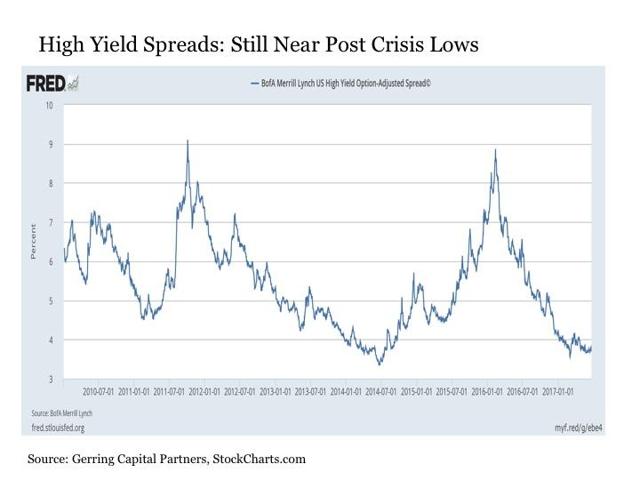 The effective yield that investors are being paid on an absolute basis for taking on the risk of owning what were previously known as "junk" bonds (NYSEARCA:JNK) before the retail investor marketing machine decided "high yield" would be a better sell is also about as paltry as it has ever been from a historical perspective. For example, the current effective yield on high-yield bonds today is 5.66% as of June 21. This, of course, is not that much higher than what was essentially the risk-free rate in the form of three-month U.S. Treasury bills (NYSEARCA:BIL) at 5.05% prior to the outbreak of the financial crisis. Put more simply, it was not that long ago that a loan to the U.S. government that was going to get repaid in just three months time had an annualized yield that was almost the same as the yield being paid from loans to a mix of companies with speculative grade credit ratings ranging from BB to CCC and below.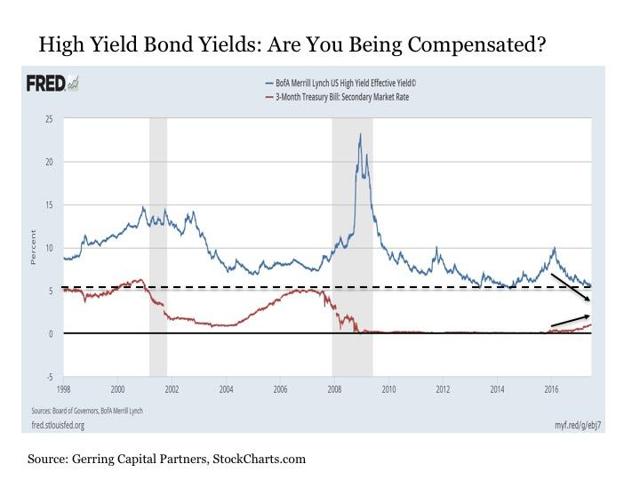 But wait, you might exclaim! It makes sense that high-yield bond yields are so low today because of historically low interest rates thanks to the U.S. Federal Reserve. Maybe, but this low Fed funds rate has been on the rise since December 2015. This includes three hikes in the past six months and another being promised by December whether the market believes it or not plus three more in 2018 and 2019 assuming the sluggish economic recovery remains on track. What does this mean? First, short-term interest rates are back to where they were during 2003 to 2004 at around 1% period, yet high-yield bond yields were measurably higher back then. And, short-term interest rates are headed on their way back to 3% if the economy remains as "awesome" as it supposedly is today, which means that the room for high-yield bond yields to go even lower is getting squeezed away, and the pressure for them to go higher is mounting. Moreover, if the Fed has to abort on its mission to normalize interest rates, it means the economy is rolling back over toward recession, which, if history is any guide, does not bode well for high-yield bonds either.
Putting this all together, even in a world where everything is going right, the pressure is rising on high-yield bonds, and the potential for things to finally boil over is mounting.
Breaking Valves
The high-yield bond asset class has been remarkably resilient despite its premium valuations, but it is currently facing its latest challenge that put the category to the test just a few years ago.
Unlike investment grade corporate bonds (NYSEARCA:LQD) that are much more highly correlated with the U.S. Treasury market (NYSEARCA:TLT), speculative grade "high yield" corporate bonds are more correlated with higher risk categories such as stocks (NYSEARCA:SPY) and selected commodities (NYSEARCA:DJP) such as oil (NYSEARCA:USO).
To highlight this point, the following is a price chart of the SPDR Barclays High Yield Bond ETF versus West Texas Intermediate Crude (NYSEARCA:OIL). During the period when oil prices were plunging from mid-2015 through early 2016, high yield bonds were following suit to the downside. When oil prices bottomed in early 2016, so too did high yield bonds. And, when oil prices rallied explosively over the subsequent year, so too did high-yield bonds.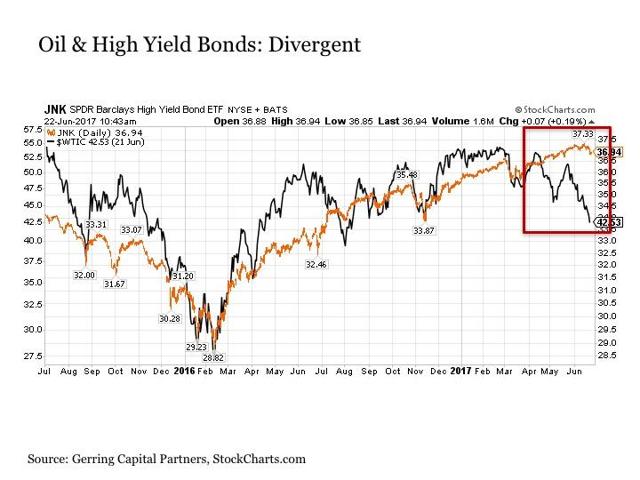 Why does this relationship exist? What does a loan to a low-rated company have to do with the price of oil (NYSE:DBO)? Because nearly one-fifth of the entire high-yield bond market is made up of companies from the commodities space, including the energy sector (NYSEARCA:XLE), many of which are from the more volatile exploration and production (BATS:IEO) industry.
This relationship is proving problematic for the high-yield bond market once again. Of course, it was the same energy sector that sparked a rise in high-yield defaults back in 2015 and 2016. And, over the last several months, we have seen oil prices starting to fall like a rock once again.
Thus far, high-yield bond prices have not followed oil's latest move to the downside. But if this shift lower in oil persists, one has to wonder how long it will be before lenders start to question the ability of energy borrowers to service their interest payments and pay back their loans in the future.
To date, no meaningful downside pressure is presenting itself in the pricing of investment grade bonds in the energy sector.
But within the high-yield bond space, we are starting to see some widening cracks. For while many of the sickest high-yield bond issuers from 2015 to 2016 are now gone from the space, others remain, with some being fallen angels from the investment grade group along the way. For example, the bonds of Pacific Drilling (NYSE:PACD) are now trading at more than a 50% discount to par, which is also reflected in the fact that its common stock is down nearly -60% for 2017 year to date. Denbury Resources (NYSE:DNR) also has bonds that are trading at a roughly 45% discount to par with its common stock shares also down -65% year to date. Fallen angels Ensco (NYSE:ESV), Noble Holdings (NYSE:NBL), and Weatherford (NYSE:WFT) all have bonds that are trading at discounts between 15% and 30% to par with common stocks that have fallen anywhere between -25% and -50% year to date.
Can The Valves Be Bled Once Again
The high-yield bond market is already priced for perfection. And, while it managed to overcome the pressure of the first major oil price decline a couple of years ago and is proving resilient today despite the resurfacing of these downside pressures, it remains to be seen how much longer the category can keep it up. This will be particularly interesting to see now that interest rates from the U.S. Federal Reserve are steadily on the rise.
DIY Investing Summit 2017 - Special Online Event on June 27-28: Please join us for the Mid-Year DIY Investor Summit coming up soon in late June. Seeking Alpha has partnered with Brian Bain from Investor In The Family once again to bring together nine top investors to share their best strategies and investments for finishing strong in 2017. I am honored to be taking part in this latest Summit with a group of leading contributors that includes Brad Thomas, Bret Jensen, J Mintzmyer, William Koldus, Mark Hibben, Ian Bezek, Lawrence Fuller, and Double Dividend Stocks.
Free registration for this special online event starting on Tuesday, June 27, is now open. Please click on the link below if you are interested in registering and learning more.
Learn More & Register For The Mid-Year DIY Investing Summit
Thanks and I look forward to meeting up at the Mid-Year DIY Investing Summit.
Disclosure: This article is for information purposes only. There are risks involved with investing including loss of principal. Gerring Capital Partners makes no explicit or implicit guarantee with respect to performance or the outcome of any investment or projections made. There is no guarantee that the goals of the strategies discussed by Gerring Capital Partners will be met.
Disclosure: I am/we are long TLT,LQD.
I wrote this article myself, and it expresses my own opinions. I am not receiving compensation for it (other than from Seeking Alpha). I have no business relationship with any company whose stock is mentioned in this article.
Editor's Note: This article covers one or more stocks trading at less than $1 per share and/or with less than a $100 million market cap. Please be aware of the risks associated with these stocks.