Please take note this is only one aspect in weighing the attractiveness or non-attractiveness of the companies mentioned as an investment and should not be used independent of other factors. This article examines one segment of the companies' businesses, and other factors such as valuation are not addressed.
The fiber market is growing and demand is expected to continue growing in the foreseeable future.
Cloud computing, increasing mobile usage and IoT (Internet of Things) are some of the factors that are expected to propel demand for optical fiber.
Cloud computing:
The increasing popularity of cloud computing is increasing demand for data capacity and higher bandwidth. Currently, over 1 Exabyte of data is stored in the cloud.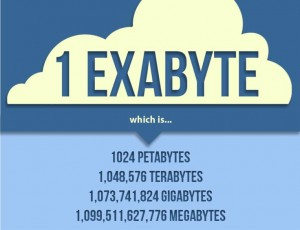 Source: Beyond PLM
And this is expected to continue rising over the coming years.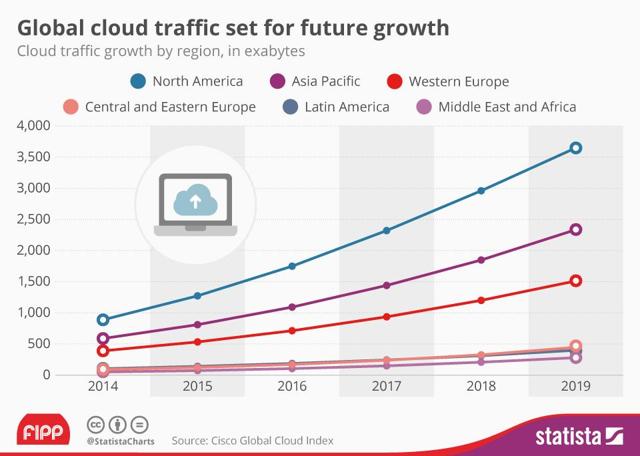 Source: Statista, FIPP
To access this huge and increasing amount of data requires fiber networks that carry Terabits - trillions of bits per second. There is currently no technology more effective for meeting bandwidth increasing demand than fiber optics.
Increasing mobile usage:
Driven by increasing mobile video consumption, mobile data consumption is expected grow seven-fold between 2016-2021, increasing mobile data traffic's share of total internet traffic from 8% in 2016 to 20% in 2021 (data by Cisco).
Mobile video data will be the fastest growing segment of mobile traffic growing 870% between 2016 and 2021, making up 78% of mobile data traffic. This growth will be fueled by adoption of next-generation technologies such as AR and VR.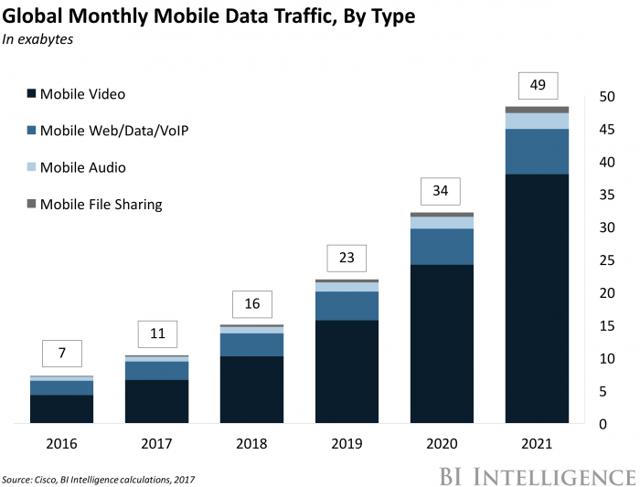 Source: Business Insider
The Middle East and Africa are projected to have 12-fold growth in mobile data traffic, while the Asia-Pacific region will see seven-fold growth. Latin America, Western Europe, and Central and Eastern Europe are all projected to witness six-fold growth while North America will see 5-fold growth according to the report by Cisco (NASDAQ:CSCO).
The Internet of Things:
The Internet of Things refers to the growing network of mobile devices including cars that are connected to the internet. Research firm IDC projects that the IoT installed base will grow to 25.6 billion devices by 2019 and grow further to 30.0 billion by 2020.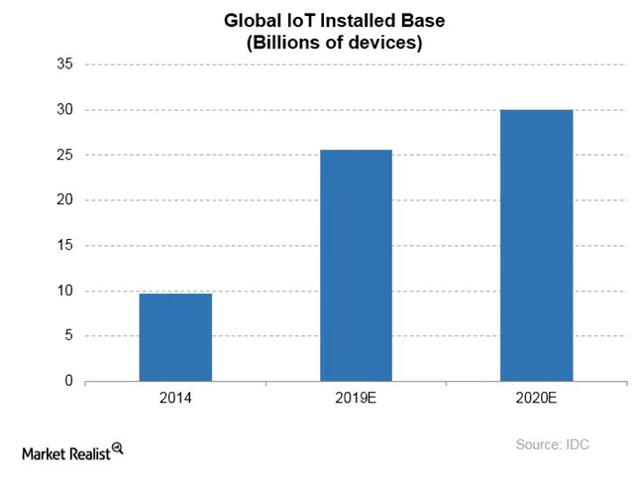 Source: Market Realist
This results in increased data traffic, which in turn leads to increased pressure on the network. For instance, one connected car will send 25 GB (gigabytes) of data to the cloud every hour. 5G is expected to meet this demand and fiber is the backbone of 5G networks.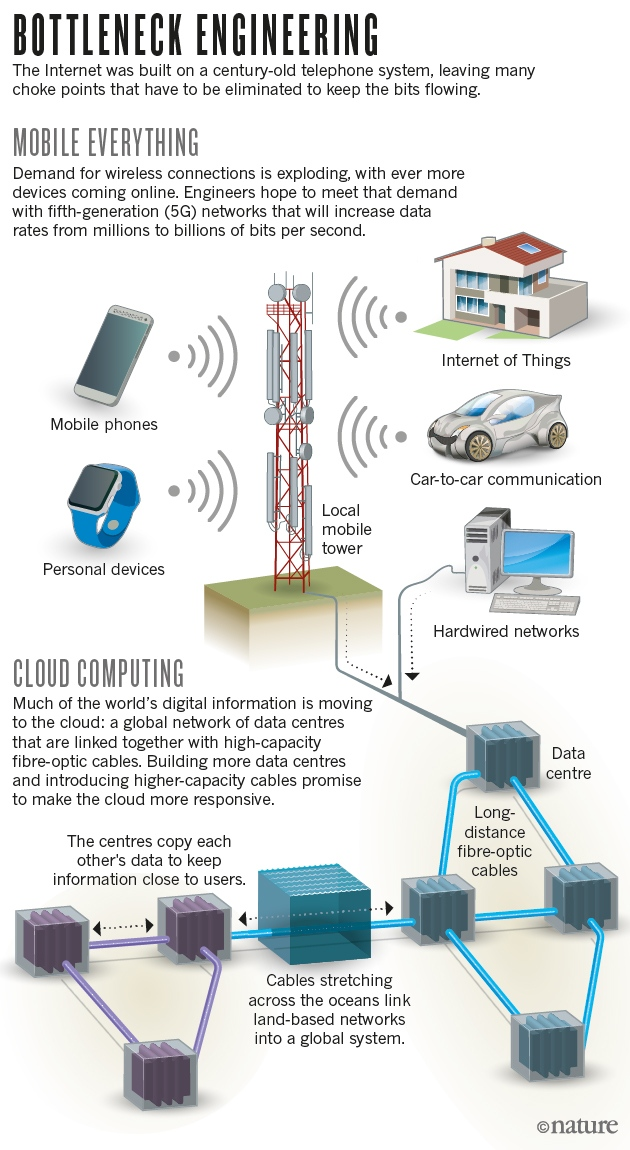 Sour
Source: nature.com
2G networks were designed for voice, 3G for voice and data, 4G for broadband internet. 5G is designed to connect to substantially more devices while offering faster speeds and greater transmission capabilities.
Traditionally, 2G and 3G mobile networks often used copper-based Time Division multiplexing (TDM) circuits to connect cell sites to a nearby Mobile Switching Center over the Mobile Backhaul (MBH) network. Although, copper-based wires served 2G and 3G networks sufficiently, they are showing signs of stress with 4G. 5G is capable of handling greater amounts of traffic than 4G.
5G's network infrastructure requires low latency, power consumption, and cost, with higher capacity in terms of data transfer. Optical fiber fulfills these requirements and as 5G deployment increases, the demand for optical fiber demand is expected to accelerate in the coming years.
5G deployment is just beginning and this should drive demand for fiber optic cables, which are necessary to support the wireless network. The 5G trend is driven by increasing online video consumption (from providers such as Amazon (NASDAQ:AMZN), Netflix (NASDAQ:NFLX) and YouTube (NASDAQ:GOOG) (NASDAQ:GOOGL)) and IoT (Internet of Things), where an increasing number of objects including cars are connected to the internet.
The United States has the highest number of fixed and mobile broadband subscriptions according to the OECD.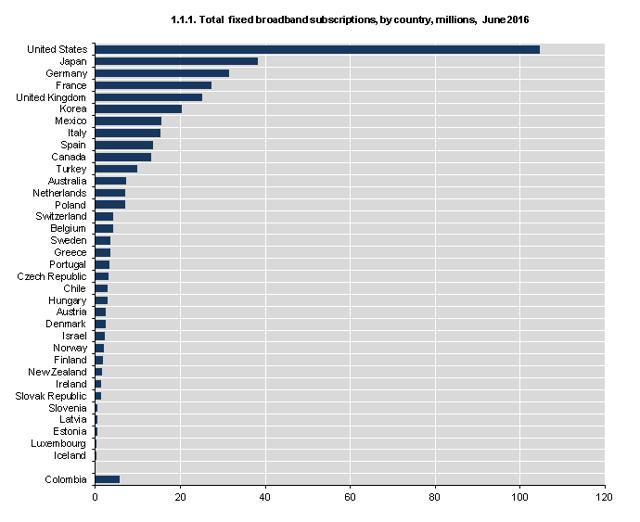 Source: OECD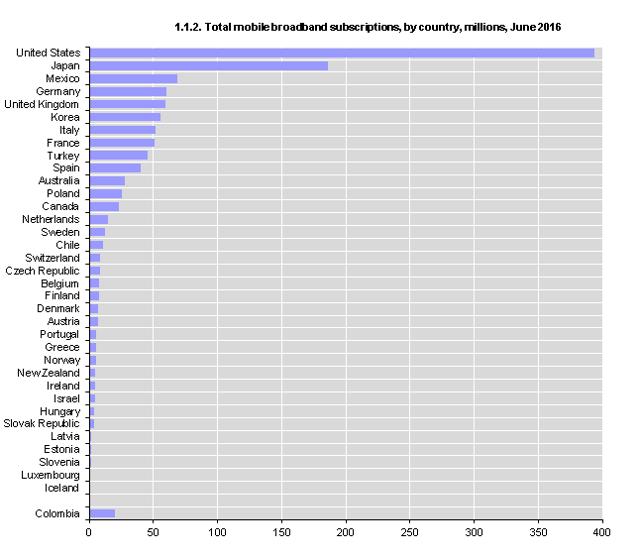 Source: OECD
However, Japan has the highest rate of fiber-optic broadband penetration with 73.3%, followed by South Korea with 71.3%. By contrast, fiber-optic broadband only accounts for 11.0% of internet connections in the United States.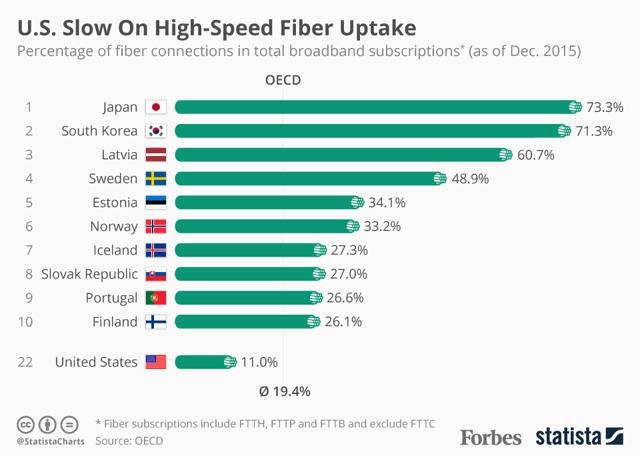 Source: Forbes, Statista
China is expected to overtake Japan by the end of this year to be the country with the highest fiber-optic broadband penetration with 80% of China's broadband users expected to be on fiber optic, an increase from about 60% currently.
This suggests that the United States is at a relatively early stage of a fiber investment cycle and this presents an opportunity for companies in this sector.
Corning (NYSE:GLW) is the world's number 1 optical fiber maker and the company's Optical Communications segment accounts for about a third of revenues. OFS (which is a part of Furukawa Electric Company) is number 2. Corning and OFS control every part of the fiber-making process including extruding the glass fibers from fiber drawing towers, testing it, and then selling them to telephone companies, cable companies and network providers.
In anticipation of rising market demand, over the next two years, Corning plans to build a new optical cable manufacturing plant in Newton, North Carolina, and expand its fiber optic plant in Midland, North Carolina, which is one of the largest fiber manufacturing sites in the world.
U.S. carriers such as Verizon (NYSE:VZ) and AT&T (NYSE:T) have already begun upgrading their network infrastructure and both companies are trying to migrate from copper wires to fiber. Due to the higher efficiency and higher transmission ability, fiber optic cables are rapidly replacing copper wires. Fiber optic cables are also less vulnerable to external and internal interferences. In an effort to improve its wireless network infrastructure, as the company works toward 5G deployment, this year Verizon Communications agreed to buy optical fiber from Corning in a deal worth US$1 billion.
Corning will sell up to 12.4 million miles of optical fiber to Verizon each year from 2018 through 2020, with a minimum purchase commitment of $1.05 billion, according to the agreement. Verizon Communication views optical fiber as critical for a 5G network. Verizon identified a shortfall in optical fiber supply and in an effort to hedge against a possible shortage they wanted to lock-up a long-term commitment with Corning.
For Verizon, 5G deployment is not only expected to deliver faster speeds, but also increase network capacity to handle growing traffic demand, driven by increasing demand for online video content and IoT. Verizon is aiming to win the race to deliver 5G services in the United States. The company has announced it would be deploying a pre-commercial version of 5G in mid-2017 to select customers in 11 markets.
With the rise of cloud computing, data center bandwidth requirements are rising as well. To meet this demand, data centers have scaled out by adding new bandwidth capabilities. Fiber optics is a more reliable and speed scalable medium than copper. Applied Optoelectronics (NASDAQ:AAOI), which provides fiber-optic networking components for Cable Television Broadband, fiber-to-the-home (FTTH), and internet data centers (Data Center), expects a 78% YoY jump in revenues for the first quarter of 2017 driven by strong demand for its data center products from customers such as Amazon, Microsoft (NASDAQ:MSFT) and Facebook (NASDAQ:FB) as they scale up data centers according to analysts.
Disclosure: I/we have no positions in any stocks mentioned, and no plans to initiate any positions within the next 72 hours. I wrote this article myself, and it expresses my own opinions. I am not receiving compensation for it (other than from Seeking Alpha). I have no business relationship with any company whose stock is mentioned in this article.