With the latest data coming out of Baker-Hughes (BHI), oil (NYSEARCA:USO) continues to get bad news on the supply front. North American rig counts rose for the 23 rd week in a row to 758, with most of those added in the Permian basin.
And rig counts are likely to continue rising even with oil pulling back to $45 per barrel. The harder OPEC tries to keep the price above $45 per barrel, the more the rig count will rise since plays in the Permian basin are estimated to be profitable above $35 per barrel as new wells keep deploying the latest technology to more efficiently frack deposits.
Moreover, there are nearly 6000 drilled-but-not-tapped wells in the U.S. currently. These are wells that had to be tapped within two years of acquiring the drilling permit, as per Bureau of Land Management rules. While oil prices were recovering in 2016 drilling operations began expanding.
But, with prices low, the wells were being drilled and capped, so as to not lose the lease. Now they represent a huge overhang that can be turned on at any hint of a price rise.
This is part of the reason why oil couldn't break through $55 per barrel earlier in the year. As prices rose, those wells were uncapped and put into production.
Moreover, those wells in the Permian are producing more oil per well.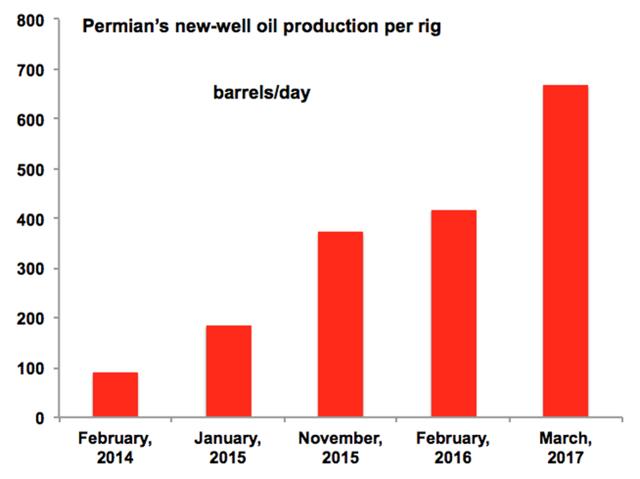 And into this rig counts continue to rise even as prices fall back and no threaten to break down below $40.
Add to the contango in the Brent (NYSEARCA:BNO) Futures market and we're seeing tankers parked offshore around the world being used as temporary storage containers. According to Thomson Reuters Elkon's figures there are 25 supertankers parked offshore of Singapore.
The Saudi Escalation
Add to this there the difficulties the Saudis have had in getting OPEC to agree to a production cut. Yes, they got Russia to agree to the cuts in principle, but that agreement was just this side of non-committal. Putin, for his part, agreed in order to gain diplomatic points across the Gulf Cooperation Council countries. As I discussed in my last article, new Crown Prince Mohammed bin Salman's beef with Iran goes far deeper than their unwillingness to toe the OPEC line.
The same goes with Qatar. Running a huge primary budget deficit that is draining its currency reserves far faster than its oil reserves, Saudi Arabia needs oil prices back above $55 per barrel.
And this is one of the main reasons behind their trying to strong-arm Qatar. With the 13-point list of demands bin Salman issued on Friday it is clear that the aim here is subordination and control. These blockade tactics have had some net effect. Qatar is burning through dollars quickly and could face a dollar liquidity crisis quickly if it doesn't change the dynamic.
And that dynamic could change overnight with a move to free float its currency. Qatar Riyal forwards along with the currency itself have been under attack (also in the Zerohedge article linked above).
It is times like these that create major changes in the global market. At a minimum, stocks held by Qatar's sovereign wealth fund should be watch carefully for signs of mass liquidation. But, sooner or later, Qatar will have to find new sources of dollars, make up with the Saudis or de-peg the Riyal.
None of this pressure is endearing the Saudis to the growing opposition axis of Russia/Iran/China/Turkey and now Qatar. China will continue to shift its buying away from Saudi Arabia if it needs to. Russia will continue to support Iran's new production as well as continue pumping at near record levels itself. And all of this puts pressure on other OPEC members to break their quotas.
Born in the U.S.A.
And this brings us right back to surging supply coming out of the U.S. It doesn't hurt that the demand side of the equation doesn't look good from an anecdotal perspective. U.S. gasoline usage this summer is at a six-year low.
China is shuttering 10% of its refining capacity due to low demand.
If the price gets low enough, China will begin importing at a higher rate but, it won't do anything for a market with all the signs of a massive oversupply.
Simply put, OPEC is no longer the producer of the marginal barrel of oil. One could argue that title goes to either Russia (NYSEARCA:RSX) or the U.S. But, either way, prices are set at the margin and OPEC no longer has control of that last barrel.
And that's what the chart is telling us.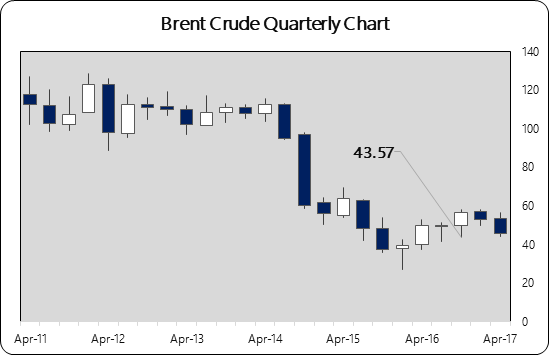 A close this month to end Q2 above $43.57 for Brent Crude would indicate that support at that level is still intact. A close below that and the market could get disorderly to the downside in Q3. But, how much of that support comes from all of the jawboning around OPEC's production cut which still hasn't taken effect or seen to be effective?
I would be leery of surprise inventory builds in the next few weeks as well. With the amount of oil being held on tankers, inventory numbers can be messed with easily by simply pulling up anchor and moving offshore.
The level of desperation I see in the oil markets as reflected in the geopolitical moves of its biggest producers makes me skeptical of any bullish data. Moreover, we are inching closer to a bottom forming in the USDX (NYSEARCA:UUP) that will also pressure the dollar price of oil. This pull back in price has occurred against a weakening dollar. That's fundamentally bearish. Oil production is simply outstripping increases in demand.
Disclosure: I/we have no positions in any stocks mentioned, and no plans to initiate any positions within the next 72 hours.
I wrote this article myself, and it expresses my own opinions. I am not receiving compensation for it (other than from Seeking Alpha). I have no business relationship with any company whose stock is mentioned in this article.