Platinum group metals are rarer than gold. The group has two subsectors, palladium-group platinum group metals which include platinum, palladium, and rhodium. The other group is the iridium-group platinum group metals which include iridium, osmium, and ruthenium. All of the metals are rare but only platinum and palladium trade in the futures markets. The others only attract buying and selling activity in the physical market.
When it comes to platinum and palladium, platinum typically draws more liquidity on the New York Mercantile Exchange. As of Friday, June 16 total open interest in platinum futures was just above 74,000 contracts while the same metric in palladium stood at around half that level at 36,584 contracts. Both platinum and palladium are industrial metals. Their density and high resistance to heat given their high melting points make them ideally suited metals for use in catalysts. The manufacturing of fiberglass and catalysts in oil refining often require the use of platinum and palladium. However, their most popular applications are in the automobile industry where they are the metals that clean poison from the air in catalytic converters.
Over recent months, strength in the price of palladium and weakness in platinum could lead to a change in the industrial market. When it comes to automobile catalytic converters, manufacturers have favored palladium because of its lower price, but that is changing as its price is gaining on platinum dramatically over recent months.
Platinum and palladium are interchangeable metals
When it comes to their utility for industrial applications, platinum and palladium have similar characteristics. Platinum has a density of 21.45 grams per centimeter cubed. It has a melting point of 3,215 degrees Fahrenheit, and a boiling point of 6,917 degrees F. Palladium has a density of 11.90 grams per centimeter cubed. It has a melting point of 2,826 degrees Fahrenheit, and a boiling point of 5,300 degrees F. Catalytic converters get very hot when they clear toxic emissions. In oil refining or the manufacturing of fiberglass, the temperatures get very high, and that is why platinum and palladium, with their very high melting and boiling points, are metals that have many industrial uses. When it comes to resistance to heat, platinum is a preferable metal. However, over past years, the price has made palladium the metal of choice for industry.
From 2007 through 2012, platinum commanded a $1000 premium to palladium and from 2012 through much of 2016; the premium was higher than $350 per ounce. However, in 2017 the ascent of palladium has pushed the premium steadily lower as palladium has been the best performing precious metal of all.
Palladium has been the best performer of all precious metals since early 2016
Many commodities prices made significant bottoms in late 2015 and early 2016. In January 2016, active month palladium futures on the New York Mercantile Exchange traded at the lowest price since 2010 at $451.50 per ounce. Palladium took off to the upside and has not looked back since the start of 2016.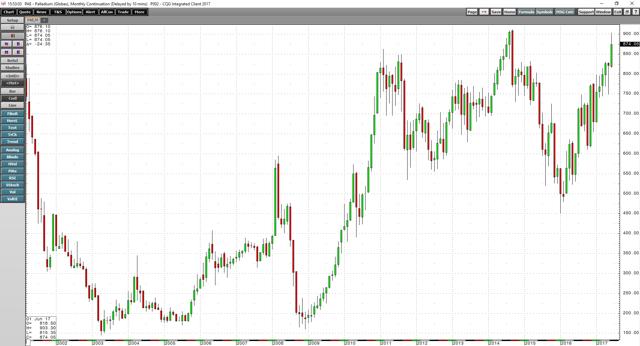 Source: CQG
As the monthly chart highlights, palladium appreciated by almost 21% in 2016 making it the leader of the precious metals pack. In the first quarter of 2017, the precious metal added to those gains and moved almost 17.5% higher. Palladium was not only the best performer on a percentage basis during Q1; it also increased more than any other commodity that trades on the U.S. futures market. As of Friday, June 23 palladium was over $50 or 10% higher than its Q1 closing price at around $854 per ounce. During Q2, palladium traded to a high of $900.35 per ounce, the highest price since 2014 and around $190 lower than its all-time high in 2001.
Palladium has been making great strides against platinum over recent months, and the spread between the two platinum group metals has declined precipitously.
Palladium-platinum spread traded at the lowest level since 2001
When palladium hit its record high at $1090 per ounce in 2001, it traded at a $344 premium to platinum. However, in the years that followed, platinum reestablished itself and rose to over a $1000 premium to palladium.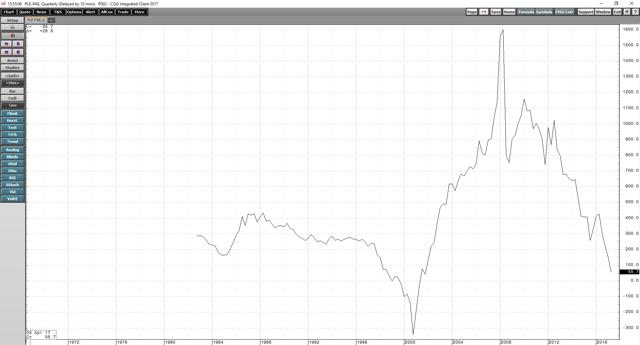 Source: CQG
As the quarterly chart of the platinum minus palladium spread highlights, the differential between the two precious metals has narrowed dramatically since 2008 when it peaked at over a $1600 premium for platinum. On June 22, the spread was trading at under $40 per ounce, the lowest level since 2001. Palladium has been a beast while platinum has been a dog. The spread closed last week around the $70 per ounce level.
Platinum has been a laggard
Platinum and palladium are both industrial precious metals, but platinum has had a long history of attracting investment demand for those who hold precious metals as a store of value. The lack of investor interest in platinum has weighed heavily on the price of the metal over recent years.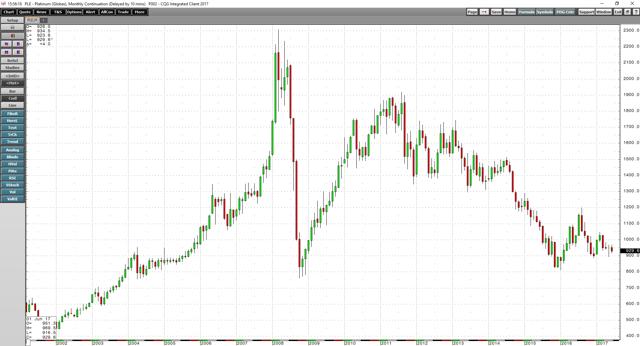 Source: CQG
As the monthly chart of NYMEX platinum futures illustrates, the price has been in a downtrend since 2011 when the price rose to over $1900 per ounce. At the $930 level on June 23, platinum is trading at half the level it was six years ago. Platinum has been making lower highs and lower lows and has been the worst performer when compared with gold, silver, and of course, palladium.
However, given that platinum is a denser metal with a higher melting and boiling point, the price weakness in platinum is likely to make it attractive to industrial users in the weeks and months ahead.
Platinum's future is in the hands of industrial users
Industry tends to make changes slowly while futures markets move rapidly. These days, with platinum commanding lower than a $100 per ounce premium to palladium it is likely that automobile catalytic converter manufacturers, fiberglass manufacturers, oil refiners, and others that use the platinum group metals as catalysts will start to shift their consumption from palladium to platinum for both industrial and economic reasons.
Industry had become addicted to palladium because of its lower price and comparative value compared to platinum over past years. However, the equation has changed, and now platinum has become the more attractive metal. Platinum has been looking for a reason to rally, but investors have shunned the metal because of its liquidity when compared to other investment precious metals like gold and silver. If it starts to look like industrial users will begin accumulating platinum at current prices, do not be surprised if investment demand returns to the platinum market very quickly. The platinum-palladium spread could ignite platinum over coming weeks and months as industry sees the value that investors have shunned. On dips in the spread, long platinum and short palladium is starting to look like an attractive pairs trade.
Each Wednesday I provide subscribers with a detailed report on the major commodity sectors covering over 30 individual commodity markets, most of which trade on U.S. futures markets. The report will give an up, down or neutral call on these markets for the coming week and will outline the technical and fundamental state of each market. At times, I will make recommendations for risk positions in the ETF and ETN markets as well as in commodity equities and related options. You can sign up for The Hecht Commodity Report on the Seeking Alpha Marketplace page.