Summary View
Can gold fly in the week ahead? Maybe. We do expect a slow, upward climb. We are more optimistic than we were at the beginning of last week.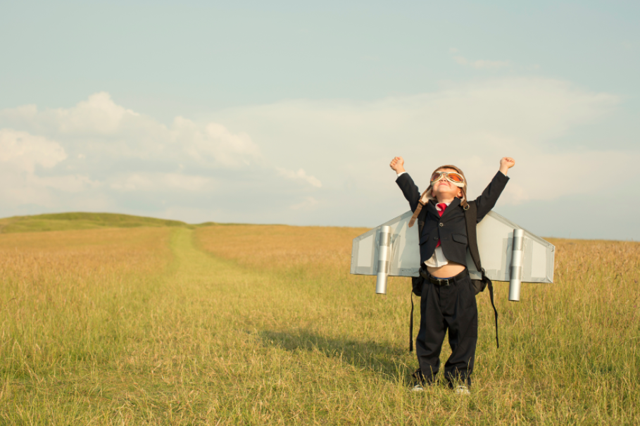 Readers of our weekly column know that we weigh multiple factors to determine our precious metal investment allocations. Investors in the SPDR Gold Trust ETF (NYSEARCA:GLD) will be pleased to see that we have upgraded gold in three categories from last week. We will enter next week optimistic.
Last week, we were not convinced that gold had reached a bottom, and therefore we issued a cautionary summary, shown below.

In the past week, the precious metals market had several favorable developments, and we have increased our investment exposure.

Technical Picture
In last week's report, we said that "GLD could easily find a bottom here, although $118 might be a better long entry point." Indeed, the low in GLD was $118.07 for week, and it recovered to close the week at $119.43, just under its 50-week moving average.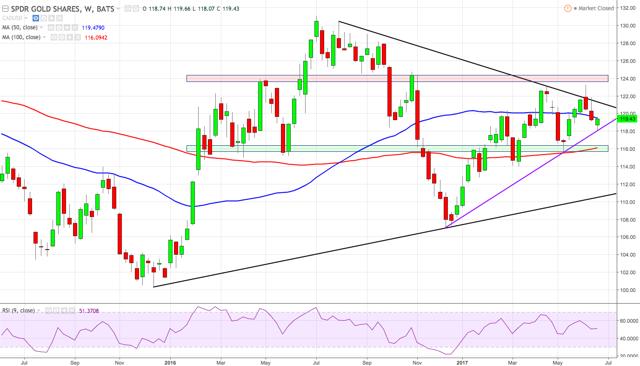 We see the $120 price level as sort of a magnet from above and below. COMEX gold options expire on Tuesday, so we could see some volatility on Monday and Tuesday.
To the upside above $120, GLD will encounter the old downtrend line near $121. If somehow GLD falls again next week, it now has double-tested support on the uptrend line from late 2016.
In the bigger picture, the key levels continue to be $116 below and $124 above. We would not be surprised to see GLD range bound between these levels for the next several weeks.
Precious Metal COT Report
This week's COT report was very favorable, and almost even bullish for both gold and silver. The commercial net short positions and the hedge fund longs were reduced by nearly 20% for both metals.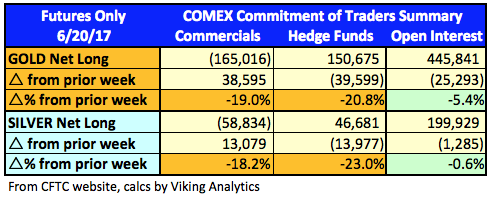 We focus primarily on the net short position of the commercial banks when we look at the COT report. Below, we show how peaks in commercial net short interest corresponds to sharp sell offs in the value of GLD (left scale). The current value of the commercial net short is 165,000 contracts, well below the 50-week moving average of 213,000 contracts (including both futures and options).
Safe Havens and Alternatives
The rating we provide for "safe haven alternatives" in our decision matrix is based upon an indicator we created to measure the relative divergence between gold and safe haven assets like the USD/JPY currency pair and Treasury Inflation Protected Securities ("TIPS"). Last week, our indicator suggested caution, and by the end of this week, we have moved into a neutral range.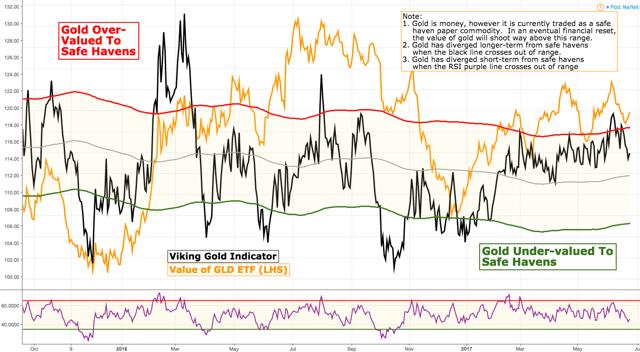 At least once per day, our Premium subscribers will get an update on the Viking Gold Indicator, the Viking Silver Indicator, and the Viking Mining Indicators. We view these indicators to be an important part of our evaluation matrix for precious metals. If you click the links at the top or bottom of this article, you can learn more about our Premium service.
Thanks for any feedback below. If you liked this article, please hit the follow button above!
Note all charts were created on the TradingView website, and the tables were created by Viking Analytics if not otherwise credited.
Disclosure: I/we have no positions in any stocks mentioned, and no plans to initiate any positions within the next 72 hours.
I wrote this article myself, and it expresses my own opinions. I am not receiving compensation for it (other than from Seeking Alpha). I have no business relationship with any company whose stock is mentioned in this article.