It was the end of 2015 and the oil & gas markets were only getting worse when Kinder Morgan Inc. (NYSE:KMI) made the fateful decision to cut its dividend. After years of taking on debt to fund non-stop expansion on the back of the North American energy revolution (from oil sands to shale), Kinder Morgan realized it had bit off more than it could chew.
Let's look at how effective Kinder Morgan has been at using its improved cash flow position to fix its balance sheet and repair its finances.
Balance sheet update
At the end of 2015, Kinder Morgan had a total debt load of $43.1 billion (short-term, long-term, and fair value adjustments). With a debt-to-equity ratio of 1.37X, the midstream giant had to make some changes.
Fast forward to the first quarter of this year and the firm has shown signs of improvement. Its total debt load moved down to $39.3 billion as its debt-to-equity ratio decreased to 1.28X.
Not including short-term debt, Kinder Morgan's working capital saw a positive ~$300 million movement over that time frame. Keep in mind asset sales helped make this possible; it wasn't just from the improved cash flow picture.
However, Kinder Morgan is facing $3.9 billion in debt coming due over the next year (at the end of Q1). With $2.675 billion in current assets stacked up against $6.059 billion in current liabilities, Kinder Morgan either has to turn to capital markets (which management doesn't want to do), sell off assets (the plan), or utilize its basically undrawn $5 billion revolving credit line due November 2019.
At the end of May, Kinder Morgan completed the IPO of 30% of its Canadian business. That raised US$1.2 billion net which management explicitly stated will be used to pay down debt.
Kinder Morgan paid off $300 million of its 7.5% notes and $355 million of its 5.95% notes that matured in April, which hasn't been reflected on its financial statements yet. The firm also has $786 million in 7% notes coming due in June that investors should be aware of.
This is a key reason why the Canadian IPO had to happen (as well its payout cut), as over $1.4 billion in maturities coming due in just one quarter is a lot to handle.
Below is a look at Kinder's total and upcoming maturities as of the end of Q1. Keep in mind the short-term debt only includes significant maturities.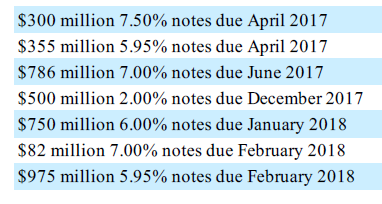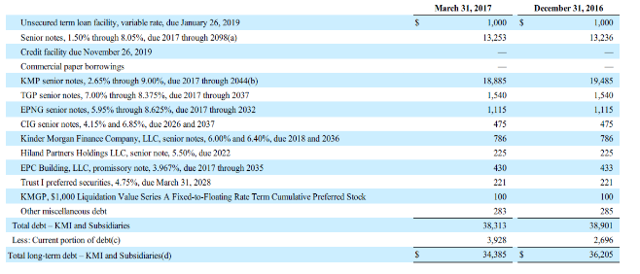 Source: Kinder Morgan Inc. 10-Q
Management expects Kinder Morgan will be able to bring its net debt to adjusted EBITDA ratio down from 5.6X in 2015 to 5.2X by the end of this year. A figure below 5.0X, ideally around 4.5X, would be a bullish catalyst for Kinder Morgan.
Less debt, more certainty
Just to be clear on the distributable cash flow issue, Kinder Morgan is no longer a series of master limited partnerships due to its consolidation efforts (now a C-corp), but it still uses DCF to convey how much cash flow can be paid out to shareholders.
One major plus of the firm's debt reduction efforts is that it makes it much easier to forecast future results. For every $0.10/Mcf change in natural gas prices or $1/barrel change in oil prices, Kinder Morgan's annual DCF equivalent only fluctuates by $1 million and $6 million, respectively.
Against an expected $4.46 billion in DCF this year, that is immaterial. Keep in mind that DCF guidance represents a small decline versus last year.
However, a 100 basis point change in floating interest rates leads to a $108 million change in its DCF streams. In a world where the US Federal Reserve is hiking interest rates and 28% of Kinder's debt carries a floating rate, that is a real concern.
Kinder Morgan expects to spend a little under $1.2 billion on its dividend payouts this year on top of $3.2 billion in capital expenditures (including contributions to its joint ventures) for growth. That leaves little wiggle room until more chunks of its growth portfolio come online.
Final thoughts
It's true that Kinder Morgan Inc. has shown real signs of improvement, but a lot of work remains before its finances are put back in order. While the company now has the ability to cover both its growth capex and dividends with internally generated cash flow, something that wouldn't be remotely possible without the payout cut, its debt load needs to come down further.
While keeping in mind the continued pain being felt in the oil & gas sector, it's clear that Kinder Morgan Inc. has yet to win over shareholders it lost after the cut. Management hopes that will change when it posts its new dividend guidance in the second half of this year, with a return in payout growth coming high on the agenda 2018+.
Four new Jones Act vessels will be added to its roster this year and the Utopia Pipeline project is set to come online at the beginning of 2018, which will help provide the boost Kinder Morgan Inc. is looking for. A bit later the Elba LNG facility and, depending on plenty of uncertainties, the massive expansion of its Trains Mountain pipeline underpins Kinder Morgan Inc.'s long-term growth aspirations. Along with a plethora of natural gas pipeline expansions and various terminal developments all across North America, Kinder Morgan Inc.'s turnaround is working.
Disclosure: I/we have no positions in any stocks mentioned, and no plans to initiate any positions within the next 72 hours.
I wrote this article myself, and it expresses my own opinions. I am not receiving compensation for it (other than from Seeking Alpha). I have no business relationship with any company whose stock is mentioned in this article.