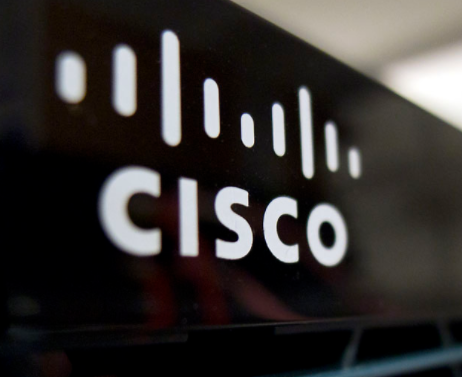 Cisco (CSCO) has had some rocky years in the past decade, but since 2011, the stock has pretty much done nothing but grind higher. A strong recovery in earnings certainly hasn't hurt, but in addition, Cisco has remained one of the better capital return stories out there. This is fueled largely by Cisco's prodigious FCF, but with acquisitions added into the mix, it sometimes has to supplement with debt. In this article, I'll take a look at Cisco's usage of debt and any implications it may have for shareholders going forward.
I'll be using data from Seeking Alpha for this exercise.
We'll begin by taking a look at Cisco's usage of short-term and long-term debt, in addition to the interest expense associated with it for the past five years and an estimate of 2017.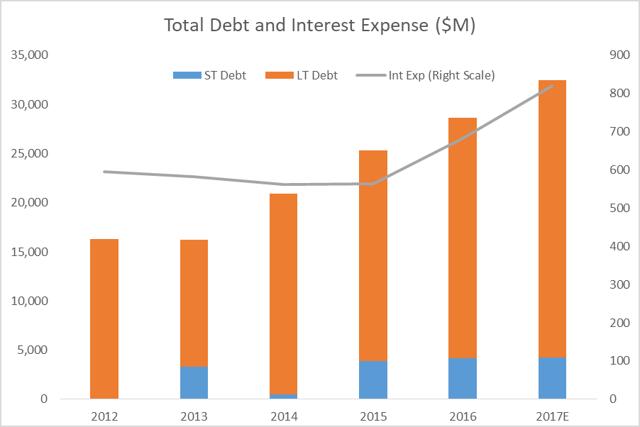 We can see that Cisco's usage of debt has moved much higher in the past few years and so too has its interest expense. Cisco's FCF is usually more than sufficient to cover its buyback and dividend needs, but acquisitions and general corporate usage has made it such that some incremental debt has been issued. We are talking about some pretty large numbers here; since 2013, Cisco's total debt has risen from just over $16B to just over $32B. including both short- and long-term debt. Most of Cisco's debt is of the long-term variety as it keeps a few billion dollars of short-term debt around, but Cisco's long-term total is about $28B right now. But to be fair, Cisco's market cap is $160B, so while its debt has increased substantially, it certainly doesn't appear burdensome at these levels.
Very interestingly, interest expense is up much less than Cisco's total debt. We know debt has doubled in the past five years, but interest expense is actually only just higher than it was in 2012. It is up 38% from that year's total, but with total debt doubling against 2012, that implies Cisco's average financing costs are well down, and as such, it is able to reap the benefits of double the debt for much less than double the financing costs. Years of rock bottom rates have made it such that companies could issue long-term debt at much lower rates than before and it certainly appears Cisco has taken full advantage of that.
In addition to raw numbers, I also like to look at interest expense as a percentage of operating income to get an idea of how burdensome debt financing is for a company; I've charted Cisco's numbers below. I like this measure because it combines total debt usage, the cost of that debt and the company's profitability into one metric that is very important to the company's bottom line. Regardless of what is happening with any one of those numbers, this one will tell you the full story in terms of how burdensome debt financing is for a company.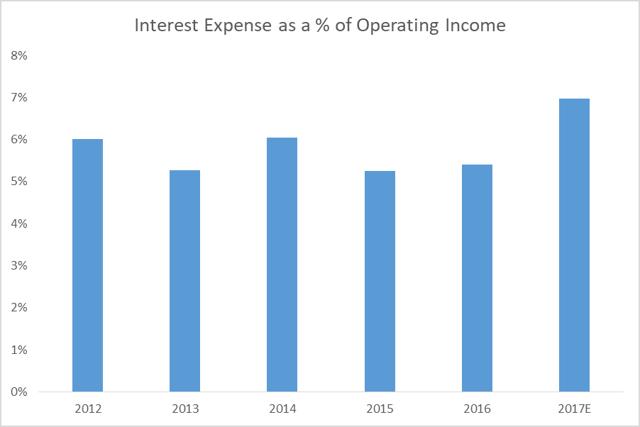 This chart is actually quite interesting considering what we know about Cisco's debt usage over this time frame. The combination of lower financing rates as well as oscillating operating income means that Cisco's financing costs as a percentage of operating income has been kept in check for the most part. My estimate for this year is right at 7%, just above the 6% it was in 2012. At those levels, Cisco is certainly quite able to comfortably afford to finance its debt without undue stress on its earnings. In fact, at 7% of operating income, Cisco could easily double its current financing costs, and if rates stay low or go lower, that implies it could at least double its current debt level without becoming overleveraged.
For the moment, Cisco's FCF is sufficient to not only finance its buyback and dividend, but to do so comfortably. However, Cisco does like to make acquisitions and should management want to go out and buy somebody sizable, shareholders can take comfort in knowing that even a very large debt issuance won't sink Cisco's earnings. In addition to that, Cisco's yield of 3.6% is much higher than its average financing cost, which is about 2.5% by my calculations, so a one-time, debt-financed accelerated buyback also sounds very prudent. The stock is also very cheap compared to much of the rest of large tech, so a $10B or $20B debt-financed buyback would not only juice EPS, but it could save Cisco some money on the dividend as well depending upon the financing terms. Either way, Cisco's balance sheet is in very nice shape and that means that when the time comes for management to tap the debt markets, it can do so in virtually any size and shape it likes. The balance sheet is certainly a source of strength for Cisco, and given the number of things it could do to take advantage of that situation, shareholders should be pleased.
Disclosure: I/we have no positions in any stocks mentioned, and no plans to initiate any positions within the next 72 hours.
I wrote this article myself, and it expresses my own opinions. I am not receiving compensation for it (other than from Seeking Alpha). I have no business relationship with any company whose stock is mentioned in this article.