We could be going out on a limb here, but we believe Freeport-McMoran (NYSE:FCX) is a buy.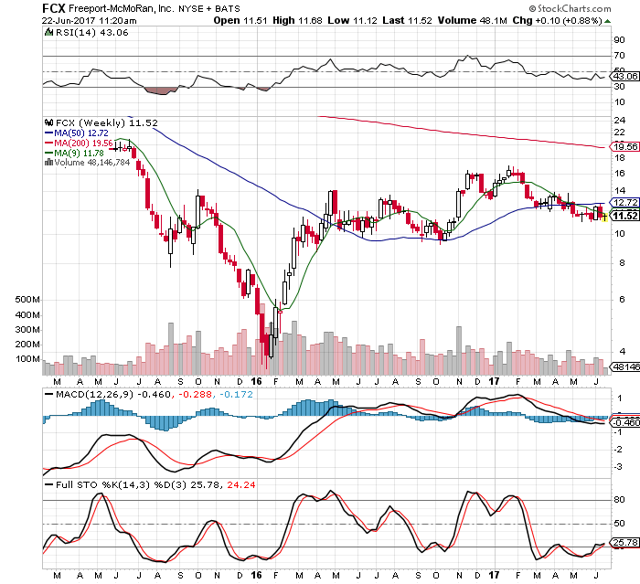 This former "Trump Trade" darling that was up 95% in 2016, has been a dud thus far in 2017 - down 13%. Part of what moved this stock higher was the belief that a Trump election would lead to a $500 billion infrastructure and economic stimulus. With Trump's legislation stalling and the future of Freeport's Grasberg mine in Indonesia looking uncertain, bullish momentum has fizzled out.
Despite the headwinds, there are enough bullish signs at the current share price to consider speculating here and going long Freeport.
1. Stabilizing Copper Prices
Obviously one of the top concerns is commodity pricing. Since 2011, copper prices have been cut in half, dropping below $2.00 per pound briefly before stabilizing and recovering to around $2.60 today.
The main reason for the drop in copper was related to China's economic slowdown and a decrease in Chinese imports. China is the largest consumer of copper in the world, so obviously if the Chinese economy is struggling, this will have wreak havoc on supply and demand.
The World Bank has a bullish outlook on copper, expecting the commodities price to increase by 18% in 2017. This hike is expected both on beliefs that global demand for copper will continue to improve and that mine disruptions will affect supply.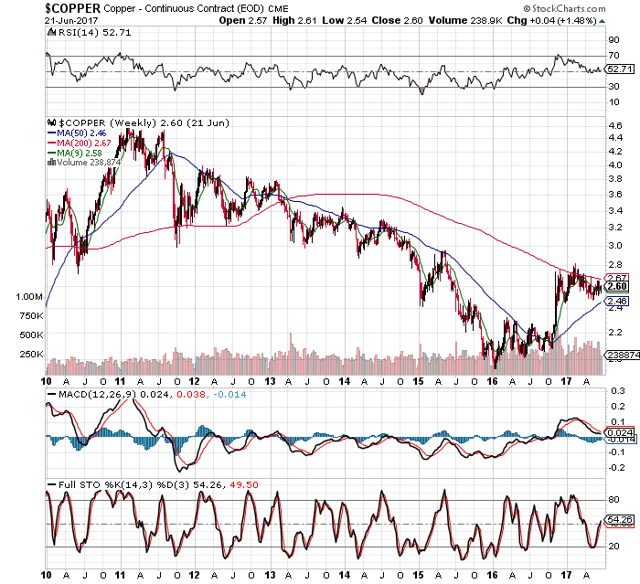 Analyzing the ISM Manufacturing Index, which is a good gauge for investors looking to understand national economic conditions, we see that overall economic conditions still look fairly stable. This is important because in order for copper prices to continue to recover economic growth remain steady or increase.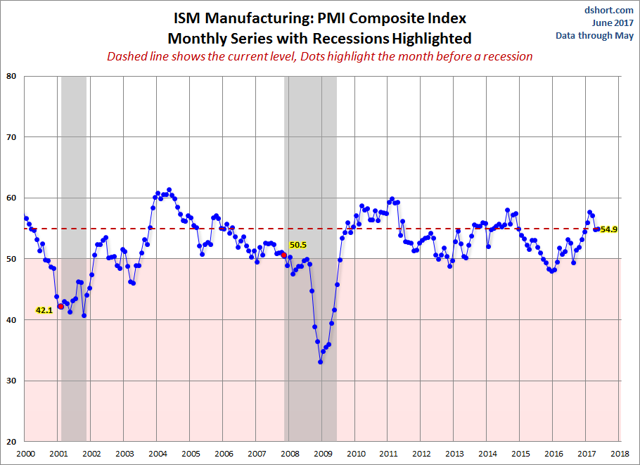 Image from Advisor Perspectives
The price of copper matters immensely for Freeport's profitability because for every $0.10 increase in copper prices, operating cash flow increase by about $275 million, or just more than $0.20 per share.
2. Aggressive Debt Reduction/Stabilizing Balance Sheet
In 2013, Freeport acquired McMoran Exploration and Plains Exploration. These acquisitions were seen as a way for the company to diversify its business. The timing of the acquisition could not have been any worse though, as both copper and oil prices plummeted and eroded Freeport's earning power. Freeport's net debt went from $3.5 billion in 2012 to $20.4 billion in 2014.
In 2016 Freeport took aggressive measures to repair the balance sheet. Through asset sales and stock issuances, the company reduced debt nearly 40%.
Freeport still has work to do but, with plans to divest the majority of the assets it acquired from the McMoRan Exploration and Plains Exploration, the company is making good on its promise to clean up the balance sheet.
3. Grasberg Mine Negativity Accounted For In Share Price
Freeport has been locked in a dispute with the Indonesian government over its contract to operate in the country. Indonesia is home to the world's second largest copper deposit, Grasberg. The political conundrum at Grasberg has been weighing on the company's stock price, and rightly so. Grasberg makes up nearly one-third of Freeport's copper reserves and nearly all of its gold reserves.
If a deal fails to get done, it would be a lose-lose for both Freeport and the Indonesian government, so there is a strong chance a deal will be worked out. The fine details of that deal, are far from clear at this point though, so the uncertainty is weighing heavily on the stock price.
Our Take:
Investing in Freeport is highly speculative at this point, and investors need to understand the risks associated. However, as the stock price has dropped, the risk to benefit of initiating a position in Freeport has changed.
The three points illustrated represent the largest problems Freeport has faced. We know it might seem quixotic to bank on a recovery in copper prices, continued debt reductions, and a resolution to the Grasberg mine dispute, but that is why consider Freeport is a highly speculative purchase.
Freeport has taken a lot of steps in the right direction, and the company is now free cash flow positive. Activist investor Carl Icahn has a large stake, and recently purchased $4 million worth of shares two weeks ago. So when it comes to Freeport, dare to speculate?
Click the "Follow" button next to our name at the top to read our future analysis. If you have any questions for us or would like us to cover a company, please comment below or message us directly. Thank you for reading!
Disclosure: I am/we are long FCX.
I wrote this article myself, and it expresses my own opinions. I am not receiving compensation for it (other than from Seeking Alpha). I have no business relationship with any company whose stock is mentioned in this article.