"Shale Gas Revolution" is still a teenager. However, the volume of operational and financial evidence demonstrating that natural gas shales "work" is overwhelming at this point. This evidence leaves no doubt, in my view, that North America is well supplied with low-cost natural gas (UNG) for at least a decade, and possibly much longer. Given that natural gas shortages were a clear and present danger as recently as 2008, this is a true paradigm shift for the continent's energy security (and, arguably, the world's energy security).
During the new technology's early years, shale skepticism was understandable. However, at this point, "peak gas" and "gas shales do not work" claims have largely moved into the category of conspiracy theories.
As they say, the proof of the pudding is in the eating. Two macro metrics – volumetric growth and market price - speak loudly in support of shale gas having a low cost of supply. Geologic assessments of resources in the ground indicate that this low cost of supply is likely to be sustained over a long period of time.
As consumption grows, over time, natural gas prices may increase materially above the ~$2.85-$2.90/MMBtu range predicted by the current futures curve. However, even then natural gas in North America is likely to remain an affordable and market share winning energy source.
Rapid Volumetric Growth
Since the beginning of the shale revolution, natural gas has won significant market share in the U.S. energy balance, growing at a rate far exceeding total energy consumption growth. During the decade ending 2015, U.S. natural gas production increased at a rate of ~4% a year, a remarkably rapid growth pace for a major commodity.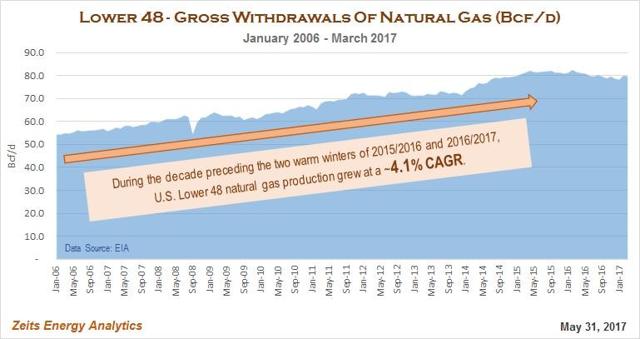 Shale gas skeptics often flag the fact that U.S. natural gas production has been stagnant since 2015, attributing the slowdown in growth to the shale gas industry not living up to optimistic expectations. This slowdown is sometimes presented as a harbinger of even greater problems ahead.
The concern is without merit, however. The two in a row abnormally warm winter seasons - 2015/2016 and 2016/2017 - severely reduced demand and were the obvious cause of this growth slowdown. The industry was forced to reduce production volumes to meet storage constraints.
Of note, North American storage was essentially full at the end of every injection season in the last six years (with the only exception of November 2014 that followed an abnormally cold winter).
Low Prices Have Been Sufficient To Support Rapid Growth
This remarkable volumetric growth has been accomplished despite a continuous decline in natural gas prices. In fact, since the beginning of 2012, Henry Hub spot price has averaged just $3.18 per MMBtu. This compares to the average price of $7.10 per MMBtu during the five years from 2003 to 2008. The contrast is even stronger if inflation is factored in.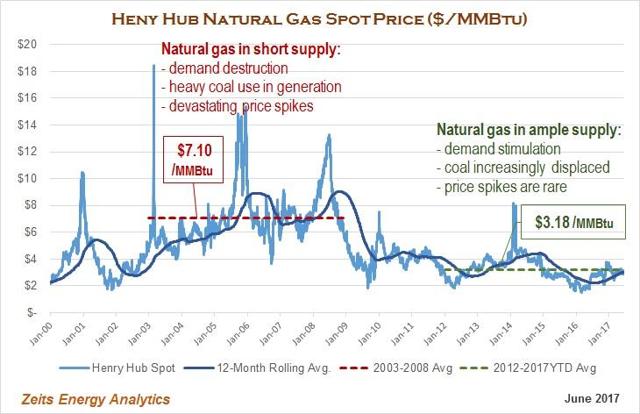 It is important to note that the relatively low price in the last several years was sufficient not only to stimulate strong growth in volumes but also trigger a massive infrastructure buildout. A case can be made that an even lower price will be sufficient going forward to meet demand, as local differentials will contract once adequate takeaway and processing capacity comes in service.
In fact, the market appears to agree. The futures curve indicates that natural gas is a "sub-$3/MMBtu commodity" for the next five years.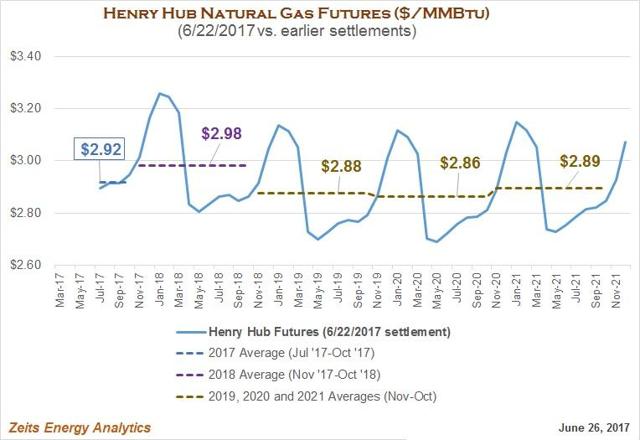 Operators Report Massive Commercial Resources
Shale skeptics often claim that the recent natural gas prosperity is a temporary phenomenon, as shale producers will soon exhaust the most prolific sweet spots and again struggle to meet demand. The concern is indeed valid, as the cost of supply in shales varies widely depending on rock quality. However, it is important to define the term "soon" in this context.
In fact, the trend over the last several years has been towards rapid expansion of the industry's sweet spot footprint, as large new areas were delineated and extraction techniques perfected. It is also important to note that U.S. natural gas plays that pioneered the shale gas revolution are not the only area of growth on the continent. North America is endowed with a vast set of sedimentary basins that stretch all the way from Canada to Mexico. Canadian shale and tight gas plays offer massive potential to grow supply while Mexico's shale resources have been largely untapped.
While the cost of North American natural gas supply may increase at the margin over time significantly, "soon" in this context likely means a decade or possibly even longer. In the meantime, leading operators continue to increase their estimates of commercial resources in the ground, with more data available every year to substantiate the estimates.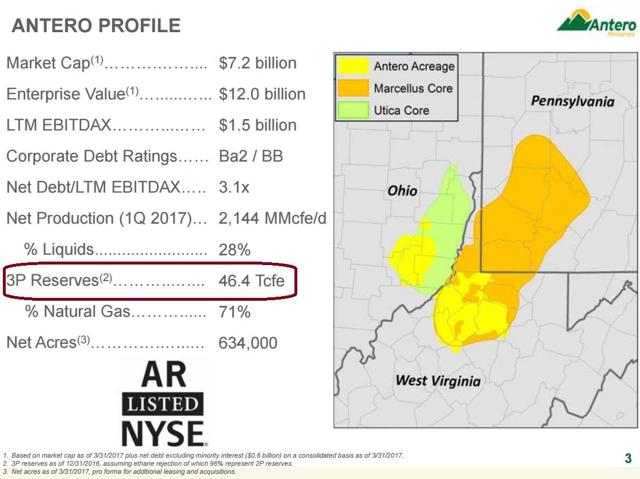 (Source: Antero Resources)
Tremendous Economic Value Has Been Created - Mostly For Consumers
"Shales don't work" advocates often allege that natural gas industry is not economically viable, as producers have spent more money acquiring and developing acreage than they generated in cash flow. Some go as far as compare shale gas industry to a Ponzi scheme, where production can grow only with the support from external capital injections.
The argument has no economic merit, however. First, it ignores the concept of sunk cost. Even if capital invested to date fails to produce expected returns, this fact would have little relevance for the cost of supply going forward. Second, the argument fails to recognize the value created by the industry in the form of the vast captured resources, infrastructure, supply chain capacity, and extraction technology. Significant upfront investments have been made in these critical aspects of natural gas production in the last decade. Finally, the argument implicitly suggests that the technological breakthrough should have accreted to natural gas producers. In a competitive marketplace, this presumption is incorrect. Producers can only benefit from their differential advantages. Given that the cost of supply has in fact flattened, consumers are the greatest winners, whereas many stock investors find themselves disappointed - thanks to the industry's remarkable success.
About OIL ANALYTICS
OIL ANALYTICS remains one of the most active offerings on Seeking Alpha's Marketplace, with 300+ exclusive materials posted for its members since the beginning of this year alone (a total of over 1,000 non-public materials available to members).
Through our analyses, OIL ANALYTICS accurately anticipated the recent correction in natural gas and recent correction in crude oil, as well as subsequent "bounces."
Our macro and company-specific views are continuously illustrated in our Model Portfolios and Best Stock Ideas modules.
Disclaimer: Opinions expressed herein by the author are not an investment recommendation and are not meant to be relied upon in investment decisions. The author is not acting in an investment, tax, legal or any other advisory capacity. This is not an investment research report. The author's opinions expressed herein address only select aspects of potential investment in securities of the companies mentioned and cannot be a substitute for comprehensive investment analysis. Any analysis presented herein is illustrative in nature, limited in scope, based on an incomplete set of information, and has limitations to its accuracy. The author recommends that potential and existing investors conduct thorough investment research of their own, including a detailed review of the companies' SEC filings, and consult a qualified investment advisor. The information upon which this material is based was obtained from sources believed to be reliable but has not been independently verified. Therefore, the author cannot guarantee its accuracy. Any opinions or estimates constitute the author's best judgment as of the date of publication and are subject to change without notice. The author explicitly disclaims any liability that may arise from the use of this material.