This post is a follow-up to my June 14 Seeking Alpha analysis, Finding Alpha in Reliable Dividend Banks. In that post, I reviewed total returns of 30 reliable dividend-paying banks to the S&P and the nation's biggest 14 banks. The analysis revealed that these banks as a peer group have created alpha over 1, 3, 5, and 10 years.
This post compares current valuations of the 30 banks to valuations since 2004. The following questions will be addressed:
• Are these reliable dividend banks a good value today?
• Which banks look pricey?
• Which banks look most attractive at today's prices?
The following banks succeeded to raise dividends annually since 2004 and are covered in this analysis: Access National Corp. (NASDAQ:ANCX), Arrow Financial Corp. (NASDAQ:AROW), Auburn National Bancorporation (NASDAQ:AUBN), Bancfirst (NASDAQ:BANF), Bar Harbor Bankshares (NYSEMKT:BHB), Bank of Marin Bancorp (NASDAQ:BMRC), Bryn Mawr Bank Corp. (NASDAQ:BMTC), BOK Financial Corp. (NASDAQ:BOKF), Commerce Bancshares (NASDAQ:CBSH), Community Bank System (NYSE:CBU), Cullen/Frost Bankers (NYSE:CFR), Community Trust Bancorp (NASDAQ:CTBI), First Capital (NASDAQ:FCAP), First of Long Island Corp. (NASDAQ:FLIC), Farmers & Merchants Bancorp (OTCQX:FMCB), Horizon Bancorp (NASDAQ:HBNC), National Bankshares (NASDAQ:NKSH), Norwood Financial Corp. (NASDAQ:NWFL), Bank of the Ozarks (OZRK), Prosperity Bancshares (NYSE:PB), People's United Financial, Inc. (NASDAQ:PBCT), Stock Yards Bancorp (NASDAQ:SYBT), Tompkins Financial Corp. (NYSEMKT:TMP), United Bankshares (NASDAQ:UBSI), UMB Financial Corp. (NASDAQ:UMBF), Westamerica (NASDAQ:WABC), and Washington Trust (NASDAQ:WASH).
Valuations are up 10% to 20% for 30 Reliable Dividend Banks as a Group
Chart 1 shows the quarter-end median price to earnings ratio (P/E) for the 30 reliable dividend banks as a group dating back to year-end 2004. On June 22, 2017, the median P/E for the 30 banks was 18.8 compared to an average of 16.5 since 2004 and 15.7 over the past five years. Note that the current median P/E is higher than at any time since the end of 2004.
Chart 1: Current P/E up 14% compared to average since 2004 and 20% since 2011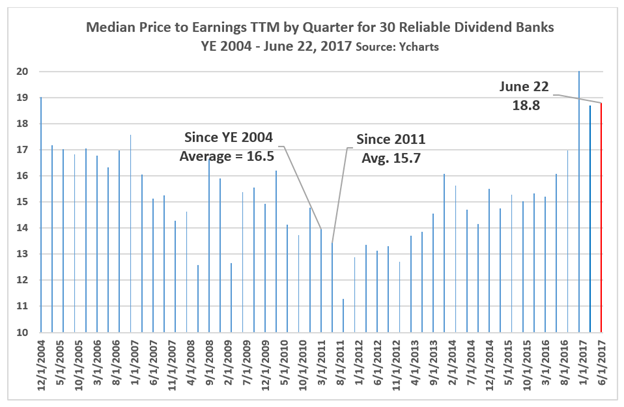 Price to book (P/B) valuations mirror the P/E story for the 30 reliable dividend banks. Chart 2 indicates that the median P/B for the 30 banks was 1.79 on June 22 compared to 1.63 since year-end 2004 and 1.48 since 2011. It is worth noting that P/B ratios from 2005 to 2007 were consistently around 2.0 for the 30 banks as a peer group. In 3Q 2011, the median P/B of the banks fell to a 13-year low of 1.1.
While earnings for the 30 banks are up since 2005 to 2007, the banks' shareholder equity has increased at an even faster rate. Just as the recently published Stress Tests show that the big banks are now over-capitalized, the same is true for select smaller banks like many of the reliable dividend banks identified for this post. Expect the big banks over the next few weeks to announce more share repurchases and dividend hikes. However, the same is not necessarily true for the 30 reliable dividend banks that are not subject to Stress Tests.
Chart 2: Current P/B up 10% compared to average since 2004 and 21% since 2011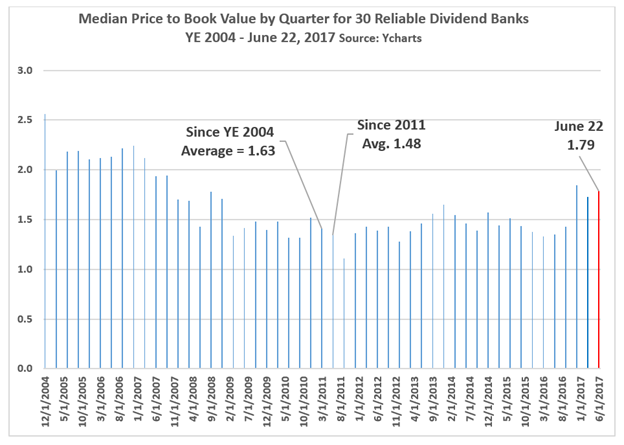 The third chart shows median quarter-end price to tangible book values (P/TBV) for the 30 banks since 2004. Just as seen in the prior two charts, the current P/TBV ratio is 8% higher than the average since 2004 and 20% since 2011.
Chart 3: Current P/TBV is 2.14 compared to 1.98 since 2004 and 1.79 since 2011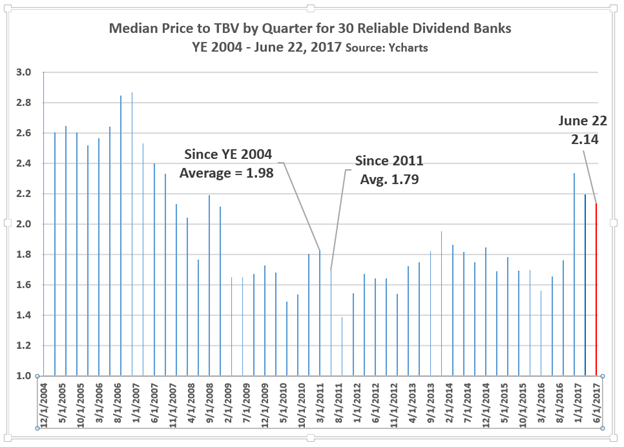 Summarizing the prior three charts, 2017 valuations for the 30 reliable dividend banks as a peer group are higher than at any time since 2007. Whether the valuation method is P/E, P/B, or P/TBV, the results are the same: current valuations are 10% to 20% greater than recent history.
But are valuations 10-20% higher than recent history a reason for bank investors to avoid these banks? To answer that question the analysis now narrows to a study of the P/Es of the 30 individual banks.
Deep Dive Analysis of Price-to-Earnings Ratios for 30 Banks
Chart 4 overviews the current P/Es of the 30 banks. As indicated, the peer group average of 18.8 (rounds to 19) is higher than at any time between 2004 and the election of 2016. Nine banks are highlighted in red. These nine banks are ones in which I am currently invested. Also, two banks - BHB and CBU - had acquisitions during the past year; in their cases, earnings have been normalized to ensure an apples-to-apples read of their current P/Es.
Chart 4: P/Es range from 14 to 23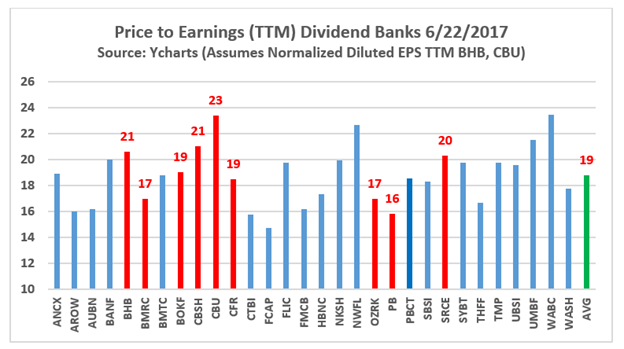 Chart 5 compares the June 22, 2017, P/E ratios for each bank to the median quarter-end P/E for each bank since 2004. Three key observations can be drawn from chart 5.
First, every bank except PBCT has a current P/E greater than the median quarter-end P/E dating back to 2004. As PBCT has the largest market cap of the 30 banks at $5.93 billion on June 25, 2017 (OZRK $5.87 B., CFR $5.81 B.), investors might want to know why PBCT is the only bank of the peer group to not have a current P/E greater than recent history. The reason has to do with its elevated P/E ratios during 2007 to 2010. During these four years, PBCT enjoyed a P/E ratio much higher than other reliable dividend bank stocks.
Second, while current P/E ratios are higher for 29 of the banks, in some cases, current P/E ratios are dramatically higher than in the past. Those banks are: ANCX, BHB, CBU, FLIC, HBNC, NKSH, and NWFL. Four of those seven banks had the lowest 2004 to 2007 average P/E ratios: ANCX, BHB, HBNC, and NKSH. Two others - FLIC and NWFL - had the 7th and 11th lowest historic P/Es. What this tells investors is that there has been a reversion to the mean P/E for the banks that have had the historically lowest P/E ratios.
Third, the banks with the least improvement in current P/E are generally the banks with the highest historic P/E ratios. As already noted, PBCT falls into this category. Once again, investors are seeing evidence of reversion to the mean.
Chart 5: Current P/E to 2004-2017 P/E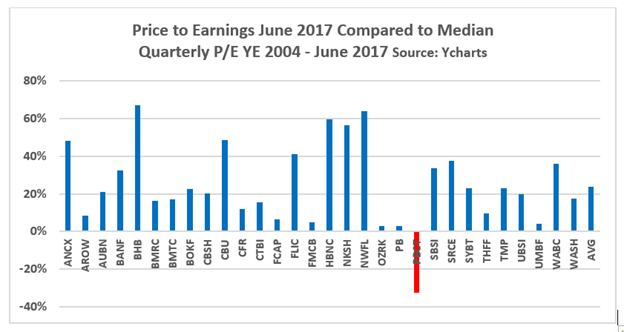 To add further color to chart 5, it is useful to highlight that nine of the banks have current P/E ratios that are more than one standard deviation greater than historic P/E ratios. This includes AROW, AUBN, BMTC, CTBI, FCAP, FMCB, OZRK, PB, and WASH. Statistically, a jump of one standard deviation is meaningful evidence of the investment community's confidence in future earnings.
Eight other banks have P/Es that are two standard deviations greater than 2004 to 2017 P/Es: BANF, BHB, CBU, HBNC, NKSH, SRCE, SYBT, and THFF. This latter group is much more highly valued by investors than in recent years. However, a two standard deviation jump in valuation is a two-edged sword as these banks are likely the most vulnerable to the forces that drive valuations over time back to mean P/E ratios.
If the 30 reliable dividend banks have higher valuations than in the past, does this mean the banks are pricey? If so, should investors stay on the sidelines and wait for valuations to revert to historic averages?
To answer these two questions, it is helpful to consider the earnings estimates generated by bank analysts who follow the banks.
Chart 6 indicates that the current elevated P/Es are fueled by expectations that 2018 earnings will improve dramatically over the run-rate for the year ending March 31, 2017 (TTM refers to trailing twelve months of earnings). While not all 30 banks have analyst estimates for 2018 (or perhaps my source for the data, YCharts, does not have access to their estimates), there are 2018 EPS estimates for 24 of the banks. Of the 24, only one, BMRC, shows analyst estimates for 2018 EPS below the current run-rate. The others show EPS growth estimates ranging from a low of +5% to +34%.
Among the banks with current P/E ratios two standard deviations greater than history, two of the banks - BANF and THFF - show single-digit earnings growth for 2018. Their recent spike in P/E ratios looks lofty based only on earnings growth expectations. On the other side of the coin, OZRK's current P/E looks modest relative to the +28% EPS improvement forecasted by analysts who follow the bank.
Chart 6: Estimated 2018 EPS compared to Q1 2017 EPS TTM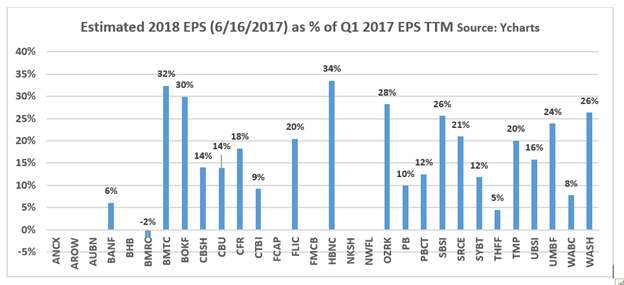 The next chart is intended to offer a caveat to investors who may put too much credence into analyst earnings estimates. Chart 7 shows the number of analysts providing 2018 earnings estimates for each bank. As noted in my prior post, these 30 reliable dividend banks are generally under-followed by bank analysts. As proof, only two of the banks - Texas-based CFR and PB - are covered by more than 10 analysts. The dearth of analyst coverage for the vast majority suggests investors should be cautious about putting too much credence into analyst estimates.
In fact, there is one other reason bank investors may want to err on the side of caution when it comes to 2018 earnings forecasts. In many ways, these are the best of times for banks, and most analysts appear to expect the near future to look like the present.
What can go wrong?
First, loan loss provision remains significantly lower than 33 years of recorded FDIC data. This mean credit quality is excellent. But credit quality can go south, especially if the expected improvement in GDP growth is not realized.
Second, funding costs have never been lower for banks. But funding costs have not only been historically low for banks but also borrowers. As rates go up, borrowing costs go up. Over time an increase in rates almost always dampens loan demand.
The big risks to 2018 earnings are: 1) A deterioration in loan quality - causing banks to pump up loan loss reserves (allowance) by jacking up provision that directly hits EPS; and 2) a slowdown in loan demand which impairs projected revenue growth.
Chart 7: Analyst coverage by bank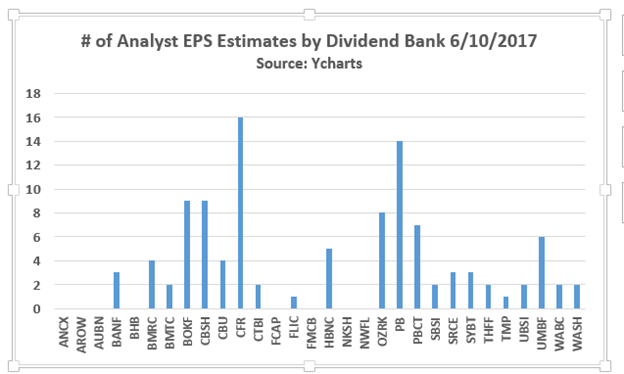 Chart 8 takes the 2018 analyst EPS estimates and adjusts current P/E ratios based on expected earnings growth. The result is that all the banks except BMRC are expected to grow into their current P/E ratios. What this means is that today's elevated valuations reflect the expected strength of 2018 earnings.
Based on 2018 EPS estimates, BMTC, BOKF, HBNC, OZRK, SBSI, UMBF, and WASH are each expected to see the most favorable improvement in P/E valuations.
Chart 8: Change in P/E based on estimated 2018 EPS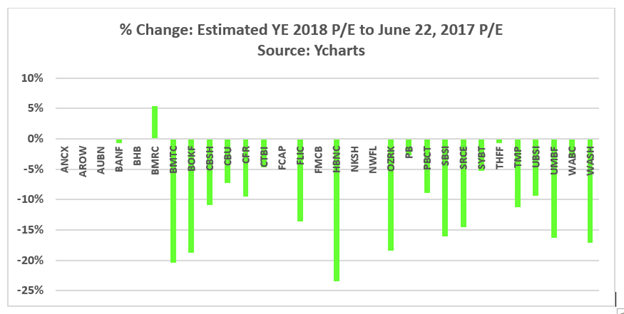 Several readers of my last post inquired about dividend yields for the 30 reliable dividend banks. Chart 9 is the first of four addressing dividend yield trends.
Chart 9 shows that the average dividend yield for the 30 banks is currently 2.29%, which compares to 1.86% for the S&P 500. PBCT has the highest dividend yield; 11 banks have yields less than 2%.
Chart 9: Current dividend yields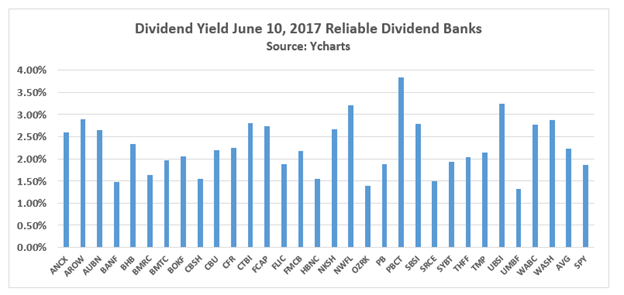 Chart 10 compares current dividend yields by bank to the average dividend yield since 2004 for each bank. All but two banks have current dividend yields below historic averages.
Chart 10: Current dividend yield compared to 2004-2017 average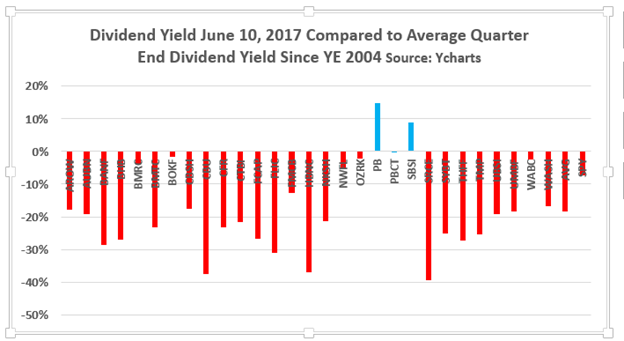 Chart 11 indicates that the average dividend payout ratio was 44% on March 31, 2017. The bank with the highest yielding dividend, PBCT, is also the bank with the highest payout ratio.
Chart 11: Payout ratios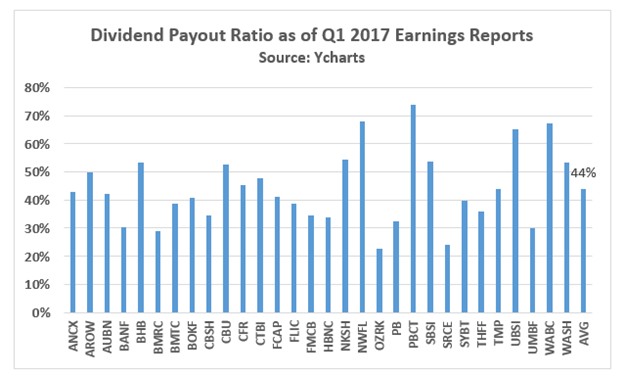 Chart 12 compares current payout ratios to the 2004-2017 average. Note the last column. It shows that the current payout ratio is just about the same as the historic average.
The prior chart shows that BANF, BMRC, OZRK, SRCE, and UMBF all have payout ratios less than 30%. Of those banks, BMRC is the only one trending to pay out a greater percentage of earnings into dividends.
SRCE appears to be moving in the opposite direction as its board has elected to pay out a smaller percentage of earnings in dividends in recent years compared to the past. This family-controlled $5.4 billion Indiana-based bank is plowing capital into growth, although SRCE increased its dividend by 5.56% in April.
In the bank's 2016 Annual Shareholder Letter - which is one of the best short letters written by a bank executive this year - the chairman described a number of factors influencing expense and investment trends. Bank CEOs lacking a clearly articulated plan for prudent and disciplined growth are likely bankers determined to sell the bank sooner than later. SRCE's 70-year old chairman (and presumably his 47-year old CEO son) recognizes banks that intend to stay in business must invest to grow profitably.
Chart 12: Dividend payout ratio Q1 2017 compared to 2004-2017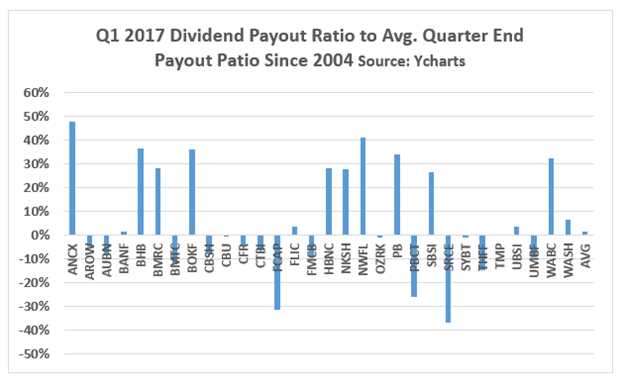 Having reviewed valuation and dividend data, let's now consider the questions posed at the beginning of this post.
Are these reliable dividend banks a good value today?
Answer: It all depends. If 2018 earnings come in as expected, the 30 reliable dividend banks will grow into their current valuations. In this respect, while the banks as a group are not bargains, they are not over-priced. That said, no one knows for sure how 2018 earnings will pan out, but estimates suggest significant growth over current earnings for most of the banks. With such high earnings expectations, there is room for disappointment.
Regarding the nine banks I own a small share in, I look at all nine as long-term holds in a geographically diverse group of some of the best managed, highest-quality banks in the country. Each has a strong record of through-the-cycle performance enabled by bank executives with proven records for creating sturdy long-term shareholder value. Their CEOs are major shareholders, and in the cases of BOKF, CBSH, and SRCE, families control the banks. While not exactly true of OZRK, one family wields enormous influence there.
However, I have not been a buyer of these reliable dividend bank stocks - with one small exception to be described - because I would prefer to buy into well-run banks that I believe offer not only likely strong future performance but can also be acquired at a price that provides a reasonable margin of safety. For the reasons highlighted in this post, the 30 reliable dividend banks appear vulnerable to a reversion to mean valuations. This is especially true for those banks with valuations two standard deviations above recent history.
The valuation concern goes beyond the reliable dividend banks. The same is true for the overall market as I documented in my February post, Is It Time To Sell Everything But High Quality Stocks?. In that post, I provided three charts that suggest current market valuations are at nose-bleed levels.
Specific to banks, until recently, I was not a buyer of bank stocks. However, in May, I invested in four banks that I believe combine margin of safety with favorable earnings potential. One of those banks was Huntington (NASDAQ:HBAN) as described in this May Seeking Alpha post, Favorite Buy Signal: This Bank CEO Just Bought 50,000 Shares.
Which banks look most pricey?
As already noted, based only on current valuations premiums and 2018 earnings estimates, Oklahoma's BANF and rural Indiana's THFF look rich right now. As I recall, THFF is a Dividend Champion, meaning it has raised dividends annually for 25 or more years. These are terrific banks, but maybe a bit pricey.
Some investors may now shy away from oil patch banks as a result of softening in the oil and gas market. Three of my reliable dividend bank holdings - CFR, PB, and BOKF - are linked to this industry by virtue of their Texas and Oklahoma headquarters. All three saw their stock prices get slammed last time a barrel of oil fell to $30. As a result, their stock prices went on sale and I was a buyer. Let's look briefly at all three.
CFR survived the 1980s Great Texas Depression. I was in Texas in the late 1980s after my bank acquired the two biggest banks in the state shortly after they merged and then failed. More than 800 Texas banks failed during the tailspin. Only one of the biggest banks did not, CFR. This bank will always have my respect because I know a lot of great Texas bankers whose banks did not survive when the entire state's economy collapsed.
Maybe because of their experience back in the '80s, CFR is the ultimate conservative bank. Here's evidence courtesy of 1Q 2017 FDIC data: CFR holds 15% of its assets today in cash, 39% in securities, and only 40% in loans. Besides, it has a rich deposit base with a 1Q 2017 cost of funds of a measly 3 basis points (three cents per $100). When the bank's recently retired chairman and CEO bought shares a year ago February, I immediately followed his lead and acquired shares under $50.
When CFR's stock price started climbing into the mid-$70s later in 2016, insiders began selling and selling a lot. The most recent sales (options exercised) were between $92 and $93 back in February. Since I pay close attention to bank insider trades, I followed their lead and sold some of the shares I acquired a year earlier in my IRA. However, I continue to hold CFR in the IRA as well as in a taxable account.
I am encouraged to see a CFR director buy $2 million of CFR in the open market at around $90 in mid-May. I will be a buyer of CFR on weakness.
PB is a unique bank in many ways but it also has some distinct similarities to CFR. First, only 43% of the bank's assets are in loans while 44% are securities. Simply because it is in Texas, bank analysts got all hot and bothered about the bank's oil and gas exposure back in late 2015, early 2016. The concern seemed overblown to me since management was crystal clear in earnings calls that the oil and exposure represented a small percentage of total loans and the balance sheet. Nonetheless, PB management acted with gravity and urgency to analyst concerns.
While I do not listen to all earnings calls (prefer to read them in the interest of time), back on January 27, 2016, I was in an airport listening to PB's 4Q 2015 analyst call. Well into the call, the CEO made this remarkable observation in response to a question about the advantages of stock buybacks versus M&A. Here is what the CEO said (Source: Seeking Alpha):
"We were never in favor, really, buying our own stock back. We were really looking more at the growth scenario and using our money for M&A and organic growth and on like that. Having said that, I think our stock is so ridiculously low right now we can't help but to buy back the amount that we said we would. This is the equivalent -- if we bought all the stock back based on what we said we would, that's better than buying a $2 billion or $3 billion bank. It's almost a 5% accretion for us in numbers."
The minute the CEO finished his thought, I hung up the phone and bought more PB at around $36 a share. It got as high as $77+ since then and is today about $62.
One reason I really like PB is because it has its own signature model for M&A. Its model is not for everyone. When it buys a bank, it strips expenses down to the bone. Here's proof: PB's Overhead Ratio Q1 2017 was a peer-leading 1.54%. In my recent book about bank investing, I describe in a lot of detail why the OH ratio is so important to bank investors. I actually prefer the OH ratio to the more common industry metric, efficiency ratio. In PB's case, its efficiency ratio was 40.5 in 2016, also a brilliant number.
As for BOKF, in my 2016 book, this bank was identified as the only bank in the country that met all the investment criteria laid out by Warren Buffett's mentor, Benjamin Graham, in his investment classic, The Intelligent Investor. In this regard, BOKF would be a worthy holding for Buffett. However, someone beat him to it; its principal shareholder controls 65% of the $32 billion bank with a market cap of $5.2 billion. Despite oil price worries, BOKF recently hit a new high. But it seems pricey to me.
Two other reliable dividend banks look like they may be getting expensive: UMBF and CBSH. These two banks are both based in Missouri, but at opposite ends of the state. Each is led by members of the Kemper family who both manage and control their respective banks.
Here's one more thing the two banks have in common: insiders have been selling shares in Q2 2017. This includes Kemper family members. UMBF's shares have been sold by insiders in the mid-$70s while CBSH's shares have been sold in the mid-$50s. I continue to hold CBSH shares but can appreciate insiders selling at today's prices.
Which banks look most attractive?
None of the reliable dividend banks are priced today at bargain prices. But two are worthy of consideration for long-term buy and hold investors. Both may be seen as contrarian plays.
The first is BMRC, a California bank based in Marin County (San Francisco Bay area). As already noted, BMRC is the only bank among the reliable dividend banks showing estimated 2018 EPS below the most current EPS. Part of the reason for the drop is that Q1 growth disappointed the few analysts following the stock. To be clear, credit quality remains stellar and funding costs outstanding. However, Q1 did not keep pace with the bigger than expected growth in loans and earnings registered in Q4 2017. My hunch is that the big growth in Q4 2016 caused analysts to be too bullish on BMRC's immediate growth prospects.
One thing BMRC is not is a high growth bank. Most BMRC investors know that this bank's management team is highly respected across the industry. The CEO's constant theme is "discipline." Read the quarterly earnings calls and you will find the CEO is a by-the-books lender, exactly the kind of CEO I trust with my investment dollars.
In addition to a highly capable management team, the bank has the distinction of having a former Federal Reserve Board governor on its board. I am aware of no other bank of this size in the country that can make the same claim.
BMRC is currently $61 a share. It's got as high as $70+ in March. I like BMRC as a long-term hold. I bought a few shares after the Q1 earnings call and I am a buyer if the price falls to the mid-$50s.
OZRK is the only other bank among the reliable dividend banks currently on my radar. Like BMRC, OZRK has been brilliantly managed for a long time. This Arkansas bank leads the banking industry in shareholder returns over the past 10 years. OZRK's current valuation looks very attractive based on 2018 earnings estimates.
The concern investors have with OZRK is its long-term business model that centers on real estate lending. My own research and, more importantly, the bank regulators' experience show real estate lending to be highly cyclical. Consequently, banks focused on real estate lending have historically produced poor risk-adjusted returns. Profits look solid when the economy is in good shape but fall precipitously when the cycle turns.
But OZRK has been a definite outlier among banks concentrating in real estate lending. The bank did well during the financial crisis and thrived in the immediate aftermath as it picked up banks and impaired loans cheap.
In more recent years, the bank has been on a buying spree with a particular focus on Florida. And that worries me. Having been a banker for six years in Florida, I know first-hand that Florida is highly vulnerable to booms and busts. Since the 1980s, nearly 3,500 banks and S&Ls have failed in the US. In the 1980s, Florida was a top 5 leader among states in the number of bank failures; the same was true from 2008 to 2011. Do you notice a pattern? Florida business cycles have been vicious for 100 years.
Florida has also proven to be the final resting grounds for many a confident bank CEO who comes in from out of state eager to ride the booming economy. There is a long record of such bankers paying top dollar for acquisitions during the boom only to suffer during the bust. I need to do more research on the current lending trends in Florida.
OZRK holds my favorite bank earnings call every quarter. Why? It is a brilliant demonstration of a CEO and bank that does its homework. For a long time the CEO was a one-man show during the quarterly earnings calls. I marveled at his grasp of details and immediate ability to pull numbers. Yet, at the same time, I worried that he was indeed a one-man show. Investors like me had no real clue as to the depth of the management team behind the CEO.
I made this very point in my book about bank investing. Recently OZRK changed its quarterly earnings call format to include a number of other bank executives. Other members of the management team have proven to share the CEO's impressive knowledge of the details that make OZRK tick. In fact, I was not surprised to learn when reading the 2017 OZRK annual report that 8 of the 12 members of the management team have CPAs. This is a high number and further evidence of OZRK managers' strong banking acumen.
While I have owned shares in OZRK for several years, I only own a token 100 shares, reflecting my general concern with the bank's real estate lending concentration as well as its rapid growth. Investors may recall that in mid-2016 a hedge fund famously announced it was shorting OZRK. The stock price fell into the mid-$30s.
Today OZRK is around $45. I have no plans to buy OZRK despite the impressive forward P/E until Q2 earnings are reported (which I expect to be strong) and I complete a detailed analysis of Florida bank trends.
One other reliable dividend bank is worth noting because of its recent acquisition: BHB. This Maine bank doubled in size recently by acquiring a bank in neighboring New Hampshire. I like this acquisition as BHB has a long history of prudent expense management; the bank it is acquiring had not demonstrated the same rigor. The real test for BHB's management will be its ability to replicate its business model and expense structure in the acquired bank. The next two quarters will give investors insight into the bank's progress.
Summary
There are no bargains today among the 30 reliable dividend banks. Valuations are high and dividend yields are low when compared to recent history. The same can be said of much of the S&P 500.
Pay close attention to bank earnings calls over the next several quarters as analyst expectations for 2018 are sky-high. Banks that fail to keep pace with the expectations will likely see their stock prices get pounded as analysts lose face and trim earnings forecasts. Banks that meet earnings estimates will grow into their current elevated valuations.
Watch the economy as banks are barometers of the overall economy.
Finally, I continue to believe investors will do well over time owning a portfolio of 10 to 20 well-managed community and regional banks spread across the US. It also helps if the banks have different business models. Look for banks like the 30 reliable dividend banks with competitive advantages (like low cost of funds, superior overhead cost management, or a long history of superior customer service) and that have proven management teams that think and act as long-term shareholders.
Disclosure: I am/we are long BHB, BOKF, BMRC, CFR, CBU, CBSH, HBAN, SRCE, OZRK, PB.
I wrote this article myself, and it expresses my own opinions. I am not receiving compensation for it (other than from Seeking Alpha). I have no business relationship with any company whose stock is mentioned in this article.
Additional disclosure: Banks periodically pay me to speak to directors about bank performance. None of the banks noted in this post have paid me to speak during the past 12 months.
Editor's Note: This article discusses one or more securities that do not trade on a major U.S. exchange. Please be aware of the risks associated with these stocks.