I want to follow up on two subjects that generate a lot of comments and investment inquiries from my Seeking Alpha articles:
· Pharmaceutical companies developing cannabis-based products, and
· Investment opportunities in Israel-based companies developing and commercializing medicines with cannabis ingredients.
Israeli scientists, revered worldwide as biomed and hi-tech innovators, are leaders of this new intersection of cannabis and medicine. Investing in pharmaceutical companies working with cannabis is the smartest way forward, because most other companies in the recreational marijuana industry are a mess. People are dismayed or exhausted with recreational marijuana stocks. MMJ R&D is flourishing in Israel, because the government encourages the scientists and funds selected research. Second, much of the work begins in university laboratories and the relationship continues after scientist's moves his work into the private sector. Beware, however, because neither the science nor U S legal acceptability can be taken for granted.
The issues pharmaceutical companies working with cannabis face include the following. Scientists have identified only some 20 of the 142 cannabinoids found in marijuana; and next, they must match them to the exact biological function in the human body. Then matching the right cannabinoids to the right illness is another yeoman's task. Extracting them, encapsulating them and creating delivery mechanisms is another issue. After all this, consider the fact that health ministries and the FDA only permit a tiny amount of purified isolated molecules in a cannabis-based drug. One Israeli CEO in pharma-cannabis warns, "The only way to make cannabis an FDA drug and prescribe it as a pharmaceutical product is to isolate each one of the cannabinoids and purify it to almost 100%."
Last year, I wrote about three Israeli companies in the field for Israel, The Spark-Up Nation For Medical Marijuana Investing. One company is out of the business, while two others continue attracting investors.
Cannabics Pharmaceuticals Inc. (OTCQB:CNBX) was founded by Israelis in 2012. Shares were selling for pennies in March 2016 when I highlighted the company. Six months later share price raised eventually topping $7. Today shares sells for little more than $1. The company makes a delayed-release pill sold in the U S improving life for advanced stage cancer patients.

In a June 2017 announcement shareholders were informed, "We are gaining new data from our study on circulating tumor cells, currently focusing on cannabinoids-CBD and CBDA... [and] creating software for big data analysis and its presentation to doctors." The company raised $3M in a 2017 private placement, "for personalized treatment with cannabis that correlates to the genetics and biology of the patient and the cancer." D-Beta One EQ, Ltd. ("D-Beta"). D-Beta purchased 3,000,000 shares of common stock at $1.00 per share, and may purchase up to an additional 1,500,000 shares of common stock at a purchase price of $2.00 per share over the next 12 months. No warrants are associated with this transaction. CNBX management anticipates $750K in current revenues from the pill and data systems will skyrocket to $84M in 2019. Trade volume averages little more than 300K shares per day.
My favorite Israel cannabis-based product development company remains One World Cannabis (OTCQB: OWCP). When I recommended it in March 2016 shares sold for ten cents. In early 2017, the share price popped to $3.23 for no apparent reason, and for no apparent reason share price settled back to 65 cents and seems to be holding. Shares are lightly traded at little more than 300K shares. One World Cannabis performs R&D and is commercializing cannabis-based novel therapeutics products and treatments for multiple myeloma, psoriasis, Fibromyalgia, migraine and PTSD (post-traumatic stress disorder).
OWCP holds eight provisional patent applications and PCTs. OWCP has a ready-to-go delivery system in tablet form replacing smoking in pain treatment, and a topical cream for skin diseases including psoriasis both products waiting for safety and clinical test results. It seems likely OWCP mastered the four rungs indispensable for successful pharmaceutical-based cannabis: getting the growth right, extracting the correct ingredients, encapsulation, and effective drug delivery.
Another Israeli-based company is addressing the massive and destructive worldwide crisis of opioid abuse.
According to the American Academy of Pain Medicine, the "cost of health care due to pain ranges from $560 billion to $635 billion (in 2010 dollars) in the United States, 42 million people report that pain or physical discomfort disrupts their sleep a few nights a week or more." In 2011, more than 200M prescriptions for opioids were written for pain relief claims the CDC. There are some 20K deaths from opioid overdoses every year in the US. Nevertheless, the FDA to-date has not approved cannabis-based pain killing drugs. Here is another Israeli company investors ought to consider that is betting on the future for cannabis-based pain management drugs.
Intec Pharmaceuticals based in Jerusalem (NASDAQ: NTEC) is about four years old. NTEC developed gastric retention technology leading to The Accordion Pill. It narrows the absorption window of certain classes of drugs including poorly soluble drugs that create adverse effects. Company technology is being studied for in patients with advanced Parkinson's disease (a $3B market), and people suffering from insomnia. In March 2017 the company announced entering Phase 1 clinical trial of its Pill with two cannabinoids testing for low back pain and Fibromyalgia. The trial will compare safety and tolerability of the company's AP-CBD/THC with GW Pharmaceutical's (NASDAQ: GWPH) Sativex.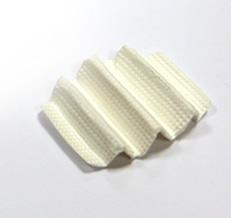 NTEC opened at pennies a share with an initial public offering of $30M. NTEC was then burning $6-$7M annually. In 2015 share price moved from pennies to about $6. In 2017 Intec announced garnering a private placement of $10M for $4.40 per share of 2.3M ordinary shares. NTEC recently closed at $5.35 with a market cap above $81M. The company closed out 2016 with more than $18M cash and equivalents and little debt. This is a company worth following and might reach its suggested target price of $9.25 sooner than expected. In May 2017, the US Patent office issued a patent in effect until the end of 2031 for the AP platform technology.
If these companies succeed, they will relieve pain and bring pleasure to investors. In the spirit of Mark Twain wanting to turn paint into pleasure, "the most perfect felicity," he fancied, "I would not ask more than to be remembered hereafter as the man who conferred this priceless benefaction upon his race."
Disclosure: I/we have no positions in any stocks mentioned, and no plans to initiate any positions within the next 72 hours.
I wrote this article myself, and it expresses my own opinions. I am not receiving compensation for it (other than from Seeking Alpha). I have no business relationship with any company whose stock is mentioned in this article.
Editor's Note: This article covers one or more stocks trading at less than $1 per share and/or with less than a $100 million market cap. Please be aware of the risks associated with these stocks.