Warm forecasts have sparked a rally in natural gas prices with near term futures trading above $3 per Mcf this morning. Warm weather is expected to reach into the Midwest, the Northeast, and the South. It looks like the warm weather will continue for the foreseeable future in July. This could bring natural gas storage levels back in-line with the five-year-average before the end of summer, assuming the heat continues. First we will look at the weather forecasts, then we will look at their potential impact on natural gas storage.
AccuWeather is forecasting warm humid weather will invade and linger in the Eastern half of the country entering July. The population rich I-95 corridor will see a return of heat and humidity as seen below: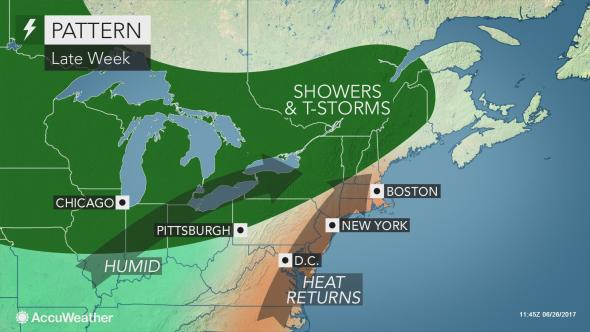 The real-feel temperatures will reach well into the 90's when the humidity is factored in. Because of the large amount of rain that has fallen in May and June in the Eastern half of the country, there will not be real relief from humid conditions for some time. AccuWeather Long-Range Meteorologist Max Vido said:
"After the Fourth of July, we could be heading into a warmer pattern for the mid-Atlantic and southern New England as the Bermuda High strengthens," he said.

"The Bermuda High is a semi-permanent area of high pressure situated over the central Atlantic Ocean and is notorious for pumping heat and humidity across the Eastern Seaboard when it builds westward."
Air conditioners and fans will not only be working overtime in the Northern half of the country, but in the South as well. A strong push of humidity will keep real-feel temperatures well into the 90's in the South: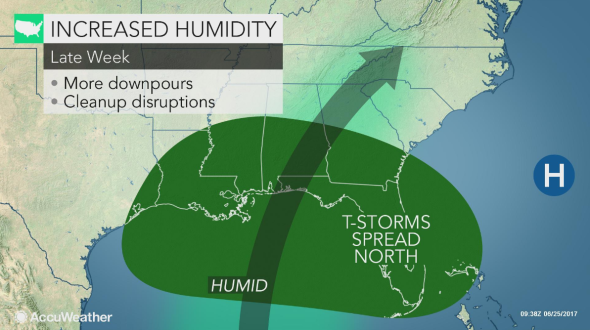 Outside of the desert Southwest, temperatures in the lower 48 have been relatively normal-to-cool so far in June. Each heat wave has been matched by a corresponding cold front. If warmer-than-normal conditions take hold, that could have a big impact on natural gas storage levels, and ultimately natural gas prices.
The latest EIA Natural Gas Weekly Storage Report showed that natural gas storage levels remain 207 Bcf above the five-year-average as of June 16, 2017. However, as of May 12, the EIA reported natural gas storage was 256 Bcf above the five-year-average. Natural gas storage levels have been moving closer to the five-year-average without a big assist from the weather. Now it looks like natural gas demand is about to get a boost from the weather. Should the heat persist past mid-July, then natural gas storage levels may get back to the five-year-average by the end of summer.
The EIA has reported that natural gas production declined in the first quarter of 2017 versus the first quarter of 2016. However, February of 2017 was the warmest February on record for the lower 48 as a whole. Because of that warmth natural gas storage moved well above the five-year average. Yet even though the weather has been normal this spring, natural gas storage levels have been moving back toward the five-year-average. It is possible normal-weatherized demand for natural gas is back in balance with supply. Normalized demand may even be outstripping supply. But the warmest winter on record in 2016, followed by the warmest February on record in 2017, could be masking where the real supply versus demand balance currently stands.
If normalized demand is outstripping supply, then natural gas futures prices will need to move higher to encourage more drilling. The Northeast is pipeline constrained and additional drilling in the Marcellus, or Utica, will not increase supply. Therefore, if additional supply is needed, then it will have to come from other parts of the country such as Texas where excess pipeline capacity exists. However, many of the exploration and production companies in operating in Texas and elsewhere are cash strapped and lack an adequate access to capital to quickly resume drilling. It is not clear how high natural gas prices will need to rise to encourage adequate additional drilling in these regions if normalized demand is outstripping supply. But it may well be higher than the mid $3 range per Mcf reached this Spring.
Investors looking to profit from a potential rise in natural gas futures prices could consider doing their own due diligence on large natural gas producers like Chesapeake Energy (NYSE:CHK), Devon Energy (NYSE:DVN), or Anadarko Petroleum (NYSE:APC). The stock price for these companies could outperform natural gas futures. But the price of oil and their own debt issues may cause them to underperform a natural gas price spike. Investors looking for a direct correlation with natural gas futures prices should consider an ETF.
ETFs To Which Natural Gas Fundamentals Are Relevant:
Disclosure: I/we have no positions in any stocks mentioned, and no plans to initiate any positions within the next 72 hours.
I wrote this article myself, and it expresses my own opinions. I am not receiving compensation for it (other than from Seeking Alpha). I have no business relationship with any company whose stock is mentioned in this article.