In April, 2016 I was hunting for value-type stocks that had the potential for a recovery rally. So I wrote an article on SA that offered 7 stock picks. Today I will do the same thing, and show you how my picks from 2016 have fared so far.
The Screen
I created a screen with the following parameters.
Price of $5 or greater
Forward P/E of 17 or lower
PEG ratio (p/e divided by projected earnings growth) of 1.5 or lower
Price/Sales of 1.5 or lower
Price/Book of 2 or lower
Low Debt/Equity
Positive earnings estimate revisions over the past 4 weeks
There were 7 stocks back then that passed all the screens: (NASDAQ:AFAM), (NYSE:BHE), (NYSE:DQ), (NYSE:KBH), (NASDAQ:SAFM), (NYSE:SUP), and (NASDAQ:UIHC). The table shown below summarizes the data for each of these stocks.


How much are these stocks worth today?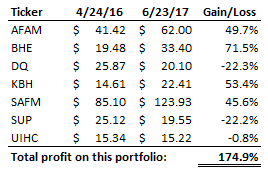 Had you invested an equal amount in each of the 7 stocks I recommended in April 2016, you would have a profit of 175%. The average return of the stocks on this list was 25%. There was only one loser, DQ, which fell 22%. UIHC was essentially a push.
I am fully aware of the fact that one sample of a screening strategy doesn't prove anything, and I don't claim otherwise. But it does give us a couple of clues about factor investing in general. Take another look at the criteria I used in this screen, and ask yourself whether it's reasonable to assume that they offer important information about the future prospects for the companies that pass the test. I think the answer to this question is yes.
The same screen as of today
I ran a new screen with the same parameters today. Below are the stocks that passed muster. I think that the smartest way to use this list is to consider it a "good candidate" list, and then do your own due diligence to vet them.

If you believe, as I do, that value stocks are going to continue to outpace growth stocks for the next 12 months, this screening methodology can be useful way to begin your research.
Disclosure: I/we have no positions in any stocks mentioned, but may initiate a long position in ANTM BGFV RICK REGI SCHN SNX WOR over the next 72 hours.
I wrote this article myself, and it expresses my own opinions. I am not receiving compensation for it (other than from Seeking Alpha). I have no business relationship with any company whose stock is mentioned in this article.