Teva Pharmaceutical Industries (TEVA) has seen its shares under pressure for quite some time now. A lot of investors seem quite concerned about the company's current debt position. At the same time they do not know what to expect from the future after the large acquisition that was made not too long ago. But the future actually looks quite good for the company. And even during these uncertain times, Teva offers its shareholders a lot of value in terms of dividend yield. After a long time of seeing its share price decline, Teva could be in for a welcome turnaround.
Lack of revenue growth
While Teva is seeing growing revenue yoy, most of this results from the Actavis Generics acquisition. Without this, the company saw revenue decline 30% sequentially which seems like quite an alarming decline. This is especially the case when we think about the loss of exclusivity of Copaxone. But in reality I do not believe that the stock will suffer too much as a result of this. Because the problems that this company has are mostly just temporary. And pessimism surrounding the stock can hardly get any worse.
Short term impact of acquisition
Most of the areas that investors are worried about are merely temporary results from the acquisition that are not real problems. A major issue stated by investors is that Teva has a debt position that is simply too large for a company its size. The company has gross debt of $34.6 bln on its balance sheet compared to a market cap of $32.6 bln. While this does look troubling at first sight, we must not forget that almost $26 bln was added to its debt after the company acquired Allergan's (AGN) generic business, Actavis Generics, for $33.43 bln in cash and 100 mln Teva shares. This sudden increase in debt can be seen clearly in the picture below.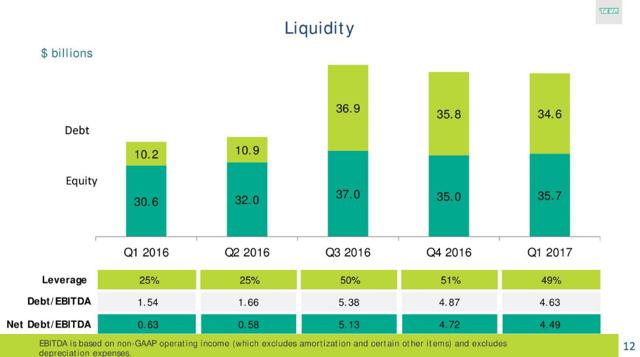 Source: Teva Q1 presentation
Since then, the company has worked hard on integrating Actavis Generics into its business, cutting costs, and lowering its debt. Just last quarter the company managed to lower its debt by $1.2 bln to $34.6 bln with the plan to lower debt by a total of $5 bln this fiscal year.
Acquiring this new business also had an impact on the top and bottom line as the divestment in the UK put pressure on results.
The acquisition also brings a lot of benefits to the company in the long term such as better R&D capabilities, which are the future growth drivers. Good R&D capabilities are very important to any generic business.
Improving position
Management's focus currently lies on extracting synergies related to the acquisition of Actavis Generics, driving additional efficiencies (like cost cutting), driving cash flow generation and lowering debt. As mentioned above, management is already doing quite well in terms of cost cutting and lowering debt. Its workforce has been cut by 5000 already with management planning on decreasing its workforce even further in order to improve efficiency and margins. Asset sales are also on the agenda in order to raise cash so the debt position can be lowered.
Teva still on the right track
Besides making efforts to grow its business inorganically by an acquisition, Teva is also still expecting growth by new drug approvals. For example, the company received eight drug approvals in the previous quarter in their specialty business.
Teva is still the largest player in the generic business with nearly 600 generic medicines and it aims to keep it this way, which can be seen quite clearly by looking at the number of new product launches on its website. With the acquisition of Actavis Generics, Teva is expected to launch 1,500 generic launches across the globe.
High and more than sustainable yield
Due to the significant decline that Teva's shares have seen, shareholders now receive a significant dividend yield on their shares of over 4.3%. Any long term investors would be happy to see a yield like this. The only problem would be if this yield was not sustainable, which is what many investors currently fear, but should not. Because Teva is more than capable of sustaining its current dividend yield with its FCF. As an example: last year the company generated FCF worth $4.3 bln, but only $1.6 bln was spent in total on its annual dividend of $1.36 per share. This means that about 64% of FCF was left after paying out dividends to shareholders. So there is no need to worry about the company being able to pay out the current dividend yield of 4.2% to shareholders.
Venezuela is a headwind
A big headwind for the company is currently Venezuela. I mentioned that revenues declined significantly if we did not take the acquisition into account. For a large part this is the result of the difficulties in Venezuela. Currency devaluation has been the major problem, which had a negative impact of about $400 mln last quarter. The situation in Venezuela continues to be bad for its economy and therefore this company. While there is not much room left for generic and OTC revenues stemming from the country to decline further as they already were down to $21 mln last quarter, we should not expect upside here any time soon as the situation remains dire.
Concluding remarks
That being said, I believe that Teva is a buy at current levels despite difficulties that the company has resulting from loss of exclusivity, a new acquisition and the dire situation in Venezuela. The debt problem is not really a problem in my situation as this increased only as a result of a strategic decision to drive future growth. At the same time this debt is already being lowered with management putting in a lot effort to drive down costs and selling assets in order to improve margins and its balance sheet. This is an important step on the path to growing its business in the future.
Short term there remains uncertainty among investors which could definitely impact the share price even further as they trade at a high P/E ratio of 308. But the future looks a lot brighter: the acquisition caused the valuation to be quite high at the moment, but will improve this in the future. Because of this the forward P/E already stands at a low 6.9, which is not farfetched at all since the acquisition is already adding significant revenue to the company. When it becomes clear that Teva has made the right choice and proves that it is on its way to a P/E of 6.9, the stock will soar. In the meantime, shareholders can enjoy a great and easily sustainable dividend yield of 4.2%.
Because of the current valuation it is wise to slowly accumulate shares as there is still the risk of a dip before the stock trends upward.
Disclosure: I/we have no positions in any stocks mentioned, and no plans to initiate any positions within the next 72 hours.
I wrote this article myself, and it expresses my own opinions. I am not receiving compensation for it (other than from Seeking Alpha). I have no business relationship with any company whose stock is mentioned in this article.
Additional disclosure: If you liked this article, please click "follow" for more.