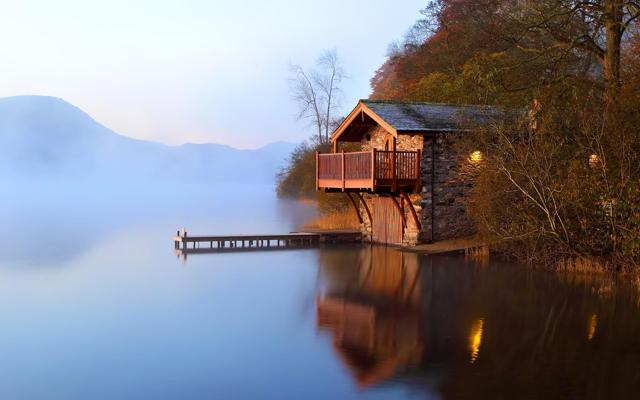 A quick recap of Part 1
In The Lake House Portfolio Part 1: The Beginnings I mentioned:
Goal: Portfolio with dividends that will equal mortgage payments on a lake house
Strategy – Data Center and Healthcare REIT focus
Rules: Approximately 1:1 ratio of Data Center to Healthcare, greater than 2.5% dividend yield.
Why Data Center and Healthcare REIT? Growth
The source of the principle: $100 / month + side gig income (variable)
Why this Strategy?
The answer is simple. As with any investment, investors seek growth and low risk. With the aging baby boomer population every so near retirement, there has been much discussion on how the sector is expected to grow.
Data Centers have been a booming field the last several years. IP traffic is expected to grow by 78% over the next 3 years with no signs of slowing down. At the end of 2016, 50% of Global 1000 Companies were storing customer sensitive data on cloud storage services.
What's the Golden Year?
What I didn't discuss in The Lake House Portfolio: Part 1 is the magnitude of dividends needed a year or month to meet my goal. (You can also read about the last addition to the portfolio in Ventas: The Next Lake House Buy) A model was created in Microsoft Excel to estimate at what year (or age) I will reach this goal. These are the assumptions used to build the model:
Purchase price of house: $400,000 USD
Down payment: Built over time ($4k/yr 2018-2026, $8k/yr 2027-2036, $12k/yr 2037-2041). In a savings account at 2%.
Mortgage: 30 year fixed rate at 4%. Mortgage insurance included until 20% down payment achieved.
7% yearly growth (not including dividends)
3% weighted dividend yield
100% of dividends reinvested (until a point the tax burden becomes too much), immediately
Dividends paid every quarter (currently portfolio does not include any monthly dividend payers)
Principal contribution: Increases 5% / year
Side Gig contribution: Increases 5% / year, starting at $50 / month
Dividend tax rate: 15%
The results say:
Check out the graph below. With the above-mentioned assumptions, 2040 will be there year of the lake house! I will be 49 years old then (now you guys can guess my age). With a down payment of $167,280 the year mortgage payment value will be approx. $13,332. At this point the portfolio is expected to be producing $13,546 worth of dividends per year after taxes. I draw two conclusions from these results.
Save more
Invest smarter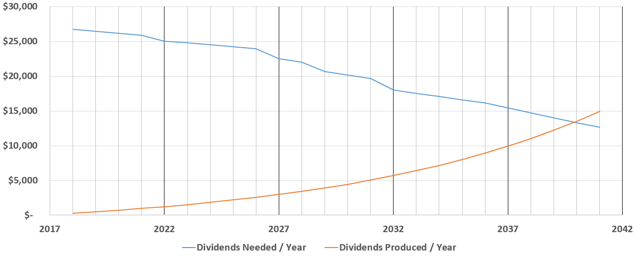 Thank you for reading! Please follow and leave comments so we can discuss ideas.

Disclosure: I am/we are long NRZ, JNJ, OHI, SBRA, CONE, VTR. I wrote this article myself, and it expresses my own opinions. I am not receiving compensation for it (other than from Seeking Alpha). I have no business relationship with any company whose stock is mentioned in this article.