Amazon (AMZN) and Whole Foods (WFM) still own just a fraction of the grocery market share, at just 3%. Kroger (KR) is already well-ahead in its store buildout and loyalty program, including having convenience stores/gas stations at most of its locations. The big advantage that Kroger has is that it has little overlap with Whole Foods. Overall, Kroger excels by focusing on more rural areas.But you wouldn't know that from the stock price. Shares have tanked 26% in the last week and now trading below 11 times earnings.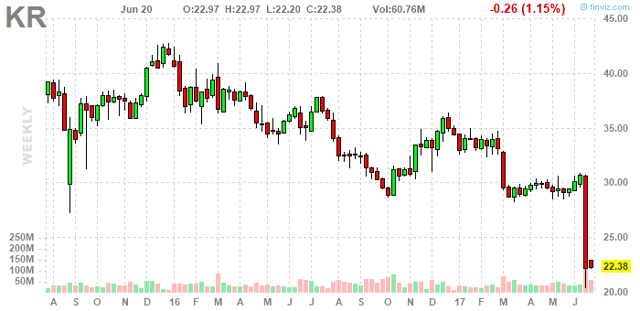 Amazon's 'newness' to the grocery industry is an advantage for Kroger. But, the worry is that - as with many industries that Amazon disrupts - one of the big advantages that Kroger has ... pricing ... will effectively be squeezed as Amazon uses its distribution efficiency to cut prices at Whole Foods.

Still, even with a sizable price reduction at Whole Foods across the board, Kroger still has the advantage of being more convenient for most people. As well, if Amazon wants to use Whole Foods to play the share-at-all-cost game, they should look to the U.K. for guidance. Tesco, the market share leader there has been playing that game for years, and its stock price has fallen 50% in the last five years and 75% in the last 10 years.

For Kroger, something else that not many media outlets are covering is the backlash from Whole Foods shoppers. The 'idea' of Whole Foods is non-GMO, fair trade and socially responsible, but being run by a cut-throat company like Amazon is going to turn some shoppers off. This includes the #GrabYourWallet movement that has been growing.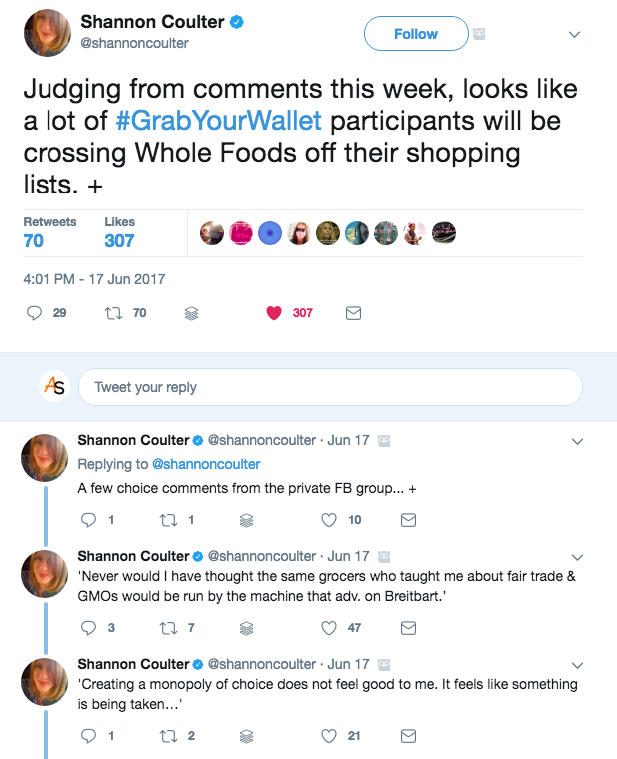 The key for Kroger is doing what it does best, catering to rural areas, growing its strong loyalty program and selling higher margin private label goods. As I've noted, Kroger shouldn't get in a bidding war. Instead, Kroger could do better in a merger with another leading middle-market grocer, possibly one with overseas exposure, like Delhaize (which also owns the Food Lion brand in the U.S.). That would expand its reach and make it a powerhouse and create staying power. However, it could also look to buy the other leading organic foods grocer on the market - Sprouts Farmers Market (SFM), which trades with a market cap that's about a fifth of Whole Foods. But with both those scenarios, there's a lot that could go wrong, despite Kroger's history of successful mergers - as both of those would ventures into new markets and new customer bases. Instead, Kroger might look toward getting closer to perfecting delivery and the last mile (more on this later).

Another major opportunity for Kroger is to beat Amazon at its game, investing in technology (like click-and-collect system) and digital. The initial market reaction is generally wrong, Kroger has been preparing digitally for years. This includes having invested in its Expressland and 420 ClickList locations, which are online ordering locations. It's also working on the 'last mile,' which is a problem Amazon hopes to fix with its Whole Foods purchase.

Meanwhile, Kroger has been partnering with Uber for grocery delivery as part of its last mile effort. Kroger could look to buy an installed player in the delivery business, such as a Fresh Direct, which is a 17-year old online grocer that's perfected the art of grocery delivery - operating in New York, Philadelphia, Delaware and D.C. Amazon tried to buy Fresh Direct a few years ago.

Kroger is also putting to work the customer insights it has with its loyalty program, where Kroger is hoping to differentiate itself in the online world with greater personalization than any other grocer. And they've got a ton of customer data to work from, thanks to their large customer base, but also from mergers through the years, like with Harris Teeter. These initiatives should be enough to stave off Amazon in the interim and present investors with a decent buying opportunity.

If you like what we do, feel free to follow us here on Seeking Alpha. Or check out our premium service covering activist investing opportunities.
Disclosure: I/we have no positions in any stocks mentioned, and no plans to initiate any positions within the next 72 hours. I wrote this article myself, and it expresses my own opinions. I am not receiving compensation for it (other than from Seeking Alpha). I have no business relationship with any company whose stock is mentioned in this article.