CEF Review: Utilities and Infrastructure Funds
I've been researching closed-end funds with an eye toward updating my own income portfolio. In addition, I will be updating the High-Yield, Sustainable-Capital Income Portfolio (last discussed here) at the quarter's end this weekend so I'm considering changes there as well. Today I'll turn my attention to CEFs that target utilities and infrastructure, a category that has been light in both my own and the model portfolio. This is an important category for income investors with a diverse group of CEFs that focus on the area. Readers have been commenting on my neglect of the category in the model portfolio for some time and I have come to agree with them that exposure is lacking and overdue.
I have assembled a list of eleven CEFs. I may be missing something; if so, do not hesitate to point it out so I can update the list. They mainly come from cefconnect's Utilities category with some additions that I felt belonged here but were not included. Utilities as a CEF category is much broader than what many of us may consider when thinking about the utilities sector. Most of these funds are heavily invested in infrastructure companies of various kinds. The eleven funds I'll be dealing with are:
As everyone who follows CEFs is aware, discounts have been shrinking over the past year or so and bargains are hard to come by. This is something a CEF investor has to contend with and many have dropped out of the category at least with regard to adding new holdings. It is a difficult time to start a new portfolio but for those holding CEFs, the loss of discount may well have generated potential or realized capital gains for reinvestment. Those looking to reinvest in income-generating holdings may still be looking for attractive CEFs despite the generally unattractive valuations relative to NAV that prevail at this time. In any case, the best place to start reviewing the category is to look at current premiums and discounts which we see in this chart.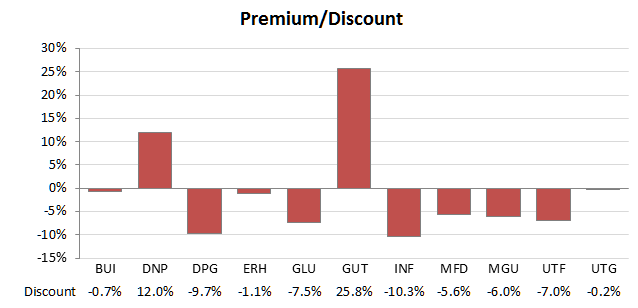 The average discount is a scanty -0.93%, but that is skewed by GUT's hefty premium of 25.8% (more than twice that of the next highest premium) so we have a median at -5.58%. INF has the deepest discount at -10.3%. Z-scores quantify what we all know: discounts have been steadily reduced over the past year. The median Z-scores for 3, 6 and 12 months are 0.30, 1.10 and 1.50. Negative numbers are scarce across the board. Only a single fund (ERH) has negative Z-scores for all three time frames.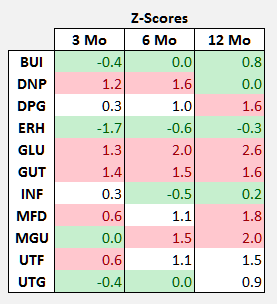 Distribution Yields
Market yields range from a low of 5.5% for UTG to a high of 9.3% for MFD. Average market yield for the eleven funds is 7.18%, which is slightly below the average for all equity CEFs (7.27%). Average NAV yield is 7.15%, 10 bps above the equity CEF average of 7.05% reflecting the more depressed discount status of this group of funds relative to the full group of CEF equity funds. The average discount for the utility funds is -0.93% vs -4.99% for all equity CEFs.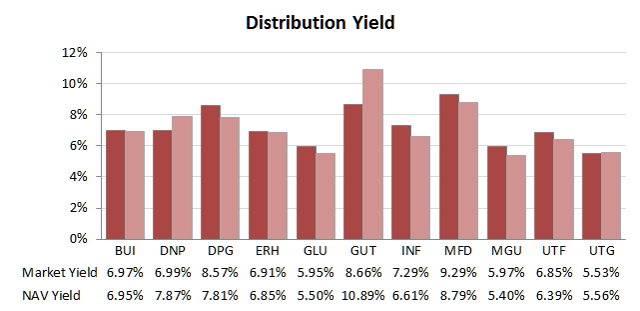 NAV Yield and Premium/Discount
CEF investors tend to price funds partially on the basis of their yields. There is a recurring positive correlation between NAV yield and Premium/Discount status within categories of CEFs. Certainly numerous other factors come into play in determining discounts but this relationship is sufficiently strong that one can consider that there may be some reversion to the category trendline for these metrics. If we plot Premium/Discount against NAV Yield for the eleven funds it looks like this.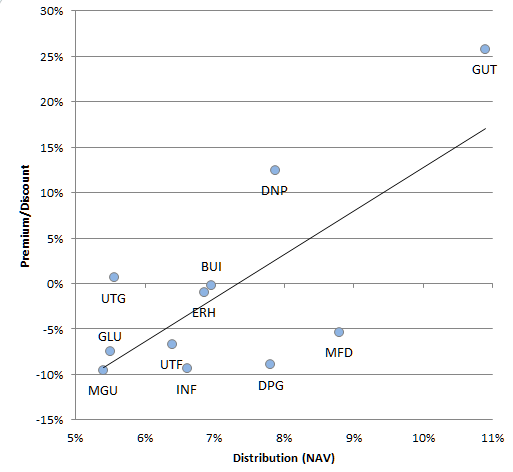 In this case the relationship has an r2 of 0.49 which suggests that NAV yield accounts for about 50% of the variation in premium/discount status for the funds.
Funds that fall well under the trend line are better valued on this basis and may tend to gain discount points if they revert to the trendline. This suggests that MFD and DPG may be poised to pick up some gains on discount, while DNP appears somewhat overvalued. GUT's massive premium and NAV yield positions it as such an outlier that I would not expect much effect on that premium based on this relationship alone. This is yet another example of CEF investors assigning exceptionally high premiums to funds that have outlier yields within their categories. My approach has always been to stay away from funds with high premiums regardless of yield, but they do offer opportunities for traders who are able to time trades for such funds.
Leverage
BUI is effectively unleveraged (1.22%). The remaining funds use leverage ranging from 16% (ERH) to 39% (NYSEMKT:GLU)).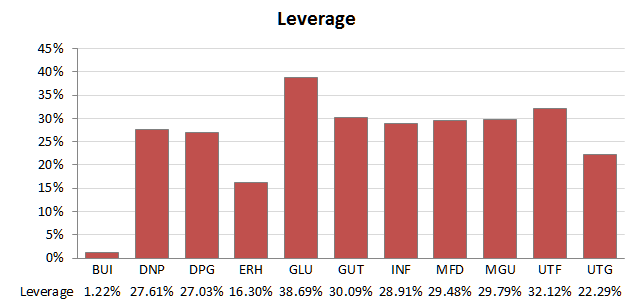 Portfolios
Eight of the eleven funds have global portfolios; only DNP, GLU and UTG are domestic funds (in some cases they are listed as 100% N. American region, so they include Canadian as well as USA based companies in their portfolios). This table shows the %USA (or N. American) holdings for the funds.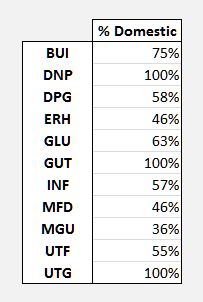 The Funds
Let's look briefly at the eleven funds.
BUI has an inception date of 11/23/2011. Its -0.7% discount puts it near the average for the group. Its 7% market yield is a bit below the average. The fund has not changed its distributions since its inception. Despite being the sole unleveraged fund here it has consistently been a top performer on a total return basis. This is a fund that has done well in its short life and presents a very competitive contender in the category.
DNP is a 30-year old CEF having been on the market since 1/21/1987. It holds a fully domestic portfolio. It has run a consistent premium since 2000 and the fund's current 12% premium puts it second to GUT. The fund yields 7% at market based on a 7.9% NAV yield. There has not been a distribution cut since the aftermath of the financial crisis in 2010. As one might infer from that persistent premium, DNP has been consistently ahead of the category on total return stats.
DPG is a more recent fund having its inception 7/29/2011. It is the second most discounted fund of the group at -9.7% and generates a market yield of 8.6%, also placing second in the group. There have been no distribution cuts in the fund's seven-year history. Its returns have been mixed against the category. It lagged badly in 2015, a difficult year, which tends to drive down its longer term return stats.
ERH has a history beginning 4/30/2004. Its fees are the lowest in the category at 0.79%. Discount is moderate at -1.1% as is its yield of 6.9%, both these metrics being close to the category averages. There have been no distribution cuts since 2010. Its overall performance record is solid but not outstanding, much like its other metrics.
GLU inception date is 5/25/2004. It is another fund that has had a recent sharp loss of discount. It is discounted at -7.5% and has recently had a strong reduction of the discount with 6 and 12 month Z-scores now over 2. Market yield is 8.7%, above the category average and its distribution has not been cut in the fund's life.
GUT has an inception of 7/9/1999. It has the highest NAV yield (10.9%) by a large margin and the highest premium. The premium drops its market yield to 8.7% which is the second highest of the group and well behind the leader's 9.3%. It is only slightly higher than the third fund for the metric, DPG at 8.6%. To the extent that GUT's yield is driving its premium I would have to conclude that the premium is likely to shrink. The fund raised its distribution briefly in Oct 2016 then dropped it back in Jan 2017 in a -5% move. The fund is one of the fully domestic (N. America) funds in the group. Its performance has been inconsistent over the recent past and it is underperforming year to date. When I look at GUT I have to wonder what its investors are thinking. If I owned the fund, I'd sell it.
INF's inception date is 8/26/2011. It is the most deeply discounted fund in the category at -10.3%. The fund is yielding 7.3%, a bit better than the category average. There was a large distribution cut in March of 2017 (-12.7%) which drove a selloff and a sharp move in the discount. INF generally underperforms the category on NAV and price returns which is something to keep in mind if that discount starts to look tempting. A question for any potential investor has to be the extent to which the distribution cut may move the fund into a more stable situation.
MFD had its inception date 3/16/2004. Its claim to your attention here is its category-leading 9.3% market yield from a -8.8% NAV yield and a -5.6% discount. For anyone who's primary objective is yield, MFD certainly looks like a better choice than GUT with its 26% premium. The fund had a major distribution cut in Jan 2016 (14%). The fund has seen a steady loss of discount points this year. Earlier in the year it was below -12%. The fund has consistently lagged the category on both NAV and Market returns, so its appeal is to someone attracted to that high yield.
MGU has been in existence since 8/26/2005. It has a discount at -6.0% and a market yield at 6.0%. It has been very consistent in growing its distribution with no decreases since 2008 and raises in 2011, 12, 13, 14 and 15. Typical of the category (and CEFs broadly) it has been giving up discount points in recent months. The fund has the most global portfolio in the category with only 36% of its holdings in US companies.
UTF has been on the books since 5/25/2004. It has the third deepest discount of the category at -7.0% and a market yield just short of the category median at 6.85%. It has raised its distribution twice since 2010. The fund went to a monthly payout in Sept 2016. At the end of 2016 it had a large special distribution that was more than 3 month's worth of its regular distribution. The fund has has somewhat erratic performance vs category. It is up vs its peers YTD, 1 Yr and for 2016, lost less in 2015 but lagged in 2013 and 2014. Its a solid fund with an appealing discount. Definitely worth a hard look.
UTG has an inception date of 2/24/2004. UTG is the low yielder for the category at 5.5% and currently has a -0.2% discount. For the year the fund has goon from a deep discount to moderate premiums, back to a modest discount and up into a premium again. The fund has consistently grown its distribution with annual raises since 2010 and occasional special distributions. At the end of 2016 the fund paid a special distribution that amounted to seven and a half months' worth of its regular distribution, so the published yield is deceptive. One cannot and should not plan on another special distribution however. UTG announced rights offering on 6/20/2016 which precipitated a large price drop and a drop from a 3.6% premium to a small discount where it stands today. UTG has an erratic record on return vs the category. It took outsized losses in 2015 but had a good 2016 and 2014. YTD it is well ahead of the category.
Summary
This is a review of current status of the eleven funds. I can use this analysis to trim the list based on investment priorities.
UTF, BUI, DPG and UTG rise to the top on the basis of what I've seen here. UTF has an attractive discount, a solid yield and a good record on its distribution history. Recent performance has been strong. BUI has turned in great numbers especially when one considers that it is unleveraged. I'd prefer to see it at a somewhat deeper discount although I think that will be a long wait. DPG has the best yield/discount combination of the set but I'm apprehensive about its exceptionally poor performance in 2015. UTG has a lot of appeal and would be the more conservative investor's choice. Its distribution is low for the category but it has a solid record of raising that distribution annually since the financial crisis brought down the market. The discount is meager but in the aftermath of the selloff following the rights offering announcement, it has fallen from premium status. If I were looking for a buy and hold CEF, I'd certainly put UTG near the top of my list.
DNP would be a great fund to own but I'm put off it by that 12% premium. And, for someone looking for the highest reasonable yield, MFD could be a consideration. It retains a nice discount but it has been shrinking recently.
Disclosure: I am/we are long UTG.
I wrote this article myself, and it expresses my own opinions. I am not receiving compensation for it (other than from Seeking Alpha). I have no business relationship with any company whose stock is mentioned in this article.
Additional disclosure: I am not an investment professional and this article does not constitute investment advice. I am passing along the results of my research on the subject. Any investor who finds these results intriguing will certainly want to do all due diligence to determine if any security mentioned here is suitable for his or her portfolio.