I am a value-oriented dividend growth investor who is striving to build a portfolio that will beat the market over time and produce a continuously growing income stream, which will allow me to either retire early or supplement my traditional retirement income.
There are many investment strategies one has to follow and/or develop when building such a portfolio. One of my biggest questions regarding my portfolio has been whether to DRIP or not.
In this article I will talk about the benefits and shortcoming of the DRIP, explain why I have chosen not to DRIP, and provide an example to why I do not want to reinvest my Douglas Dynamics (PLOW) dividends at current market price.
DRIP
A Dividend Reinvestment Plan or DRIP is an equity investment option offered directly from the underlying company. The investor does not receive quarterly dividends directly as cash; instead, the investor's dividends are directly reinvested in the underlying equity.
Conventional financial wisdom suggests that all investors should sign up for their stock's DRIPs. There are two main reasons why an investor should DRIP:
A DRIP allows an investor to buy more shares of their holdings for free without paying expensive trade fees
A DRIP allows an investor to dollar cost average into their positions.
Trade fees are expensive and eat up a lot of an investor's return as explained in my previously written article here. One can also avoid paying some trade fees by reinvesting all their dividends through a DRIP. The DRIP allows the investor to buy fractions of shares so the cash received from dividends never builds up in an investor's account to the point where they have to make another stock purchase and thus pay a trade fee.
A DRIP also allows an investor to dollar cost average into their positions. As stock prices move up and down, an investor is buying shares or fractions of shares at different prices dependent on when the dividend is paid to the shareholder. This can greatly benefit a shareholder over time because if a stock is trading below the shareholder's cost basis when a dividend is paid, the shareholder will effectively be buying shares at a lower price and decreasing their cost basis in return.
Why I do not DRIP
The problem I see with DRIPs is that an investor is forced into buying stock at current market values. The problem with buying at current market value is that an investor could be buying overvalued stock at any given time.
Signing up for a DRIP would be like signing up for a Maine lobster repurchasing plan at your local grocery store. Living in New England, I have seen lobster prices fluctuate from as low as $4.99 a pound to as high as $15.99/lbs in recent years. Imagine going into that grocery store on your "dividend reinvestment day" or "lobster repurchasing day" and being told you MUST buy a few lobsters at $15.99 a pound tax free (no trade fee) when all you wanted was to buy some on-sale chicken at $3.99/lbs and pay a small tax (trade fee). I know I wouldn't be happy.
Let's look at a better example. The chart below shows the price rise of PLOW, a manufacturer and up-fitter of commercial vehicle attachments and equipment including snow plows, sand and salt spreaders, and turf-care equipment. I purchased PLOW on 4/4/2016 for $22.50 a share. The reason why I purchased PLOW was because my "10 Minute Stock Rating System" indicated that shares of PLOW were undervalued as it rated an 81% score. To learn about how this system works please read a detailed description of it here.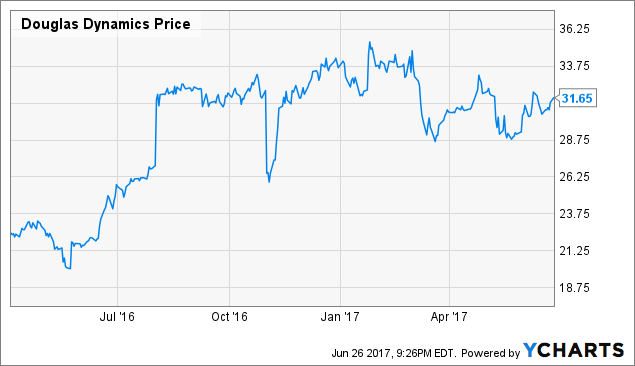 PLOW data by YCharts
PLOW trades at 31.65 at time of writing. I am very happy I have accumulated a 41% gain on PLOW since initial purchase and will continue to hold for the long term. However, at the current market price, I believe PLOW is fully valued or overvalued indicated from my system's 68% current rating. If a dividend was paid today and I was signed up for the DRIP, I would be forced to buy shares of PLOW at an overvalued price according to the "system". Why would I want to overpay for a stock when I can buy shares for a discount elsewhere? I am happy with the PLOW shares I own at $22.50 but would be unhappy buying shares of PLOW at $31.65 now.
The table below compares the rating of PLOW at my original purchase price and at today's price:
Criteria

PLOW @ 22.50 on 4/4/16

Score @ 22.50

PLOW @ 31.65 on 6/26/17

Score @ 31.65

#1 Current Ratio >=1.5

2.66

100%

3.73

100%

#2 Long Term Debt/Working Capital <= 1.10

1.59

55%

2.55

0%

#3 Positive EPS Streak of 5 Years

5

100%

5

100%

#4 Dividend > 0

0.94

100%

0.96

100%

#5 Current EPS > 5 Years Ago

1.86>0.09

100%

1.33>0.26

100%

#6 Price/Book <= 1.2

2.66

0%

3.37

0%

#7 P/E (TTM) < 10

12.10

79%

23.80

0%

#8 Higher Dividend Streak > 4 Years

6

100%

8

100%

#9 Current Yield >= 3%

4.18%

100%

3.03%

100%

#10 Payout Ratio < 50%

47.6%

100%

71.0%

58%

#11 FCF/Dividend Payout >=1

2.47

100%

2.13

100%

#12 5 Year DGR >= 10%

18.40%

100%

3.10%

31%

#13 3 Year DGR/5 Year DGR >= 1

0.15

15%

1.29

100%

Final Scores:

81%

68%
Source: Morningstar, David Fish's U.S. Companies with 25+ Straight Years Higher Dividends, & Author Calculations
You can clearly see in the table above that PLOW's P/E has risen from 12.10 to 23.80 because of the share price increasing sharply without earnings rising at the same rate. In fact EPS ttm has decreased during this time period; meaning you are paying more for a company that now makes less. That's not something I'm interested in or would consider a good deal.
The dividend has increased, but the yield is lower because of the share price rise. The payout ratio has also increased by almost 25% meaning the dividend is less secure as it was a year ago.
Lastly, PLOW has increased their debt load making their balance sheet weaker, and giving more risk and less margin of safety for an investor buying PLOW now.
The rating of PLOW has decreased, indicating that the stock is no longer undervalued. I consider buying any stock rating an 80% or above. I don't want to be forced to buy PLOW at today's price because of a DRIP and sacrifice return and increase my overall risk.
Conclusion
DRIPs are great programs that allow investors to dollar cost average into their positions without paying trade commissions. However, there is a major downside to signing up for DRIPs. An investor has no control over the price of stock when a dividend is reinvested. Because of this forced buying, an investor could be accumulating shares of their holdings at overvalued prices.
An investor should consider if a DRIP is right for them or not. As shown in my example with PLOW, I know that I don't want to accumulate shares at PLOW's current market price. Instead I would rather build up the cash received from my holding's dividends and reinvest it into other undervalued stock at any given time.
Disclosure: I am/we are long PLOW. I wrote this article myself, and it expresses my own opinions. I am not receiving compensation for it (other than from Seeking Alpha). I have no business relationship with any company whose stock is mentioned in this article.