Stocks have opened lower this morning in preparation for Fed Chair Yellen speaking on global economic conditions in London early this afternoon. There will be a brief question and answer session, so moderate volatility around the event is expected (UUP).
After opening lower, the four most widely followed US stock indexes are all trading lower after about an hour of action. Following gold's (GLD) flash crash Sunday evening, where it lost a little under 1% in five minutes, the metal is trading higher today by 0.24%. Crude oil (USO) futures have bounced off of 10-month lows hit last week, trading up by about 4% since last Wednesday.
The VIX opened higher this morning, topping at 10.44, and has since fallen back into the 9-handle.
Stocks ultimately closed mixed yesterday, with the Dow (DIA) and S&P (SPY) closing slightly higher, after a bullish Sunday overnight session was met with a morning reversal. The Nasdaq (QQQ) fell moderately after putting together a strong performance last week in an attempted recovery from earlier this month.
Utilities (XLU) and financials (XLF) were the strong performers on Monday, with bank stocks moving higher after all major US institutions passed their Fed administered stress tests last week. The technology sector (XLK), down roughly half a percent during the month of June, lost ground yesterday as the weakest performing S&P sector.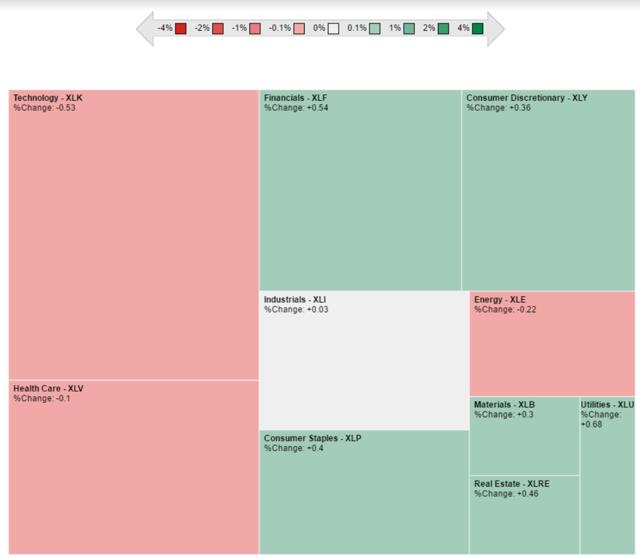 Source: SectorSPDR
Shout-Out
Today we'll offer a brief highlight of SA contributor Tautvydas Marciulaitis' recent work on potential volatility trading opportunities; his Monday afternoon piece is titled 3 Ways To Trade Volatility.
Mr. Marciulaitis begins the article by setting the stage for the volatility environment of late. He remarks that while everybody knows that we are in a historically low vol environment and that it will end at some point, very few people have a plan on how to capitalize on things once it begins to pick up.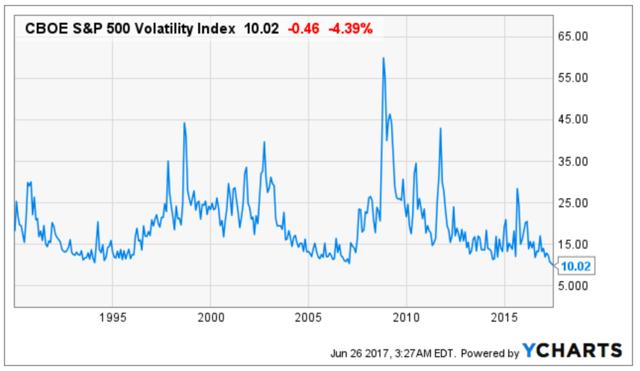 Though the author offers three potential ways to play a rise in market volatility, his first suggestion is to make sure you have enough cash on the sidelines to make a move when the time is right. He recommends leaving 20-50% of your portfolio in cash to make sure you can take advantage of opportunities as you find them.
Mr. Marciulaitis notes that when equity markets do begin to sell off, they're not usually contained to just stocks; investors will often sell other instruments as well, especially something like the SPDR Barclays Capital High Yield Bond ETF (JNK).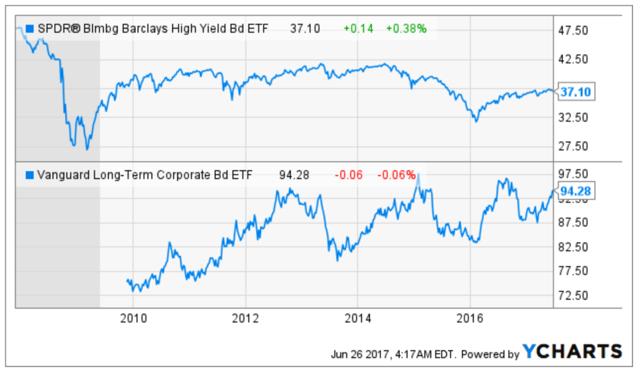 Thus a cautious investor may expect to earn 4-6 percent in yearly dividends and 5-15 percent in additional capital gains, when investing in bond ETFs after equity markets crash.
The author's next suggestion for stepping in during a rise in volatility is to simply buy equities. He recommends doing so without leverage, and by layering or scaling into the position, as opposed to getting in at one price. Mr. Marciulaitis states that something in the realm of a 5% pullback in equities may be a reasonable buying opportunity.
As for playing a volatility increase with actual VIX-based products, the author recommends either selling VX futures after a move higher, or buying an inverse-product such as XIV after a reasonable sell-off.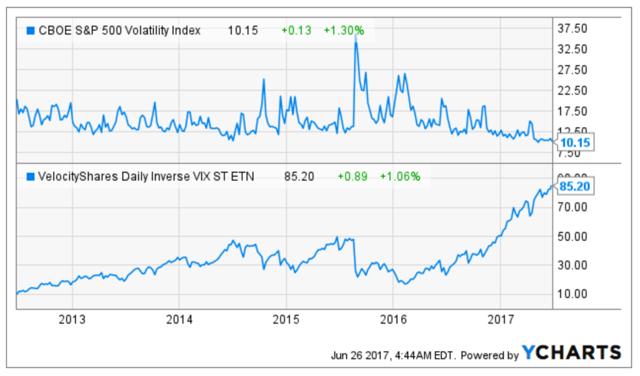 In closing, Mr. Marciulaitis states the following:
It is one thing to know that current situation is not normal. However, it is much different to know how to use it to your advantage. I hope that this will be helpful in deciding which strategy to use and what to do, when time comes and VIX moves towards 30-50. Market crashes and crises are the best times to make money. You just need to be prepared for them. Those who fail to prepare, lose. Those who prepare well, pray on other's losses. That's how it always works, you simply have to choose your side.
While we might disagree with the author above on points such as the amount of cash to hold in your portfolio, or that there are ways to play the volatility market before a spike comes, we agree that many investors do not think "outside the box" in terms of putting capital to work in different market situations. Furthermore, we are always interested in different opinions on how to put money to work.
Thoughts on Volatility
Before market open today, ES futures are selling off a bit as participants prepare for Fed Chair Yellen on the microphone later today. In response, the spot VIX is up roughly 2% to 10.14, back into the double digits. F1 (July) futures are trading at 11.70, with F2 (August) futures at 12.40.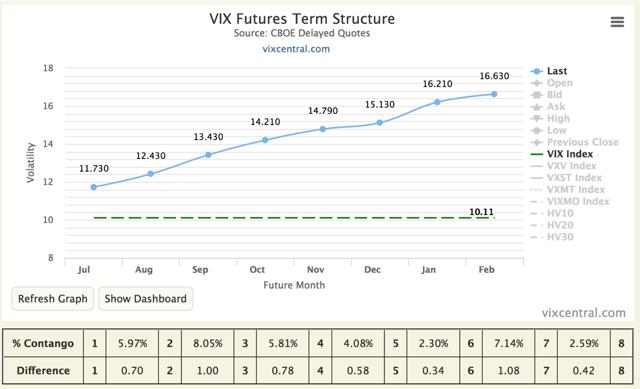 Last week we discussed a trade idea for those interested in long-volatility exposure. Though we looked at multiple adjustments later in the week, our original idea was a simple long futures spread, buying the July contract and selling the August. When we originally looked at the idea, the spread was trading for a roughly $.60 difference, with July at 12.10, and August at 12.70. Currently, the spread trades for a difference of around $.70.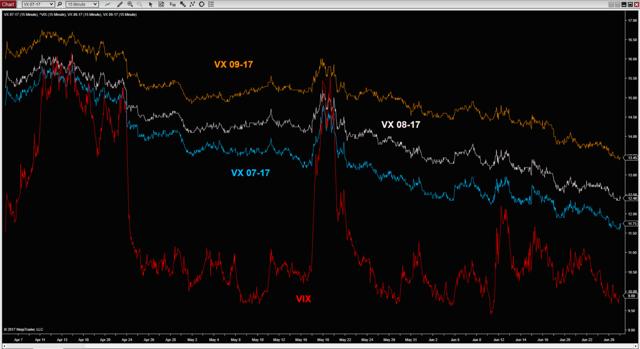 Source: The Balance of Trade
With the move lower in volatility over the past week, the trade has been completely wrong directionally. The amount the trade lost over the last week demonstrates why we like playing VX futures with spreads though. Take the baseline trade of being long an outright futures (such as the July at 12.10), and observe that over the same week, that position would be down roughly $.35, instead of the $.10 noted above.
Certainly, using spread positioning mutes the upside to the trade as well as helping to limit your downside. If volatility had blown up over the last week, the outright long future would have been the trade to go with. We think it is crucial to realize that because long volatility is a low probability trade setup, you must do whatever possible to protect yourself on the downside. In our view, that is what makes these spread trades valuable.

Organic at-the-money vol is still sporting some of its very lowest readings on records, particularly at the quarterly timeframe.
Yesterday's morning price action was almost the mirror image of this morning's. Yesterday ES planned a breakout at the open that led to a swift reversal. This morning's weakness quickly rebounded and we are now on the day's highs.
Realized vol for the month of June has to be at some of the lowest levels on record. Since June 1, the S&P has more covered a total trading range of about 34 points within .7% of its mid value of about 2435. Furthermore, we have a holiday weekend approaching.
Is it any wonder then, that weekly vol is trading in with a six-handle? What's more surprising is monthly and quarterly vol scraping along at such lows.
Our take is that if you see monthly vol below 7.5 or monthly vol below 9.5, that's a "buy-the-dip" moment for volatility. Buying a strangle, or straddle, or some long-vol trade makes sense.
The key difference between buying the SPY dip vs. the "straddle" dip is that you really do need to sell the straddle on any spike in vol, as every spike is crushed almost immediately in the current trading environment.
Tracking the Trade
Last Tuesday we will began a new trade to keep an eye on over the next couple weeks. The trade summary is as follows:

Strategy (laid out June 20 - this segment will largely stay the same so readers can see what we were thinking at initiation)
Remember, these are thought experiments, not real trades. It's less important that you actually agree with thesis. A lot of learning takes place from the vantage point of imagining that you did agree!
Volatility is basically in its bottom 1%. For perspective, from a percentile standpoint this is the polar opposite extreme of say October 2008 when spot VIX was around 80. This is the "anti GFC".
Buy the dip has become the order of the day. There may be quite a bit of upside left in the ES' most recent move. We think there may be a dip lower that allows us to do some modification; but if there's not, we want to own some potential upside up into the 2525 region. Maybe we've got a blow-off top in store?
The market sure seems to want to push higher; as such, we'll put on a trade that positions accordingly. That said, we want it to flatten out in the event of a drop, at least for a time.
Because no dip has become too small to buy, we will supplement our call butterfly with a put sale. Now, we are not looking for anything too exciting on this front; just a way to add on a little extra time value. Also, we want something to "trade around" in case this market does indeed march higher.
As a final point - this is more of a "if you can't beat 'em, join 'em" kind of trade; it's going with the flow rather than fighting it. That said, the spread represents a relatively low-risk approach to going long the S&P (at least over a certain range of values).
Note: the ES currently trades at 2436, 8 points below where we discussed this trade at last week's initiation.
Tactics
We will trade the following overall structure (this view is on the Jun20th initiation day):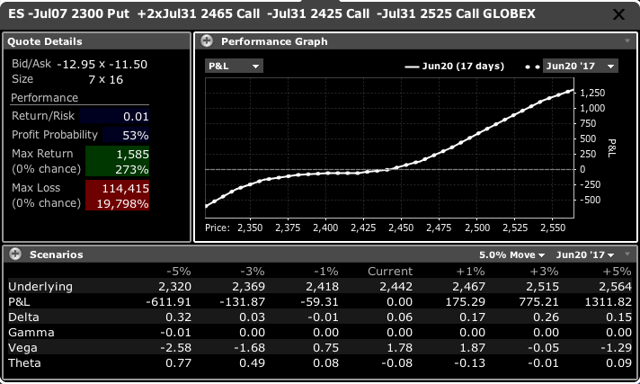 There are a number of ways to pick this trade apart. The individual legs are as follows:
Sell the Jul31 2425 call
Buy two Jul31 2465 calls
Sell the Jul31 2525 call
Those are the ingredients of the call butterfly: sell one, buy two, sell one.
As mentioned, we will supplement this spread with a (conservative) put sale:
If you observe this trade, it looks almost halfway between a long futures (a 45-degree diagonal line) and a call option (hockey-stick shape that is flat up to a corner point and then rises).
We will follow this spread until Jul 7, when the 2300 put expires. For now though, observe that theta is quite mild on this, as is the delta profile.
"What do your Greeks look like"?
We broke the trade into two different segments:
A strangle (Jul7 2300 Jul31 2525) and a call 1x2 (Jul31 2425 2465).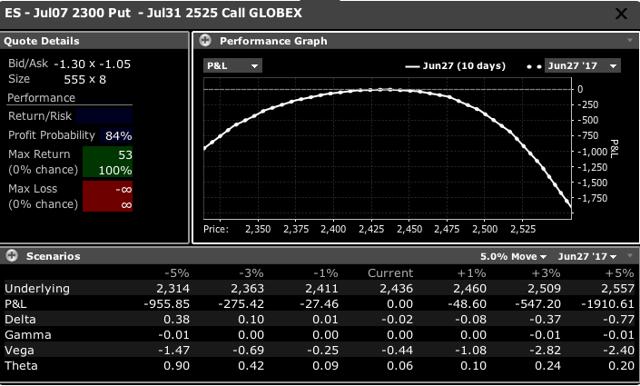 The strangle (which was always cheap given how far the strikes are and the low-vol environment we currently inhabit) has traded from a mid credit of $2.65 to a current mid credit of $1.20, for a $1.45 gain.
As you can see, the theta that we're currently picking up (bottom row) here is practically non-existent by now. Granted, we don't "believe" this figure, but it's likely not all that misleading. Modification of some form or other is warranted.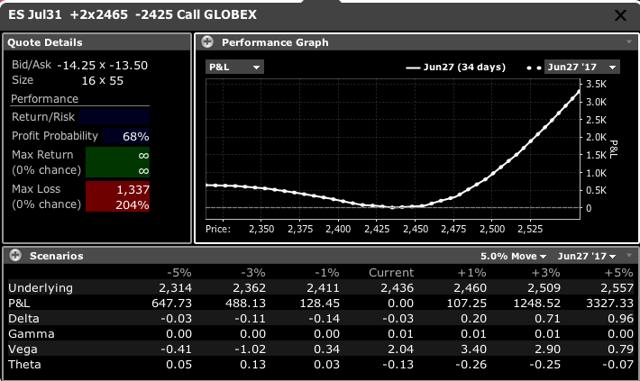 The call 1x2 has not been as kind. We initiated at a credit of $9.50, and the current mid is $14.00, for a $4.50 loss.
Overall net losses are $3.05.
Theta here is also quite modest at these levels, picking up only in the event that ES moves higher. The offset to this is the attractive curvature in the event of a rise, as can be seen in the payoff diagram above. This is worthwhile to us.
"What do you think is the most interesting development of the last week?"
The fact that our delta has switched from low positive to low negative based on the Jul31 calls melting off.
All options emit a basket of "signals". The more valuable these options become (in terms of time value, not intrinsic value), the stronger this signal basket gets. Since last week, the market has taken down the value of the Jul31 2465 calls. As such, the "delta" that these options emit has diminished, and the delta has dropped by .11, which indicates in this case a sign change.
"So is the trade going as you hoped?"
We put on a trade with a very mild gamma and theta profile, so that if we were wrong in the thesis we placed (which thus far in fact has been wrong), the impact would be quite modest.
We'll confess, we chose the Jul31 expiry because we thought there'd be more resilience to that upside strike. Current vol on it is 6.3, which for 34-day vol basically 1% higher than where we are is very low.
Mechanics - trade layer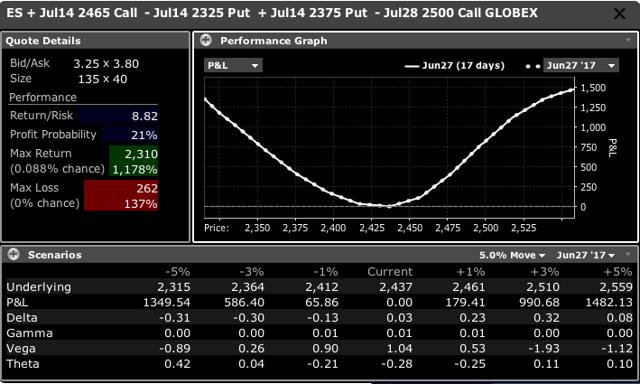 With vol way down, we are willing to trade this modified iron condor. We will put a limit in at the mid ($3.55).
This trade will generate a negative theta, but we think that it really puts us in good stead in the event of a breakdown in either direction.
Naturally, if the ES just grinds in place for the next week and a half, we've got a problem. But we're willing to take a chance on this one, as we think it really has the chance to improve our profile.
Conclusion
That's a wrap - thank you for reading. We appreciate it when readers share their thoughts. These are big markets, and different individuals trade their own pet products using their own strategies. Please do add what you are doing (or thinking about doing) in the comments section.
Please consider following us.
Disclosure: I am/we are short SPY.
I wrote this article myself, and it expresses my own opinions. I am not receiving compensation for it (other than from Seeking Alpha). I have no business relationship with any company whose stock is mentioned in this article.
Additional disclosure: We actively trade the futures markets, potentially taking multiple positions on any given day, both long and short. It is our belief that the S&P 500 is meaningfully overvalued. As such, we typically carry a net short position using ES options and futures.