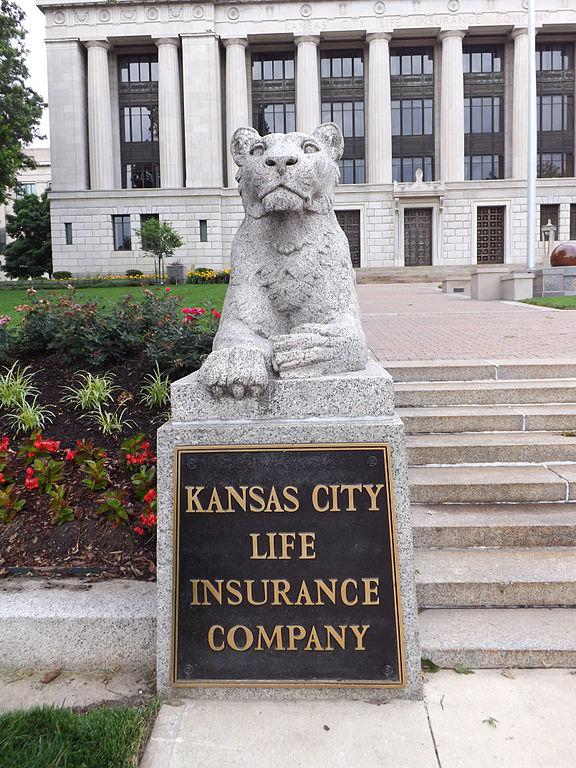 Yesterday, we published an update on our top pick for 2017, Retail Holdings (OTCPK:RHDGF). RHDGF is a holding company that trades at a large discount to the value of its cash and publicly traded assets. We believe that gap will ultimately shrink to zero over the next two to four years as management liquidates its holdings and returns that cash to shareholders.
Now that America has been great again for six months, we thought it was time to bring things back stateside and talk about one of our favorite domestic opportunities. We believe Kansas City Life Insurance Company (NASDAQ:KCLI) has limited downside and significant potential upside as we head into the back half of 2017. For background reading, we wrote about it in the past in Something Odd Is Going On and Investing With An Edge: Kansas City Life.
Our thesis here is simple: KCLI today trades for ~$46.50, a significant discount to its tangible book value of ~$71.40 as of 3/31/17. That alone is enough to make KCLI interesting. However, we believe we have three unique insights into KCLI that either suggest the discount to intrinsic value is even larger than that headline number would have you believe or will serve as a catalyst to drive better operational performance in the back-half of the year. Those three insights (in order of least to most significant) are:
Peer multiples have increased significantly since America became great again/KCLI switched to OTC markets.
Increasing interest rates will drive improved performance in the back-half of the year.
KCLI's balance sheet is significantly overcapitalized, and the company will take advantage of that to either make an accretive acquisition or repurchase shares.
The rest of this article will dive into each of those three points.
Let's start with our first point: peer multiples have increased significantly. Some background here is important: in order to reduce public company costs, KCLI switched to the OTC markets in late 2015 by going dark/cashing out their "odd lot" shareholders at $52.50/share. At the time, we thought that was a very interesting price because insiders (who own ~66% of KCLI) showed themselves to be eager to repurchase/retire shares at $52.50; if they were willing to buy back shares at that price, it stood to reason they thought the stock was a good deal at that price and struck us as interesting that we could buy shares in the open market for below that price.
As part of that cash-out, the company received a fairness opinion from Duff & Phelps. If you go to page 22, you can see a benchmark comparing KCLI to eight peers, which we have reproduced below.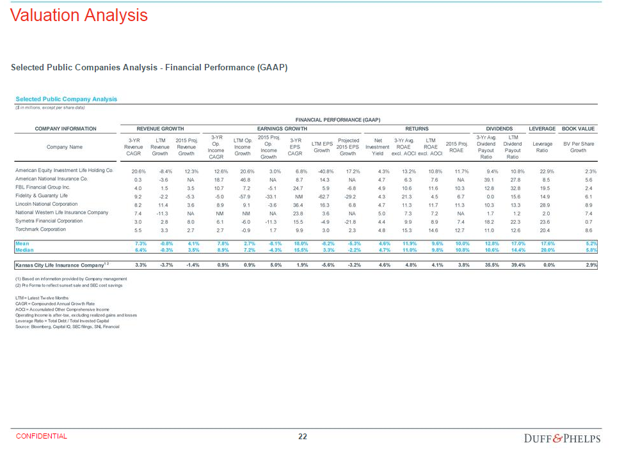 Those peers have performed very well since that analysis was done. Symetra was almost immediately purchased for a 32% premium, and six of the seven other companies have seen 15%+ total stock returns since the analysis.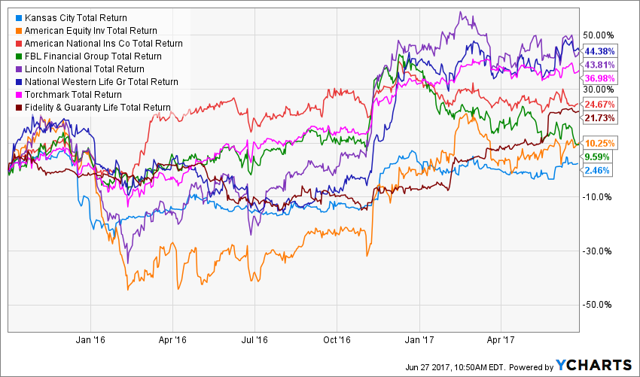 Peer FGL (NYSE:FGL) is particularly instructive for considering KCLI. FGL announced a deal in November 2015 to be acquired by Anbang for $26.80 a share. That deal fell through in early 2017 due to a failure to secure regulatory approval, but FGL managed to turn around and sell itself again in May for $31.10/share, a 16% premium to the November 2015 price! So our thought process boils down to this: if, in late 2015, KCLI insiders were eager to buy back shares at $52.50/share, a basket of peers is up 15%+ since then, and peer FGL managed to secure a takeout bid at a 16% premium to its original takeout price in the same time frame, isn't it likely that KCLI is worth at least 15% more than $52.50 today?
Let's now turn to our second point: increasing interest rates will drive improved performance in the back-half of the year and next year. We're not exactly breaking new ground here, but a life insurer's basic business is to sell someone life insurance, take their premiums, invest them, and earn a return on the investment higher than what they ultimately owe when the insured passes. The ultra-low interest rate policy from the Fed for the past decade has really hurt life insurers (KCLI's CEO has mentioned the challenges of the low rate environment in his annual message for years). However, with the Fed finally raising interest rates twice in 2017, we should begin to see a pickup in KCLI's earnings as its interest income increases. While we'll likely see some benefit of this in the back-half of the year, the big gains will likely come in 2018 as it takes a bit of time for it to fully reinvest into higher yielding products.
Our third and final point: we believe KCLI's balance sheet is significantly overcapitalized, and the company will take advantage of that in the near future. Up until its go dark in late 2015, KCLI had been a fairly consistent repurchaser of its own shares. Below, we have included tables from its 2014 10-K and its last 2015 10-Q that show a consistent appetite for share repurchases around today's stock price. Of course, they followed up these repurchases with a massive share repurchase of ~5% of their shares out at $52.50 when they went dark.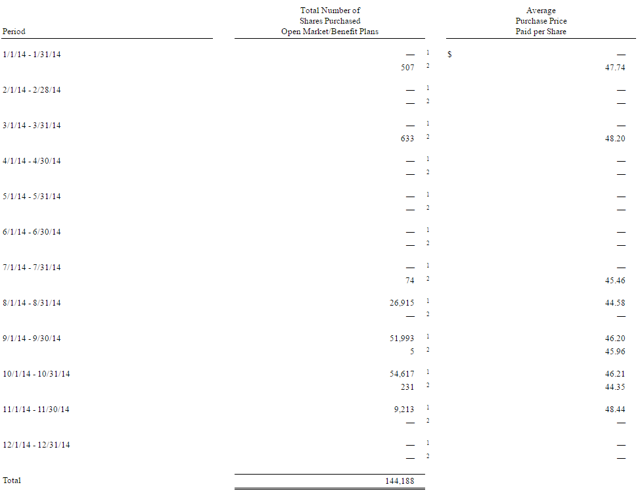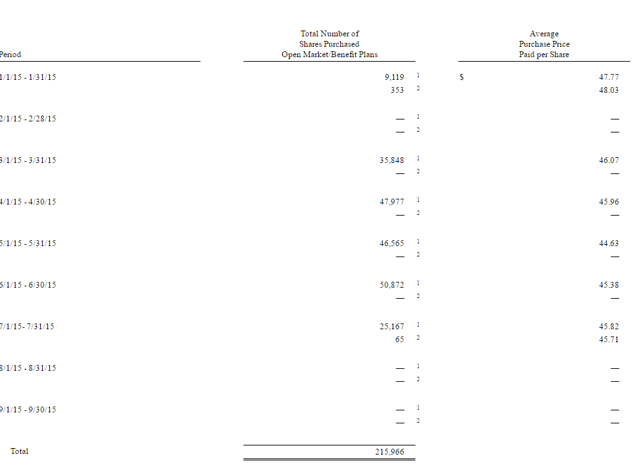 However, since going dark, KCLI has not repurchased a single share. It's interesting that KCLI would not repurchase shares today after being a consistent repurchaser of its own shares two years ago despite 1) a worse earnings outlook due to lower interest rates, 2) lower book value per share, and 3) lower peer multiples. Which leads to the question: why would KCLI consistently repurchase shares back then but not today when it's almost certain their intrinsic value today is higher?
We believe the lack of share repurchases is because management thinks an opportunity to buyout distressed competitors looms. In April 2016, the Obama administration rolled out new "fiduciary" rules for retirement accounts. Those rules will go into effect this year, and they have big implications for life insurance; in fact, the rules have already been blamed for big hits in variable annuity sales. We believe KCLI is wisely keeping its powder dry to maintain the optionality for buying (at a big discount) distressed competitors who cannot cope with the new fiduciary rules. If there is no fiduciary rule fallout/KCLI is unable to find an accretive acquisition, we believe it will ramp up its share repurchase program towards the end of this year or early next; in fact, the company seems to be preparing for this possibility, as buried in its most recent 10-Q is the line, "In January 2017, the Board of Directors authorized the purchase of up to one million of our shares on the open market through January 2018." With only 9.7m shares outstanding and shares trading for a significant discount to book value, beginning to act on that 1m share authorization could go a long way to boosting intrinsic value if the company is unable to find an accretive acquisition.
To wrap this up, KCLI is our top pick for the back-half of the year. The timing is right: earnings should inflect upwards due to the lift in interest rates. The price is right: shares trade at a large discount to book value and the last big share repurchase level despite a substantial increase in intrinsic value. And, the catalyst is right: we believe KCLI will either make an accretive acquisition or begin repurchasing shares in the near term.
Disclosure: I am/we are long KCLI, RHDGF.
I wrote this article myself, and it expresses my own opinions. I am not receiving compensation for it (other than from Seeking Alpha). I have no business relationship with any company whose stock is mentioned in this article.
Additional disclosure: Chris DeMuth Jr and Andrew Walker invest with a margin of safety by buying securities at discounts to their intrinsic value and unlocking that value through corporate events. To maximize returns for our investors, we reserve the right to make investment decisions regarding any security without notification except where notification is required by law. This post may contain affiliate links, consistent with the disclosure in such links. We manage diversified portfolios with a multi-year time horizon. Positions disclosed in articles may vary in sizing, hedges, and place within the capital structure. Disclosed ideas are related to a specific price, value, and time. If any of these attributes change, then the position might change (and probably will).
Editor's Note: This article discusses one or more securities that do not trade on a major U.S. exchange. Please be aware of the risks associated with these stocks.