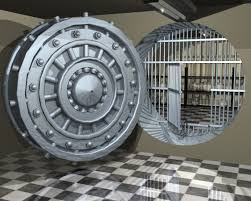 I am a career banker. I started out as a bank examiner in 1985 in Florida and Michigan and saw many banks from the inside. I later became the Credit Manager of two banks, the last being Horizon Bank of Michigan City, Indiana. In that capacity I was responsible for managing the department that underwrites all commercial loans for the bank. Horizon was one of the minority of banks that performed well in the last recession, increasing earnings every year during it. I retired early in 2013.
Bank Humor
A man in the need of a heart replacement receives a call from his doctor.
Doctor: I have good news, I have found a new heart for you, actually there is two choices, but I'm sure you won't want the second.
Patient: What are my choices?
Doctor: The heart of a 25 year old marathon runner and that of a 60 year old banker.
Patient: I'll take the latter.
Doctor: Why would you want the heart of a 60 year old banker!?
Patient: Well, at least I know that one hasn't been used.
Community Bank Industry
I have defined community banks as those under $10 billion in assets. Regional banks are $10 to $50 billion, and money center or large banks are defined by the federal government as over $50 billion. For purposes of this article, I am reviewing the larger community banks, those that are $1.5 to $10 billion in assets. Value Line's Small and Midcap Edition currently shows 113 of these that have profits. These banks are big enough to be liquid for most individual investors and have enough scale to be solidly profitable. Smaller ones can be illiquid are usually less profitable due to lack of scale.
Community Banks differ from large banks in that they mostly stick to a local geography that they know well. They are almost never involved in the riskier activities that big banks do such as credit cards, derivatives, foreign loans and services, asset trading, and investment products like mutual funds, private equity and hedge funds. Community banks for the most part stick to taking in deposits and making loans. Commercial loan are made to small and midsized businesses. Most also offer wealth management and some offer insurance services. Knowing your geography is important. Commercial loan losses are elevated when the lender goes into a geography they don't know well. Perhaps the biggest difference between community banks and large banks is community banks are relationship driven while large banks are transactional. That means large banks focus on the profitability of each transaction while community banks think longer term. They may leave something on the table to keep the relationship.
Because community banks have less risky activities, they generally have a higher PE ratio than large banks. Currently, the 113 community banks reviewed here have an average P/E ratio of 20.8, well above the PE ratio for Regionals of about 16, and large banks of about 12. For this reason, there have been few acquisitions of community banks this year by large or Regional banks. Most bank acquisitions are done with stock, because using cash depletes all important capital. When your PE is well below your target, you can't use stock either.
The Community Banking Industry has become much more competitive since the 1980s. In the 1980s, savings and loans and savings banks were given the power to perform the same commercial banking activities as banks. Because commercial loans and commercial deposits are usually the two most profitable banking activities, many S&Ls rushed in. A large portion of those then went under in the commercial real estate bust of late 1980s and early 1990s, as they did not have anyone on staff that knew how to underwrite a commercial loan. Those that survived either converted to a bank or continued to grow their commercial activities. Credit Unions in the past few decades have moved into commercial lending and all types of consumer lending. If you want to upset a bank CEO, tell them how much you like credit unions. Credit Unions have an unfair advantage as they do not pay income tax, despite have the same business model as a mutual savings and loans. The larger ones have expanded by going beyond their original common bond and making themselves available to everyone, like a bank. Non-depository lenders have proliferated. These include loan brokers, publicly traded lending companies, hedge funds, and insurance companies. Never buy a commercial loan from a loan broker. By the time a loan gets to them, many or all of the local banks have passed on it. Loan brokers rarely survive a business cycle.
The number of U.S. banks have been cut in half since the 1980s. Almost no new banks have been granted charters since the last recession. However, the industry has gotten more competitive due to expansion of the remaining banks and competition from non-banks. Despite, all the mergers, there are still too many banks. Most larger and even mid-sized markets have at least a dozen commercial lenders and often hundreds of residential lenders.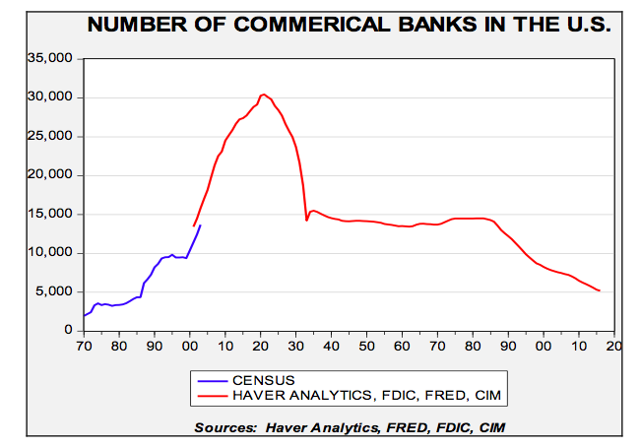 1870-2017
The banking industry is one of the most heavily regulated industries in the country. I served as the Compliance Officer of my bank from 1992 to 2000 and examined banks for compliance before that. There are literally thousands of pages of regulations banks need to comply with. Do you remember how high the pile of papers was last time you got a residential mortgage? Mine was about an inch thick. In 2010, a new regulatory agency, the Consumer Financial Protection Bureau was added on top of the others which include the Federal Reserve, the OCC, all 50 states, the FDIC, the SEC, and numerous non-bank regulators. Many smaller banks, below the $1.5 billion threshold I am using, are selling out simply because they can't handle the regulatory compliance and don't have the scale to be solidly profitable. Large banks have a whole other layer of costly regulations, so $1.5 to $50 billion is the regulatory sweet spot. Bank regulation is likely to be rolled back some under the Trump Administration. My happiest day in banking was the day I gave up the title of Compliance Officer. It's a thankless tedious job.
Incidentally, commercial lending and commercial deposits, the core activities of a community bank have not been affected much by the internet. These are relationship based businesses and customers and bankers want to see each other. However, the internet has sped some things up like communications and sending in financial statements.
Banker Humor #2 (from the banker's perspective)
An owner of a retail store comes in for his annual visit to see his bank lender.
Banker: How did your year go?
Borrower: It was a bad year, but it could have been worse.
Banker: What went wrong?
Borrower: Well a competitor moved in across the street and took a third of my business, but it could have been worse.
Banker: Was that it?
Borrower: No, Amazon moved into my space and took another third of my business, but it could have been worse.
Banker: (starting to sweat) Are you going to survive?
Borrower: No, I need to file Chapter 7, but it could have been worse.
Banker: HOW COULD IT BE WORSE???
Borrower: Well, it could have been worse…..it could have been MY money.
OK so only 1% of you reading this are laughing, but for us bankers that is falling off the chair funny.
Community Bank List
All 113 banks of $1.5 to $10 billion in asset banks shown in Value Line's Small and Midcap Edition that currently have profits are shown below. Only a couple without profits last year were excluded. The last column rates EPS and organic loan growth 1 to 5 with 5 being the best. The second to last column rates how well each got through the last recession. Those rated 1 barely made it. Those rated 5 had little trouble.

Recent Rally
Community banks had a historic rally after the election last November 8th. The 113 banks I reviewed are up 23.1% on average since that date. Since banks earnings normally increase about 5-8% a year on average, that is 3-4 years of stock increase in about 7 months. Most of that happened within two months of the election and have flatlined since. That rally was on top of another 10% rally from June to November, 2016. The rally increased their average PE to 20.8 from about 17 at the election and 15.5 a year ago.
A PE of 20.8 is historically high for banks, the highest I have ever seen. Remember, this is a slow growing and cyclical industry. Incidentally, while other valuation methods such as EV/EBITDA have gained prominence, PE is still the way to go in valuing banks. The interest expense in EBITDA is usually an operating expense for banks not a financing one. Depreciation and amortization are generally insignificant. Also, banks usually have the liquidity to payoff term debt at will. The price to tangible book value is 213.8%, also at historical top end. I expect this elevated PE ratio to slowly revert to a more normal mid-teen level prior to a recession for the following reasons.
The spread between the PE of community banks and large and Regional banks is historically high. This makes it difficult for the latter two to acquire community banks. While banks under $1 billion are being bought left and right by the larger community banks, community banks over $1.5 billion do not have a potential sale premium right now.
We are getting late in the cycle. This business cycle has already gone eight years which is longer than most. Banks are cyclical. Many through strong underwriting are able to avoid large losses in a downturn, but in a recession loan growth turns into loan shrinkage which stalls and reduces earnings.
Banks are maxing out on what they can do with their loss reserves. Loss reserves cannot go much lower unless balance sheets start to shrink.
The yield curve is shrinking. This not only indicates economic weakness coming, it directly leads to less profits for banks who fund their assets with liabilities that generally have a shorter duration.
Long term interest rates are falling. This also directly impacts the interest banks receive on the bulk of their loans which are tied to longer term rates.
Loan growth is falling fast as shown in the chart below. Loan growth is the biggest driver of earnings growth for banks.
The financial sector is nearing historical highs in market cap weighting.
The farther away from a recession you get the more competitive booking commercial loans get. This leads to lower interest margins and looser underwriting.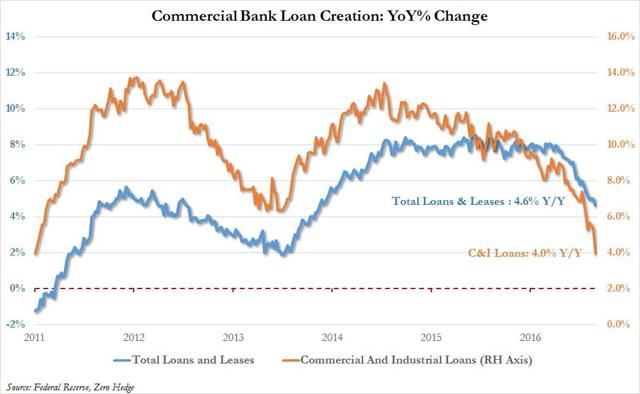 As shown above, both total loans and commercial loan lending growth are falling fast at banks. While I don't have the statistics for the first quarter of 2017, most of the community banks I looked at had flat loan growth that quarter, though that is usually seasonally slower quarter.
How Banks Will Likely Fare In The Next Recession
While few can predict when the next recession comes, the risk of one is starting to rise. The economy is now in a position where it has to move forward with no more pent up demand and no fiscal or monetary stimulus. The following is a discussion of what to expect from banks in the next recession.
The banking industry is in its strongest position it has been in, probably ever. As shown in my list of community banks, the average bank has a net worth of 10.5% of assets, which is probably a record. Only one of the 113 banks on my list is even under 7.5%. The minimum capital requirement to be considered well capitalized is 5%, though there are other capital requirement measures.
Bank credit quality is as good as it gets, there are very few community banks struggling with problem loans right now. As shown in the chart below, there have been almost no bank failures this year and last.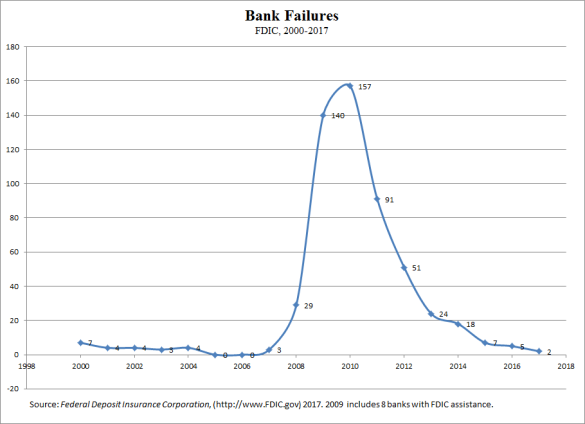 The 1990 and 2007-2009 recessions were real estate related and were very hard on banks. Both were the result of bubbles in real estate. In 1990-1991, it was a bubble in commercial real estate of most types. In 2007-2009, the bubble was in residential real estate. The 2001 recession was from a stock market bubble and didn't hurt banks anywhere near as much. I do not see any significant bubbles out there now. There are a few trouble spots which are listed below.
Energy production loans, mostly from banks in Texas, Oklahoma and North Dakota.
Retail real estate and businesses are facing estimates of 8,600 store closings this year. Secular headwinds there are only increasing.
The Miami condo market is overheated again.
There is moderate overbuilding in multi-family real estate in some markets
There are other industries in secular decline but community banks don't have much exposure to them. These include; newspapers, coal, for profit colleges, terrestrial radio, paper, and non-cloud IT services.
With the exception of retail, and a much lesser degree energy production, community banks do not have a lot of exposure to what is listed above. Community banks also have few subprime loans.
One of the biggest truisms in banking is memories of bad loans fade the farther away from the last recession you go. This results in underwriting standards and pricing steadily eroding as you move away from the recession due to competition. Since the last one was so harsh, memories still remain fresh and underwriting appears to still be relatively good.
Based on what I see, I do not expect banks to be hit anywhere as hard as the last recession in the next one, unless something happens to make it worse than the last one, which was one of our worst. This gives bank stocks some support. However, any recession will still bring elevated loan losses, loan shrinkage and lower interest rates. All these are negative for bank earnings.
Choosing Bank Stocks
In choosing bank stocks, I look for the following.
Loan growth. Anything over 10% a year is exceptional assuming the underwriting is good. You need to be careful here. Often the banks that blow up in a recession were the fastest growers.
EPS growth. Again, anything over 10% per year is strong, 5% more the norm.
Return on Equity. Anything in double digits is very good. It is very difficult for a bank to earn over 12% ROE with current competition. Anything under 7.5% is subpar. Avoid the low ROE banks unless they change management. They tend to stay underperforming.
Market growth. Banks in higher population growth states have more new loan opportunities.
Loan mix. Avoid banks that have concentrations in higher risk loans such as auto lending, construction and development loans, and energy production. Look for a more balanced mix. Commercial real estate is usually the biggest category.
Avoid those with red flags such as regulatory enforcement actions for safety and soundness.
Avoid banks with a lot of high cost deposits such as brokered deposits. The industry term for that is "hot money" and it is addictive like a drug and painful in a recession.
Consider those banks that sailed through the last recession. I have shown those on my list. Prior recessions to the last one are not a good predictor as the 2001 recession wasn't particularly bad for banks and 1990-1991 recession is too far away.
Community Bank Stocks To Consider
While I believe community banks stocks are overvalued here, I have included a short write up on six community bank stocks to consider if you want exposure to this industry. I tend to look for those with above average growth, a good history, and a below average PE ratio. Below is a brief description of each.
Lakeland Financial Corp (Nasdaq:LKFN)
I am personally familiar with this bank as we competed with them in some markets. The price to TNW ratio of 266% is high, but you get a powerhouse that has been a top performer for a long time. Lakeland has one of the top ROEs at 12.2% last year. Four year organic loan and EPS growth has been top of the pack at 11.5% and 9.4% annually, respectively. Capital is not too high or low at 10.0% of assets. The bank serves many smaller communities in Northern Indiana and benefits from its home base of Warsaw, Indiana. Warsaw is the headquarters of Zimmer Biomet and the medical implant industry. Commercial loans are 89% of total loans which helps earnings.
2. Arrow Financial (Nasdaq:AROW)
Arrow of Glens Falls, New York, sailed through the last recession and has increased its dividend each year during and since. The dividend is one of the higher ones in the group at 2.9% currently. Return on equity and five year organic loan growth are strong at 11.4% and 10.7% annually, respectively. The high growth and dividend have kept capital in the middle of the pack but still solid at 8.9% of assets. EPS growth has been slower at 3.9% annually, though this should pick up with the loan growth. The PE ratio of 17.4 is below average for the group despite the historical performance and dividend. Asset quality is pristine and the only large concentration of loans is in residential, which except for the last recession, is usually a safer loan category.
3. Enterprise Bancorp (Nasdaq:EBTC)
Enterprise is based in Lowell, Massachusetts. It had no difficulty whatsoever in the last recession. Enterprise has steadily increased EPS, dividends and loans since the recession. EPS is up 7.4% annually over the past four years. Loan growth was even faster at 10.4% annually. The majority of that was organic. Net worth is fine at 8.5% of assets, and almost all tangible. There is a concentration in commercial real estate. Within that construction and land development loans are 10.3% of total loans, a bit high for a more risky loan type. The PE ratio is 19.2, slightly below the peer group for a better than average bank.
4. S&T Bancorp (Nasdaq:STBA)
S&T is larger than many of the others in this group with assets totaling $7.1 billion. It is based in Indiana, Pennsylvania. S&T did struggle to post a small profit in 2009 but has otherwise posted good results. EPS and loan growth have been above average. EPS grew at an annual rate of 7.8% over the past five years. Add in a 2.2% dividend and total return was 10.0%. Analysts are expecting similar growth going forward. Loan growth was 12.5% annually during that period with about 2/3rds of that being organic. While net worth is currently 12.1% of assets there are a lot of intangibles. Tangible net worth is 7.9% of total assets. The loan portfolio is relatively balanced. The good news is the PE ratio is only 17.0, below most of its peers, despite moderately superior performance.
5. Sandy Spring Bancorp (NASDAQ:SASR)
Sandy Spring is based in Olney, Maryland. It struggled some in the last recession, losing money in 2009 but was never threatened. The bank has had strong growth the past four years. EPS increased 7.8% per annum and loan growth, all organic averaged 11.4% per year. Return on equity is just above average at 9.0%. The bank has a diversified loan portfolio. Tangible net worth was 8.8% of assets on March 31, 2017, about where you want it. It has a good market area of Greater D.C., Northern Virginia and Central Maryland. Despite the growth, the PE ratio is an industry average at 20.0 and price to book is also average.
6. Stock Yards Bancorp (NASDAQ:SYBT)
If you are willing to pay up for a top performing bank consider Stock Yards of Louisville, Kentucky. Stock Yards has one of the highest ROEs at 13.1%. The loan portfolio is diversified. Earnings benefit from a strong wealth management operation. Growth has been strong too. EPS has increased 12.6% a year each of the past three years and loans increased 10.5% per annum in that time period. Loan growth was all organic. Net worth is all tangible and was 10.3% of assets, very strong and giving the bank plenty of room to grow and pay a 1.9% dividend. The dividend has increased every year since 2009. The downside is it is expensive. The PE ratio is 22.1 and price to tangible book is 262%.
Supporting Documents
Disclosure: I/we have no positions in any stocks mentioned, and no plans to initiate any positions within the next 72 hours. I wrote this article myself, and it expresses my own opinions. I am not receiving compensation for it. I have no business relationship with any company whose stock is mentioned in this article.