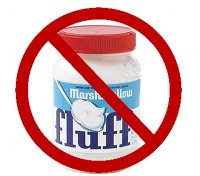 This note is truly "no fluff" as it has more data than words. I have been digging into retail REITs for a while, exploring the REITs and their tenants in order to determine where the best investment opportunities lie in the space.
My investment in the space is based on my investment thesis which I explained in my Retail REIT Recap:
Investors are acting like this is the first time anchor stores have closed or reorganized, the first time in line tenants have adjusted their store portfolio, Amazon's (AMZN) bid for Whole Foods (WFM) and eCommerce are going to put malls and shopping centers out of business. While I recognize the current environment is a difficult one, I do not believe that we are witnessing the imminent demise of the retail REIT.

Is this time any different? Yes, it is. eCommerce has become a bigger part of the equation (at nearly 10% of retail sales) and many of the struggling retailers did debt fueled expansion or were taken out (with lots of debt) by private equity. Yes, this cycle is different in that there is far more debt in the system (much like energy). Neither of these differences is going to wipe out retail, it is, however, going to force it to change, to adapt. Omnichannel retail, entertainment and dining (the "experience" factors) will be required. Same story, only the names and iteration are different.
As I dig further into the sector, trying to explore all the various facets of it, I have been putting the information onto the site for folks to digest and determine if they find it useful. I find it useful and monitor it daily; but honestly, it takes time to post it and I don't want to waste anyone's time (including mine). If it is viewed as useful, I will include it in my retail REIT recap.
This note will focus on short interest data.
First, a look at the short interest of the tenants.
Grocers:

From the above table, we see that SUPERVALU (SVU) and Sprouts (SFM) have the highest short interest (as percent of float). The short interest ratio (SI Ratio) is the shares short divided by the average volume (days to cover), the change in the number of shares shorted (1m Chg Shrt) is the percentage change in the number of shares shorted in the last month.
Retailers:

I have colored those retailers with greater than 25% of their shares short green.
As I have listed before, the following are Mall REIT exposures to retailers (I am building out a broader list across the retail REIT spectrum):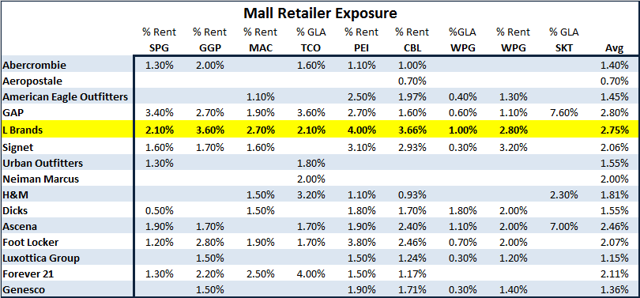 And finally, the short interest data for the retail REITs themselves: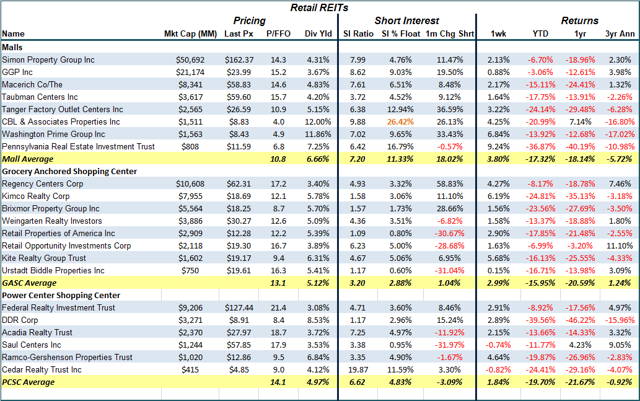 As the table above shows, the REITs have the most short interest, with CBL & Associates (CBL) having the most - Tanger (SKT), Washington Prime (WPG) and Regency (NYSE:REG) have the largest increase in short interest.
Hopefully, this information has been useful in determining which REITs the shorts are betting against and which ones they are increasing or decreasing their bets on. Ultimately, this can be helpful if you are looking to bet for or against retailers and retail REITs.
Disclosure: I am/we are long CBL, SKT, WPG, PEI.
I wrote this article myself, and it expresses my own opinions. I am not receiving compensation for it (other than from Seeking Alpha). I have no business relationship with any company whose stock is mentioned in this article.