The book Lake Wobegon, written by NPR's former host Garrison Keillor, is set in the title's fictitious town, "where all women are strong, all men good looking, and all children above average." Replace women…men..children with stocks, bonds and valuations (any order), and you have our financial markets.

The Federal Reserve's most recent rate hike and announced plan to gradually shrink its balance sheet makes now an opportune time to establish a better understanding of this economy and our market.
Non-Farm Payrolls (Grade: B-): Employment is the most important factor in determining the health of an economy.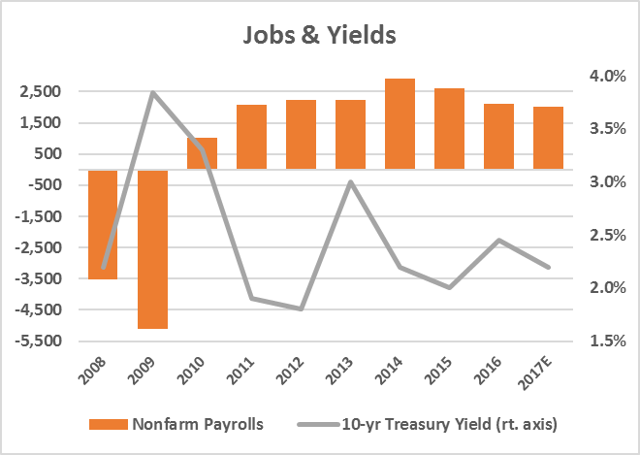 Source: Bureau of Labor Statistics
Pro: Still solid and steadily positive. On pace for another year of two million-plus net hirings in 2017.
Con: At around 170K monthly additions, the pace of job growth has again slowed through the first five months of 2017. Further labor-force shrinkage (to 62.7% in May) continues to help bolster the low rate of unemployment (4.3%).
The US Federal Reserve (Grade: C+): Has re-written the book for modern-day monetarism. The power of its actions cannot be overstated.
Pro: Our central bank has done a masterful job of achieving full employment. In doing so, it restored stability in our financial system in its time of need (up to 2010-11).
Con: The Central Bank continues to struggle in achieving its own inflation target (2% PCE – discussed later). Benefits of easy policy mostly favor investors. Banks and corporations given little incentive to make long term investments.
Existing Home Sales (Grade: B-) Key because it's the broadest measure of housing activity, and because a home is the largest single investment for most Americans.
Pro: On track in 2017 for the seventh straight year of increased home sales volumes (and prices).
Con: Lack of breadth, as with Payrolls (above). Home-ownership rate pressured by dearth of entry-level buyers, at about one-third of the total (vs. 40% historically).
Housing Starts (Grade: C): A Leading Economic Indicator.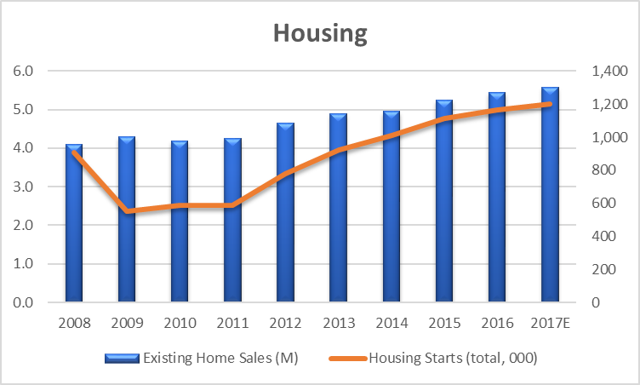 Source: National Assoc. of Realtors, Census Bureau
Pro: Set for another year of improvement in 2017.
Con: Figures still well short of past cycle averages, and softening since February.
S&P 500 EPS Growth (Grade: B): Important because earnings drive stocks.
Pro: 2017 forecasts call for double-digit EPS increases among these large caps. Solid anticipated revenue growth, though previously elusive, more than offsets further moderation in profit margins – now below recent 10%-plus peak (2014).
Con: Earnings flattered by further share repurchases and rising one-time charges.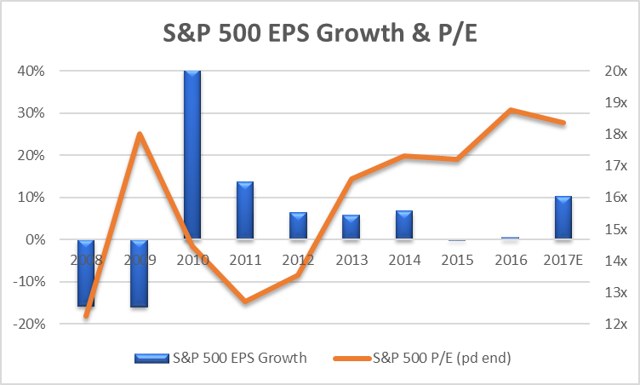 Source: Standard & Poor's
S&P 500 P/E Ratio (Grade: D): Important as a catch-all (investor sentiment, perceived future cyclicality, etc.).
Pro: Still below most past market peaks. Earnings yield (Egs. / Price) above 5% not unreasonable (vs. 'risk free' rate just about 2.2%).
Con: At 18.5 times robust (growth in) forecasted 2017 EPS (above), valuation multiples are firmly above past averages.
GDP Growth (Grade: C-) Relevant mainly for its breadth (nearly $20 trillion of activity) – if not for its perceived importance.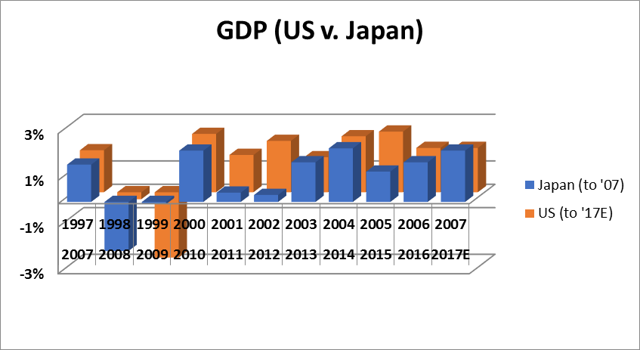 Source: Bureau of Economic Analysis, Bank of Japan
Pro: Economists forecast real GDP growth around 2% in 2017 – the new normal.
Con: The first quarter's even slower than usual start adds pressure to the remainder of 2017, if this 2% forecast is to be met. Still, nowhere in sight is the 'boom' year typical of past recoveries. Productivity remains a drag.
ISM Manufacturing (Grade: A): Important because making things helps ensure self-sufficiency and is the economic backbone of entire regions (e.g., the South, Midwest).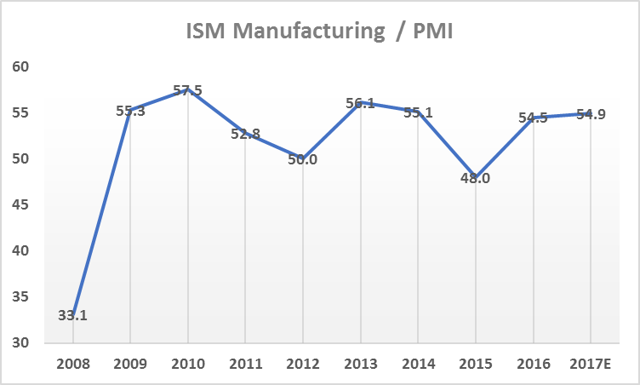 Source: Institute for Supply Management
Pro: Recall in 2010-11, the recovery's outset, when other key areas – from housing, to jobs, to corporate earnings – were only starting to find their footing, the industrial sector was rock solid. We're now approaching these earlier levels of manufacturing strength.
Consumer Sentiment (Grade: B+): Important because the consumer is 2/3's of the economy.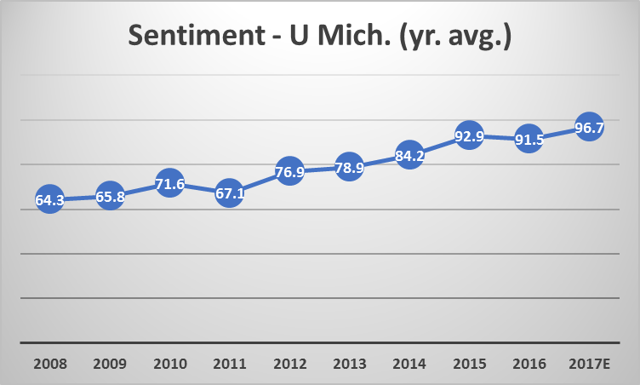 Source: University of Michigan
Pro: Recent readings in the mid-to high-90's help comprise the new (ab)normal: Univ. of Michigan hasn't published a monthly figure above 100 in well over a decade.
PCE Deflator (Grade: B): The Federal Reserve's preferred measure of inflation.
Pro: Better too little than too much inflation (all else equal – including the Fed). And better steady – slightly below the Fed's 2% thus far in 2017 – than volatile.
Con: Raising prices or wages remains a challenge most US industries.
Conclusion
The Fed's influence on the stock market is declining. Thus investors can better focus on profits and other core economic fundamentals discussed here. I am positioning managed portfolios for gains that may be harder won, and I am increasingly willing to accept small losses while allowing cash levels to rise. Investing for the long term in reasonably valued companies with strong cash flow (growth), dividends, and across geographies.
Disclosure: I/we have no positions in any stocks mentioned, and no plans to initiate any positions within the next 72 hours.
I wrote this article myself, and it expresses my own opinions. I am not receiving compensation for it (other than from Seeking Alpha). I have no business relationship with any company whose stock is mentioned in this article.