Contrary to Ron Burgundy's beliefs in the comedy Anchorman, diversity is not an old, old wooden ship that was used during the Civil War era. In the investing world, diversity or diversification is a key element that plays a huge role within any investor's portfolio. Although many investors understand the purpose or definition of diversification, some don't realize that too much diversification can hurt one's portfolio returns over time.
In this article I will discuss diversification and the role it plays in one's portfolio for a dividend growth investor, share and provide insight about the diversification of my portfolio, and as a bonus provide results from my "10 Minute Stock Rating System" on LyondellBasell Industries (LYB).
Diversification
Usually, a dividend growth investor's main portfolio priority is building, growing, and protecting a dividend income stream. Capital gains become an afterthought as the main purpose of building a dividend growth portfolio is to create a reliable income stream that grows every year.
For an investor to protect that income stream, one must diversify and purchase many stocks. For instance, if an investor owned 30 equally income weighted dividend growth stocks, and one company decides to suddenly eliminate their dividend, the investor has only lost 1/30th of their income. A 3.3% decrease in income is not devastating and not the end of the world. However, if the same investor owned only 10 stocks and one company eliminates the dividend, that investor just lost 10% of their income. This would be a scary and stressful event for one trying to live off of their dividends. Just imagine if your boss walked into your office and told you your salary will be cut by 10% tomorrow. I know I'd kick my chair over, yell some obscenities, and then seriously think about finding a new job.
Not only does the dividend growth investor have to own many stocks, they also have to make sure these stocks are diversified between sector and industry. A great example of this is what is happening now in the retail industry. As the retail industry has been hit hard lately by reports of decreasing sales and profits, retail share prices have decreased and dividends have been slashed as a result. Many speculators are claiming "the death of brick and mortar retail" is on the horizon due to the rapidly growing popularity and convenience of Amazon (AMZN) and other online retailers. If an investor owned a portfolio mostly consisting of brick and mortar retail stocks, that investor most likely lost a lot of income in the past few quarters due to dividend cuts and eliminations. Because other industries have performed well at the same time resulting in dividend raises, spreading your holdings among multiple sectors and industries protects the investor from sudden dividend extinction. If you only own one or two retail stocks in a wide variety of holdings, then a lot of risk is eliminated from a retail dividend-cutting frenzy.
"Deworsification"
On the contrary, it is possible to be too diversified. "Deworsification" is a term I have heard used that can actually hurt long term portfolio results.
An easy to understand example of "deworsification" is owning too many stocks. As one owns more stocks, their results tend to become more average. This is logical because if one decided to buy all 500 stocks in the S&P, then their results would be very similar to an S&P ETF or mutual fund. If one wanted average market returns, then there would be no point in spending the time investing in individual stocks and wasting all those trade fees as low cost index funds tend to charge very little in management fees and require none of your time.
The dividend growth investor's goal is to not own as many stocks as they can, although it would eliminate a lot of risk resulting from dividend cuts. Instead it is to buy the best stocks at the best prices with the most reliable dividends. If one successfully achieves this goal, the investor will be rewarded with better than average returns and more income than a broad based index or dividend fund. After all, we are all here seeking alpha.
Also, it is possible, to go overboard on diversification when spreading your holdings among sectors and industries. If an investor is attempting to own equal amounts of stock in each sector and/or industry, then the investor is inevitably investing in sectors/industries that are overpriced and overvalued instead of the sectors and industries that seem undervalued. For instance, the energy sector took a huge hit a couple years ago as global oil supply increased and oil prices fell from over $100 a barrel to below $40. As this oil retreat happened, a lot of well performing energy companies stock decreased by 50%. Some of these price drops were not justified as the company's current earnings and cash flows had not decreased by 50% as well to fuel the price drops. Smart investors gobbled up well managed energy companies at discounted prices where the over-diversified investor may have been busy buying more "safer" and overpriced stocks to keep their portfolio equally weighted between sectors. Sectors and industries tend to become under or overvalued at different times, so it would be smart for an investor to invest in the sector or industry that is most attractively priced and not worry so much about perfect diversification.
The Diversification of My Portfolio
First let's take a look at my dividend growth stock portfolio in regards to sector as of 6/19/2017:
| | |
| --- | --- |
| Sector | Portfolio Allocation |
| Industrials | 25.2% |
| Financial Services | 20.5% |
| Energy | 19.6% |
| Basic Materials | 14.9% |
| Consumer Cyclical | 9.2% |
| Technology | 7.1% |
| Real Estate* | 2.3% |
| Consumer Defensive | 1.1% |
| Communication Services | 0.3% |
| Healthcare | 0.0% |
| Utilities | 0.0% |
Source: Morningstar & Author Calculations
*Note: I use Morningstar to determine which sector and industry each of my holdings operates in. Morningstar has created an 11th "sector" called real estate where my REITs are categorized. Most financial institutions put REITs in the financial services sector or treat REITs as an alternative investment.
As you can see from the table above, my portfolio is not equally weighted per sector. I do have diversification as I own stock in 9 out of the 11 sectors. This diversification will eliminate some risk when a certain sector starts suffering and price declines and dividend cuts follow.
My sector allocation is not by design, it is simply a result of buying the most attractively valued stock at the most opportunistic times. As oil prices plummeted, I purchased energy stocks. As energy companies declined, so did industrials, so I jumped on those discounted prices. I own a lot more consumer cyclical than I owned a year ago due to the retail industry decline. I do not own any healthcare or utility stocks, not because I don't favor the sectors, but because I simply haven't found any good deals within them that have a strong dividend. If I was buying utilities just to have more portfolio diversification, then I would be "deworsifying" my portfolio and buying overvalued stock instead of undervalued stock in another sector. I am sure one day the healthcare sector will go through a cyclical decline and I will be the first one there to gobble up the discounted prices.
If you are wondering how I decide which stocks are undervalued or most attractively priced, please read about my "10 Minute Stock Rating System" that I developed that rates a stock's financials, valuation, margin of safety, and dividend strength. A detailed article written about the system and an example of why Valero Energy (VLO) rates high on the System can be read here.
Now let's take a look at my portfolio diversification per industry:
| | |
| --- | --- |
| Industry | Portfolio Allocation |
| Diversified Industrials | 24.4% |
| Specialty Chemicals | 11.3% |
| Oil & Gas Refining & Marketing | 8.9% |
| Information Technology | 7.1% |
| Capital Markets | 6.3% |
| Oil & Gas Equipment & Services | 4.7% |
| Auto Parts | 4.3% |
| Banks - Regional - US | 3.8% |
| Paper & Paper Products | 3.5% |
| Banks - Global | 3.1% |
| Specialty Retail | 3.1% |
| Insurance - Diversified | 2.8% |
| Asset Management | 2.4% |
| REIT - Residential | 2.3% |
| Oil & Gas Integrated | 2.2% |
| Insurance - Reinsurance | 2.2% |
| Oil & Gas Midstream | 1.9% |
| Oil & Gas Drilling | 1.8% |
| Department Stores | 1.3% |
| Pharmaceutical Retailers | 1.1% |
| Rental & Leasing Services | 0.4% |
| Waste Management | 0.4% |
| Apparel Stores | 0.3% |
| Telecom Services | 0.3% |
| Publishing | 0.2% |
Source: Morningstar & Author Calculations
As you can see above I own 25 different industries. This is by design because I own 25 different holdings in my portfolio. Unlike sector diversification, where an investor can only own 10 or 11, an investor can own in 100s of different industries. I purposely avoid owning more than one stock in the same industry because I want to be as diverse as possible without sacrificing return. It is way easier to pass on purchasing within the same industry because there are so many industries to choose from, unlike stock market sectors. The above table shows that I own in all different areas of the economy, which eliminates a lot of portfolio risk.
If you are wondering why my diversified industrials industry allocation is so high, that's because I bought Cummins (CMI) at a great price and a high rating using my "10 Minute System". After my purchase, CMI's stock price rose by just shy of 90%. You can read a detailed description of my purchase of CMI here and learn why I no longer consider it my "best stock".
Bonus: LYB in focus
As a bonus, I would like to run LYB through my aforementioned "10 Minute Stock Rating System" to show you why it should be considered for purchase:
LYB is a manufacturer of chemicals and polymers, a refiner of crude oil, a producer of gasoline blending components and a developer and licensor of technologies for the production of polymers.
The following chart should be used as reference, and the following table shows the results of my System. LYB was trading at 82.07 at time of writing.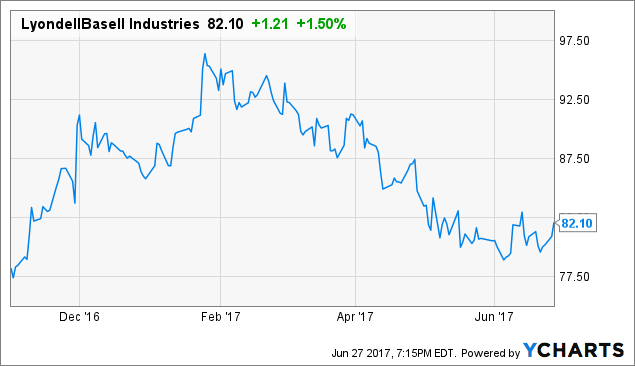 LYB data by YCharts
Criteria

LYB @ 82.07

Score

#1 Current Ratio >=1.5

2.21

100%

#2 Long Term Debt/Working Capital <= 1.10

1.59

55%

#3 Positive EPS Streak of 5 Years

5

100%

#4 Dividend > 0

3.40

100%

#5 Current EPS > 5 Years Ago

8.74>4.92

100%

#6 Price/Book <= 1.2

5.12

0%

#7 P/E (TTM) < 10

9.39

100%

#8 Higher Dividend Streak > 4 Years

7

100%

#9 Current Yield >= 3%

4.20%

100%

#10 Payout Ratio < 50%

38.7%

100%

#11 FCF/Dividend Payout >=1

1.95

100%

#12 5 Year DGR >= 10%

43.4%

100%

#13 3 Year DGR/5 Year DGR >= 1

0.43

43%

Final Scores:

84%
Source: Morningstar, David Fish's U.S. Companies with 25+ Straight Years Higher Dividends, & Author Calculations
My "10 Minute System" rated LYB an 84%. This score indicates the stock should be considered for purchase. I consider purchasing any stock rated 80% and above.
To break some of the numbers down further; the high current ratio of 2.21 shows that LYB has a strong balance sheet.
The valuation metric P/E is low at 9.39 indicating that the stock is trading at a great price relative to its earnings.
The profitability of the company is strong, consistent, and growing, indicated by the growth of EPS from 5 years prior and a streak of 5 years of positive EPS.
The dividend is safe indicated by the 7 year dividend raise streak, low payout ratio of 38.7%, the ability to easily cover the dividend with FCF, and the 5 year dividend growth rate of 43.4%.
The table above shows why LYB should be considered for purchase because of its favorable 84% rating which indicates the stock has strong financials, is fairly valued, has a built in margin of safety, and a strong dividend.
Conclusion
Diversification is important in all portfolios. Having a diverse portfolio protects you from market risk and sector and industry downturns. However, there is such thing as being too diversified. An investor should never sacrifice return by purposely buying overvalued stock instead of undervalued stock just to keep their portfolio equally diversified between sector and industry allocation.
My portfolio is diverse but not too diverse and is a result of buying the best deals the stock market has to offer at any given time. I don't worry about sector diversification at all but make sure that I don't own more than one stock within the same industry. This investing strategy keeps my portfolio diverse without sacrificing return and taking on too much risk.
LYB rates an 84% in my "10 Minute Stock Rating System" and should be considered for purchase.
Additional disclosure: I am not a financial professional. Please consult an investment advisor and do your own due diligence prior to investing. Investing involves risks. All thoughts/ideas presented in this article are the opinions of the author and should not be taken as investment advice.
Disclosure: I am/we are long VLO, LYB, CMI.
I wrote this article myself, and it expresses my own opinions. I am not receiving compensation for it (other than from Seeking Alpha). I have no business relationship with any company whose stock is mentioned in this article.