BlackBerry (BBRY) released its earnings report on the 23rd of June. It is safe to say that investors were far from pleased by the report as the stock declined fast. My view is that BlackBerry's quarter was far from bad. There were plenty of positive developments in the quarter that will help the company become successful again in the future. We must not forget that this company is currently still in the transitioning stage to becoming a successful software and services company as I mentioned in an earlier article. From what I see, BlackBerry is well underway in its efforts to achieve just this and we can already see the positive impact this has.
Quarterly results
During the first quarter, BlackBerry actually did better than expected in terms of EPS as the expectations were -$0.02, but the company managed to generate an EPS of $0.02. Although this sounds great, we must keep in mind that BlackBerry often reports an earnings beat, which does not make this event very special. The most important thing to look for when analyzing BlackBerry's financial results is revenue.
The reason for this is that BlackBerry has been working on turning its business around for quite some time now. A major indication of this turning into a success are the developments surrounding its revenue. This is why investors were so disappointed when BlackBerry reported revenue of $244 mln, which was $20 mln below the consensus estimate.
While I get that investors want to see results as soon as possible, I do not believe that investors should see the revenue miss as a sign that the turnaround is failing. There are plenty of reasons to be excited about the developments that were seen during the quarter.
Improving margins
I also have to add that while people are mostly focused on revenue, we must not forget that an increasing percentage of the total revenue is made up out of revenue derived from software and services. During the most recent quarter, this percentage was 69%. This switch is very positive for BlackBerry because this segment has much better margins. As a result, BlackBerry does not need as much revenue in order to report a positive bottom line. This development can be seen quite clearly in this graph: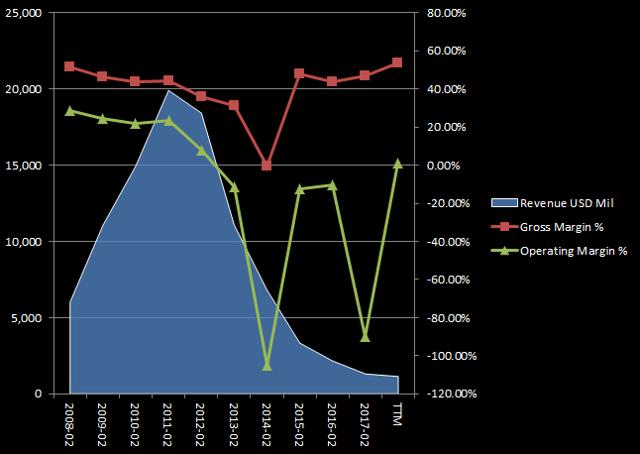 A clear uptrend can be seen in the gross margin of BlackBerry with the operating margin turning positive on an annual basis for the first time since 2012. And these are just the TTM numbers. During the last quarter, BlackBerry saw its gross margin at a whopping 67% while its operating margin stood at 5.7% during the quarter. Despite a lack of overall revenue growth, BlackBerry has managed to be EPS positive for the last three quarters, while also generating an operating profit for the last five quarters. This is all thanks to the fact that 77% of its revenue now comes from software and services.
Lifting pressure and creating time
Of course, I am not saying that means that BlackBerry is saved and management can relax. What I mean to say is that the lack of overall revenue growth is far from a disaster and that investors should not be so pessimistic about the developments surrounding this company.
Because as discussed earlier, BlackBerry is transitioning and working hard on generating growth in the future. And now that the most part of the company's revenue is derived from software and services, the company has more time to turn the business around. Because thanks to the new business model, there is actually already positive income, which lifts some pressure off management.
So the higher margins have stopped the bleeding of the bottom line, creating time for the company to develop its key growth areas further. Another big plus that will help BlackBerry in its efforts to grow these areas is the payment it received from Qualcomm (QCOM). On the 12th of April news came out that Qualcomm had to pay $814.9 mln to BlackBerry in royalty overpayments, which was then increased to $940 mln on the 26th of May. These two developments allow BlackBerry plenty of time and money to support developments surrounding its key growth areas. Just a few of these developments of the last quarter are written down below.
Unified Endpoint Management developments
One of BlackBerry's growth initiatives is Unified Endpoint Management (UEM) in the enterprise area, which has been performing well and has seen some good developments during the last quarter. This is evident by what management had to say about the progress being made on this front during the earnings call:
"... we again saw good performance in UEM and solid year-over-year growth in billings. As a reminder to everybody, this follows our strong - the billings was - follows our strong Q4, which was our highest ever billings quarters in the history of the company.

The growth was due to strong uptake of our new UEM platform, which was launched in December of '16. We processed over - in the quarter, we processed over 3,000 customers orders."
One of the positive developments is the Microsoft (MSFT) Windows integrations. The other one is the third party cloud enablement of UEM, which allows BlackBerry to put the entire UEM product platform onto a cloud. Multiple features and analytics have also been listed.
Other positive developments
Two very good wins with respect to the automotive industry of the last quarter were announcements about Qualcomm and Nvidia (NVDA). Qualcomm announced that it will adopt BlackBerry's Hypervisor to support its digital cockpit solution in automotive, while Nvidia announced that it wants to use the QNX real-time operating system for its own DrivePX2 platform. So the company is making progress in the automotive technology service sector, which BlackBerry's management expects to grow at a 30% CAGR over the next 15 years.
Conclusion
These are just some of the developments made by this company during the most recent quarter. I wanted to show investors just how much impact the switch to software and services has already had for the company and how this has caused a lot of room to breathe while the company is focusing on growing its business in the future. So the revenue miss should not be on everyone's mind as the important development was that BlackBerry has stopped the bleeding. Now it has time to continue its path on its way to actual growth.