OPEC's decision in late 2014 to ramp up oil production in an effort to kill competition was wildly successful across the board to start. Oil prices plunged, which led to dozens of oil companies having to file for bankruptcy and most of the rest having to dilute and extend debt. Americans naturally felt that U.S. oil shale producers were OPEC's target, but that was a self-centered viewpoint.
The reorganization of the American shale oil industry into a leaner oil-producing machine has led to a roaring comeback by shale oil producers. As I discussed in my article "Shale Never Was OPEC's Primary Target," the real goal of OPEC was to stifle investment in deepwater and oil sands megaproject developments.
The Beginning of the End of the Oil Age
Saudi Arabia has been very forward with its belief that the oil age is beginning to end. Its Saudi Vision 2030 to diversify its economy is a harbinger of a future with much less demand for oil.
The temporary setback to shale was merely a byproduct of accomplishing OPEC's real goal of sinking deepwater and oil sands investment. To date, according to Wood Mackenzie, over a trillion dollars of oil megaprojects have been canceled for the window through 2022. As evidenced by offshore spending being down another 20-25%, according to Barclays, in 2017, it is unlikely that deepwater ever approaches former levels of development.
Investors must accept what the banks and the oil majors have. There simply isn't going to be enough oil demand 15-20 years out to justify many deepwater projects over that time frame, many of which take over a decade to build and payoff. They know that the advent of the Electric Vehicle powered largely by solar power (whether on rooftops, by utility-owned solar farms, from the tops of commercial buildings or more likely, all of the above) is coming.
The banks and oil majors also know that demand for oil for plastics is going to die as well. New technology is already being used to convert waste methane into plastic. According to the EIA, approximately 9% of oil is used for plastics. Converting methane to plastic is going to be a lucrative "double whammy" business. Not only will it make plastic but it also will help clean the atmosphere. It'll be hard, if not impossible, for oil as a feedstock to compete.
Deepwater Drilling is Still Drying Up
There are deepwater projects all of the world that were started when oil prices were higher. Most of those have recently come online or will soon. The bustling global development of just three years ago is still capitulating as most midsize companies are being forced out. As Angus Rodger of Wood Mackenzie told CNBC "Deep-water remains a big boys' game, it's not for everyone."
Wood Mackenzie also pointed out, "breakevens have come down 20% since mid-2014, but it is still not enough for most developments to move forward." That is a theme that even the majors are grappling with and that shareholders are taking note of.
One client of mine is in the process of leaving Halliburton (HAL), and he has told me first hand of the dramatic dropoff of deepwater development in Angola (an OPEC nation) where he was stationed recently. Only companies like Total (TOT), with projects that they are already passed the point of being able to withdraw are continuing to develop.
Another contact, a retired executive with Royal Dutch Shell (RDS.A) wrote to me that he is seeing a massive decline of deepwater development persisting for the oil majors. For its part, Shell believes that oil demand will peak in the next decade, as soon as, five years from now. It is making its investments accordingly, including in offshore wind farms.
In the U.S., about 220,000 barrels of the increase in production in Q4 of 2016 was from completed offshore projects in the Gulf of Mexico, according to Bank of America Merrill Lynch (BAC). But those projects are just peaking and will turnover in the next few years due to reduced drilling. We are about to see the peak in Gulf of Mexico production.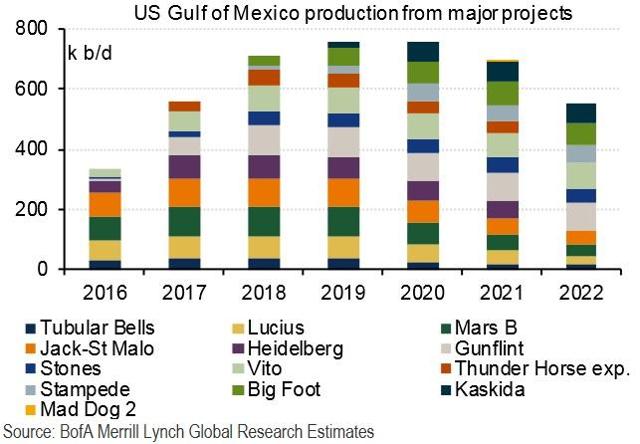 A report by Carbon Tracker suggested that up to half of Exxon's (XOM) currently planned expenditures through 2025 could be wasted if oil demand peaked by then. Up to 40% could be wasted by Chevron (CVX), Total, and Eni SpA (E), and 30% for BP (BP). This potential reality has caused shareholders in recent meetings to speak up. Exxon's shareholders forced the company to account for how a lower carbon future could impact asset values. It is not hard to see how that activism could translate to far less aggressive oil development.
The reduction in deepwater development and tight grip on future development is extreme. Developments started years ago are being completed, but very few new ones, only eight in 2017 according to Wood Mackenzie, are being begun. Even the oil majors still looking for projects are being very diligent in only getting involved with economic projects. And, shareholders have begun holding their feet to the fire recognizing that growth at any cost is too high.
What will be the fate of the oil drillers with less work to do in the future and most of them having highly leveraged balance sheets? It isn't really hard to figure out.
Most Deepwater Oil Drillers Are Doomed
In an article I wrote on MarketWatch back in June of 2015 titled "The beginning of the end for the oil age", I said this:
"With the collapse in the price of oil and oil stocks, many investors today are looking toward oil stocks for great value opportunities. Most of them are likely to fall into value traps in the short-term. In the long-term, the opportunities might not be as clear cut as in the past. The age of oil has now begun to end, and that means at least more volatility, so be aware and beware, the world is changing in a massive way."
While I do believe there are values in oil stocks again right now as recent articles have pointed out, I believe the deepwater drillers are loaded with value traps. Remember, while oil production will drift up in coming years, it will largely be on the back of OPEC, shale and recently completed or completing megaprojects. It won't be on some sudden surge of new offshore development.
Let me give an example of why I am staying away from offshore drillers. Here is the company with the largest backlog of contracts in the industry, at about $10.8 billion, and probably the youngest fleet at 41 mobile offshore drilling units.
Transocean (NYSE:RIG) is a darling of some oil rebound investors, and you can find analysis wed to the idea that the company is in control of its debt, has significant assets, and is positioned for a rebound in offshore drilling. Despite that, the stock is down well ahead of oil prices this year which is often tied to. There are good reasons for its precipitous dropoff of what I called a "sucker's rally" at the time.
In an SA article last December titled "Oil Majors Not The Place For Rising Oil", I continued on with this, "Transocean's rally is a gift to those trying to escape that stock and escape it, they should, as day rates will never see the light of day again." Since that statement, Transocean's share price is down about 45%.
A major point that investors in RIG are making is that they believe simply bringing down and extending debt will make this company significantly profitable. They are wrong. Unlike an E&P with tangible land assets, Transocean has very little of value. It did make a brilliant move to dump its jack-up fleet. Why brilliant when the market punished the stock? Because it was another indication that at least the management is completely aware it is purely in survival mode.
Dumping the jackup fleet should tell investors one thing: Transocean will be a completely different type of company soon. Its CEO Jeremy Thigpen said this:
"The sale of our jackup fleet is consistent with our strategic goal of remaining the industry's undisputed leader in the ultra-deepwater and harsh environment markets, where our high quality assets, unmatched operational experience and trusted customer relationships provide us with a clear competitive advantage."
Think about that in context. The company gave up on winning new contracts with jackups. It is now essentially a pure play on deepwater which is optimal in a high price oil environment, completely the opposite of what we see now. So, that begs the question, if oil prices rise, will that stimulate profits for the company? I believe the answer is probably not. Here's why.
Even if oil prices rise to $100 per barrel by 2020, as I am forecasting (with the possibility of it happening sooner on a war with or within Iran), it would take quite a bit of gumption on the part of the oil majors and their finance partners to embark on new projects that will require hefty capital, years to complete and more years to break even. My thesis is that those projects will not materialize. Instead, U.S. shale and Saudi Arabia will make up all oil supply requirements for years.
Rystad forecasts that there will be demand of 200 floaters by 2020. That represents a 70% bump from current demand. I don't believe the hype. But even if I did, I would have to consider the possibility that demand doesn't materialize. It is a very uncertain equation at best.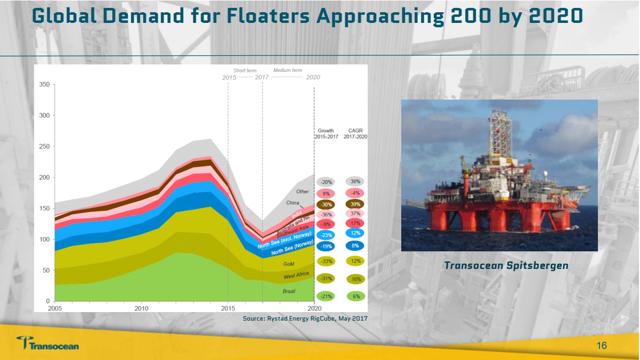 Even if Transocean can generate some more revenue on smaller and more economical projects for the oil majors (I expect it will make some minor progress there), it is unlikely that it will match up to the semi-bullish pronouncements of the company. I say semi-bullish pronouncements, because its actions indicate otherwise. It recently stretched out debt and used some of its balance sheet to get rid of $1.5 billion of near-term debt and deferred $1 billion in obligations on newbuilds to 2020. This screams out the same thing that much of the highly leveraged E&P space is, "help, we need higher oil prices quick!"
So, where would that leave Transocean? As a company with a lot of depreciating assets with nowhere near enough business to be highly profitable. I believe it when it says that it will "deliver the safest, most reliable and efficient operating results." But with revenue that has declined by 63% since Q1 2015, that's like having a couple of great slices of wedding cake for the bride and groom (or executive bonuses), but not enough for the guests (shareholders).
The wedding is very expensive too, even without cake for the guests. The company's tender as of yesterday appears successful, but only defers debt at a higher interest rate and eats up some more of the balance sheet.
At this point, Transocean should be considered on the basis of Benjamin Graham's "net net" ideas and what it would be worth in a strategic transaction.
With about $10 billion in total liabilities (after removing for the payments due on the new jackup fleet vessels and adding premium on debt bought) and only about $3 billion of cash, you would have to believe that its book value is legitimate. I don't.
Transocean's net PP&E (property, plants, and equipment) is valued on its balance sheet at about $20b. I call party foul on that. Given that it basically gave away its jackup fleet, getting $1.35 billion consideration, but only $320 million cash for the 10 existing vehicles and $1.1 billion in payment relief for five new it owed on, anybody who doesn't question the value of Transocean's assets is acting on faith.
So, this all comes down to what does the future hold for Transocean. It does have 60% of its rigs contracted. But that leaves 40% with few alternatives and almost zero pricing power with companies like Seadrill (SDRL), Diamond Offshore (DO), Noble Corp. (NE), and Ensco (ESV) vying for business in a dry market.
A quick visit to IHS Markit's day rates page can make the point clear on pricing power.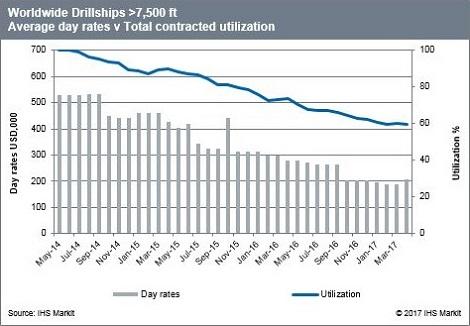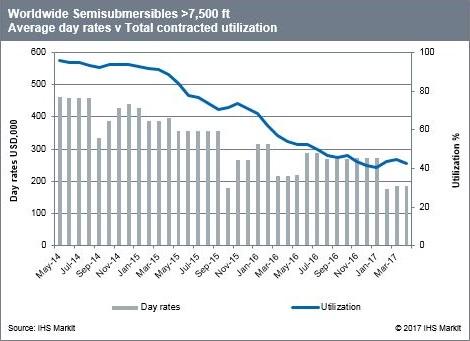 My anticipation is that Transocean will try to sell a good portion of its rigs. If it can clear several billion of debt, that would save the company from the potential prepackaged restructuring that it could be lining up for in a few years. Mind you, this is one of the better off companies in the industry.
I rate Transocean a sell. It will have to execute perfectly (could happen), find buyers of some of its assets at worthwhile prices (coin flip), and hope that deepwater picks up a lot more by 2019 (doubtful) just to keep shareholders from being hugely diluted or completely wiped out. I would bet on hugely diluted, but either way, I don't want my money in this stock as there is no margin of safety.
Editor's Note: This article covers one or more microcap stocks. Please be aware of the risks associated with these stocks.