Until the management of Anadarko Petroleum (NYSE:APC) wises up a lot, investors should probably stay on the sidelines. The latest headlines provide a clue to the unacceptable path management has been taking for quite awhile.
"Deadly Firestone home explosion caused by gas from cut, abandoned line to well"
This was followed by:
"unrefined, non-odorized gas that entered the home through a French Drain and Sump Pit due to a cut, abandoned gas flow line attached to an oil and gas well in the vicinity that, while abandoned, had not been disconnected from the wellhead and capped," firefighters said in a statement.

Anadarko Petroleum later announced the closure of 3,000 vertical wells in northeastern Colorado after the deadly explosion and fire. One of the wells Anadarko shut down was less than 200 feet from the Martinez family's home."
Source: KDVR.com Fox 31 Denver, Colorado Website.
All of this was accompanied by some very public remorse and the usual statements to try and manage the situation as best it could be managed. But events have a way of undermining management efforts.
"One dead, three injured in Anadarko oil tank explosion in Weld County"
This May 25, 2017 headline from the Denver Post undoes any possible publications repairs that management may have tried with the other accident. The expressions of sorrow and concern about employee safety are beginning to ring hollow.
The situation should start a search of the company documents for some history. Unfortunately that provides even more ammo for carelessness on the part of management.
"Item 1. Legal Proceedings

The Company is a defendant in a number of lawsuits and is involved in governmental proceedings and regulatory controls arising in the ordinary course of business, including personal injury and death claims; title disputes; tax disputes; royalty claims; contract claims; contamination claims relating to oil and gas exploration, development, production, transportation, and processing; and environmental claims, including claims involving assets owned by acquired companies and claims involving assets previously sold to third parties and no longer a part of the Company's current operations. Anadarko is also subject to various environmental-remediation and reclamation obligations arising from federal, state, tribal, and local laws and regulations. While the ultimate outcome and impact on the Company cannot be predicted with certainty, after consideration of recorded expense and liability accruals, management believes that the resolution of pending proceedings will not have a material adverse effect on the Company's financial condition, results of operations, or cash flows.

WGR Operating, LP, a wholly owned subsidiary of the Company, is currently in negotiations with the EPA with respect to alleged noncompliance with the leak detection and repair requirements of the Clean Air Act at its Granger, Wyoming facilities. Although management cannot predict the outcome of settlement discussions, it is likely a resolution of this matter will result in a fine or penalty in excess of $100,000.

Anadarko E&P Onshore LLC, a wholly owned subsidiary of the Company, is currently in negotiations with the Pennsylvania Department of Environmental Protection concerning enforcement over a produced water release in Pennsylvania in 2015. Although management cannot predict the outcome of settlement discussions, it is likely a resolution of this matter will result in a fine or penalty in excess of $100,000.

Kerr-McGee Oil and Gas Onshore, LP, a wholly owned subsidiary of the Company, is currently in negotiations with the State of Colorado's Department of Public Health and Environment with respect to alleged noncompliance with the Colorado Air Quality Control Commission's Regulations. Although management cannot predict the outcome of settlement discussions, it is likely a resolution of this matter will result in a fine or penalty in excess of $100,000.

See Note 10-Contingencies in the Notes to Consolidated Financial Statements under Part I, Item 1 of this Form 10-Q, which is incorporated herein by reference, for a discussion of material legal matters that have arisen since the filing of the Company's Annual Report on Form 10-K for the year ended December 31, 2016."
Source: Anadarko Petroleum 10-Q, First Quarter 2017, Filed May 2, 2017
What is beginning to emerge is not an unfortunate accident but a management that is trying to cut corners too closely. All investors need to do is ask some more experienced companies what happens when a pattern like this is ignored. Though one does not really need to wait for the answer. This type of track record should constitute an unacceptable risk for most of the market. The only acceptable strategy for compliance and safety is zero tolerance.
Compare this to the very public attitude espoused by BP (BP). BP is a company which still has a lot of image repairs to do.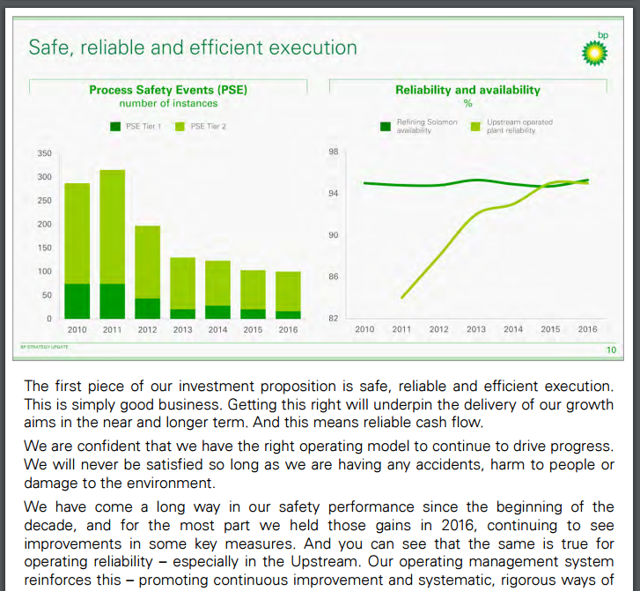 Source: British Petroleum Strategy Update, 2017
Employee safety, and other forms of compliance are now a significant part of every management presentation. A link has been provided for investors to see the whole package. Plus the company has often offered more statistics when asked. Employee safety, environmental safety and legal compliance is now clearly a top management priority. This is about the only way to keep a very nasty investment risk from entering investment decisions. Carelessness needs to be stopped dead before it becomes a major shareholder loss and a public eyesore.
"Lynn A. Peterson, Chairman and CEO of SRC Energy, commented, "SRC has been actively plugging and abandoning vertical well bores for the last several months as we develop our acreage through horizontal drilling and utilizing state of the art technology. Over the last 7 months we have plugged and abandoned 59 wells and returned acreage to property owners. We currently operate 169 producing vertical wells, the vast majority of which are scheduled for abandonment over the coming year. Total production associated with our vertical wells is less than 2% of our current total production. We will continue to work closely with local and state regulatory agencies to maintain a safe environment and comply with applicable regulations. At this time we are not aware of, and do not expect, any regulatory changes that would alter our development plan"
Source: Synergy Energy (Formerly SRC Energy) May 4, 2017, First Quarter Earnings Press Release
Synergy Energy (SRCI) has been plugging and abandoning these high risk wells for some time. Now they are going to speed up the program because of all the publicity the first accident caused. This is a company that saw a problem and proactively began to handle the problem before the company ended up as part of an unfavorable headline. Shareholders often pay for proactive managements but do not get their money's worth.
The Synergy article more effectively documents and references some of the proactive steps that management has taken in general. Anadarko management could learn a lot from this management also. A sign of superior managements is side stepping potential problems before they appear. Investors often think that management is very stodgy because the pathway taken is just not exciting. But it also does not usually lose money.
There are many reasons why accidents happen. Maybe all of the ones listed above are not the fault of current management. But the evidence is clearly accumulating that a management attitude and priority change is needed. It is only a matter of time for a miscalculation occurs that will be a major public relations faux pas with some very nasty and potentially long lasting financial implications. Just look at how long BP has been working to fix the most public accident in its history.
Even Exxon Mobil (XOM) executives would tell you no small risk to cut corners is worth the potential outcome. Exxon paid dearly when Valdez hit the newspapers. You can bet they have never ever forgotten either.
Until Anadarko management very publicly changes management policy and proves to the satisfaction of shareholders that they have a zero tolerance policy for the kinds of headlines discussed above and in the 10-Q, this stock should be an unacceptable risk to most potential investors. Honestly, the public does not need any more reasons to distrust the oil and gas industry. Yet Anadarko may just be the management to present a few more of those reasons. These kinds of risk should constitute an unacceptable way to run a company.
Disclaimer: I am not an investment advisor, and this article is not meant to be a recommendation of the purchase or sale of stock. Investors are advised to review all company documents, and press releases to see if the company fits their own investment qualifications.