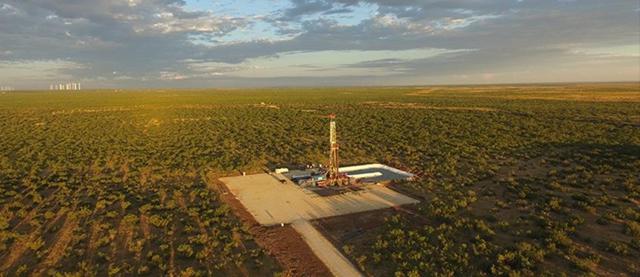 1. Introduction
The unconventional oil rush in the Permian Basin is ongoing, as cash, people and equipment pour into the booming petroleum province over the past couple of years. Is a bubble in the inflating? What phase of oil land grab is the industry currently in? How are various involved parties conducting themselves? Who is creating shareholder value and who is destroying it under the presently prevailing oil price regime (OIL)?
In this article, the second installment of a series of articles focusing on the Permian Basin (see here for part 1), we examine publicly announced land transactions, hoping to glean some answers to these questions.
2. Recent transactions
Rummaging through media reports and financial reports, news releases and presentations of the companies that we have identified to operate in the Permian Basin, we managed to compile a list of 78 recent deals on Permian land. The list does not cover private deals, which are known to be numerous; it is most likely incomplete as to transactions involving public companies. Details as to some deals are announced in combination with non-Permian assets such that land prices cannot be calculated for the Permian land involved, which are excluded in this study.
Table 1. A list of recent transactions of Permian Basin land, compiled from media reports and company financial reports, news releases and presentations.
3. Observations
3.1. Land-production correlation
Based on the list of Permian Basin operators, a linear positive correlation exists between the net acreage held and net total hydrocarbons produced (Fig. 1). Though such a strong relationship can be intuitively assumed, we document it here with the data at hand. For conventional oil and gas fields, this relationship may not hold because of the discrete distribution of conventional fields, but it indeed exists for the Permian Basin acreage because unconventional oil and gas trends are horizontally dispersive over large areas. This, in other words, is saying that if you want to produce more, you have to go out to buy more land, which has been the main reason behind the Permian land grab.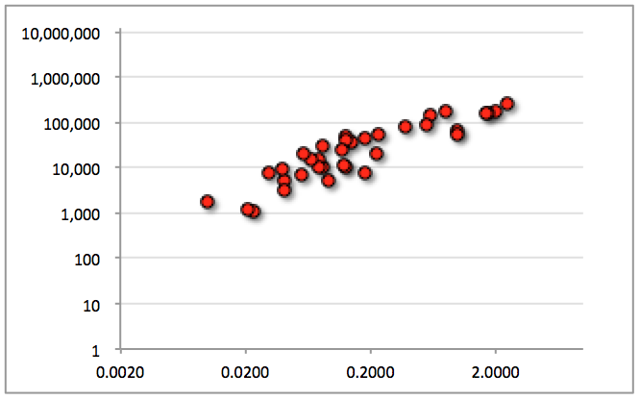 Fig. 1. Covariation of net acreage (horizontal, million acres) and net production (vertical, boe/d), author's chart based on data compiled from Permian Basin operators' filings, releases and presentations.
3.2. Trend of deal count
Buying and selling of Permian Basin land as defined by our data had been really sporadic in the 2000s and early 2010s. Active trading of Permian land did not pick up until mid-2016. However, once starting in earnest, it really took off. There were 5 and 6 deals reported for July and August 2016, respectively. The deal count for the current month has already reached 5 as of June 28, 2017 (Fig. 2).
The oil price crash in late 2014 through early 2016 served to highlight the great economics of the Permian play. The so-called "lower for longer" oil prices was mostly a Wall Street talk back then, most in the oil patch never bought that theory. As oil prices rebounded off the February 2016 bottom at $27/bo, oilmen were emboldened and in the meanwhile fearful that they might miss out on the bottom fishing of cheap land. Such perception was behind why Permian land trading skyrocketed after oil prices had recovered.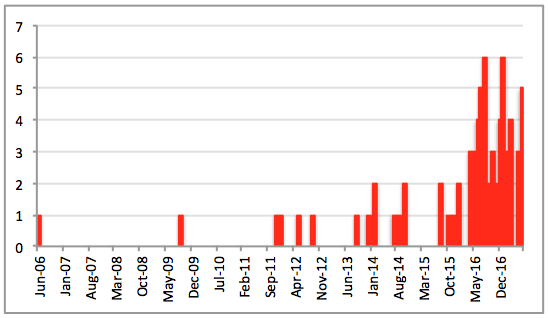 Fig. 2. Number of transactions of Permian Basin land in a given month, based on data compiled from Permian Basin operators' filings, releases and presentations.
3.3. Trend of land price
The prevailing land prices in the 2000s were around $2,000 per acre. Such prices can still be found for unconventional plays as late as October 2014, but by 2016, only EOR projects can be had for that kind of prices. Land prices above $20,000 per acre started to appear around 2013 in a few deals. When buyers began to gravitate toward the Permian Basin since mid-2016, it has really taken off. As 2016 gave way to 2017, an acre of land in the Permian Basin changed hands at over $30,000 on average. By June 2017, the average land prices hover around $20,000 per acre (Fig. 3). The relaxation from $30,000/acre to $20,000/acre may indicate a slight cooling off of the frenzy at least for now. Market gave new IPO of Permian concerns, e.g., Jagged Peak Energy Inc. (JAG), with lukewarm reception (see here). There is indeed not much chunky land left for the picking anyway, investment banker Maynard Holt said, "If a client came to me and said they could spend $1 billion to $2 billion, there would only be four to five names I could point to, versus 20 last year."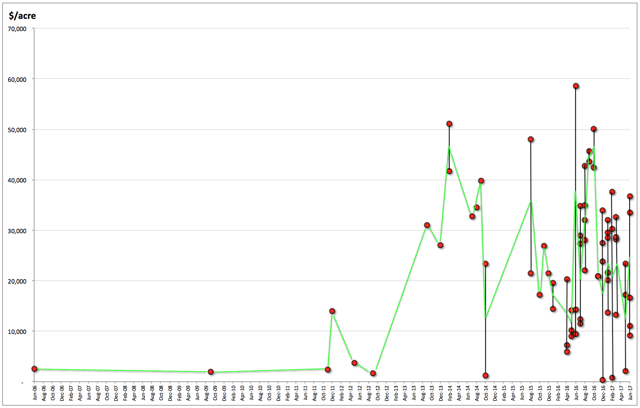 Fig. 3. Land price per acre in the Permian Basin, based on data compiled from Permian Basin operators' filings, releases and presentations. Upper, medium price; middle, monthly average land price; lower, three-month moving average of land price per acre.
3.4. Permian land valuation
Is the "Permian premium" justified? How much is the acreage worth anyway? By using the type curve estimated revenue, considering only drilling and completion and facilities costs, and assuming of 100 acres are required per well, DrillingInfo calculated the intrinsic value of Permian Basin land.
NPV per acre for Wolfcamp B acreage ranges from approximately $52,000 to $269,000 at $30 and $80 per barrel oil prices, respectively.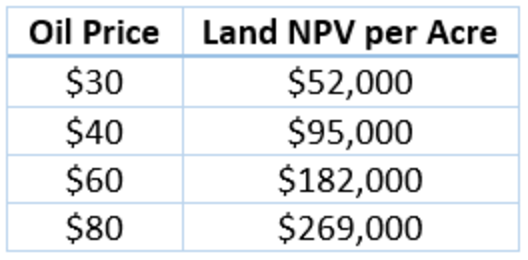 Table 2. Land Net Present Value discounted at 10% under a range of oil prices for Martin County Wolfcamp B acreage. Assumes 100 acres of land per well. Drilling, completion, and facilities costs are included (all costs but land).
4. Discussion
4.1. Permania
Since June 2016, some $25 billion of mergers and acquisitions has been closed on assets in the Permian Basin. The land price in the Permian Basin can be said to have multiplied ten times within two years. In 2012, a landman would have paid 1/10 of the currently prevailing prices.
Petroleum geology of the basin has been the same for millions of years, surface infrastructure hardly changed at all, and fiscal terms are essentially the same. But a few other factors have changed during this time, which caused the land price to appreciate:
Firstly, the perception as to the basin has shifted among oilmen and investors. The $41/bo breakeven, which is among the lowest in onshore U.S, has been fueling the land grab which has come to be called Permania among oilmen.
Secondly, there are less and less land on sale, even though some early entrants began to sell.
Lastly, money, lots of it, flowed in.
However, human perception is notoriously capricious, and capital influx can reverse overnight. Will the elevated land price sustain in the future? That is a billion dollar question to be answered by time.
4.2. The pioneer, the herd and the patsy
In a typical oil land grab movement, there are always a small number of early entrants who discover the great opportunity first; because there is no competition, they are able to pick the best sections at ease by paying incredibly low prices. They are the first movers, the discoverers, the pioneers.
Then, the crowd finds out the kind of money that the pioneers are making or are going to make. As they come to appreciate how great the opportunity has been, they imitate the original purchases of the pioneers, paying increasingly lofty prices for land of good to average quality. They are the followers, the multitude, the herd.
Finally, just when the technically viable land is nearly all gone, those who have almost entirely missed the party show up. These late-comers decide that they have to join the game. To get a piece of the action, they are willing to pay any prices. The majority of the land they acquired are of poor quality, but even price of such trash is bidden up to incredible levels as soon as it enters the market. Occasionally, some of the best quality assets change hands too, which indicates the exit of some early entrants. Another sign that the bubble is about to burst is of course the boisterous celebration of the suckers, the patsy, the perennial victims who are so happy to be finally in the game.
4.2.1. Pioneers
The first movers in tight oil and gas exploitation in the Permian Basin are those who adopted in early 2000s the multi-stage hydraulic fracturing techniques refined by George Mitchell in Barnett Shale. The Wolfberry and Wolfbone unconventional oil plays, through directional well drilling and sophisticated fracturing, helped reverse the basin's production decline since the early 1970s (Fig. 4). Production rapidly increased as unconventional play productivity improvement quickened in 2010s, which as David Zusman of Talara Capital Management described, includes "directional drilling with longer laterals, rising proppant intensity in wells, tightening frac cluster spacing, and a shift to multi-well pad drilling - everything that allows operators to better stay in the producing zones and get more out of them."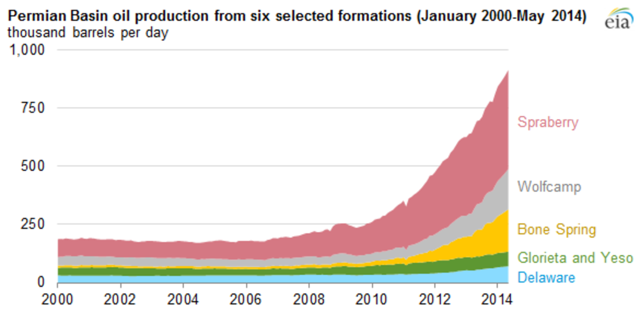 Fig. 4. Reversal of output decline in the Permian Basin, after EIA.
In the beginning, the Upper Ordovician Montoya and Devonian Woodford et al. formations were targeted for unconventional oil and gas development in Permian Basin, with minor focus on the Wolfcamp Formation. Exxon Mobil (XOM) was arguably the first to pursue horizontal play in the Permian Basin. Mobil reportedly drilled the first horizontal well in the Montoya Formation in Block 16 Field, Pecos County in 1999, which tested at 17 MMcf/d. Mobil and BP (NYSE:BP) subsequently drilled several successful wells in that area, offsetting leases held by Abraxas (AXAS). Abraxas drilled the first horizontal well in the Oates Field near Fort Stockton in Pecos County in 2002. Abraxas then brought in EOG (EOG) through a farm-out. EOG's horizontal drilling in Devonian formations in the basin led to a "large tight gas accumulation of 200 bcf to 1 tcf net reserves." Pure Resources had interests in more than 210,000 acres in the Montoya and Devonian plays. Tom Brown agreed with Chevron (CVX) in February 2001 to operate horizontal drilling to develop the Montoya trend in Reeves County.
In the 2000s, a number of independents started up in the basin and gradually accumulated large acreage position:
In 2013, acquisitions and technological advances in horizontal drilling and hydraulic fracturing shifted the growth strategy focus of Apache (APA) from international operations to onshore unconventional plays particularly in the Permian Basin. Though late to Permian Basin, it quickly became the most active and innovative operator in the Permian Basin. After over two years of extensive G&G work, aggressive acreage accumulation, and strategic testing and delineation drilling, Apache declared in 2016 the discovery of a 75 Tcf plus 3 Bbo resource play, "Alpine High", in southern Delaware Basin, spanning approximately 320,000 net acres primarily in Reeves County, Texas. Apache has quietly secured 307,000 contiguous net acres (352,000 gross acres) at an attractive average cost of around $1,300 per acre, which have 2,000-3,000 future drilling locations identified in the Woodford and Barnett formations alone. Alpine High has 4,000-5,000 feet of stacked pay in up to five distinct formations including the Bone Springs, Wolfcamp, Pennsylvanian, Barnett and Woodford (see here).
4.2.2. The herd
The herd is attracted to the Permian Basin from around 2013 onward. It includes some pioneers which scramble to increase their presence in the basin, e.g., Exxon Mobil, which had closed five deals acquiring a total of 135,000 net acres in 2014 and 2015. Quite a few companies sold elsewhere to get into the Permian Basin, e.g., Marathon (MRO), EOG, Callon (CPE), SM Energy (SM), PDC (PDCE), WPX (WPX), Halcón Resources (HK) and Resolute (REN).
In October 2016, SM Energy bought 35,700 acres in Howard and Martin counties for $1.6 billion, or over $42,000 an acre, while RSP Permian acquired Silver Hill Energy Partners - and its 41,000 acres - in the same month for $2.54 billion, or roughly $49,000 per acre.
On January 16, 2017, Noble Energy (NBL) agreed to buy Clayton Williams Energy, and its 171,000 acres in the basin for $2.7 billion, or $13,743 per acre, tripling its presence there.
On January 17, 2017, Exxon Mobil acquired 275,000 acres in the Delaware Basin from the Bass family for up to $6.6 billion, paying around $21,582 per acre. This follows its $30 billion purchase of XTO Energy, a shale gas player, in 2009, and continues a trend of private-equity funded rightholders selling Permian assets to oil companies.
Marathon Oil Corp. announced its reentry into the basin in March 2017 through its purchase of 70,000 acres in the northern Delaware Basin from PE-backed BC Operating Inc. and others for $1.1 billion in cash; in the meanwhile, it was also selling its 20% stake in a money-losing oil sands project in Canada for $2.8 billion. Marathon CEO Lee Tillman called the moves "transformative milestones that will further align our portfolio with our strategy."
A few companies have the discipline to refrain from joining the frenzy, notably BP, which was forced to sell its Permian Basin acreage in 2010 to help pay for the oil spill in the Gulf of Mexico. Some peers, notably Exxon Mobil and Chevron, have raised their U.S. shale plays including the Permian Basin as key growth areas over the next few years. Even though BP appeared to have Permian envy as evidenced by its CEO Bob Dudley saying that "I wish we were still in the Permian", the British giant seems in no rush to emulate their Permian expansion. Instead, it looks elsewhere for less expensive shale play, i.e., the Vaca Muerta shale play, which is being operated through 60%-owned joint venture Pan American Energy LLC with Bridas Corp., which in itself is a partnership between the Bulgheroni brothers and CNOOC (CEO). BP's CEO Bob Dudley said on 7 February 2017 that "We will keep our eye open and see if there are things to add to it. But we are not in a hunt to make big acquisitions. They still look a little expensive to me" (see here).
Anadarko (APC) seems to be picking up assets elsewhere on the cheap. Its spokesman John Christiansen said, "Instead of getting in the bidding wars in West Texas, we were able to acquire the deep-water assets … for very good value, and then we can redeploy that cash flow to accelerate our activity in the Delaware Basin." However, Anadarko may purchase bolt-on deals in the Delaware Basin, given its infrastructure presence in the area through its affiliate Western Gas Equity Partners LP.
4.2.3. The late-comers
As of mid-2017, there are still quite a few companies which try to make their entry into the Permian Basin. One of them is Chisholm Energy Holdings LLC, which raised $500 million to get a piece of the Permania.
Right before the land grab started in mid-2016, Devon (NYSE:DVN) cut a number of transactions selling Permian acreage at around $10,000-14,000/acre to reduce net debt to keep its credit ratings (see here). Now that everybody is rushing to the Permian Basin, Devon announced in May 2017 that it decided to focus on Permian Basin assets by selling "non-core" properties elsewhere.
While a lot of private equity-backed companies have been exiting from the Permian Basin, others continued to pile in:
Pine Brook and Riverstone provided a $600 million line of equity to Admiral Permian Resources, which is focusing on acquiring and developing properties in the Permian Basin;
Luxe Minerals attracted a $254 million commitment from NGP to invest in the Midland and Delaware basins, among other places.
On February 4, 2015, recently-formed Atlantic Resources Co., led by CEO Richard A. Jennings and President Rodney Woodard, announced that it has secured an equity commitment from Denham Capital to pursure Permian Basin opportunities. Denham Capital has more than $7.9 billion of invested and committed capital across seven fund vehicles.
In December 2015, LOLA Energy, a newly formed independent, received $250 million equity commitment from Denham Capital;
In July 2015, TPG Special Situations Partners joined the operating subsidiary of Legacy Reserves LP to fund horizontal development of certain of Legacy's Spraberry, Wolfcamp and Bone Spring rights in the Permian Basin.
Amistad Energy Partners LLC, led by Bryant Chapman, ex-BP, announced July 7 that members of the management team and Kayne Anderson Energy Funds backed the fledgling company with $150 million equity commitment.
As of Aug 2016, Blackstone Group LP is partnering with Jetta Operating Company and Guidon Energy to buy assets in the Permian Basin. Jetta has $1 billion to deploy in Delaware, Guidon $500 million to spent in the Midland Basin (see here).
4.3. Where the money is from
To raise money for Permian acquisitions, companies like Anadarko, SM Energy and EOG are selling domestic properties elsewhere; others, especially small to micro-capitalized companies, raise equity capital. For example, Resolute has been resorting to the bond and equity markets multiple times over the last five years. Then, there are the private equity and venture capital firms, which backed both the private companies on the selling side and start-ups eager to make an entry.
Since 2009, KKR (NYSE:KKR) has invested or committed approximately $4.7 billion to energy-related investments spanning buy-outs, minority equity investments, joint-ventures, and various asset-level and structured investments, making KKR one of the more active private-market investors in the energy space during this time. On October 03, 2014, KKR announced that, in partnership with Fleur de Lis Energy, acquired over 7,200 contiguous acres in Ector and Midland Counties of the Permian Basin from Linn Energy (LNGGF) for $350 million, which produced at over 5,200 boe/d. KKR announced its partnership with Fleur de Lis Energy in March 2014.
Venture capital firm EnCap Investments funded a series of start-ups in the Permian Basin, including Ameredev II LLC, Bold Energy III, Carrera Energy LLC, OGX Holding III, PetroLegacy Energy, Piedra Resources III, Plantation Petroleum Holdings V, QStar II, American Resource Development LLC, Plantation Petroleum Company.
Other private equity firm-backed companies operating in the area include:
Blackbeard Operating, Crossing Rocks Energy and Steward Energy II, which all have backing from NGP;
Lime Rock Partners - and CrownQuest Operating-owned CrownRock;
Discovery Natural Resources, which is held in part by Fidelity Investments;
Pak Development, which has money from Kayne Anderson.
Riverstone-funded Carrier Energy, which is involved in a 65,000-acre joint venture in the Midland Basin with Henry Resources and PT Petroleum;
Old Ironsides Energy-backed Vermillion Cliffs Partners, which holds 78,000 acres across the Permian, according to 1Derrick.
5. Conclusions
Starting mid-2016, there has been a so-called Permania ongoing. Oil companies swarmed in to chase the great well economics that the Permian Basin unconventional play offers. Private equity funds and venture capitalists also piled in with a lot of money. Land prices increased approximately ten folds in a short span of couple of years from around $2,000/acre to above $20,000/acre. Although the vast majority of transactions have gone through at prices which seem reasonable judging from intrinsic land value estimates, a few deals that commanded prices around $50,000 per acre may be hard to justify especially in a "lower for longer" oil price regime.
As in many other land grabs, there are leaders, the herd and late comers in the Permania. The first group of oil companies that brought horizontal drilling in combination with fracturing from the Barnett Shale to Permian include Exxon Mobil, Abraxas, EOG and Chevron, followed by a number of independents which gradually accumulated large acreage position, e.g., Energen, Diamondback, Concho, Pioneer and Laredo. Apache distinguished itself not only in acquisition of large Permian acreage from then-distressed BP but also in discovering the "Alpine High" (see here). Then came the herd, which include particularly Marathon, Noble Energy, Callon, SM Energy, PDC, WPX, Halcón Resources and Resolute, though Exxon Mobil and EOG also joined to add to their land positions. A few companies have the discipline to refrain from joining the frenzy, notably BP and Anadarko. The late-comers are still piling in, including Devon, Chisholm Energy, and a number of PE-backed start-ups.
This is an abbreviated version of a research report previously published as part of The Upstream Oil Hub, our exclusive service at Marketplace on Seeking Alpha. To get an exclusive early view of all of our research reports, please sign up with The Upstream Oil Hub here.
Disclosure: I am/we are long REN.
I wrote this article myself, and it expresses my own opinions. I am not receiving compensation for it (other than from Seeking Alpha). I have no business relationship with any company whose stock is mentioned in this article.
Additional disclosure: The author is not a registered financial advisor and does not purport to provide investment advice regarding decisions to buy, sell or hold any security. Before making any decision to buy, sell or hold any security mentioned in this article, investors should consult with their financial adviser.

The author has relied upon publicly available information gathered from sources, which are believed to be reliable. However, while the author believes these sources to be reliable, the author provides no guarantee either expressly or implied.

The author may choose to transact in securities of one or more companies mentioned within this service within the next 72 hours.