The stock performance of the industrial (XLI) trio – Honeywell (HON), General Electric (GE), and United Technologies (UTX) has diverged after the initial jump following the election of Donald Trump. While Honeywell and United Technologies have reached higher highs, GE has been in the red falling 13.9% year-to-date. The recent quarterly performances have influenced the divergence to great extent. Given the staying power of these companies, a couple of bad quarters may, in fact, be an opportunity and a good quarter does not necessarily mean a lost chance at picking these stocks. If I were to make an investment at current prices and the troika were up for consideration which one would I choose? I take a closer look at this question in this article.
And why these three stocks in particular? No two industrial conglomerates are similar but these three come quite close and they form an exhaustive set in my peer group. Additionally, Honeywell has unsuccessfully, tried to merge with GE and UTX in 2001 on competing bids, and also tried to acquire UTX recently in 2016. In 2001 the GE and Honeywell merger failed at the European Union Competition Commission on account of similarities in their businesses. And UTX thwarted the recent attempt at its acquisition citing similar regulatory hurdles. It, therefore, makes sense to look at them as competing investment opportunities with similar risk factor exposures.
Honeywell: Not Cheap but best
Let's start with the obvious. Honeywell is a better company compared to GE and UTX on all parameters. Its operating margins is at least two percentage points higher than GE and UTX and the company has historically logged an increasing trend in margins since 2011. The company's free cash flow conversion is better than both UTX and GE. Even during a bad year when you'd expect a high margin company's numbers to deteriorate substantially, Honeywell's operating margin dipped from 17.7% in 2015 to 17% in 2016 (Company filings). In contrast, if we look at UTX, when the Otis Elevator segment was facing huge competitive pressures in the tumbling Chinese real estate market, operating margins tanked from 16.6% in 2014 to 13% in 2015. Honeywell's trailing 12 months return on invested capital of 15.1% is also substantially ahead of UTX (11.7%) and GE (5.5%). Excess returns over cost of capital is often associated with richer multiples and that indeed is the case here. Additionally, the company has made several key acquisitions in the last few years and as they come under the ambit of Honeywell Operating System, their margins will improve. I also like the kind of core-satellite approach which the company has with its current portfolio. With software and solstice products, which are growing in double digits, as the satellite to its core industrial portfolio, which is growing at slightly higher rates than the end-markets.
General Electric: Time for the stock to turn around as well
An equity analyst friend of mine used to say, "If you can model GE, you can model any company in the world. It is so complicated!" The good news is it has become less complicated in the last couple of years. Although I believe he was unfairly blamed, the Immelt era is over. As Flannery takes over, I think he has two options. The first is to break up GE so that the firm is more agile. This will also create the highest amount of value for shareholders as the company loses the conglomerate discount on its head and individual entities trade at richer multiples. The second approach and the most likely one initially is that he tries to improve operations and makes the company more nimble without breaking it up. Eventually, if the second option were to fail, I think he will be forced to take the first alternative. There is more downside if the second option were to fail but how do you determine the probability of the event? It isn't possible. Therefore I think this is the right time to gradually start accumulating on this stock.
United Technologies: Find the catalyst
Unfavorable macros are a pain point with each of the three companies. But Honeywell has digital, General Electric has transformation, what exactly is United Technologies catalyst for the next five years? I am yet to find a clear, convincing answer to this question. Based on the statements provided by Greg Hayes, Pratt & Whitney is expected to record $10 billion in negative margins over the next decade. The aftermarket will come, yes, but meanwhile, there are other units which have their own unique problems. Exposure to the Chinese elevator market through Otis is definitely a key concern. The Finnish elevator maker - Kone Corporation (OTCPK:KNYJF), is the market leader in China and a perusal of its earnings in the last two quarters gives little reason for comfort. Much like the jet engine business, companies bid aggressively for new installations in the elevator market. Larger the installed base, larger is the lucrative aftermarket revenue. However, since customers can switch operators for maintenance contracts annually, Otis like Kone can expect significant headwinds in this price sensitive market.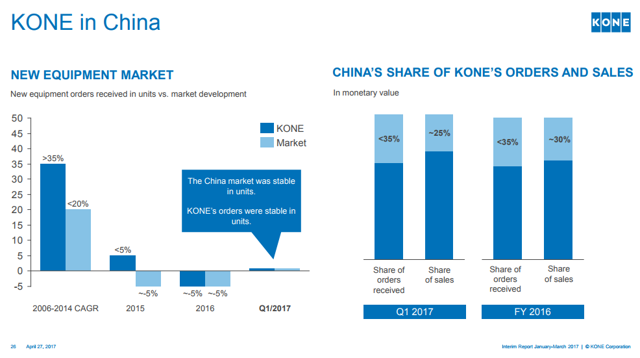 In Conclusion...
Despite the recent run-up, I think Honeywell is the best hunter among the three. The company's restructuring is not of mammoth proportions as is the case with GE. This reduces risks and the broad trajectory of the portfolio is very convincing. With GE, there are risks involved but I think the price point is what makes it really attractive. Much of the recent debate around dividend was overblown because of significant cost outs which are normal during a restructuring of this scale. And finally, due to the lack of any discernible catalyst, I remain bearish on United Technologies.
Note 1: If you find the article interesting, hit the follow button on top, right next to my name. I would highly appreciate it!
Note 2: Figures and data provided are sourced from company filings. ROIC figures are from Morningstar.
Disclosure: I/we have no positions in any stocks mentioned, and no plans to initiate any positions within the next 72 hours.
I wrote this article myself, and it expresses my own opinions. I am not receiving compensation for it (other than from Seeking Alpha). I have no business relationship with any company whose stock is mentioned in this article.
Editor's Note: This article discusses one or more securities that do not trade on a major U.S. exchange. Please be aware of the risks associated with these stocks.