Please take note this is only one aspect in weighing the attractiveness or non-attractiveness of the companies mentioned as an investment and should not be used independent of other factors. This article examines one segment of the companies' businesses, and other factors such as valuation are not addressed.
China's dialysis population has seen a steady increase over the years.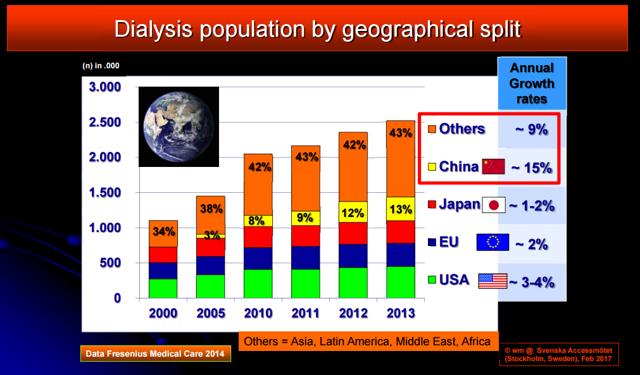 Source: Wolfgang Meichelboeck, Dipl.-Ing. Pentenried – Germany
The number of dialysis cases is growing in China. China had approximately 440,000 dialysis patients last year, an increase of 80% over five years.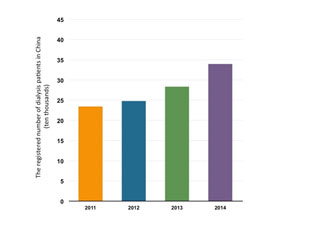 Source: European Renal Association
The national prevalence of chronic kidney disease (CKD) was 10.8% (estimated at over 100 million Chinese) and end stage renal disease (ESRD) stood at 0.03% of the Chinese population.
Diabetes is the leading cause of end-stage kidney disease worldwide, although glomerular disease tended to be the leading cause in China caused for instance by taking medications and herbal medicines which damage the kidneys.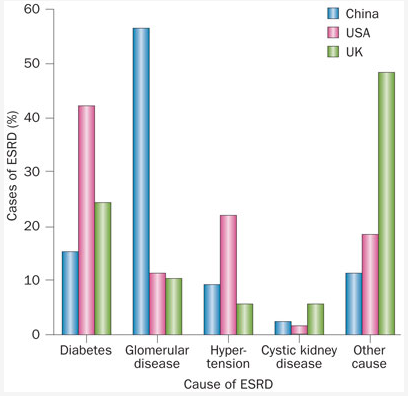 Source: nature.com
However, after decades of economic growth and the resulting unhealthy change in dietary habits, diabetes cases have seen a corresponding increase in China and this has contributed to a shift in the causes of kidney failure in China. A study found that chronic kidney disease related to diabetes was progressively becoming more common than chronic kidney disease related to glomerulonephritis in both the general population and hospitalized urban population in China. In 2010, among hospitalized patients, the percentage with chronic kidney disease related to diabetes was lower than the percentage with chronic kidney disease related to glomerulonephritis (0.82% vs. 1.01%). Beginning in 2011, the percentage with chronic kidney disease related to diabetes exceeded the percentage with chronic kidney disease related to glomerulonephritis, and the gap between them increased progressively.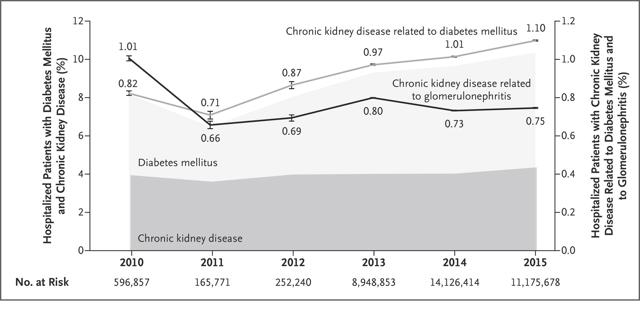 Source: The New England Journal of Medicine
In 2015, the percentage of the hospitalized Chinese population with chronic kidney disease related to diabetes and to glomerulonephritis was 1.10% and 0.75%, respectively. In both 2010 and 2015, the percentage of hospitalized urban patients with chronic kidney disease related to diabetes was higher than that of hospitalized urban patients with chronic kidney disease related to glomerulonephritis, and the gap had increased by 2015 (1.02% vs. 0.84% in 2010 and 1.55% vs. 0.72% in 2015). However, among hospitalized rural patients during that same time frame, glomerulonephritis-related chronic kidney disease predominated, and the percentage with chronic kidney disease related to diabetes was lower than the percentage with chronic kidney disease related to glomerulonephritis, though the gap had narrowed by 2015 (0.68% vs. 1.51% in 2010, and 0.76% vs. 0.95% in 2015).
China's economic growth led to changes in Chinese citizens' lifestyle and dietary habits. In the 1980s diabetes affected just about 1% of China's population. By 2015, this figure rose to roughly 10% of China's population, numbering around 110 million (compared to the U.S. where it is about 30 million) making it the country with the highest number of diabetics in the world and home to about a third of the world's diabetic population.
The number is expected to continue rising as diets change in the country alongside economic growth. Almost 500 million people in China are estimated to be pre-diabetic about 1 ½ times the size of the entire U.S. population.
By 2040, China is expected to have 150 million diabetics, presenting a growth opportunity for companies such as Novo Nordisk (NYSE:NVO), Eli Lilly (NYSE:LLY) and Sanofi (NYSE:SNY) which are the leading multinational insulin providers in China accounting for over 80% of China's insulin market.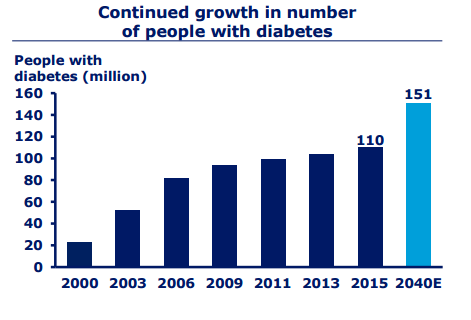 Source: Marketwatch
The rate of chronic kidney disease increases with age, reaching over 30% of adults aged 70 years and older according to a study conducted by Peking University first Hospital.
The increasing incidence of obesity (over one third of adults in China are overweight and 7% of adults are obese) and Type II diabetes (a major risk factor for kidney disease), along with an aging population (in 2015, 9.5% of China's population was aged 65 or older and the U.N. projects this percentage to increase to 27.5% by 2050) suggests China could see rising chronic kidney disease (CKD) cases going forward.
Access to dialysis is lower in developing countries than developed countries, for reasons such as financial constraints and inadequate clinical infrastructure.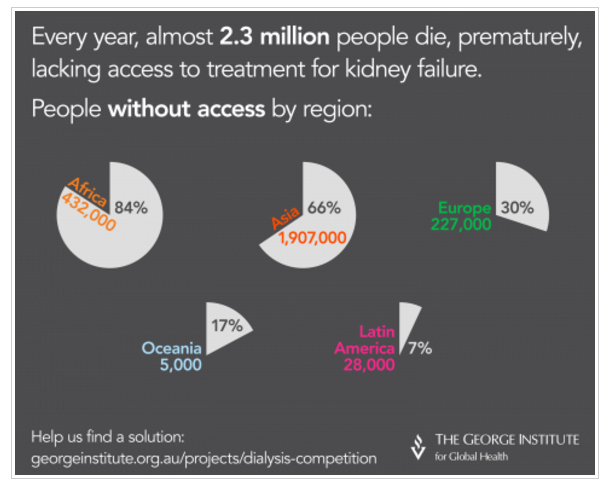 Source: The George Institute
China, the world's largest developing country bears an enormous burden of kidney disease. For reasons such as a lack of financial and clinical resources, the rate of patients currently receiving dialysis treatment in China is lower than in developed countries such as the United States.
Majority of Chinese renal failure patients, mostly located in rural China do not have access to dialysis. While dialysis treatment is available for patients in urban China, access to dialysis treatments is inadequate for patients in the rest of the country due to a shortage of equipment, doctors and limited awareness levels.
Of the approximately 100 million Chinese with chronic kidney disease, about 2% of these patients are expected to develop into end stage kidney disease which means approximately 2 million people will require renal treatment therapy. However, according to the national renal registries, the number of patients who actually received treatment was less than 0.5 million.
According to a report by the American Journal of Kidney Diseases, in China, less than 30% of patients with end-stage kidney disease are treated with dialysis. For the rest, renal treatment therapy is not available due to a number of factors such as financial constraints, inadequate infrastructure and limited awareness.
China's ongoing healthcare reform is expected to alleviate this shortage of dialysis supply. Basic medical insurance covers over 90% of China's population and a high reimbursement policy for catastrophic diseases including end stage kidney disease has been established.
A report by Allied Market Research expects the global dialysis market to expand at a CAGR of 4.5% between 2017 and 2023 and Asia-Pacific led by China is expected to witness the highest growth rate during the forecast period presenting an opportunity for dialysis companies.
China's dialysis market is still at early stages and offers long term growth potential. China's dialysis market is dominated by foreign brands with over 90% of dialysis equipment and over 80% of hemodialysis consumables in China being imported from overseas.
Fresenius Medical Care (NYSE:FMS) and DaVita (NYSE:DVA) two of the world's largest dialysis product companies are well established in the Chinese dialysis market. A few years ago, Fresenius opened an R&D center in Shanghai and this year, Fresenius acquired a 70% stake in Kunming Wuhua Health Hospital, a private Grade II hospital in Kunming (the capital of Yunnan province) which is specialized in chronic disease management and hemodialysis. This marks the company's first joint venture (JV) hospital in China and may be aimed at capitalizing on a new policy issued by the China State Council and The National Health And Family Planning Council which states that chronic disease management will be gradually migrated from larger hospital outpatient departments to smaller Grade II hospitals and community hospitals.
DaVita entered into a joint venture with Shunjing Renal Hospital in China with the aim of building and operating dialysis chains.
Early this year Baxter (NYSE:BAX) announced that it was exiting India, Turkey and Venezuela this year and refocusing its business on Latin America and China. China is expected to become a US$ 1 billion market in the next few years. Baxter operates a "Flying Angel" program in partnership with China's Ministry of Health, which is aimed at improving access to peritoneal dialysis for patients in rural areas.
Most renal treatment therapy (RRT) in China occurs at HD (hemodialysis) centers and the country has about 4,000 dialysis centers.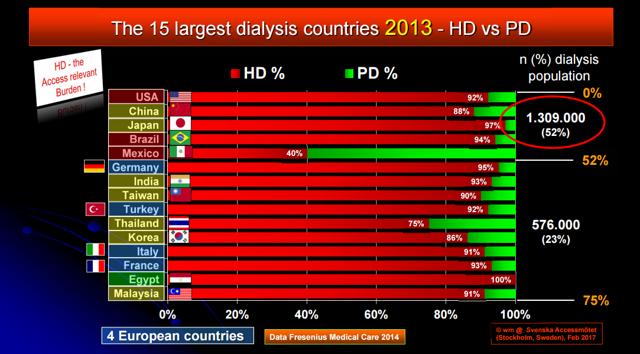 Source: Wolfgang Meichelboeck, Dipl.-Ing. Pentenried – Germany
Hemodialysis is costlier than peritoneal dialysis not only for the patients but also for China's healthcare system as well. With the prevalence of end stage renal disease in China increasing rapidly, the government has begun examining the feasibility of expanding peritoneal dialysis as a treatment option in China.
A report assessing dialysis options and costs in China from the National Health Development Research Center showed that the annual cost of peritoneal dialysis (PD) is about 93,520 Chinese yuan (US $14,380), whereas the cost of in-center hemodialysis (HD) is 103,416 Chinese yuan (US $15,910). The report also notes the advantages of PD for patients in rural areas. Peritoneal dialysis is a home-based treatment, offering greater freedom for rural patients and reducing the inconvenience and financial burden of having to commute several times a week to and from the hospital for treatment. To facilitate peritoneal dialysis expansion, the Chinese government is planning on adjusting reimbursement policies and the Chinese Ministry of Health has certified over 30 training centers across the country to promote the implementation of peritoneal dialysis by establishing regional satellite centers which would provide staff training, patient education and the implementation of quality assurance protocols. Baxter appears well positioned to capitalize on this opportunity. Morningstar estimates that Baxter "absolutely dominates" the global peritoneal dialysis market with a 72% market share.
Disclosure: I/we have no positions in any stocks mentioned, and no plans to initiate any positions within the next 72 hours. I wrote this article myself, and it expresses my own opinions. I am not receiving compensation for it (other than from Seeking Alpha). I have no business relationship with any company whose stock is mentioned in this article.