Thesis
Bank of America's (BAC) capital return plan will be the next step in enhancing shareholder value, and the company's whopping 60% dividend increase makes the bank's dividend yield jump towards an above market average yield. Together with a good long term outlook, these moves make Bank of America attractive right here.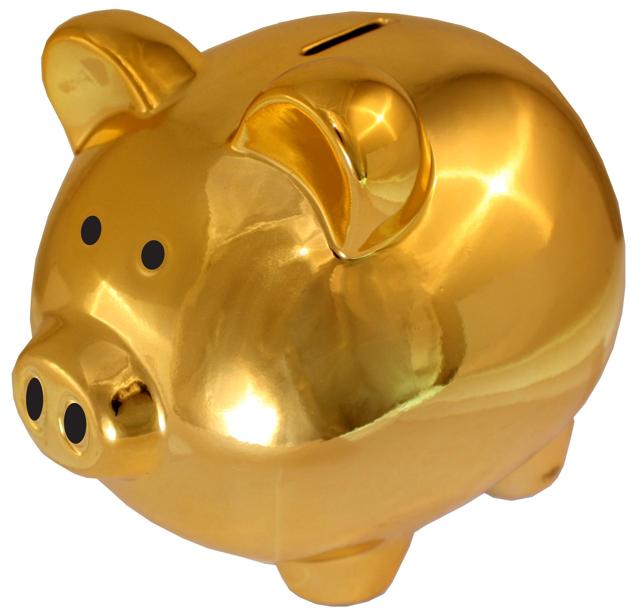 On Wednesday the second part of the FED's stress tests were announced, and for the first time the capital returns plans for all 34 institutions were approved [In one case - Capital One (COF) - it was a conditional approval].
This came after mostly positive stress test results that were released earlier: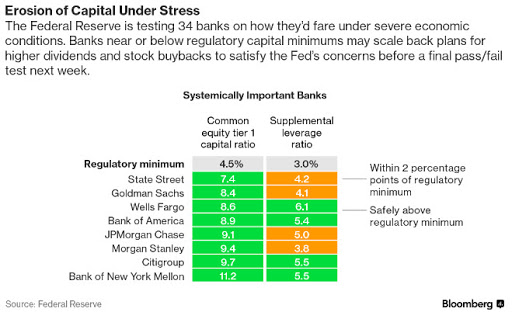 Bank of America's performance in the stress tests was very solid, none of the major banks had big problems with the regulators.
Bank of America was among the banks that released their capital return plans after the second part of the FED's stress tests were announced, a plan that is comprised of two factors:
- A new stock buyback authorization
- A dividend increase
Both factors have relevance in enhancing shareholder value over a long term period, although some investors may prefer one or the other, depending on their individual goals (i.e. income focused investors will prefer dividend increases, whilst those seeking capital appreciation will prefer stock buybacks).

The stock buyback authorization Bank of America has announced allows for the repurchase of up to $12 billion, which is equal to almost exactly 5% of the company's $239 billion market capitalization. A big positive is that Bank of America's repurchase authorization also allows for the buyback of all shares that are issued to management and employees as a form of compensation during the next year, thus the $12 billion buyback will not be consumed to offset share dilution, it will be used to shrink the share count in full. The actual number of shares bought back will depend on Bank of America's share price over the next year, but when we assume that the company's share price remains flat (on average), the buyback authorization will lead to a 5% reduction in the company's share count -- this alone will push EPS up by 5.3%, all else equal.
A lower share count also means that the company's total dividend payout grows at a slower pace than the company's per share dividend growth rate, thus a shrinking share count allows for higher dividend growth in the future -- stock buybacks are thus not only a positive for those seeking capital appreciation, they are also a positive factor for investors seeking income only.
Investors will be even more happy about the dividend increase Bank of America has announced, though: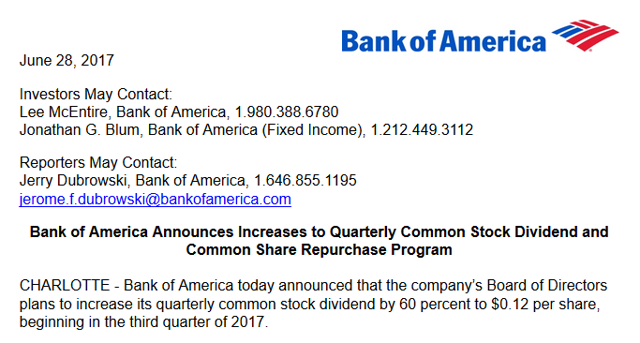 Bank of America has increased its quarterly payout by a whopping 60%, bringing its annual payout to $0.48 for a 2.01% dividend yield (with share prices slightly below $24).
This increase was higher than the market had estimated, and, among other implications, the move will make Berkshire Hathaway (NYSE:BRK.A) (NYSE:BRK.B) Bank of America's largest shareholder -- Warren Buffett had stated that he would exchange his preferred stake for common shares of the company if the annual payout crosses $0.44, which it now has. Once this move is completed Berkshire Hathaway will own about 7% of the company, with warrants allowing for the purchase of another 7% of the company's shares by 2021 (warrants for 700 million shares, in comparison to a total share count of just above 10 billion).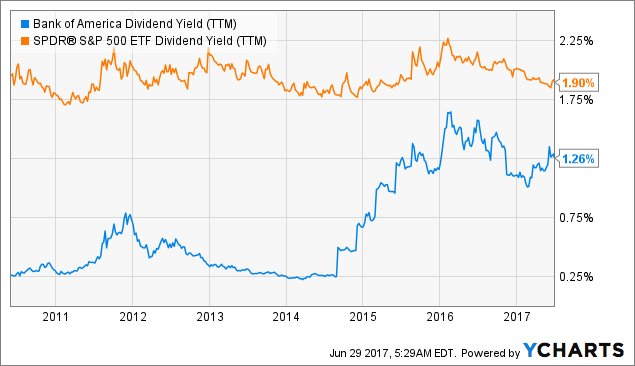 BAC Dividend Yield (TTM) data by YCharts
Over the last seven years Bank of America's dividend yield has always been lower than the yield of the broad market, but with the most recent announcement, which brings Bank of America's dividend yield to 2.01%, Bank of America is now offering an above average yield to its owners -- a big step in making Bank of America's shares more attractive for income focused investors.
When we account for other factors, such as dividend growth rate (very high for Bank of America, and likely to remain high for the next years), payout ratio (which stands at just 22% based on Bank of America's new dividend policy and its estimated earnings for next year) and earnings growth potential (which is important due to earnings growth allowing for dividend growth down the road), Bank of America looks attractive for income seekers: The company's EPS is estimated to grow by 12% annually for the next five years, if the company raises its dividend payout ratio to 40% over the same time, Bank of America could pay out $1.14 in dividends in 2022 -- this would mean a yield on cost of 4.8% for those buying at today's price.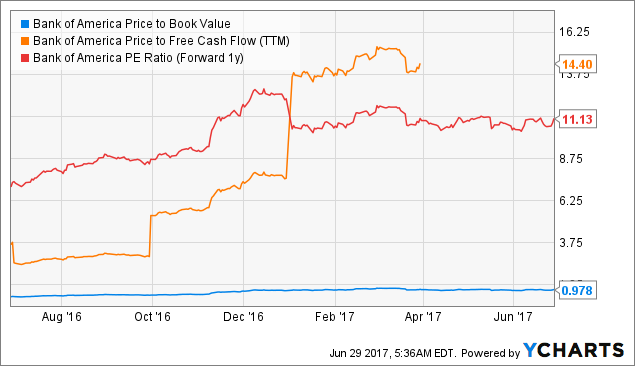 BAC Price to Book Value data by YCharts
On top of great dividend growth potential, Bank of America is also trading at a relatively low valuation: Shares trade slightly below book value, offer a free cash flow yield of about 7% (which covers both the dividend as well as the massive stock buybacks), and on top, Bank of America's shares trade at just eleven times forward earnings, despite the strong performance the company's shares have experienced over the last year (up almost ninety percent).
Takeaway
Bank of America's 60% dividend raise has catapulted its yield above the market average, which, in combination with a good dividend growth outlook, good earnings growth outlook and very low payout ratio makes the bank's shares attractive for income focused investors.
A big share repurchase authorization, strong capital levels (easily passing the FED's stress tests) and a low valuation round up the positive picture for Bank of America and the company's owners.
Author's note: If you enjoyed this article and would like to read more from me, you can hit the "Follow" button to get informed about new articles. I am always glad to welcome new followers.
Disclosure: I/we have no positions in any stocks mentioned, but may initiate a long position in BAC over the next 72 hours.
I wrote this article myself, and it expresses my own opinions. I am not receiving compensation for it (other than from Seeking Alpha). I have no business relationship with any company whose stock is mentioned in this article.