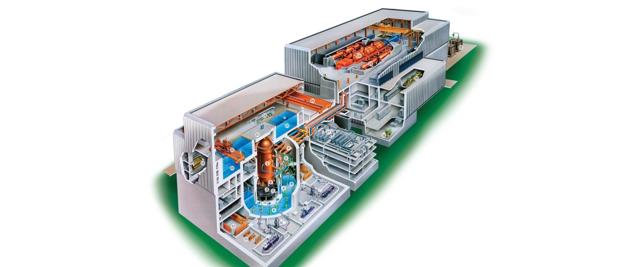 Hitachi ABWR reactor Source Hitachi
In August 2016, when a decision about the Hinkley Point C nuclear reactor was a hot topic, Alistair Phillips-Davies CEO of SSE (Formerly Scottish and Southern Energy) indicated that there was time for the UK to sort out its energy future with or without nuclear Hinkley Point C. Fast forward a year and not much has changed, except that Hinkley Point C has started construction. Alistair Phillips-Davies thinks that, while there is an ambitious program for a number of additional nuclear facilities in the UK, Hinkley Point C might be the only new build. Here I update on prospects for additional nuclear build, including discussion of the Hitachi-GE proposal. When 20% of the UK power system is being refurbished there are big risks and rewards for not only the companies directly involved in power generation, but also in infrastructure development. I conclude companies like Toshiba (OTCPK:OTCPK:TOSYY), Hitachi (OTCPK:OTCPK:HTHIY), KEPCO (NYSE:KEP), China General Nuclear (OTC:OTCPK:CGNWY), GE (NYSE:GE) involved or planning to be involved with the UK nuclear industry, are not going to have the bonanza they hoped. Time favors a major expansion of wind power development in the UK. This comes at a propitious time for the wind industry and companies like Vestas Wind Systems (OTCPK:OTCPK:VWDRY), DONG Energy (OTCPK:OTCPK:DNNGY)(OTC:OTCPK:DOGEF), Siemens Gamesa Renewable Energy (OTCPK:OTCPK:SIEGY)(OTCPK:OTCPK:GCTAY), Goldwind (OTC:OTC:XNJJY) and GE (NYSE:GE) are ready for a major boost to their business.
Phillips-Davies thinks that Hinkley Point C is not yet assured as he considers the troubled third generation French Flamanville nuclear plant needs to become successful, and it is not there yet. Construction of Flamanville was commenced in 2005 and it was supposed to be finished in 2012. Now five years after the expected commencement of operations and with faults in the pressure vessel, it remains a work in progress. The Flamanville EPR reactor is the same as that to be built at Hinkley Point C. With the Flamanville reactor initially planned to cost Euro 3.3 billion and now at more than Euro 9 billion, it is easy to see why there is concern. There seems to be an indication that the Flamanville plant might finally achieve safety clearance, although a final decision is not due until September or early October.
Alistair Phillips-Davies spoke at a utilities conference recently and summarised the current status of the UK nuclear program. Three reactor designs are being formally considered in the UK (Areva EPR, Toshiba/Westinghouse AP1000 and Hitachi-GE ABWR), with a fourth, the Chinese Hualong HPR-1000 reactor expected to be added (although approval for this design is likely to be 5 years away).
Toshiba (NuGen project) and Hitachi ( Horizon project) updates
Two post-Hinkley projects that need decisions now are Toshiba's NuGen at Moorside and the Hitachi-consortium's Horizon Wylfa project; both seem "tricky" according to Phillips-Davies. Perhaps of relevance to this view is that SSE has major wind assets, so his company could be a major beneficiary of a pullback from the huge nuclear programs in the UK. However, there is a lot of uncertainty with UK nuclear developments.
Phillips-Davies doubts that either the Toshiba or Hitachi projects will go forward as Toshiba is pulling out of international nuclear efforts, due to its precarious financial position after the bankruptcy of wholly owned subsidiary Westinghouse (which makes the AP1000 reactor). His view is that this may be enough to scare off Hitachi. There has been talk of South Korean company KEPCO (NYSE:KEP) taking a stake in the NuGen project, but this seems unlikely with new South Korean President Moon Jae-in's determination to exit nuclear power.
Horizon project Wylfa : Hitachi is better positioned to continue with the Horizon program because it is not in financial difficulty and its reactor design, in partnership with GE (Hitachi-GE ABWR (Advanced Boiling Water Reactor)) has 4 completed facilities in Japan that investors can inspect. Hitachi-GE Nuclear Energy has been involved in 23 reactor projects in Japan. The ABWR design is currently being reviewed by the Office of Nuclear Regulation, and the plan is to build two 1.35 GW ABWR reactors at the Wylfa site (with similar plans for a second site at Oldbury on hold). The assessment of the ABWR reactor design is expected to be completed in 2017.
The history of Horizon, like all nuclear projects in the West after the Fukushima disaster, is chequered. Horizon was initially owned as a joint venture between E.ON UK and RWC npower. Areva EPR and Westinghouse AP1000 reactors were considered for locating at two sites (Wylfa and Oldbury). In 2012 E.ON and RWE npower sought to sell Horizon, with Chinese interest expressed. However towards the end of 2012, Horizon was sold to Hitachi for 696 million pounds. The goal of Horizon Nuclear power, a wholly owned subsidiary of Hitachi Ltd, is to develop at least 5.4 GW of nuclear power capacity.
Initially Hitachi planned site work to commence at Wylfa in 2015, but it has been delayed until the Generic Design Assessment is completed. After 2016 the development of the Wylfa project became clouded by concerns about funding, as the Hinkley Point C project encountered financing difficulties. It seems that Hitachi is in discussion with the UK Government about electricity price guarantees and Hitachi has decided that it will take a minority stake and not participate in the financing. Indeed should finance not be in place by 2019, when construction would commence (assuming approvals are in place), Hitachi plans to suspend the project. It seems that some expect the Japanese Government to become involved with the financing. Given Toshiba's disaster, this seems most unlikely. Ultimately financing the Wylfa reactors is likely to hinge on cost and this doesn't seem promising when renewable energy construction costs are falling and nuclear construction costs are rising.
Chinese company CGN wants its Hualong HPR-1000 reactor to participate in the proposed UK nuclear resurgence. This project is behind the NuGen and Horizon projects as the Chinese reactor is yet to be examined for approval.
Everyone except the Chinese is pulling back from financing the UK nuclear projects
Above we've seen that the principals for both the NuGen (Toshiba) and Wylfa (Hitachi) projects are not prepared to participate in the financing and it is hard to see who will get involved.
GE is happy to get involved with lucrative technical contracts such as provision of the Hitachi-GE ABWR reactors at Wylfa and supplying technology to Hinkley Point C, but it isn't a player in financing these huge projects.
China seems to be the only country with appetite to engage. I comment below on the politics of this.
Politics
I argue above that neither Toshiba and now probably Hitachi have motivation to continue with their UK nuclear programs, Toshiba because it is in financial trouble and is exiting international nuclear programs, Hitachi because it can see the pain that Toshiba has experienced with major issues. It is also becoming clear that companies need backing by their country's Government to be able to engage. The Japanese Government is most likely cautious about supporting Hitachi in the light of the unfolding Toshiba disaster.
South Korea has leadership that plans to close down nuclear power at home and therefore this is likely to impact on South Korean Government controlled KEPCO's (NYSE:KEP) ability to engage, although there have been press reports indicating interest by KEPCO in the NuGen facility.
In practical terms this leaves China, which already has a significant stake in Hinkley Point C, to be the source of further nuclear developments in the UK. Given that part of the UK exit from the EU is about national sovereignty, I'm puzzled to understand how politically any UK Government could allow the Chinese Government (through its national companies) to have a significant and expanding stake in UK power generation.
Meanwhile time marches on and the UK's need to work out how it is going to replace the aging nuclear fleet gets more urgent. All of the UK nuclear plants will begin decommissioning by 2023 and currently they make up 20% of UK power generation. The Wylfa site has a reactor that commenced decommissioning in 2015.
It seems to me that the wind industry is ready to take up the load and I suspect several of the major winds companies might already be thinking about scaling up their programs in the UK, should the UK government look in their direction.
The big one for government is electricity prices and the experience at Hinkley Point C is yet to bite. There will be hell to pay when Hinkley Point C electricity leads to increasing electricity prices. I can't help but think that the Hinkley Point C cost escalation and locking in extravagant electricity prices is going to become a major sticking point in getting the subsequent nuclear projects financed. The speed of build and cost structure for wind build will be a confronting issue for the politicians. It may well focus the minds of pro-nuclear politicians who need to get re-elected.
The real political issue is that exit from the EU and the recent UK elections is hugely distracting. I suspect it might take a while to get clear focus on energy, but the nuclear industry is no doubt making clear that there is little time to reflect if the aging nuclear fleet is to be replaced with new nuclear capacity.
Recent developments for wind power in the UK
There are a lot of wind developments in the UK neighbourhood, especially off shore wind projects.
As well as growth of conventional projects, there is a lot of innovation, including Statoil's (NYSE:STO) floating turbines to establish the world's first floating wind farm off the coast of North-East Scotland. This opens up a huge new market in deeper water. Onshore Northern Ireland is undergoing a boom with 22% of Northern Ireland's electricity being sourced from onshore wind in the past 12 months. Although UK offshore wind is more expensive than Denmark or The Netherlands (where Government assumes the hookup costs) the cost of offshore wind is heading towards being competitive without subsidy. Vestas and DONG Energy are big players in this space. For a really visionary project, the proposed North Sea Wind Power Hub is hard to overlook, with room for the UK to participate.
All of the above is very hard ignore in comparison with the time, technical difficulty, clean up costs and overall financing issues of nuclear power. I can't help but think that this is going to bite politically soon.
Conclusion
The UK has all kinds of urgent issues confronting it, which no doubt have pushed out consideration of the energy landscape and replacement of the aging UK nuclear fleet. I think time is running out if the nuclear programs that have been envisaged are to be implemented. This is a big setback for companies like Toshiba, Hitachi, GE, KEPCO, EDF and China General Nuclear who have seen the UK as a key market to rebuild the international nuclear industry. Outside of China, the environment for international nuclear build is hugely problematic because these big facilities are very costly and there is no sign that construction is getting easier or cheaper. At the same time (especially in Europe) the cost and timescale for new wind build is being compressed dramatically. While Alistair Phillips-Davies is conflicted by his company's interest in wind, his view that Hinkley Point C is the only new reactor that will get built (and even that is not a done deal) makes a lot of sense. I think this is a really good time to look closely at investment opportunities in wind companies like Vestas, DONG Energy, Siemens, Goldwind, Statoil (and GE although it will win and lose in this game), with capacity to take on big projects that might become available in the UK soon.
I am not a financial advisor, but I am interested in transitions in the energy industry and where different technologies fit going forward. If my commentary is helpful in shaping/reshaping your energy investments, please consider following me.
Disclosure: I/we have no positions in any stocks mentioned, and no plans to initiate any positions within the next 72 hours.
I wrote this article myself, and it expresses my own opinions. I am not receiving compensation for it (other than from Seeking Alpha). I have no business relationship with any company whose stock is mentioned in this article.
Editor's Note: This article discusses one or more securities that do not trade on a major U.S. exchange. Please be aware of the risks associated with these stocks.