Rite Aid (NYSE:RAD) and Walgreens (WBA) have struck a new deal and scrapped the merger that was under review by the FTC, implying the merger was likely going to be blocked. This new deal comes despite some last-minute optimism from investors that the deal might go through. This new deal involves Walgreens buying 2,186 of Rite Aid's stores for $5.17 billion and also provides Rite Aid with a $325 million termination fee.
As I wrote in two articles this week (here and here), the merger seemed likely to fail due to a multitude of factors including the duration of the review process, the request by the FTC for additional information last month, and a report that the acting head of the Bureau of Competition, Tad Lipsky, recommended a lawsuit to block the deal. My suspicions have now been confirmed.
The next question to ask is where do RAD investors go from here? The stock is crashing on the news of this store deal, but I think the stock still has more downside left. Going forward, Rite Aid will be operating 2,350 stores and intends to use the proceeds of the deal to pay down its debt and strengthen its balance sheet. While this could push away the specter of insolvency, Rite Aid is still in a poor financial position with debt outweighing cash by more than $2 billion. Rite Aid has the same issues, it's just a smaller company now.
From a valuation perspective, I think RAD still has further to fall. To get shares to a forward P/E ratio of about 13, which would be more in line with industry peers, shares would have to trade at around $1.50 each. And even this would be generous considering how poor Rite Aid's operating results have been and how poor its balance sheet is compared to these competitors: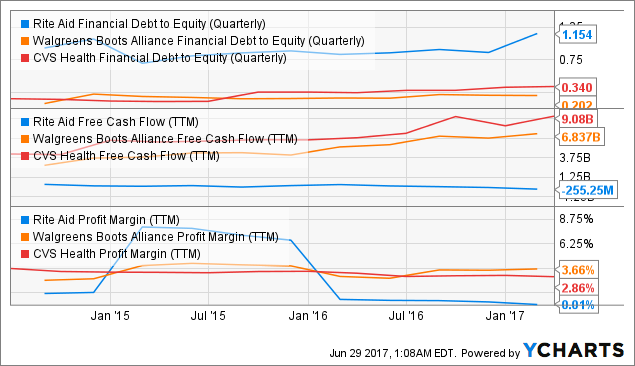 RAD Financial Debt to Equity (Quarterly) data by YCharts
Sure, that debt-to-equity ratio will improve with the cash infusion, but not to the point where it makes RAD any more attractive.
Rite Aid is over-leveraged, burning through cash, and has the slimmest of profit margins, all factors that make RAD deserving of a significantly lower P/E ratio than its better-performing peers. This means even at $1.50 per share, RAD is probably overvalued, and therefore, I expect more downside as the news is digested and as investors re-align expectations.
The one thing that could save Rite Aid now is another acquisition offer from some other interested party. This is possible, but there are a few reasons why the company might not get an offer and why, if it does get an offer, it won't be a very attractive one. Rite Aid owns just a small fraction of its own stores so there's no real estate value (and in fact, there are lease obligations), the company's debt still significantly outweighs its bolstered cash and equivalents balance, and operating results have been fairly poor with the company struggling to break-even and to generate cash.
All in all, I don't see Rite Aid as an attractive takeover candidate and I see very little chance that the company will see success going it alone. If I were long RAD, I would cut my losses and forget about this whole episode - don't get bogged down in the "it's only a loss if I sell" trap. There is an opportunity cost to these things and selling a losing position when prospects become dim or uncertain shouldn't be seen as a bad investing move.
I remain bearish on RAD and expect shares to continue to decline from here as investors realize how little value the stock currently offers.
If you want to stay up-to-date on my articles, you can do so by clicking "Follow" at the top of this page or by going to my author page.
Thanks for reading!