Investment Thesis
The Home Depot Company (NYSE: HD) is currently undervalued. The market is not taking into account firm's efficient management and strong financials, which include increasing operating margins and free cash flows. We found the firm undervalued mainly because of its low reinvestment and efficient growth. These two have improved firm's capacity to generate higher free cash flows.
Analysis
The Home Depot, Inc. is the world's largest home improvement retailer. It sells a wide assortment of building materials, home improvement products and lawn and garden products. It also provides a number of services related to construction and home renovation. The company has 2.278 stores around US, Canada and Mexico with diversified sell segments such as lighting, millwork, electrical, tools, outdoor garden, and plumbing.
The firm's successful operating strategy is based on a 3-legged stool. Customer experience focuses on connecting associates to customer's needs and connecting stores to online experience through "Do-It-Yourself, Do-It-For-Me & Professional customers". Product authority is in charge of connecting products and services to customer's needs, creating tailor made solutions to satisfy unique necessities. Finally, under productivity and efficiency, the firm bases all efforts in optimizing its supply chain, in order to connect supplier's merchandise to its customers. In other words, operating strategy's success is a result of the importance the firm gives to customer's needs.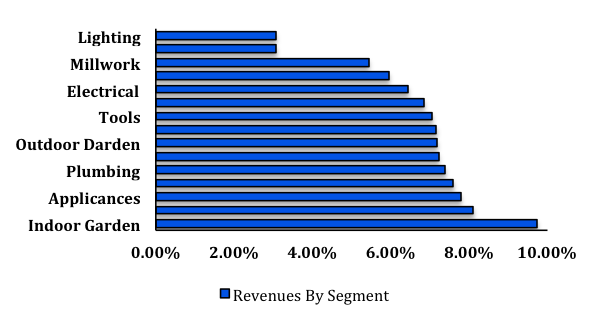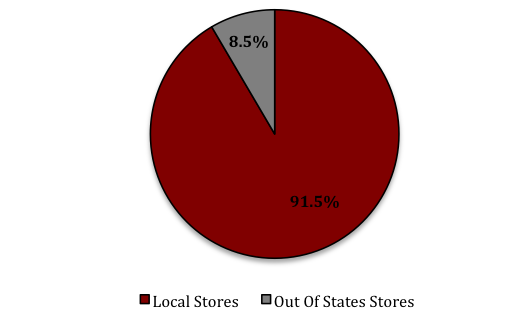 The firm faces a wide competitive environment based on customer experience, price, store's location and appearance, quality, availability, assortment and presentation of products and services. Nevertheless, HD claims to be the world's largest home improvement retailer with high competitive advantages over its competitors. It competes with specialty design stores, showrooms, discount stores, and paint stores. HD's added value consists in offering consumers everything they need to improve their homes or constructions, with high quality and value, all together in just one store.
(Source: HD Financial Statements, Author's charts)
Home Depot has been able to improve revenues in the last 5 years showing a 4.82% CAGR. By FY2016, the firm reported a 6.86% year-over-year revenue growth. This positive growth was the result of firm's high market share and a very healthy US economy, which increased consumption in the country. In addition, US dollar's strength created a positive impact through foreign currency translation. The company has had a great capacity to maintain its cost structure (~65.8%) and decrease its SG&A expenses. Operating and net income have been increasing with an average ~15% growth. With these operating progresses, the firm has been able to increase its operating margin significantly from 10.39% to 14.19% in the last 4 years. It is important to highlight that HD's operating margin surpasses its industry's average by 4% (home building industry's operating margin averages ~10%).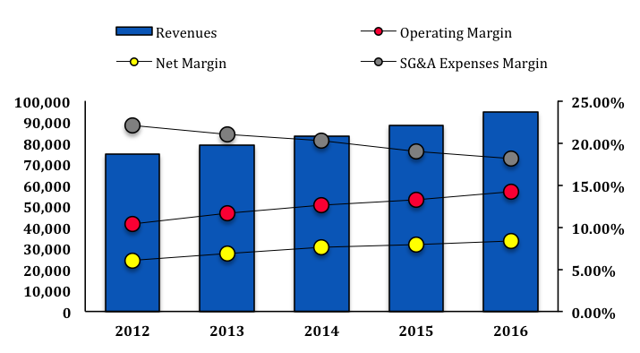 (Source: HD Financial Statements, Author's charts)
Regarding indebtedness, the firm has been increasing its total debt in the last 5 years. Book value of debt (adjusted for operating rent expenses) has grown 11.25% in compound annual growth rate. Company's high leverage increase does not generate alarms due to market low interest rates. You can see how the company has taken advantage of low interest rates and how it has increased its debt while book interest rates get lower and lower. Firm's debt profile is currently healthy. TD/EBITDA ratio is lower than 3x (FY2016 1.53x) and has maintained its levels in past years. Leverage ratios such as financial leverage and D/E ratio are increasing since FY2012. This fact is not disturbing because the company is repurchasing stocks, behavior that makes equity "shrink and return" and levers ratios to high levels. Regarding repayment capacity, the firm has had all 3 ratios above 1x in the last 5 years (FY2016: TDRC 1.22x | SSDRC: 1.34x | FCCR: 1.31x). In addition, firm's current ratio shows liquidity enough to face its current commitments with financial institutions, suppliers and all short-term claimers.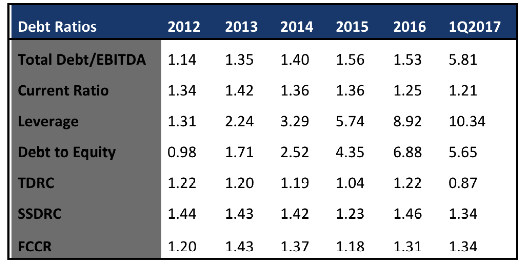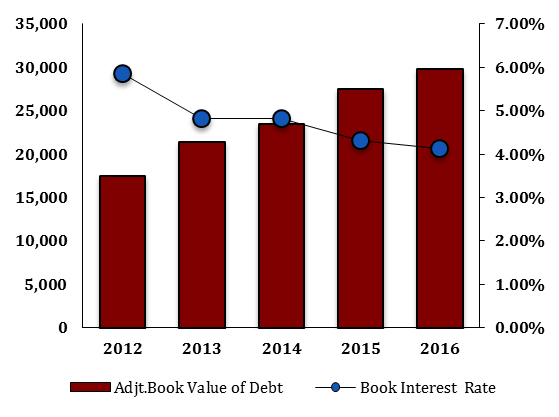 (Source: HD Financial Statements, Author's charts)
*Note: TDRC (Total Debt Repayment Capacity) measures a firm's capacity to pay short-term debt and part of long-term debt. SSDRC (Senior Secured Debt Repayment) measures the same as TDRC but includes senior secured debt. FCCR (Fixed Charge Capacity Repayment) measures a firm's capacity to honor short-term debt, current portion of long-term debt, and fixed cash charges.
The firm has managed well its key efficiency ratios. DSO has been increasing since 2012, but the firm has countered this effect with an important cut in DIO. This means that the firm is converting its inventory into cash faster but without losing efficiency. Likewise, DPO's stable trend tells us that the company worries about its relationship with suppliers and that has tried successfully to pay its credits on time. HD has the capacity to increase its DPO and decrease its CCS. However, a higher DPO can cause problems in supplier's relationship. Thus, HD prefers to maintain its good relationships rather than make improvements in its working capital and free cash flows. Improvements in DIO translate into a better cash conversion cycle, giving HD capacity to efficiently convert cash into sales and then back into cash again.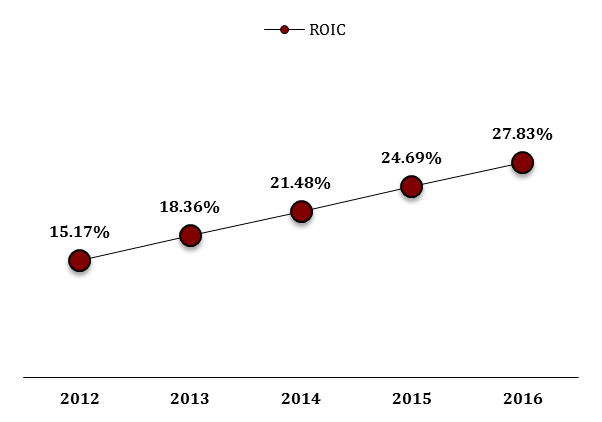 HD's return on invested capital is currently growing fast. Return's measure went from 15.17% back in FY2012 to a solid 27.83% in FY2016. It is important to highlight that industry's ROIC averages 8.71%. In addition, current ROE is ~125% and is rapidly improving due to firm's stock repurchase, which has shrunk equity year over year. Regarding capital efficiency, the firm's sales to capital ratio is currently 2.79x, way above industry's average (~1.19x). This means that the firm is making around 1.6 more dollars in revenues for every dollar invested than its competitors.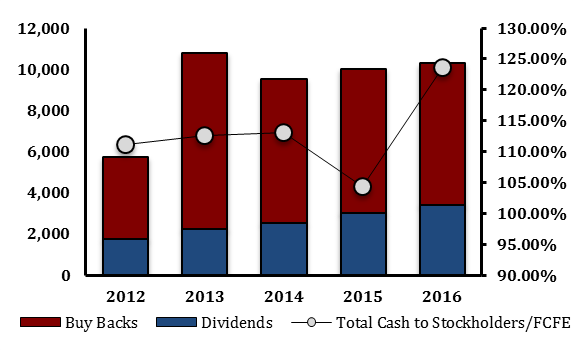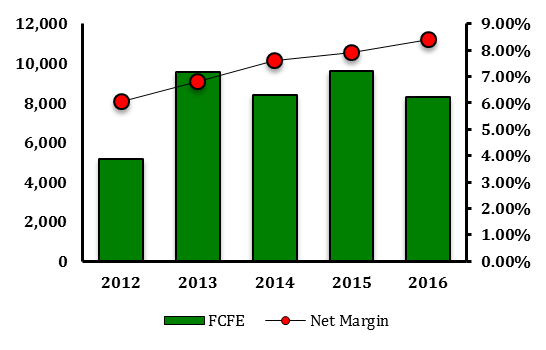 The firm's capacity to generate free cash flows for all claimers and stockholders is currently impressive. FCFF has averaged 6,510 US$ million in the last 5 years. For FY2015, FCFF went down due to firm's acquisition of Interline Brands, Inc. However, if we normalize for this extra-ordinary event, FCFF for that year would be 8,001 US$ millions, the highest level that HD has seen. In addition, FCFE has presented very high levels, averaging 8,220 US$ millions. These 2 facts are a consequence of low reinvestment and growing operating and net earnings. Even though the firm's has had high capacity to generate free cash flows, it has being paying out more than what it can afford in dividends and stock buybacks. The company's stock repurchases program levers on the increasing debt we discussed previously.
(Source: HD Financial Statements, Author's charts)
DCF Valuation
Based on the outlook we described, we decided to use a DCF model to value HD's shares. We used a 3-stage model due to firm's changing margins, D/E ratio instability and the fact that we still consider HD to have potential of growth. The model we built tries to reflect firm's reinvestment rate, growing operating margins and its competitive advantages.
We used a 4.93% fundamental growth rate for the growth stage with a transition arriving to 2.14% in stable stage (same rate as US economy). For all 3-stages, we used firm's ~18% reinvestment, which is high considering that the rate has been significantly lower in the last years. We are being conservative with the firm's fair value by using this high reinvestment rate in all the projection. We are also going to let the firm keep its tax benefits with an effective tax rate that will move towards the marginal tax rate in perpetuity.
We computed a cost of capital based on a 85%-15% capital structure, a beta reflecting home improvement retailer business and an equity risk premium based on the firm's risk exposure to only mature markets. ERP doesn't reflect emerging markets such as Mexico because revenues out of states are meaningless. Additionally, we estimated a cost of debt based on the yield to maturity of ten year HD's bonds. Thereby, we arrived to 6.66% cost of equity, 1.94% after-tax cost of debt and 5.93% cost of capital. Furthermore, we decided to let the company get less risky over time. This decision was based on the fact that HD is already a big company treading maturity and for stable stage we assumed it will be a fully mature firm. It is important to mention that exceed returns over time will maintain ~20% levels. When the firm arrives to stable stage, it will earn 2.5% exceed returns as it will keep important competitive advantages. In our valuation, we reflected that the company will keep investing with efficacy and efficiency.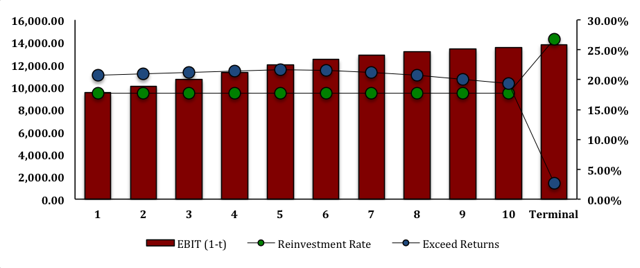 (Source: HD Financial Statements, Author's valuation model)
To increase our confidence in the results, we sensitized the model. We believe that exceed returns and growth are key variables that could create or destroy value. Thus, we sensitized both of them. We concluded a worst-case scenario with 3% fundamental growth during growth stage and 0.70% exceeds returns in stable stage. For the optimistic scenario, we decided to use a 6% fundamental growth and 3% exceed returns due to global expansion, improvement of competitive advantages, outstanding financial results (beating estimates over time) and new barriers to grow for industry competitors.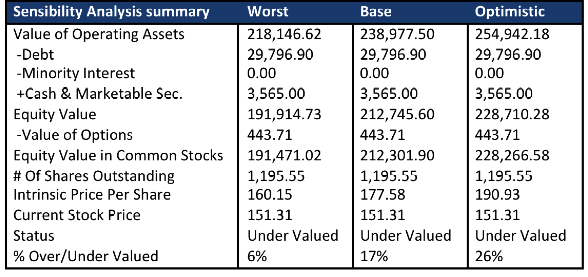 (Source: HD Financial Statements, Author's chart)
Conclusions
The Home Depot Company is a key player in its industry. One of the firm's main advantages is that it offers customers everything they need for their homes all together in just one store.
Revenues are growing progressively while operating expenses have decreased over time. These two facts have driven operating margins to rise significantly year after year. In addition, low reinvestment needs, efficient management and increasing operating margins have led the company to generate higher free cash flows.
Firm's Indebtedness is healthy. All debt ratios are wholesome. Total debt is increasing year after year but its book interest rate has decreased. The fact that the company is financing its repurchase program through debt in this low interest rate environment tells us how good firm's corporate finance decisions are.
It is notable how the company worries about relationships not only with customers but also with suppliers. Cash conversion cycle is getting lower and lower over time. This trend is due to cuts in day's inventory outstanding and a stable trend in day's payable outstanding. The firm prefers to maintain good long term relationships with suppliers for better credits than to improve present working capital and FCF.
We highlight firm's capacity to increase its efficiency in old and new investments. We strongly support Home Depot's capacity to create value in the long term.
In our DCF valuation, we found the company to be undervalued by the market. It seems that the market hasn't fully assimilated HD's capacity to create value. The market is still offering a gap for an upside opportunity of 17% with a range price of 160.15 USD – 190.93 USD per share. We recommend a strong buy with a firm's target price of 177.58 USD/share.
Source: All data comes from the firm's financial statements. Charts are creations of the author.
Disclosure: I/we have no positions in any stocks mentioned, and no plans to initiate any positions within the next 72 hours.
I wrote this article myself, and it expresses my own opinions. I am not receiving compensation for it (other than from Seeking Alpha). I have no business relationship with any company whose stock is mentioned in this article.