We have been advised by countless financial experts that a good mix of equities and bonds is one of the better ways of going about investing our hard-earned money. We have also been told about the virtues of buy and hold. On the other hand, active trading using momentum principles have been proposed by other experts showing how we can reduce draw downs while maximizing our returns. Cliff Smith, an astute poster here on Seeking Alpha (SA), has written several articles on how to use momentum based strategies to our best advantage.
Following in his footsteps, here is a strategy that combines buy and hold and a momentum strategy to reduce drawdowns while providing double digit annual returns. The returns are very favorable when compared with the Vanguard Wellington Fund (VWELX), a Balanced Mutual Fund from Vanguard. All back testing is done using Vanguard mutual funds and are traded quarterly to reduce issues with early redemption. One can use ETFs and monthly rebalancing, if he or she desires to do so. The system utilizes the free web resource, PortfolioVisualizer.com (PV). This is a fantastic resource and if you are not familiar with it, you should get acquainted with it. Many thanks to Tuomo Lampinen, the person behind this resource who offers the use of this resource without any fees.
This strategy provides an almost equal exposure to equities and bonds during good times, but will revert to all bonds, if necessary, when equities get crushed. The strategy will also provide exposure to Precious Metals, if the market conditions so dictates. In my opinion, this strategy is a very well-balanced mix that provides the best of both worlds, bonds and equities, along with buy and hold along with momentum trading. Please note that all results provided are based on back tests and are hypothetical in nature. Actual trading results will vary.
You can test the strategy yourself by following the steps mentioned below:
Log in to PV and select the Core-Satellite Portfolio Timing Model Option. Select the 50% Core and 50% Satellite along Rebalance Quarterly options. Type in VWELX as the Benchmark Ticker. For the Core Portfolio, type in the following funds:
For the Satellite Portfolio, select the following funds:
Select the Dual Momentum Option and use the Vanguard Total Stock Market Index Fund (VTSMX) as the Single Absolute Momentum Asset. For the Out of Market Asset, use the Vanguard Short-Term Treasury Fund (VFISX). Select multiple periods (1, 3, 6 and 12 months with each 25% weight) and use weight rank orders. Also select "2" as the number of assets to hold. You can try to optimize the period(s) but I wanted to go with an average of near, intermediate and long-term momentums. I believe that this makes the system more robust.
In the Satellite Portfolio, we are using the Dual Momentum trading method to compare the momentums between REITs (VGSIX), Precious Metals (VGPMX), Healthcare (VGHCX), Energy (VGENX), Long Term Treasury (VUSTX) and the Total Stock Market Index (VTSMX) and their momentums with that of Short Term Treasury (VFISX). The two assets with the best momentum are chosen by the system. The Core Portfolio is buy and hold for four bond funds consisting of Long Term Investment Grade (VWESX), GNMA (VFIIX), Intermediate Tax Exempt (VWITX) and Intermediate Treasury (VFITX). As this is a buy and hold portion of the portfolio, a conservative mix of funds was my primary goal.
For the system, I decided to go with all Vanguard funds. These funds have long histories and hence can be back tested over differing economic climates. The bond funds for the Core Portfolio (i.e. Long-Term Investment Grade Corporate Bonds, GNMA Bonds, Intermediate Term Tax Exempt Bonds and Intermediate Treasury Bonds) were chosen because they provided reasonable stability during economic turmoil and provided a stable bond portfolio. For the Timing Model, I chose funds that represented the Total Stock Market Index, Precious Metals, Real Estate, Health and Energy Sectors, and Long-Term Treasury. This selection allows the timing system to be invested in the stock market when the stock market is performing the best. The long-term treasuries, energy, real estate, precious metals and health sectors provide for diversification and can assume a defensive posture when required. Reducing draw downs without cutting down on returns drastically was the chief goal in the selection of the funds.
If you want to use ETFs, then a suggested combination is as follows:
Core Portfolio – SPDR Barclays Capital Convertible Bond ETF (CWB), iShares MBS ETF (MBB), VanEck Vectors AMT-Free Intermediate Municipal Index ETF (ITM) and iShares 7-10 Year Treasury Bond ETF (IEF).
Satellite Portfolio - Vanguard REIT Index ETF (VNQ), SPDR S&P Metals and Mining ETF (XME), Vanguard Health Care ETF (VHT), Vanguard Energy ETF (VDE), iShares 20+ Year Treasury Bond ETF (TLT), combined with the Vanguard Total Stock Market ETF (VTI) and iShares 1-3 Year Treasury Bond ETF (SHY).
The results will be slightly different as the ETFs do not match up exactly with the mutual funds. However, the general characteristic of the system will still be valid whether you use Mutual Funds or ETFs. When using mutual funds, the minimum fund balance requirements will make the initial capital requirements higher than that when using ETFs.
The PV results are based on a core-satellite model. This is achieved by combining a core portfolio with with a timing model which is referred to as the satellite portfolio. For this system, 50% of capital is allocated to the core portfolio. The Core Portfolio consists of four assets with the capital divided equally amongst them. The other 50% of capital are allocated to the satellite portfolio. The timing model is on dual momentum that holds the top two best performing assets. The range for the timing test was based on the available data for the Vanguard REIT Index Fund (VGSIX) (Jun 1996-May 2017).
The figure below shows the return of the system since 1998. It covers a period of approximately 20 years including bull and bear markets along with rising and falling interest rate markets. The table and the graph below show the various metrics including CAGR, Maximum Drawdown and Sharpe Ratio. Please note that by combining the two systems, the maximum drawdown is reduced even further. You can experiment with various percentages of the core and satellite portfolios to see which one matches your risk profile the best.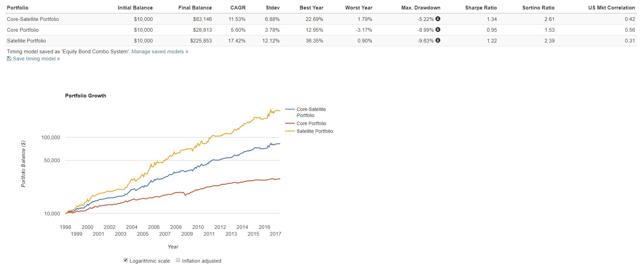 The current market conditions appear to be a mature bull market with possible interest rate increases in the horizon. This system has been designed to provide positive returns during upwards, downwards or sideways markets. The table below shows the yearly returns of the system (Core-Satellite Portfolio). You can see that the system did not have a negative year during its entire back testing period of almost 20 years. It will not beat the stock market during wildly bullish years like 1999 or 2009 or 2013. However, based on the back-testing results, the system should provide for growth year in and year out, and beat the stock market on a long-term basis. The table also lists the annual returns for the two sub portfolios, and the Long-Term and Short-Term Treasuries and the Total Stock Market Index for reference purposes.
| | | | | | | |
| --- | --- | --- | --- | --- | --- | --- |
| Year | Core-Satellite Portfolio Return | Core Portfolio Return | Satellite Portfolio Return | Vanguard Long-Term Treasury Fund (VUSTX) | Vanguard Total Stock Market Index Fund (VTSMX) | Vanguard Short-Term Treasury Fund (VFISX) |
| 1998 | 14.77% | 6.59% | 23.38% | 13.05% | 23.26% | 7.36% |
| 1999 | 15.31% | 6.53% | 24.58% | -8.66% | 23.81% | 1.85% |
| 2000 | 13.80% | 9.95% | 17.54% | 19.72% | -10.57% | 8.83% |
| 2001 | 6.21% | 4.61% | 7.80% | 4.31% | -10.97% | 7.80% |
| 2002 | 5.66% | 5.47% | 5.81% | 16.68% | -20.96% | 8.02% |
| 2003 | 22.69% | 9.78% | 36.35% | 2.68% | 31.35% | 2.38% |
| 2004 | 9.35% | 4.52% | 14.27% | 7.12% | 12.52% | 1.03% |
| 2005 | 17.91% | 3.67% | 32.36% | 6.61% | 5.98% | 1.77% |
| 2006 | 10.97% | 6.23% | 15.64% | 1.74% | 15.51% | 3.77% |
| 2007 | 15.53% | 7.77% | 23.50% | 9.24% | 5.49% | 7.89% |
| 2008 | 6.27% | -3.17% | 16.34% | 22.52% | -37.04% | 6.68% |
| 2009 | 15.75% | 12.95% | 17.97% | -12.05% | 28.70% | 1.44% |
| 2010 | 13.38% | 9.06% | 17.07% | 8.93% | 17.09% | 2.64% |
| 2011 | 5.94% | 5.26% | 6.56% | 29.28% | 0.96% | 2.26% |
| 2012 | 7.10% | 6.31% | 7.86% | 3.47% | 16.25% | 0.69% |
| 2013 | 14.95% | 2.78% | 28.06% | -13.03% | 33.35% | -0.10% |
| 2014 | 11.78% | 5.16% | 18.65% | 25.28% | 12.43% | 0.71% |
| 2015 | 2.56% | 1.15% | 3.87% | -1.54% | 0.29% | 0.46% |
| 2016 | 14.26% | 2.48% | 26.55% | 1.20% | 12.53% | 1.10% |
| 2017 | 1.79% | 2.69% | 0.90% | 5.02% | 7.95% | 0.54% |
A risk averse investor can dedicate a portion their capital to a system of this nature that has a buy and hold portfolio and is complemented by a timing subsystem. This will help to reduce risks and lessen drawdowns. As stated earlier, back test results show that the Satellite Portfolio (the timing subsystem) can be used by an investor who can withstand higher drawdowns and in return will be rewarded by higher returns.
I hope that this article motivates other investors to do their research and due diligence before investing. I also hope that they will share their experience and insights here and we can all benefit from the shared wisdom.
In summary, here are the important aspects of the system:
The CAGR of the system is 11.48% with a Drawdown of -5.62%, which is lower than the drawdowns of both the core and satellite portfolios/systems.

The CAGR of the satellite system is 17.42% with a Drawdown of -9.63%. This by itself is a very respectable system. Based on back-testing results, if you are willing to take the risk, then this satellite system should reward you well. However, incorporating the bond portfolio in the system reduces the draw down so that most risk averse investors can trade this system.

The system beats out a very well respected Balanced Mutual Fund in terms of both CAGR and Drawdown.
Disclosure: I/we have no positions in any stocks mentioned, and no plans to initiate any positions within the next 72 hours. I wrote this article myself, and it expresses my own opinions. I am not receiving compensation for it (other than from Seeking Alpha). I have no business relationship with any company whose stock is mentioned in this article.