As you can see from the following two charts, the New Zealand Dollar has been on a tear since mid-May. Sentiment in FOREX land has shifted from USD positive to EURO positive and all the other majors such as, New Zealand Dollar, Australian Dollar, Canadian Dollar and Yen have benefited from this shift.
Technical analysis on daily and 240 min NZD/USD charts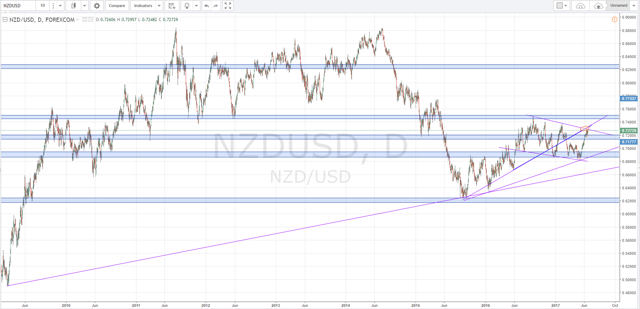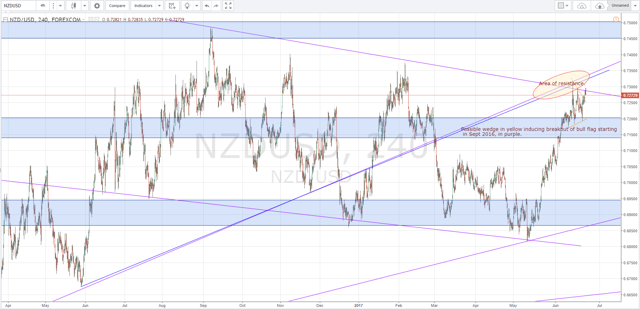 You are looking at Daily and 4hr candlestick charts. First observation here is that there appears to be great momentum behind the move, even after a week of sideways movement.
The bullish argument is; there is a great deal of momentum, looks as though price could easily break out of this bull flag pattern to continue up.
The bear argument would be; price has not yet broken out of resistance, so there is a chance that it could turn back down here.
Purely from the charts, the assessment here is that if price breaks out over this resistance area, it is a long, if price gets down in into the blue highlighted area, I would start scaling in short, one could also wait for a break of the blue highlighted area, just to be safe.
Below is the commitment of traders (COT) report for the NZD futures, the trading volume on these futures is pretty thin, but over time I have found the COT data to be helpful in identifying possible turn points. Quickly; as prices rise, dealers sell and money managers buy. As you can see here in orange, dealers have been selling the NZD, heavily, to the point where I am looking for a turning point in price action. This does not necessarily mean that prices have to get back down under 0.69, for some of the selling to be alleviated, but it certainly pushes me to be more cautious of the bear argument after looking at the chart, despite the current momentum in the currency.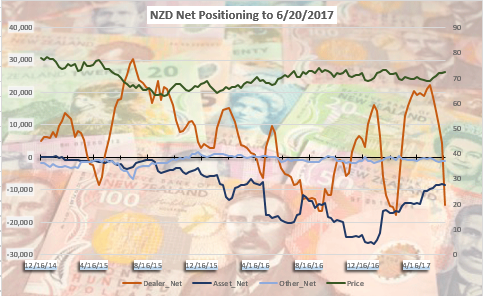 Let's take a look at how the economic data supports NZD prices at these levels.
The chart below is a 10-YR chart of New Zealand inflation, it is clear that inflation is just above 2% for New Zeald at the moment. The last data point was taken on 4/19, the next one will be taken on 7/17, as they report this quartlrly. Over the beginning of the year oil prices had been up as well as food prices, these are largely attributed to much of the world's recent increase in inflation. That said, New Zealand inflation is currently sitting at its target 2% rate.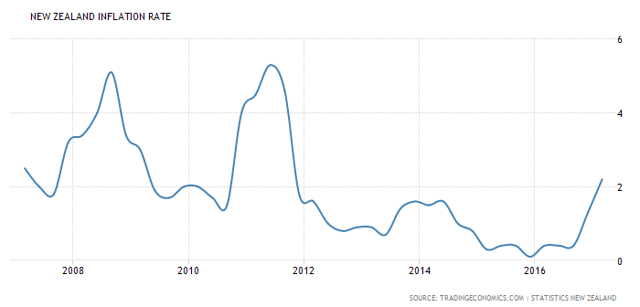 The chart below shows New Zealand's GDP growth rate over the last 10 years. While there was a slowdown recently, growth rates appear to be picking back up and in the median area. This number shows that while growth rate is on the low side, there is not a problem as far as growth is concerned for the country.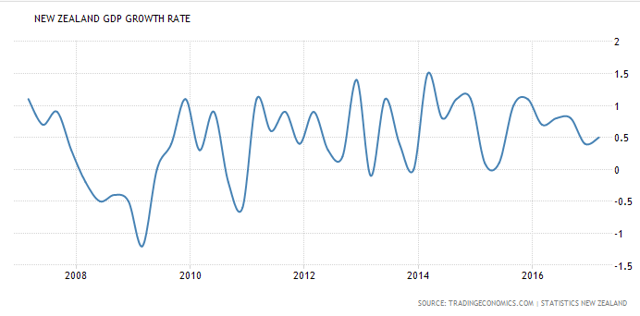 Trade surplus and currency appreciation can go hand in hand, as the nation's items become more expensive to other countries demand will decrease, visa versa. Looking at this data alone, it looks as though the NZD may need a breather, or a pull back before continuing higher.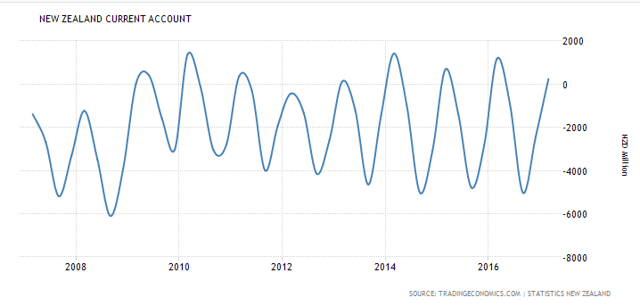 The Royal Bank of New Zealand held rates at 1.75% last month, even with inflation at the 2% goal. In their statement; positive growth outlook is mentioned, while at the same time they hint at elongated accommodation. "Monetary policy will remain accommodative for a considerable period. Numerous uncertainties remain and policy may need to adjust accordingly." This, in my mind says that rates will stay lower for much longer, possibly more than a year.
Where do I see the NZD/USD headed from here?
From the data above we can infer that the price of the NZD has risen due to past inflation expectations, change in the trade balance, shift in USD sentiment and its continued positive growth. Looking to the future, I think that we can deduce that New Zealand will continue to grow, inflation may pick up a bit in the long run and eventually rates will be increased.
Over the medium term, falling commodity prices are going to affect inflation rates all over the world over the coming months. This will weigh negatively on currencies. The next item to think on is the USA, and if the Trump trade is reignited for even a little bit with a new version of the GOP healthcare bill coming down the line. These are the two major near-term events I foresee killing the upside trade in the NZD/USD for a bit.
Overall, for a bullish stance I am looking for a break out over 0.74 to start scaling in long for a push over 0.75, or a break down under 0.72 to start scaling in on the short side for a move under 0.69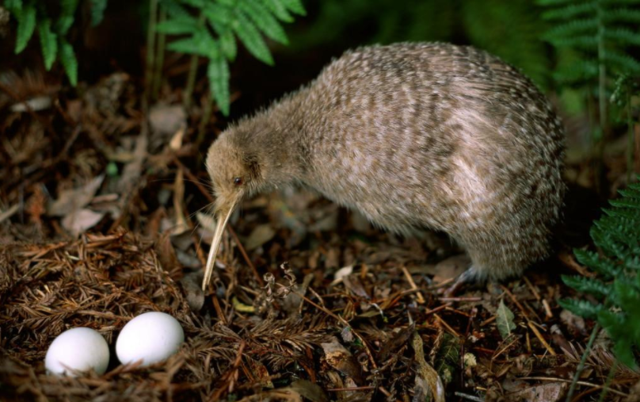 Kiwi Bird image from: Where to See Kiwi Birds in New Zealand
Disclosure: I/we have no positions in any stocks mentioned, and no plans to initiate any positions within the next 72 hours.
I wrote this article myself, and it expresses my own opinions. I am not receiving compensation for it (other than from Seeking Alpha). I have no business relationship with any company whose stock is mentioned in this article.
Additional disclosure: I will be following my suggestions, when price hits them.