Expectations Might Be Overly Optimistic For OraSure As It Approaches The Billion Dollar Club
Summary
Shares of OSUR have so far doubled in 2017 on the heels of a series of contract wins and newfound profitability.
While two segments are providing a halo effect for the trading multiple of the entire company, its remaining segments are struggling.
A sum-of-the-parts analysis shows why the company's 40x forward earnings multiple (excluding net cash) is not warranted.
OraSure (NASDAQ:OSUR) is a diagnostic company whose fortunes have been volatile over its years in existence. The company sells point-of-care infectious disease tests, primarily for HIV and HCV, employment and insurance screening tests and molecular sample collection systems. Going forward, its research efforts are focused on validating and gaining broad approval for Zika and Ebola tests. The following is a sum-of-the-parts analysis of the company. For our valuation, we use price to sales as the primary valuation methodology because the company's core businesses (excluding DNA Genotek) have not historically been profitable, and are not currently profitable, when excluding exclusivity payments.
Mature Segments
Domestic Point-of-Care HIV Testing (2016 sales $28 million)
The company's point-of-care HIV product has long differentiated itself as more convenient than its peers' blood based tests and even one competitor's more cumbersome saliva based solution. However, that hasn't stopped the company's sales in this segment from declining each year since 2009. The primary reason for the decline is that the segment has become more competitive since 2009. In 2013, Trinity Biotech (TRIB) received approval for the HIV-2 claim, matching its P-O-C competitors at the time. Then, in 2014, Alere (ALR) received approval for the first and only point-of-care HIV test that detects the p24 antigen, which is able to detect the presence of HIV weeks earlier than the traditional HIV 1/2 antibody tests that all of the primary point-of-care competitors offer. Factions in the infectious disease community contend that ALR's test is not as sensitive as lab based tests, renewing a push for lab based testing overall. Further, there has been literature stating that saliva-based HIV testing is inferior to blood based tests, possibly contributing to lower demand and creating greater pricing pressure on OSUR's tests. Finally in the summer of 2016, Chembio (CEMI) announced that it was lowering the price of its HIV tests in the U.S. market.
In an effort to expand the market for its test, OraSure spent tens of millions of dollars in research, development and commercialization on a direct to consumer HIV test that has significantly missed the Street's expectations. Ultimately, even with the additional sales from this product, the company's domestic HIV sales are down.
| | | | | | | | | |
| --- | --- | --- | --- | --- | --- | --- | --- | --- |
| (millions $s) | 2009 | 2010 | 2011 | 2012 | 2013 | 2014 | 2015 | 2016 |
| Domestic Pro HIV Sales | 44 | 40 | 39 | 34 | 32 | 30 | 25 | 22 |
| Domestic OTC HIV Sales | 0 | 0 | 0 | 0 | 9 | 6 | 7 | 6 |
| Total | 44 | 40 | 39 | 34 | 41 | 36 | 32 | 28 |
The potential of the fluid sample based point of care market has always been in question. For emergency situations (cardiac, sepsis, etc.), it has to suffice. However, typically if a patient should be tested for one condition, there are other conditions to test them for as well, generally making lab based testing, with a wider menu, more appropriate. There will always be a place for point of care HIV testing, but considering there are 3-4 competitors with very similar tests, there is little pricing power that any one of them can claim. Considering the competitive climate and the systemic decline of sales in this segment, it should be valued at 0.7x-1.0x sales or $19.5 million-$28 million. For the sake of comparison, when Chembio was almost exclusively an HIV test producer in 2014 and before the stock benefited from the outbreak of Ebola, its stock traded between .80x and 1.05x EV/Product sales as sales were declining at a lower rate than OSUR's are.
Risk Assessment Market (2016 sales $13 million)
Sales in this market primarily address the life insurance procurement and employment screening market for drug use. As can be seen in the chart below, sales in this segment were volatile through 2012, at which point they stabilized at a low level. While the company competes effectively with its saliva based solution in certain instances, competitors also have non-invasive testing methods, including hair based testing. Additionally, the company's sales in this segment are somewhat reliant on economic strength, as sales benefit from greater hiring and number of life insurance policies issued. Taking all of that into consideration, 1.5x-2.0x sales on this segment is appropriate, valuing it between $20 million and $26 million. As a comparison, toxicology company Medtox was purchased for 2x sales in 2012 as it was growing sales more than 10% per annum.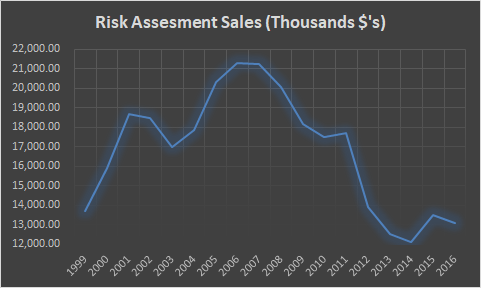 Cryosurgical Systems (2016 sales $13 million)
The company sells its wart removal systems in the cryosurgical segment. Similar to the risk assessment segment, the company's cryosurgical sales have been bumpy throughout the years. The company does not note that it is developing any new technology to increase market share in this segment, nor has it called it out as a growth segment. As a result, it is appropriate to value this segment similarly to the risk assessment segment at 1.5x-2.0x sales, resulting in a valuation of $20 million-$26 million. While there are not any direct comparisons, other public companies that sell power based surgical systems (BVX, BIOL and IRIX) with less than $50 million trade between 1.25x and 2.0x EV/Sales.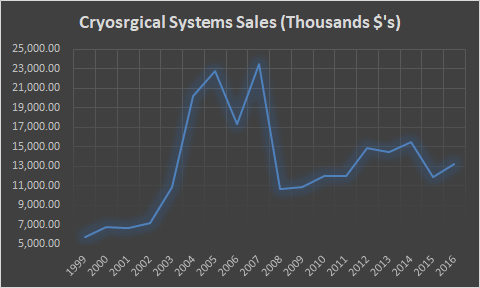 International Point-of-Care HIV Testing (2016 sales $5 million)
While $5 million may not sound like much, this is a record figure for the company, and in the first quarter of 2017, the company posted $2.6 million of international HIV sales (approximately $1 million from contract fulfillment). The company did not focus on the international market in the past, presumably because profitability is much more limited overseas, as much of the foreign HIV P-O-C market is in countries with limited healthcare budgets including in Africa and South America, forcing participants to offer low priced options with low margins to be able to compete in the market. So, while the company is growing sales in this segment, profitability is likely limited and leads to an assigned valuation of 1.25x-1.5x sales or $6.25 million-$7.5 million.
Growth Segments
Point of Care HCV Testing ($14 million)
OraSure has a defensible position in this segment as it is the only company with a FDA approved rapid HCV test. With that being said, the company has seen its domestic sales stall over the last five quarters, while its foreign sales have risen at a brisk clip.
| | | | | | |
| --- | --- | --- | --- | --- | --- |
| | 2012 | 2013 | 2014 | 2015 | 2016 |
| Domestic HCV Sales | 2.8 | 2.9 | 4.2 | 7.5 | 7.4 |
| Foreign HCV Sales | 1.1 | 2.3 | 3 | 3.9 | 6.6 |
| Total | 3.9 | 5.2 | 7.2 | 11.4 | 14 |
In the fourth quarter of 2016, the company inked an $18 million deal, primarily for the international sale of its HCV tests. Most of this revenue will be recognized in 2017. This should bring the 2017 total HCV sales to close to $30 million. While it's tempting to put a very high multiple on 2017 sales because of the exponential growth they represent, experience that investors have had with competitor Chembio, where a large chunk of its business being owed to one or two vendors put valuation pressure on shares, signals that we should use a cautious approach when valuing shares. Accordingly, I will apply a 4.5x multiple on 2016 sales to arrive at a $63 million value for the HCV business. While growing diagnostic test companies (VCYT, EXAS and OTCQX:IDXG) trade in a wide range of Price/Sales, the median valuation is 4.0x. I assign OSUR a slightly higher multiple because it is the only participant in the market for this particular test for the foreseeable future.
DNA Genotek (2016 Sales $32 million)
The DNA Genotek segment primarily makes collection devices for samples to be tested on molecular platforms. As molecular testing has increased above traditional testing growth over the past five years, OraSure has benefited, experiencing a sales increase from $14 million in 2012 to $32 million in 2016. With the release of its first quarter earnings, the company announced a $20 million supply contract for a period greater than 12 months. While the company has stated in its filings that better capitalized companies are looking to compete with the company, there is no significant competition on the immediate horizon for its saliva based DNA collection system. Accordingly, applying a 4.5x multiple to 2016 sales, we arrive at a $144 million value for this part of the business. Growing diagnostic product and equipment companies (BDX and TMO) trade at 4.5x as well.
Pipeline
The company has been awarded up to $27 million ($16 million of which has been released) from the Biomedical Advanced Research and Development Authority to develop tests for Zika and Ebola. While Africa has a high incidence of Zika, it is significantly more likely to cause birth defects in Latin America. Additionally, accurate lab based tests already exist for Zika. Both of these factors limit the market potential for a stand-alone Zika test. Concerning Ebola, being able to offer a multiplex test is critical as many of the symptoms for Ebola mimic symptoms of other diseases such as malaria and meningitis. Between 2014 and 2016, there were nearly 28,000 reported cases of Ebola and over 10,000 deaths reported in the countries of Guinea, Liberia and Sierra Leone. It is challenging to assign a value to these tests for multiple reasons. First, Chembio is a formidable competitor that has been awarded funding to develop these tests on panels with other tests, which could prove to be more compelling than Zika and Ebola on their own. Also, it is unknown whether consistent funding aside from outbreaks exists for these tests in the markets most in need (Africa and South America). As a result, there will be no value addition for these two projects. The remainder of the company's research and development projects are focused on updates to its existing products.
Insider Transactions
Since August 2016, as shares of OraSure have risen from $7 to today's $17, more than 2 million insider shares have been sold by insiders across the board, representing approximately half of the insider ownership. The average sale price during that period was 12.67 (26% below current price). If management thought that the company had the potential to fit into its current valuation, it stands to reason that it would have held on to more shares and waited for higher prices to sell.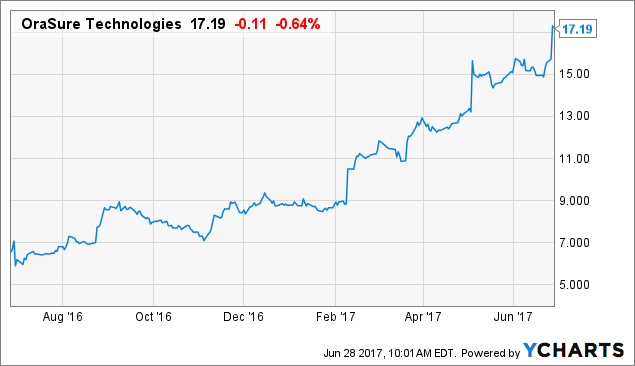 OSUR data by YCharts
Valuation & Conclusion
| | |
| --- | --- |
| | Value (Millions $s) |
| Domestic P-O-C HIV | 19.5-28 |
| Risk Assessment | 20-26 |
| Cryosurgical Systems | 20-26 |
| International P-O-C HIV | 6.25-7.5 |
| P-O-C HCV | 63 |
| DNA Genotek | 144 |
| Cash | 140 |
| Total | 412.75-434, 7-7.38 per share |
The valuation that we arrive at is more than 50% lower than the current price. This is a somewhat generous valuation considering that on a standalone basis, the segments excluding DNA Genotek operate between a minor loss and minor profit, but are being valued at upwards of $150 million. As recent contracts the company has won start prominently showing up in results and do not result in significant earnings, investors may start to value shares more conservatively. Also, scuttled hopes around the company's R&D program for reasons previously mentioned could pressure shares. New and/or increased competition in either of the company's fast growing segments would probably be most detrimental to shares. Accordingly, we recommend that potential investors in OraSure wait for significantly lower prices before purchasing shares and that current investors consider taking at least some profit off the table.
Risks
The biggest risk to my thesis is that there is greater upside in the two growth businesses than I have considered. Another risk to a short thesis on OraSure is that with over $140 million in net cash on the balance sheet and the company posting positive cash flow from operations, OSUR lacks liquidity risk.
This article is part of Seeking Alpha PRO. PRO members receive exclusive access to Seeking Alpha's best ideas and professional tools to fully leverage the platform.
Editor's Note: This article covers one or more microcap stocks. Please be aware of the risks associated with these stocks.
This article was written by
Paul has been managing Noble Equity Fund, LP, a healthcare-focused hedge fund, since January of 2008. In addition, he manages Noble Advisors, LLC, a Registered Investment Advisor. Prior to this, he worked on the sell side at Sidoti & Co. and Deutsche Bank covering various industries. Mr. Nouri graduated from Rensselaer Polytechnic Institute, in 2005, with a Bachelors of Science in Finance and graduated from Yale School of Management in 2017 with a MBA.
Analyst's Disclosure: I am/we are short OSUR. I wrote this article myself, and it expresses my own opinions. I am not receiving compensation for it (other than from Seeking Alpha). I have no business relationship with any company whose stock is mentioned in this article.

We are short OraSure and long Trinity Biotech.
Seeking Alpha's Disclosure: Past performance is no guarantee of future results. No recommendation or advice is being given as to whether any investment is suitable for a particular investor. Any views or opinions expressed above may not reflect those of Seeking Alpha as a whole. Seeking Alpha is not a licensed securities dealer, broker or US investment adviser or investment bank. Our analysts are third party authors that include both professional investors and individual investors who may not be licensed or certified by any institute or regulatory body.