VIX (NYSEARCA:VIXY) popped higher 21.83% today as of this writing as market sector rotation from growth-oriented tech names to value names continues. The wildly cherished FAANG index, comprised of Facebook (FB), Apple (AAPL), Amazon (AMZN), Netflix (NFLX) and Google (GOOGL) (GOOGL), is down 1.7% as of this writing. Below is a good chart to describe the kind of momentum returns we saw in the first half of 2017: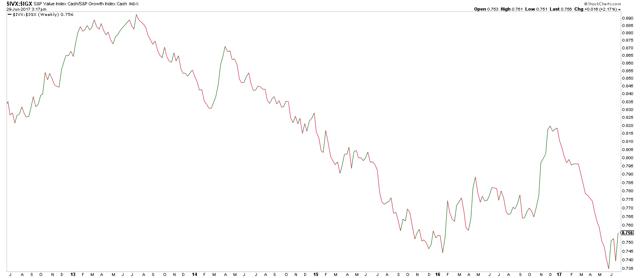 After consecutive months of underperformance, the energy sector (XLE) and financial sector (XLF), heaviest weightings in the value index, are outperforming the growth-oriented tech sector this month. Below are chart comparisons of the performance between energy and tech, and financials and tech:
Energy vs. Tech (XLK)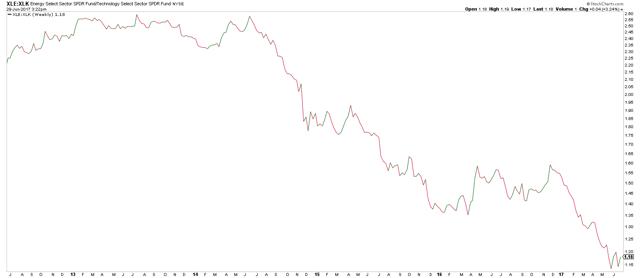 Financials vs. Tech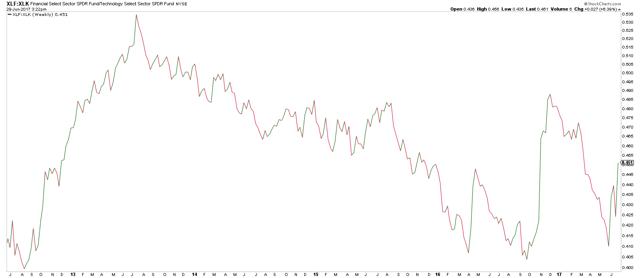 Growth to Value Rotation Underway
On Tuesday, we wrote an OMD titled "Tech to Energy Rotation Underway." The OMD was to highlight to the readers that the trend for the first 5 months of 2017 appears to be reversing with funds allocating to technology equities at the highest percentage since the dot-com crash, and allocation to energy at a 14-year low.
To put it another way, value-oriented names have underperformed tech names since 2007. See chart below: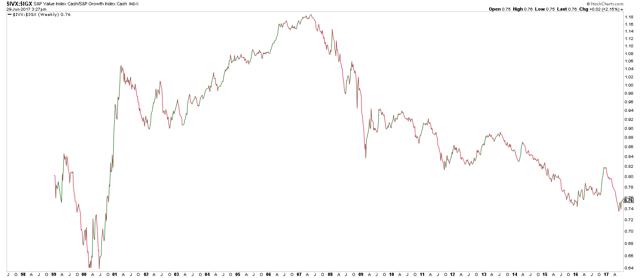 After the commodity index, led by oil, bottomed in early 2016, value-oriented names outperformed growth names for 2016 only to see those gains evaporate in the first half of 2017. Are we finally going to see the value index, after 10 years of underperformance, outperform the growth index?
Our theme for the back half of 2017 is called "Tale of Two Halves" where we believe value-oriented names should continue the momentum we saw in early 2016 and outperform. This means that investors should be allocating capital out of tech and growth-oriented names into financials, value and energy.
For investors interested in value-oriented stock ideas, we think you will find HFI Research to be very complimentary to your stock analysis process, especially in the energy sector. For more info, see here.
Disclosure: I/we have no positions in any stocks mentioned, and no plans to initiate any positions within the next 72 hours.
I wrote this article myself, and it expresses my own opinions. I am not receiving compensation for it (other than from Seeking Alpha). I have no business relationship with any company whose stock is mentioned in this article.