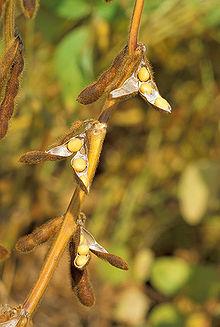 The USDA has reported the 2017/18 outlook for U.S. soybeans with higher supplies, higher crush for meal (although more cattle consumption), exports, and ending stocks. Accordingly, the excess supply words have caught the attention of Hedge Funds, and soya trading has been pretty weak. It's now trending just over the lows of 2016. What should investors in the soya ETF (SOYB) be considering now?
Demand - Supply
The 'oil seeds' WASDE report released by USDA, has forecasted soya down 52 million bushels from last year's 'record' crop, with an expected lower yield offsetting the larger harvested area. With early stocks sharply higher, soybean supplies are projected at 4,715 million bushels, up 4 percent from 2016/17.
The U.S. soybean crush for 2017/18 is projected at 1,950 million bushels, up 25 million from the revised 2016/17 forecast. Domestic soybean meal disappearance is forecast to increase with expected gains in U.S. meat production.

Despite sharply higher beginning stocks in South America this fall, a smaller projected harvest in early 2018 leaves 2017/18 total supplies almost unchanged from 2016/17, limiting projected gains for South American soybean exports. With forecast global soybean import growth of 5 percent, the U.S. soybean export share is projected at 39 percent, slightly up from 2016/17 and close to the 5-year average. U.S. ending stocks for 2017/18 are forecasted at 480 million bushels, up 45 million from the revised 2016/17 forecast.

The 2017/18 U.S. season-average soybean price range is forecast at $8.30 to $10.30 per bushel compared with $9.55 per bushel in 2016/17.

Soybean meal prices are forecast at $295 to $335 per short ton, compared with $320 per ton for 2016/17. Soybean oil prices are forecast at 30.0 to 34.0 cents per pound compared with 31.75 cents for 2016/17
Soya COT Chart
This is the COT chart for beans, but there are other contracts which include Soya meal. Hedge Funds have been selling, as commercials have been trading continually heavier on the long side. It's mid summer though, and apart from numbers for 2017 being expected to be close to 2016, (trading close to that floor), Soya is also traditionally stronger from June to July. There is still room for some down side, but trading is already in the lower quartile of the entire period of 2014-2017. Trading may bounce on break out of the 'grey' down trend, (initial red selling resistance and the grey channel meet), and could be choppy.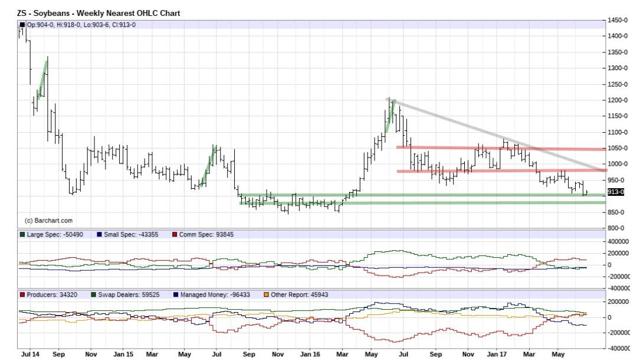 Source: barchart.com
The seasonal chart (along with the green peaks illustrated above) indicate the likelihood of a late June-Mid July pop in Soya, which then weakens into the end of July. With Soya already on a low, it's hard to imagine a break through the 2016 bottom, but that should be included in a potential downside risk assessment.
Seasonal Chart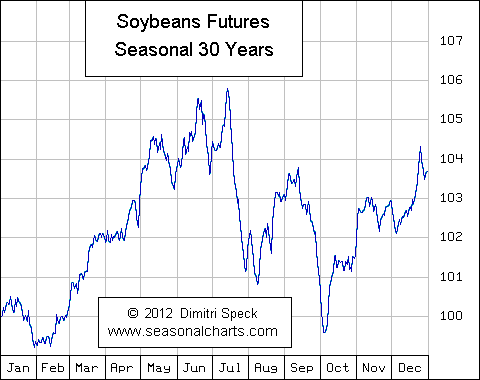 Investing In Soya
Apart from options, it's possible to invest in Soya using the ETF
There will be service charges, which can mount up if you want to trade regularly.
* SOYB Stock Chart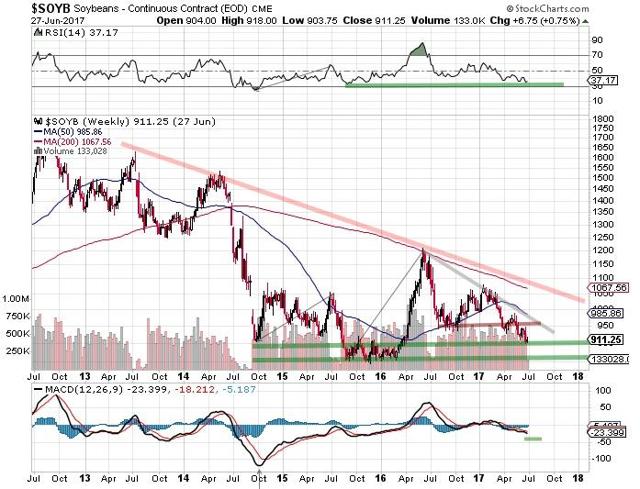 The ETF chart has been trending down since 2012, but found a plateau in late 2015/early 2016. Trading is now just over that plateau, and the RSI is approaching 'over sold' (outlined green). In late 2015 trading reversed up without having achieved an 'over sold' position, but it is still possible and should be allowed for in potential downside risk, with lower prices being achieved. Although I've drawn separate green support bars for Soya, it's an approximation. Trading could fall a little lower than the higher one, and conform to an equidistant 'ABC' wave correction of the 2016 high, with 'A low' being September2016, and 'B high' early 2017; 'C' still completing. Buying volume would enable the black ADX line over the MACD to flatten and then turn up, an indicator of a potential rise.
Seasonally Soya should bounce mid year into July, but investors should be careful of down side reactions until Soya has broken out of the 'red' down trend channel.
Disclosure: I/we have no positions in any stocks mentioned, and no plans to initiate any positions within the next 72 hours.
I wrote this article myself, and it expresses my own opinions. I am not receiving compensation for it (other than from Seeking Alpha). I have no business relationship with any company whose stock is mentioned in this article.