The shift towards longer laterals in shale development is a broadly recognized industry trend. It is worth noting, however, that long-reach laterals have been a staple in the shale industry for quite some time. For illustration, the Bakken has been developed using two-mile laterals for many years now, with thousands of such wells currently on production.
That said, wells with lateral sections longer than two miles have been uncommon. While several operators have recently reported wells with laterals in the 12,000-13,000 range, such wells still represent a negligible fraction of the total well population.
The limitation on the lateral length is often defined by lease geometry. However, technical concerns - the risk of a lost or compromised wellbore or completion job - have driven operators' deliberate election to limit lateral lengths to 10,000 feet or less. The reference to "longer laterals" typically indicates operators' preference for 1.5-mile or 2-mile laterals as opposed to 1-mile (single-section) laterals.
However, as drilling and completion techniques continue to evolve and acreage is blocked up, the industry may need to expand its lateral length vocabulary. There are multiple reasons to believe that two-mile laterals are not the final destination in shale development - three-mile laterals and even four-mile laterals are on their way and will become an effective tool in reducing the industry's cost of supply. Currently, the term "super-lateral" may work well for those wells. Over time, however, "super-laterals" are likely to become just as common as two-mile laterals are today. "Super" may become the new "long."
In fact, several companies already see super-laterals as an important element of their operating strategy.
EQT Corporation (EQT), when announcing its acquisition of Rice Energy (RICE) last week, indicated that it will be able to develop the two companies' merged acreage in Southwest Pennsylvania by drilling wells with an average lateral section of 12,000 feet. These wells are not an exception but a rule: the company currently sees 1,200 such drilling locations across the combined Washington and Greene County acreage. Given the variance of lease geometry, there will be a significant number of wells in the mix with lateral lengths shorter than 12,000 feet but also a significant number of wells exceeding 12,000 feet, i.e. super-lateral wells.
Of note, EQT also expects the density of wells per pad to increase significantly, with a typical pad currently expected to have a dozen wells. This compares to the company's 2016 development plan with a typical lateral length of 6,000 feet and six wells per pad. Needless to say, the expected improvement in operating efficiency and overall cost is tremendous. The expected uplift in terms of the drilling return, assumed $3.00/MMBtu NYMEX natural gas price, is ~18%, which would be a game changer in a low-price commodity environment.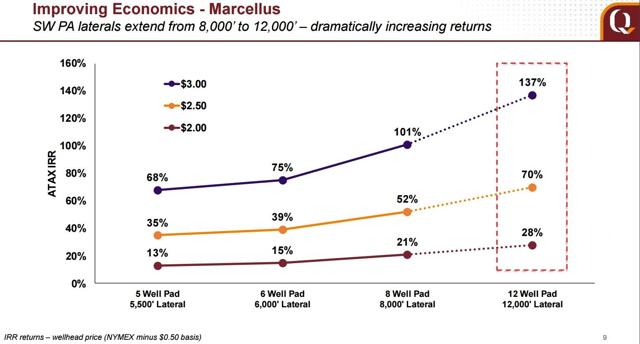 (Source: EQT Corporation, June 2017)
Another Northeast operator, Eclipse Resources (ECR), last week announced that it had successfully drilled its third super-lateral well in the company's Utica Condensate area, the Outlaw C 11H. The well's lateral extension is ~19,500 feet, or almost 4 miles. This is the company's new record. Of note, the well was drilled in just 17 days from spud to total depth. This well will be completed in the third quarter, along with the recently drilled 19,300-foot Great Scott 3H super-lateral.
In the meantime, Eclipse's first super-lateral well, the ~18,000-foot Purple Hayes 1H, has been on production for over a year and has exceeded performance expectations.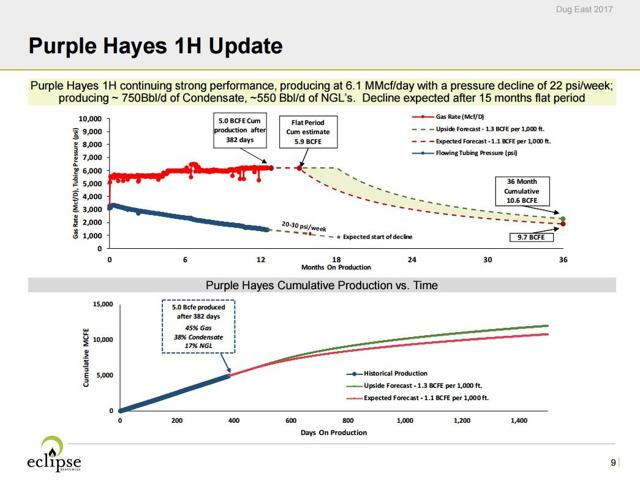 (Source: Eclipse Resources, June 2017)
Perhaps the most notable recent development is the announcement by Chesapeake Energy (CHK) of a ~17,000 lateral the company drilled in its Eagle Ford operation. While it is premature to call three-mile laterals a significant trend in the Eagle Ford, the announcement is an indication of operators' interest in taking the lateral length to a new level.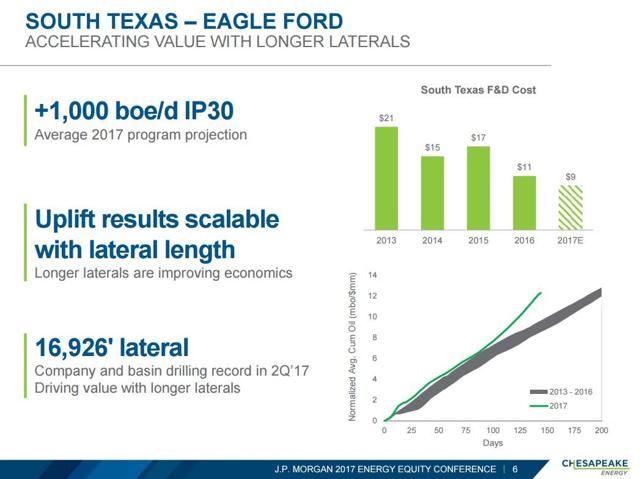 (Source: Chesapeake Energy, June 2017)
It is no surprise that Chesapeake is testing super-laterals. The company's acreage in several plays is extensive and contiguous, potentially enabling longer laterals. In development mode, Chesapeake can benefit significantly from taking the lateral length to a new paradigm.
Several of Chesapeake's operating areas offer potential for super-laterals, including the emerging Powder River Basin where acreage is largely undeveloped and drilling units can be defined as needed; the Eagle Ford; Marcellus North; and Haynesville.
Super-laterals will require significant technical adjustments from the industry. Few rigs are currently technically capable to drill four-mile laterals. Super-laterals also challenge directional drillers and completion service providers. Technical innovation and a new generation of equipment will be required to enable low-risk super-lateral drilling and completions on a mass scale.
That said, recent industry records indicate that the potential to increase lateral length is far from being exhausted, even using the existing equipment and technology base.
To increase lateral lengths, the industry needs to consolidate acreage ownership, which in many plays remains highly fragmented. Consolidation is also needed to achieve other operating efficiencies. The EQT/Rice merger is an illustration of the benefits such consolidation can yield.
Consolidation is particularly relevant in the context of the prolific Permian Basin where acreage ownership remains highly fragmented. The initial phase of consolidation has been ongoing in the last few years, with acreage being transferred from private owners to publicly traded entities. Once that process has run its course, it would be natural to expect the next phase of consolidation in the basin, with publicly traded entities merging to harvest efficiencies of blocked-up acreage, longer laterals and shared infrastructure. This new consolidation phase is rapidly approaching and will yield multiple corporate transactions.
About OIL ANALYTICS
OIL ANALYTICS remains one of the most active offerings on Seeking Alpha's Marketplace, with 300+ exclusive materials posted for its members since the beginning of this year alone (a total of over 1,000 non-public materials available to members).
To illustrate the nature of our work, through our analyses, OIL ANALYTICS accurately anticipated the recent correction in natural gas and recent correction in crude oil, as well as the "bounces" that followed.
Our macro and company-specific views are continuously illustrated in our Model Portfolios and Best Stock Ideas modules.
Disclaimer: Opinions expressed herein by the author are not an investment recommendation and are not meant to be relied upon in investment decisions. The author is not acting in an investment, tax, legal or any other advisory capacity. This is not an investment research report. The author's opinions expressed herein address only select aspects of potential investment in securities of the companies mentioned and cannot be a substitute for comprehensive investment analysis. Any analysis presented herein is illustrative in nature, limited in scope, based on an incomplete set of information, and has limitations to its accuracy. The author recommends that potential and existing investors conduct thorough investment research of their own, including a detailed review of the companies' SEC filings, and consult a qualified investment advisor. The information upon which this material is based was obtained from sources believed to be reliable but has not been independently verified. Therefore, the author cannot guarantee its accuracy. Any opinions or estimates constitute the author's best judgment as of the date of publication and are subject to change without notice. The author explicitly disclaims any liability that may arise from the use of this material.