Welcome to our third edition of Keeping Stock with Tech. In this edition, we focus more on semiconductors, online travel agencies, and IT.
While we acknowledge that there are many tech developments that go on within the tech sector, we're going to focus on the most important data points and trends in our series.
Micron announces Q3'17 earnings
Micron (MU) reported earnings that outpaced expectations on Wall Street. The outpaced recovery was partially owed to better memory/NAND pricing, which contributed to gross margins in the past quarter, and helped boost revenues as well.
Clearly, we're witnessing a different Micron from prior year, and with sentiment at new highs we examine industry data points, and whether recent growth trends are sustainable.
The firm reported record revenue of $5.57 billion, and non-GAAP dil. EPS of $1.62 per share. This compared to consensus expectations of $5.41 billion and $1.51, respectively.
The expectation beat was above consensus on revenue, which grew 20% q/q and 92% y/y (arguably the most important metric for growth oriented investors).
What drove results was heightened gross margins, CNBU (Computer and Networking Business Unit), better pricing, and increases to industry market share due to competitive pricing and various design wins in the autonomous space.
Gross margins are expected to be better than the prior 25nm cycle, as yields/density changes contribute cost leverage. Furthermore, recent data on pricing trends, paired with a CEO change from Mark Durcan to Sanjay Mehrotra, help elevate sentiment as it signals a shift in strategic decision making.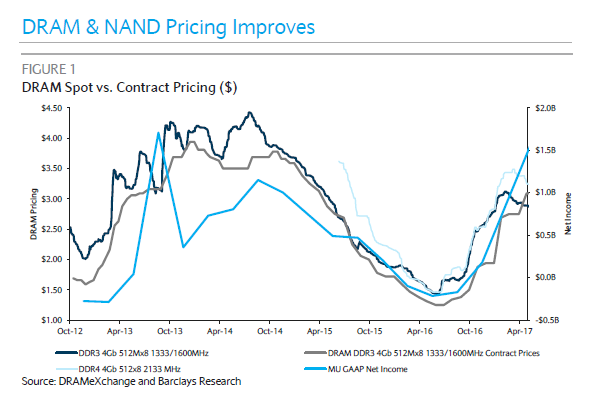 Source: Barclays America Research
NAND/DRAM pricing has continued to trend higher with demand healthy, as smartphones move to higher memory/storage configurations in the current channel. Expectations for sustained 20%-plus CAGR in terms of storage/memory growth seem reasonable going forward.
Cisco hosts its 2017 analyst day with little fanfare
Cisco (CSCO) held its 2017 financial analyst conference on June 28, 2017. While the presentation didn't alter expectations on sales/earnings growth by much, the technical details unveiled sounded promising. The CFO commentary highlighted heightened software/service revenue taking a bigger component of the mix, which was representative of 43% of the total revenue mix. The management team expects the software/service component to become 50% of the total business by FY'20.
The CFO guided $48 billion revenue and $2.39 non-GAAP EPS for FY'17. Non-GAAP operating margin is expected to be flat at 31% for FY'17. Whereas revenue grew 2% y/y when excluding the impact of divestitures, whereas non-GAAP EPS is expected to grow 6% y/y.
The technical details highlighted network security and data analytics, according to James E. Faucette, an analyst of Morgan Stanley Investment Bank:
New security technologies can exploit SDN concepts and stabilize networking replacement cycles - something we call "SDN." This messaging was very clear throughout the Analyst Day, where the focus was on transforming the networking business by offering customers a differentiated platform with security and analytics incorporated (on leading hardware like the new Catalyst 9000 series).
Cisco's stock price slid this past week, but this was mostly attributed to the tech sell-off. While we don't offer equity coverage on IT providers, it's worth noting that Cisco remains a viable defensive play when compared to other names in the space, as its revenue mix is less dependent on network switches, and has transitioned to be less hardware dependent over the years. This transition has been more successful when compared to the sluggish performance of legacy IT models from Oracle (ORCL) and International Business Machines (IBM).
Western Digital litigated by Toshiba to the tune of $1.1 billion in damages
Some negative news hit Western Digital (WDC) shareholders in the past couple days. Toshiba filed suit against Western Digital in Tokyo court this past week. The premise of the legal argument hinged on Western Digital's involvement in the proposed sale of Toshiba's efforts to spin off its memory subsidiary, which is expected to have broad industry implications assuming memory capacity additions can be made following the sale of Toshiba Memory.
Hence, the lawsuit stirs up lots of bad blood between the two companies. In the statement issued, according to EETimes:
Toshiba also claims that WD improperly obtained Toshiba trade secrets by transferring employees of its subsidiary, SanDisk, to WD. Toshiba and SanDisk maintained a long-running collaboration on NAND flash technology development and manufacturing prior to WD's acquisition of SanDisk last year. Toshiba said it would immediately block WD's access to information related to the joint venture between the two firms after WD rejected a contract covering the access to that information.
The proposed sale of the business unit has wide industry implications. At the NASDAQ 36th Investor Program Conference, Ernie Maddock, CFO of Micron, helps summarize the potential implications of Toshiba's NAND business following a sale:
The most important question is whether any acquirer will increase the level of CapEx that is currently planned by that joint venture and that would lead to an expanded industry supply which would have a disruptive effect on the market as we have described today. So, I mentioned earlier, 45%-bit growth, that contemplates our view of what each of the industry participants will be investing to enhance their 3D NAND capability. So, if an acquirer ultimately expanded that, we'd have to take that into account relative to the industry supply dynamics.
Keep in mind, the memory business is extremely sensitive to supply, so if Toshiba is unable to spin off the business unit in a timely manner, it would be additive to industry pricing.
Online travel agency data inflects positively
According to Piper Jaffray research, the US Hotel RevPAR (revenue per average room) grew by 3% y/y in Q2, Europe grew 4% y/y and APAC grew 8% y/y.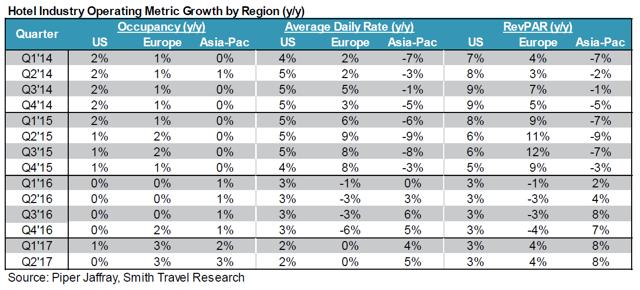 Source: Piper Jaffray
Occupancy trends remained stable in the United States, whereas Europe/APAC showed modest patterns of growth. Overall, the data suggested modest upside to both Priceline (PCLN) and Expedia (EXPE). It's also worth noting that Priceline is taking share internationally, whereas Expedia is expected to grow room nights in the next couple quarters due to easier comps.
Tech stocks take a beating this week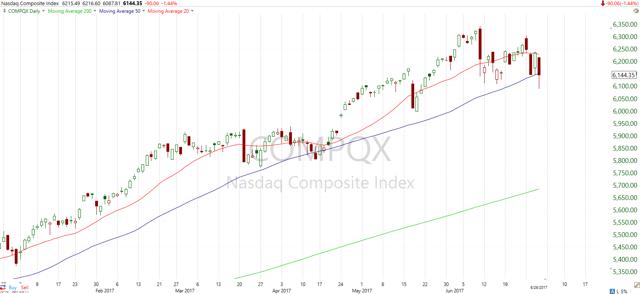 Source: TC2000
The Nasdaq posted its worst month in quite a while. When reviewing asset flow data, the sudden pullback is not at all surprising, though it took some by surprise.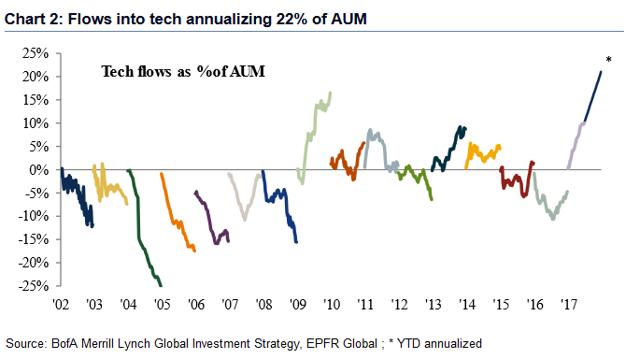 Source: Bank of America Merrill Lynch
Recent flow data suggests tech overbought according to BofAML, hence Nasdaq performance was worse in comparison to the Dow and S&P 500. The economists at BofAML estimate that asset flows in tech grew at an annualized rate of 22%.
Some pockets of overvaluation continue to persist it would not be surprising if we saw valuations deflate for a while longer. Volatility is mostly concentrated in the tech basket when compared to other sectors though financials will likely exhibit similar volatility given the unwind of the Trump Trade.
Standard & Poor's issued a report this morning on political expectations versus reality:
"Relying on the long-standing truth that campaign promises aren't - and often never become - government policy, we largely discounted last autumn's rhetoric in our December forecast for U.S. economic growth," said Beth Ann Bovino, S&P Global's U.S. chief economist. "Now, we no longer believe the federal government will be able to push through even a small infrastructure-spending package, and we expect only moderate tax cuts to be passed early next year as midterm elections approach."
We're not surprised by the divergence in expectations among rating agencies, analysts, and economists. We thought this eventuality would occur, and have positioned our subscribers to hedge market volatility months in advance.
Cho's Investment Research is SA's premier research package that gives investors and traders an additional edge when investing into companies. It's a trade publication, research service and an idea generator. This service comes at a low annual subscription cost of $40/month.
For more information click here.
Disclosure: I/we have no positions in any stocks mentioned, and no plans to initiate any positions within the next 72 hours.
I wrote this article myself, and it expresses my own opinions. I am not receiving compensation for it (other than from Seeking Alpha). I have no business relationship with any company whose stock is mentioned in this article.