Introduction
With prices in the crude market slowly stabilizing, producers are keen on returning to exploration and drilling to recoup losses and resume profit making. However, prices hovering just under $50 means that many wells are not profitable. As such, many producers have begun to work on cost reduction strategies and are flocking to fields with large marketable reserves and high extraction rates.
One such field lies in the Montney formation on the border of British Columbia and Alberta (eastern B.C. and northwestern Alberta). The Montney shale play is expected to be a major contributor to the whole market and has investors positioning themselves for a chance to make a profit. Despite the consensus expectation of profit from this well, it stands to reason that some producers will excel more than others.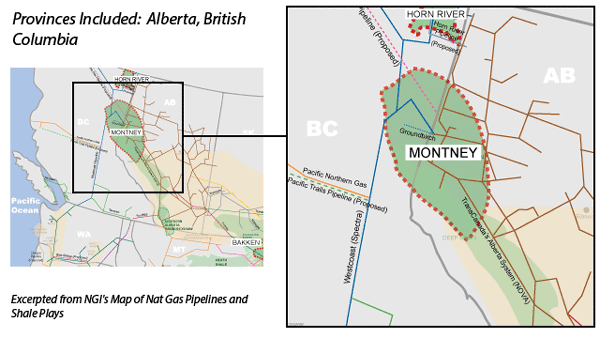 Background
The Montney formation discovered in 1962 is located on the border of British Columbia and Alberta, with Texaco drilling the first well. Key cities in and around the area are Fort St. John, Grande Prairie, and Fort Nelson. In recent years, the formation has emerged as a major resource for shale oil and gas, with a 2013 study providing the following estimates: 449tcf of marketable natural gas, 14,521 million barrels of marketable natural gas liquids, and 1,125 million barrels of marketable oil. The natural gas estimate is such that at 2012 levels of consumption in Canada, the R/P ratio would be 145.
British Columbia and Alberta produces natural gas and natural gas liquids while oil is produced in Northern Alberta. B.C. The play has 271tcf of NG, 12,647 million barrels of NGL and 29 million barrels of oil while Alberta has 178tcf of NG, 1,1874 million barrels of NGL and 1096 million barrels. While the recoverable crude is not particularly remarkable in the world market, the NG reserve is one of the world's largest and could explain why British Columbia created a Ministry of Natural Gas Development.
Producers
The major operators in the region include a PETRONAS subsidiary (Progress Energy Canada Ltd.), Painted Pony Energy Ltd. (OTCPK:PDPYF), Royal Dutch Shell plc. (NYSE:RDS.A) (NYSE:RDS.B), Encana Corporation (NYSE:ECA), Murphy Oil Corporation (NYSE:MUR), Arc Resources Ltd. (OTCPK:AETUF) and Chinook Energy (OTCPK:CNKEF).
These companies do not equal in the world market and are not operating in the region in equal capacities. The most notable in the group is Royal Dutch Shell plc (Shell), a vertically integrated company that is active in all areas of oil and gas from extraction to marketing and transportation. Beginning in October 2015, Shell began a reassessment of its short-term development plans and halted production in Carmon Creek (northern Alberta) due to lacking infrastructure.
In October 2016, Shell sold $1.3 billion worth of developed and undeveloped land to Tourmaline as part of a $30 billion asset divestment, and earlier this year, an $8 billion sale of assets to CNRL was concluded. This, however, is not indicative of Shell pulling out of the Alberta market as it holds about 650,000 net acres of land in Alberta with part of that acreage in Montney.
Chinook Energy, a Calgary-based firm, sold approximately $10.5 million in assets in February to facilitate a more aggressive exploitation of its holdings in Montney. In the first quarter of the year, the company increased production from 3,030boe/d to 5,050boe/d and ended the quarter with a net surplus of over $25 million. Also, Chinook has reduced its cost/well by 30% while increasing its well count by three.
While these companies are set to make a healthy profit, Encana Corporation has set ambitious goals. Encana is the largest Montney producer with expectations of doubling its liquid production by 2019. To facilitate this expected growth, it has begun building support infrastructure in the form of new facilities and expects them to be operational by Q4 of 2017.
Seven Generations Energy is on par to exceed Encana in production volume with current projections putting its average extraction rate at over 180,000boe/d by the end of the year. This growth is supported by the rapid development of wells and rigs, as well as a 146% increase in funds from operations.
The other companies making aggressive plays in the region are Arc Resources, which has Montney accounting for 85% of its average Q1 production and Painted Pony Energy Ltd., which has the end of year projections set at about 73,000boe/d.
While the other companies mentioned earlier are poised to see good returns on investment, they are relatively small players in the region when ranked by infrastructure, production volume, and available funds. A company not mentioned earlier is Blackbird Energy Inc. (OTCPK:BKBEF). Its focus is less on crude and NG/NGL and more on the condensates sued as diluents in production. The temporary shutdown of Fort McMurray led to a decrease in condensate demand. However, with recovering production in Canada, condensate has the potential to regain its value and earn a premium.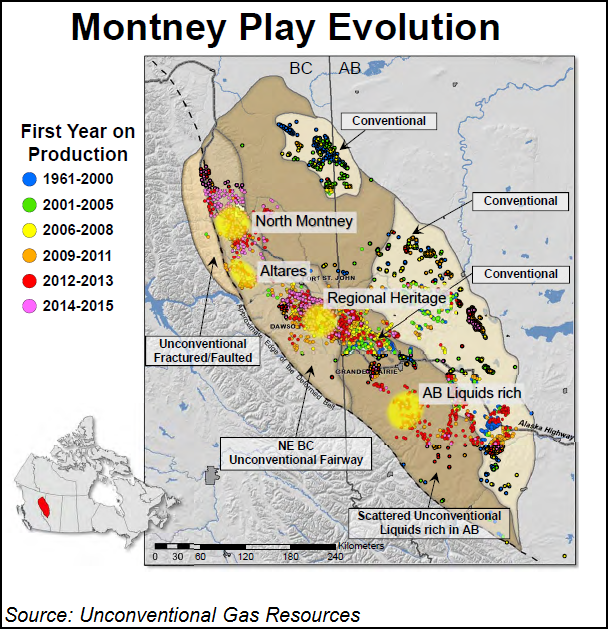 Public Policy
Due to the location of the Montney formation (half in B.C., and half in Alberta), there are differences in the policies and regulations governing production. One such policy is Alberta's carbon levy on large emitters. It is a tradeable emissions permit that allows the market to self-adjust.
Compliance is achieved by reducing emissions, contributing a $30/excess ton of emission to Alberta's Climate Change and Emissions Management Fund, purchasing carbon offset credits or using emission credits from facilities that achieve more than the required abatement. As of January 1, 2017, all facilities producing over 100,000 tons of greenhouse emissions must reduce emissions by 20% annually.
In British Columbia, the carbon tax begins at $10/tonne of emissions and will rise to $50/tonne of emissions. Regarding transportation, there is a need for expansion of pipelines in the region, but regulatory delays in terminal approvals and opposition from environmentalist have led to a stall in infrastructure development. This is not to say that transportation is a problem in the region, as there is an adequate network of pipelines and processing plants. However, if the region is to have a significant impact on shale and LNG production, more terminals, pipelines, and plants will need to be approved to increase export capacity.
Discussion
The Montney play is poised to be a major source of shale oil, gas, and NGL. The size of the recoverable reserves makes it one of the largest natural gas fields in the world coupled with a high rate of recovery. Current cost saving efforts combined with limited competition in Canada has the producing and infrastructure companies set to make a good return on investments, especially when coupled with returning investor confidence because of stabilizing prices.
A major factor to be considered is the current political climate in the region. Increased environmental activity and the perception of the oil & gas industry as exploitative could lead to delays in approval of pipeline projects. Without sufficient transport capacity, export costs may become too prohibitive, and production will be reduced accordingly. One possible outcome of this scenario is that neither the region nor the producers live up to market expectations. However, there is a push for a reduction in coal dependence, which could lead to natural gas filling in extra demand.
Currently, it's deciding which of the above scenarios is more likely or which will have a greater impact. However, neither of them should result in a loss of profit for most producers in Montney. Other possible risks include current cost-paring measures. Well production costs have dropped to below $5 million but barring technological progress, it is uncertain how much lower costs can go. Furthermore, the market expectation for 2018 is a gradual price increase, which will put upward pressure on producer costs.
Also, delayed approval of needed pipeline and processing capacity is a limiting factor on the accessible markets of Montney crude and gas. Without an expansion of west coast capacity, producers will be dependent on domestic demand and U.S. buyers. As with other potential risks, this will not undo the profit that can be made, but it will limit the price the producers in Montney can command. A single buyer market puts all sellers at the mercy of the buyer, especially when the U.S. has the capacity to increase domestic production if oil prices recover enough for its shale production to become economically viable.
Conclusion
The Montney shale is a major play in Canada with only the Alberta deep basin as a domestic competitor. While there are uncertainties associated with investment in the region, the investment decision is less on whether to invest but rather on which producer(s) and companies to invest in. Chinook Energy, Point Loma, etc., are positioning themselves for high, relative returns on investment. While companies such as Encana, Royal Dutch Shell plc., Arc Resources, etc., are set to make excellent returns but not necessarily as impressive regarding percentage growth. Painted Pony Energy is also poised to perform well.
Many of the Junior Producers in the Montney shale are penny stocks and knowing the risks before investing is advisable.
Additional Information for Investors
The debt burden of companies should be looked at carefully. While profit can be made, a high debt will result in interest rates and repayment of credit, which will reduce gross profit. Then the holders of preferred shares will be paid before holders of common shares. For example, Exxon (NYSE:XOM), Shell, BP (NYSE:BP), and Chevron (NYSE:CVX) have over $184 billion in combined debt but are staples of the energy sector and will probably not suffer any adverse consequences.
In 2018, about $21 billion in debt is expected to mature. By 2021, the burden is expected to be almost $29 billion. There is an expectation that about a third of companies will have debt that is 10 times their earnings. As such, it is important that the financial statements of companies are examined, and companies with high debt burdens (which are most likely to restructure or default) are avoided.
It is important to note that most oil companies will carry debt, in some manner, to facilitate expansion and project development. However, some have high debts, little potential, and low liquidity. Between the smaller firms (Chinook, Painted Pony, Point Loma), Painted Pony is the least favorable due to its debt to income ratio compared to the other two. Other companies that should be avoided for a combination of high debt and illiquidity are Greenfields Petroleum Corp. (OTC:GEEPF), Trilogy Energy Corp. (OTCPK:TETZF), Sterling Resources Ltd. (OTC:SGURF), Bonavista Energy Corp. (OTCPK:BNPUF), and Baytex Energy Corp (NYSE:BTE).
Disclosure: I am/we are long CNKEF, PRPRF.
I wrote this article myself, and it expresses my own opinions. I am not receiving compensation for it (other than from Seeking Alpha). I have no business relationship with any company whose stock is mentioned in this article.
Editor's Note: This article covers one or more microcap stocks. Please be aware of the risks associated with these stocks.