Key agendas: iPhone 8 launch timing, memory supply, passive components supply, TMC deal
We visited major IT H/W companies in Taiwan and Japan from June 11 to 16 to examine and discuss the key issues in the IT H/W industry. Through our visits, we found that: 1) various samples of the iPhone 8 OLED model will be mass produced until end July and from end-August, the mass production of display components is slated to begin; however, the initial production volume should be limited to 3mn units and the total production volume of the OLED model is unlikely to surpass 50mn units in 2017; 2) in 3Q, PC DRAM price is projected to rise 3% QoQ, server DRAM 3-8%, and mobile DRAM 2-3%; NAND price is also set to increase by as much as 5% QoQ on tight supply caused by the 2D-to-3D NAND transition; 3) major MLCC manufacturers are moving to up their prices as the tight supply situation for smartphone MLCC intensifies with Japanese passive component makers working to meet increased demand from the automotive industry; and 4) the INCJ-Broadcom (BRCM) consortium takes up an advantageous position in bidding for Toshiba (OTCPK:TOSYY) Memory Corp but there remain many uncertainties given the objection from Western Digital (WDC).
Server DRAM shipments to outnumber mobile DRAM shipments by 2021
This year, server DRAM's bit growth, projected at 28.2%, is likely to top other DRAM chips thanks to increased investments into data centers. By 2021, we expect server DRAM shipments to outrun mobile DRAM shipments, given the spread of the 5G mobile communications and burgeoning demand for data centers for AI computing. Mobile DRAM led growth in the DRAM space for the past seven years but over the next decade, server DRAM will likely provide the major growth catalyst.
Samsung Electronics is our favorite, followed by SEMCO, SK Hynix and Innotek
We present Samsung Electronics (OTC:SSNLF), Samsung Electro-Mechanics (SEMCO), SK Hynix (OTC:HXSCL), BUY), and LG Innotek as our IT H/W sector top picks. We especially prefer Samsung and SEMCO to others given the possibility that the iPhone 8 production volume will be smaller than expected.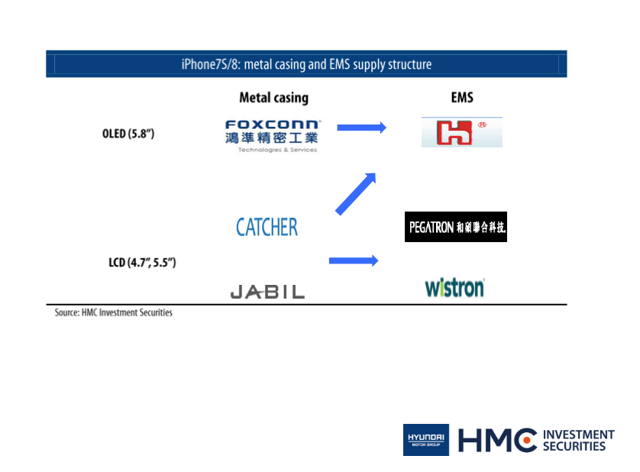 Key takeaways from our visits to Japan/Taiwan
iPhone 8 launch will not be delayed much but supply to be limited
We visited major IT H/W companies in Taiwan and Japan (Nanya Tech, AUO (AUO), United Microelectronics Corporation (UMC) , Catcher, Nanya PCB, Toshiba (TOSCYY), Sharp (OTCPK:SHCAY), Hitachi (OTCPK:HTHIY), TDK (OTCPK:TTDKY), Advantest (OTCPK:ATEYY), and Softbank (OTCPK:SFTBF)) from June 11 to 16 and also visited key research institutions such as TrendForce and IHS to discuss the industry's hottest topics of late such as: 1) the launch time of the iPhone 8 and the latest overview of Apple's supply chain; 2) memory inventory conditions and 2H chip price outlook; 3) the bidding for Toshiba Memory Corp; 4) the latest R&D news on next-generation HDI technologies such as SLP; 5) outlook of passive components supply and demand; and 6) the camera module market.
After the visits, we concluded that: 1) various samples of the iPhone 8 OLED model will be mass produced until end-July and from end-August, the mass production of display components is expected to begin. However, the initial production volume should be limited to 3mn units and the total production volume of the OLED model in 2017 is unlikely to exceed 50mn units.
2) Stretching for four to five weeks, the current DRAM inventory level looks normal. However, due to a surge of demand for newly launched products likely in 2H, 3Q will still see PC DRAM price rise 3%, server DRAM 3-8%, and mobile DRAM 2-3% QoQ. In 4Q, DRAM prices will largely remain flat QoQ due to inventory controls. As for NAND, tight supply stemming from the 2D-to-3D NAND transition should limit the price increase in 3Q to 5% QoQ but we expect to see bigger price fluctuations in 4Q as new fabs come on stream.
3) The preferred bidder for TMC will be decided on June 21. The chance of Hon Hai (OTC:HNHPF) sealing the deal is slim and the candidates are being narrowed down to the INCJ consortium (which is a preferable option to tackle anti-trust issues) and the Broadcom (NASDAQ:AVGO) consortium. SK Hynix (OTC:HXSCL) may join the INCJ consortium but uncertainty remains as Western Digital filed for an injunction in a California superior court to block the sale of TMC.
4) As for the electronic component market, major MLCC manufacturers are moving to up their prices as the tight supply situation for smartphone MLCC intensifies with Japanese passive component makers focusing on meeting increased demand from the automotive industry. Furthermore, front- and rear-camera modules increasingly come with higher specs and the demand for 3D-sensing cameras is expected to soar too. We also found out that the number of substrate-like PCB (SLP) suppliers for the iPhone 8 has increased from three to over five companies.
It has become difficult to determine weight on the IT H/W sector after the recent strong rally. However, we still believe the IT H/W sector deserves an Overweight rating considering: 1) the growing likelihood of the server DRAM market outgrowing the mobile DRAM market in the future; 2) supply squeeze of smartphone passive components as passive component makers move to meet the demand from the automotive industry; and 3) increasing specs and numbers of smartphone cameras. Our top picks are Samsung Electronics (005930.KS, BUY), Samsung Electro-Mechanics (SEMCO, 009150.KS, BUY), SK Hynix (Hynix, 000660.KS, BUY), and LG Innotek (Innotek, 011070.KS, BUY) in order of preference in light of uncertainty over the production volume of the iPhone 8.
iPhone 8 spec decision imminent; Foxconn exclusively makes OLED model
Our previous visits to Apple's supply chain in Taiwan and Japan in March made us raise doubts over the iPhone 8's timely launch. Of the problems that were raised at the time (wireless charging, fingerprint recognition, and rapid charging functions), wireless charging and fast charging issues appear to have been solved. There have been rumors that only the OLED model with a rear glass body would come with wireless charging support given the properties of metal. However, after talking with suppliers, we now believe the problems are solved and the LCD model will offer wireless charging support. However, problems remain with the fingerprint recognition system. With the front display lacking a home button, it has become difficult to place fingerprint scanner on the front display. So far, Apple has considered: 1) placing a transparent film with a fingerprint sensor chip on the front display based on Nissha Printing's technology; 2) mounting the sensor on the back just like the Galaxy S8; and 3) removing the fingerprint scanner altogether and replace it with a 3D body sensor. However, transparent film makes the device susceptible to heat and the continuity of the display quality deteriorates in the part where the film is mounted. In the case of the rear fingerprint sensor, the location of the NFC (Near Field Communication) for Apple Pay becomes ambiguous, and a change of design is required. In this case, there could be criticism inside the company that it is mimicking Galaxy S8's design. Lastly, the idea of a 3D sensor replacing fingerprint scanner is quite dramatic but it is a plausible scenario because Apple has achieved much success by changing H/W drastically in the past. However, it may cause discomfort to consumers if they have to scan their face to use Apple Pay. Anyways, Apple does not have much time and needs to make decisions promptly to meet the iPhone 8 release deadline.
TSMC began producing the A11 processor in May, and several materials suppliers also started producing related components. However, the scale of production was too small to be considered mass production, which leads us to believe they were sample productions. However, considering the time of new iPhone production, Apple will have to decide the final specs by no later than end-July. According to the iPhone supply chain, this is the first time that sample productions have been delayed this much and specs have changed so many ways. It is likely that Apple has internally finalized the specs and timeline for the new iPhone. However, we think Apple will refrain from talking in detail about the final specs until the end of July to prevent partner companies from stopping spec developments prematurely. We also think Apple will do whatever it can to prevent an unprecedented supply suspension of the new iPhone that might happen this year. It appears that the volume for memory semiconductors, APs, cameras, and passive components—which have all cleared conditions for mass production—has not been adjusted for 2017. We believe Apple is aware of the overall tight supply situation of passive components and memory semiconductors in the industry.
After visiting Taiwanese companies, we were able to understand the production structure of the new iPhone 7S and 8. The metal casing for the iPhone 8 OLED model is exclusively supplied by Foxconn Tech & Service, a subsidiary of Foxconn (Hon Hai Precision). Foxconn is also expected to be the exclusive electronic manufacturing service (NYSE:EMS) for the OLED model. Meanwhile, the metal casing of the LED model will be supplied by Catcher and Jabil (JBL). Pegatron (OTC:PGTRF) is expected to mass produce the 4.7-inch 7S and Wistron 7S+. Apple's security policies have become even stricter as Apple has given Foxconn the exclusive right to manufacture the OLED model. This suggests that there are high uncertainties over the OLED model. We estimate that the OLED model's production volume for this year has fallen to around 50mn units.
Meanwhile, the production of the iPhone 8 is expected to begin in full throttle in early September. The iPhone 7S/7S+ are slated to go into mass production in August. Apple is likely to try to release the iPhone 8/7S before the end of September. The iPhone 8's 3Q production volume that we estimate from the Taiwanese supply chain is about 3mn units, and the iPhone 7S/7S+ 25mn units. We do not believe Apple is considering releasing the iPhone 7S/7S+ prior to the release of the iPhone 8 because it would not generate meaningful profits when expectations for the iPhone 8 are skyrocketing. That said, the initial production volume of the iPhone 8 is so low that even if it is unveiled in September, it will be available in only a limited number of countries. The iPhone 8's production volume in 4Q is estimated to be 47mn units, and it looks impossible for Apple to sell more than 50mn iPhone 8s this year.
So why is it difficult to sell more than 90mn units of the iPhone OLED model, which was an initial projection made at the beginning of the year? The fingerprint issue was perhaps the main reason, but there are also rumors that the OLED display requirements, in terms of specs and quality, are more difficult to fulfill compared with the other OLED products that Samsung Display previously supplied Samsung Electronics and Chinese players. It seems that the display is not going to be rigid OLED. Foxconn acquired a 3D cover glass company G-Tech in 2016 and established a 3D cover glass company in Lan Kao, next to Zhengzhou in China. It is believed that Apple also tested the products of Biel Crystal, which is based in Guangdong Province, China. However, after a series of durability drop tests, Apple has probably lowered its ambition from 3D to 2.75D, 2.5D, and 2.35D with the glass curve becoming gentler in the process. Due to several issues, Apple's OLED production is unlikely to meet the initial optimistic expectations. Having said that, we do not need to hold a negative view toward the Apple OLED supply chain in the long term because the yield will improve over time. What is noteworthy here is the pricing strategy of Apple's LCD models. Its OLED model is expected to come with a price tag of over USD1,000 (for 64GB), but Apple will likely slash the prices of the LCD models iPhone 7/7+ leveraging its bargaining power over suppliers. As such, we expect the sales volumes of 7S and 7S+ to fall below expectations.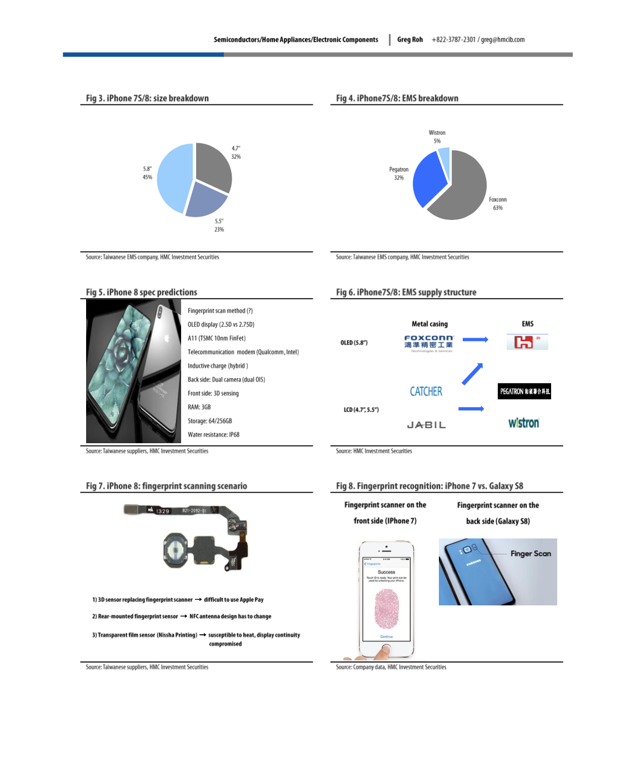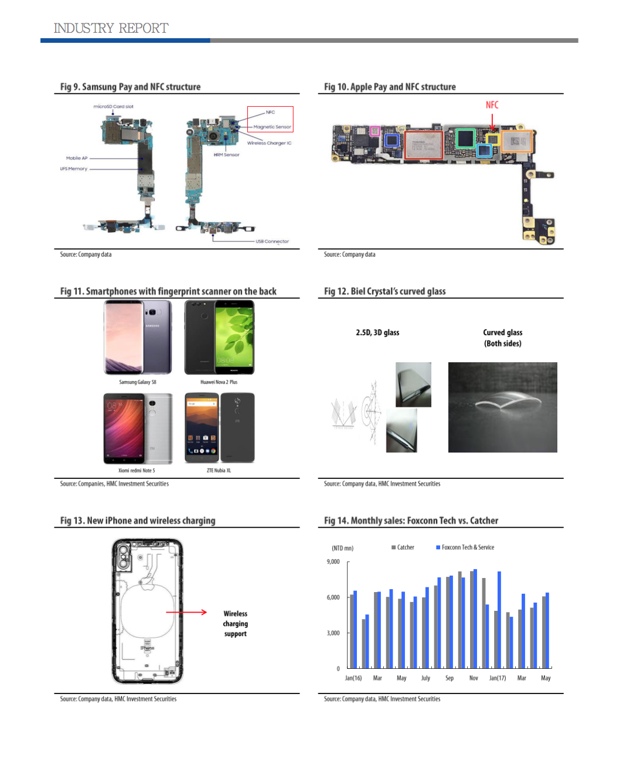 iPhone 7S/8 supply chain: cameras, passive components, motion sensors
The iPhone 7+, which comes with dual cameras, enjoyed robust sales in 1Q by volume, enough to overtake iPhone 7 sales. The soon-to-be-revealed iPhone 8 is expected to have dual cameras on the back based on vertical dual OIS. On the front, it will likely have a 3D sensing camera that is likely to emerge as a new biometric solution. Taking into account the image sensor and lenses, the device will have four cameras in total. LG Innotek is likely to supply both rear cameras with dual OIS and 3D sensing cameras. Sharp is also expected to supply dual cameras, not only for the existing models but also for those with dual OIS. Sharp seems to have gained an advantageous position as an Apple supplier after being acquired by Foxconn. However, since this is the first time that it supplies Apple with dual cameras, its market share within Apple will begin to pick up only from 2018.
Our visits to Japanese passive component makers confirmed that MLCC is in tight supply for Apple even after Murata's capacity expansion, because most of MLCC are now allocated to automotive electronics. We especially note that the number of MLCC used in the iPhone 8 should increase up to 1,000 from 700 previously and the percentage of high-capacitance MLCC is also expected to rise further. In addition to entrenched players like Murata (OTCPK:MRAAY), Taiyo Yuden (OTCPK:TYOYY) and Kyocera (KYO-OLD), we expect SEMCO to be able to capitalize on this trend given its strength in high-capacitance MLCC.
Meanwhile, TDK sold Saw Filter and Duplexer to RF360 Holdings, Qualcomm's (QCOM) Singapore-based joint venture. With the proceeds from the deal, TDK (OTCPK:TTDKY) then acquired InvenSense, which exclusively supplied motion sensors to Apple. However, Apple, in an effort to cut component prices, added Bosch and STMicroelectronics (STM) to its motion sensor vendor group, which will diversify its motion sensor supply lines.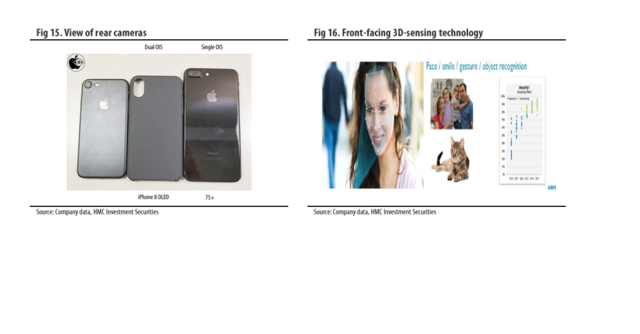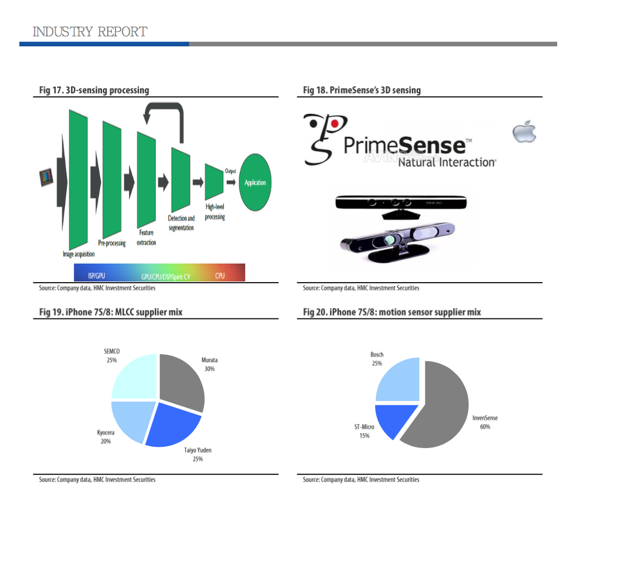 iPhone 7S/8 supply chain: semiconductors
Unlike the iPhone 7, Samsung's share of memory semiconductor for the iPhone 7S/8 is likely to decline. It has less to do with Samsung but more to do with Apple's pricing conditions, which Hynix, Micron, Toshiba, and Western Digital were more willing to accept than Samsung. The iPhone 8, which comes in OLED, is expected to have 3GB LPDDR4, 7S 2GB, and 7S+ 3GB. Samsung and Hynix install LPDDR4X, which consumes a small amount of power, on their latest models, but Apple (AAPL) is expected to use LPDDR4, in which Hynix's share will likely be the largest. Hynix is slated to supply 21nm-based LPDDR4, Micron (MU) 20nm, and Samsung 18nm.
As for NAND, Toshiba Memory has willingly accepted Apple's pricing conditions, thus it will probably be the largest NAND supplier for the iPhone 7S/8 together with Western Digital. Toshiba is set to supply 48-layer 3D NAND-based eMMC for the 64GB and 256GB versions. Samsung will have a relatively bigger share in the 256GB version while Hynix takes up a bigger share in 32GB. Meanwhile, TSMC is likely to dominate the supply of 10nm FinFet-based A11 chips again this time. TSMC appears to have begun mass producing the products in mid-May. This is not something that erases the possibility of a delay in the launch of the OLED model because 10nm-based A11 chips are also used in the 7S and 7S+, which come in LCD.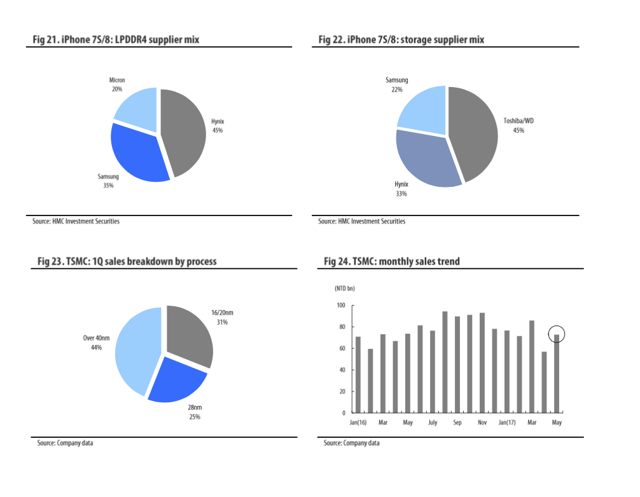 iPhone 7S/8 supply chain: display
The iPhone 8's OLED display should be supplied exclusively by Samsung Display, and we expect Samsung Display to dominate the respective market until 1H19. LG Display (LPL) has teamed up with Sunic System for RGB pixel deposition, but the yield seems to be very low. BOE has recently been ramping up production using Canon Tokki's equipment, but the cell yield is still less than 20%, meaning it will take a lot of time before mass production. LG Display is likely to scale up investments in the 6th-generation flexible OLED investment beginning at end-2017 by using Canon Tokki equipment. However, it will still take a long time until the yield is stabilized. Most players (equipment, parts, materials) remain dependent on Samsung Display because of Samsung Display's long-standing monopolistic position in the industry.
We especially note that consumers can raise issues even with the smallest difference in display. As such, for the time being, Apple would not be able to work with multiple vendors for the OLED model as it did in the past for the LCD models. In conclusion, a vendor diversification for specific models will likely take longer than expected. In the meantime, Sharp, which supplied iPhones' LCD display, has shifted its R&D focus to 4.5th-generation OLED. As such, the current Kameyama plant #1 unit (which used to supply the LTPS panels for iPhones) is likely to have different clientele and applications (e.g., notebooks). Meanwhile, cash-stricken Japan Display, incapable of sixth-generation OLED capex, is preparing for mid- to long-term restructuring.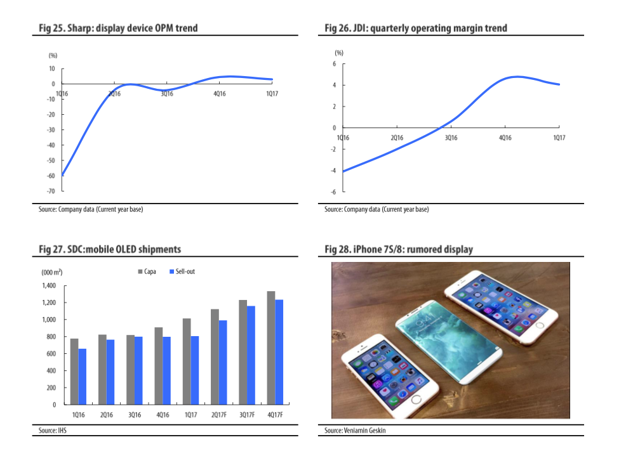 iPhone 7S/8 supply chain: substrate-like PCB (SLP)
Our visits to Taiwan and Japan confirmed that the profitability of major PCB makers in Japan and Taiwan has continued to deteriorate. While Korea's rigid and FPCB industries are expected to rebound on Samsung Display effects and recovering smartphone shipments at Samsung Electronics, conditions have been not as good for Taiwanese and Japanese PCB companies because of their high exposure to Intel (INTC). However, since Apple has seemingly chosen SLP over HDI for the iPhone 8, Taiwanese and Japanese companies specializing in both PKG and HDI stand to benefit. In particular, Apple has reportedly raised the ASP of SLP, which should work to boost SLP margins.
SLP is a technology that has applied semiconductor PKG technology to HDI technology. It significantly reduces line and space width, which helps to stack PCBs at reduced thickness. At earlier stages of the roadmap the technology is called a modified semi-addictive process (mSAP), and at the more advanced called SAP. Samsung is likely to apply the said technology to the Galaxy S9. However, further technological advances are required in order to reduce thickness considerably, so mSAP at this stage seems like an over-spec from a technological viewpoint. The mSAP technology requires heavy investments and rich experiences in semiconductor PKG and as such it may bring about consolidations of small-scale PCB manufacturers which heavily depend on HDI. We believe this bodes well for SEMCO, Korea Circuit, and Daeduck Electronics.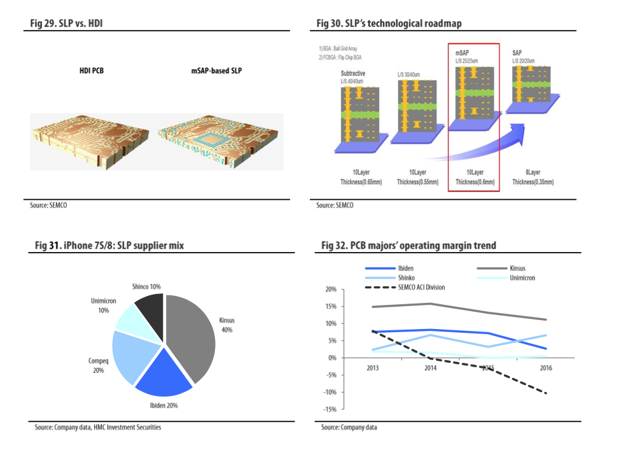 In China, Oppo and Xiaomi outperform others by volume
Our visits to the Chinese smartphone supply chain confirmed us that Oppo is doing quite well as opposed to its affiliate Vivo. We have also learned that Huawei's shipment volume has come down to low-30mn units in 2Q whereas Xiaomi's prospective 2017 smartphone shipment has rebounded to around 75mn units thanks to its India-bound exports of low-end smartphones RedMi 4a. The moods are mixed among Chinese smartphone makers again this year. Although some point out China's excessive smartphone channel inventory, we believe the current problems have more to do with deferred demand from people waiting for new H/W innovations. It appears that consumer response toward Oppo's R11, which comes with a 20-megapixel front and dual rear cameras, is positive. On the other hand, Huawei is battered by the P10 memory issue which has severely dampened its product reliability in China. To further elaborate on the matter, Huawei said that P10 supports UFS (Universal Flash Storage) 2.1 which enables an embedded memory interface to simultaneously read and write. However, it actually offered three models also equipped with the less smart UFS 2.0 and poorly performing eMMC at the same price. As a result, the distrust issue with Huawei has spread worldwide. It seems that it will take a long time before the company regains consumer trust over its premium smartphones. We believe Oppo's and Xiaomi's strong performance is positive for SEMCO but the fall of Huawei will be negative for Innotek.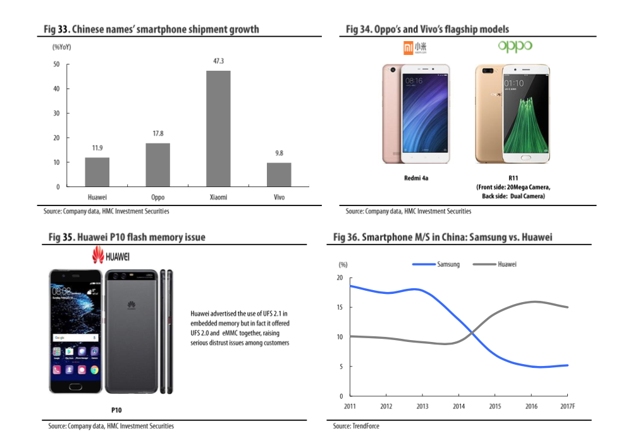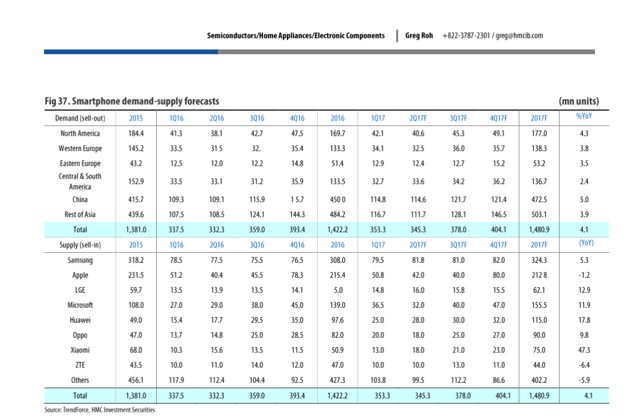 Japan's concentrated efforts on auto elec., opportunity for Korean players
MLCC prices are rising across all areas, from low- to high-capacitance products. It is almost the same as the DRAM price increase witnessed in 2H16. In 2H16, PC DRAM prices rose sharply as demand for gaming PCs and enterprise PCs was higher than expected while supply was tight because of soaring demand for mobile and server DRAM. In the MLCC space, the prices of smartphone MLCC as well as low-capacitance MLCC are both rising, as Murata has focused on the production of powertrain MLCC, which is about five times more expensive than others. Indeed, Taiwan's Yaego, a key player at the lower-end of the market, has reportedly raised its MLCC prices by more than 30%. Through this visit, we also found that TDK has significantly sized down its handset and PC MLCC businesses to better focus on automotive electronics. At Murata, automotive MLCC sales are expected to exceed smartphone MLCC sales by 2021. Similarly, in the MLCC market, automotive MLCC sales are likely to surpass smartphone MLCC sales by 2025. We note that automotive MLCC prices are more than five times higher than those of smartphone MLCC due to reliability test issues. Besides, the number of installed MLCC is growing due to an increased use of electronic control unit (ECU) amid efforts to enhance ADAS. Smartphone's advancement is also fuelling demand for high-capacitance MLCC as more smartphones offer various features like dual cameras, biometrics, and AI. Against this backdrop, Both Murata and Taiyo Yuden in Japan are upgrading their sales estimates for capacitors this year despite a stronger JPY. However, TDK expects its earnings to fall YoY because its MLCC business is comparatively weak and its core business is inductor.
At SEMCO, demand for MLCC used in car infotainment has increased since Samsung's acquisition of Harman. In the meantime, Murata and TDK are concentrating more on MLCC for ECU, which is three times more expensive than car infotainment MLCC. As a result, Europe's major auto electronics makers are increasingly dependent on SEMCO for the supply of car infotainment MLCC. As such, SEMCO needs to expand its MLCC lineup to include MLCC for ECU in the mid- to long-term. Generally, in order to supply MLCC for ECU, a company has to have a dedicated production line before applying for approval. In the short term, we have a positive view toward SEMCO because we expect MLCC shipments and prices to increase and automotive MLCC's portion of earnings to increase.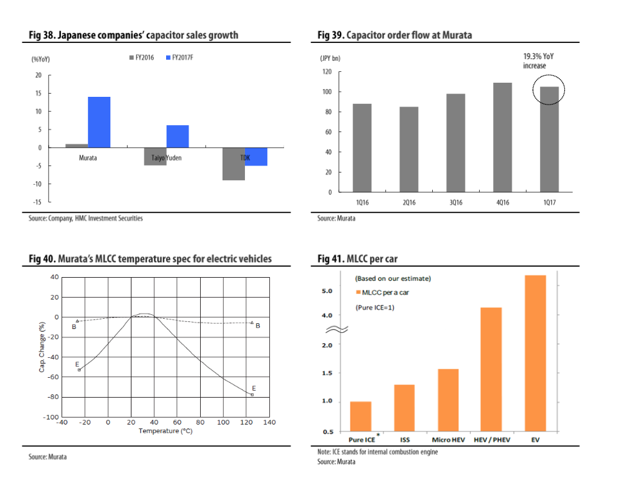 DRAM and NAND prices to rise further in 3Q
As of end-May, PC DRAM and NAND prices were similar to their prices one month earlier. If the current prices maintain, the contract price of PC DDR4 memory chip is expected to grow 9.2% QoQ, and 64Gb NAND MLC 8.5% QoQ. After visiting Taiwan, we now believe the contract price of PC DRAM will increase an additional 2-3% in July. Mobile DRAM prices, which account for 43% of total DRAM demand, should rise about 3% QoQ in 2Q. Considering smartphone makers' efforts to make smartphones that consume less power, demand for LPDDR4X (which consumes 20% less power compared to the existing DDR4) should grow at the fastest pace over other mobile DRAM products. The LPDDR4X market is dominated by Samsung which mass produces 18nm products and Hynix which mass produces 21nm. Both companies, specializing in 4GB and 6GB products, look set to enjoy Chinese demand exclusively by adding LPDDR4X eMCP to their lineups in 2Q. Currently, LPDDR4X chips have a price premium of 0.6% compared to LPDDR4 with the same specifications. The prices of LPDDR3 chips are also stabilizing since the use of mobile DRAM has been extended to ultrabooks, wearables, and IOT products which used to be based on PC DRAM and consumer DRAM. Meanwhile, we forecast the price of eMMC to grow over 3% QoQ in 2Q.
After visiting Taiwanese supply chain, we now estimate the prices of PC DRAM will increase 3% QoQ, mobile DRAM 2-3% QoQ, and server DRAM 3-8% QoQ. In 4Q, PC DRAM prices will likely remain flat QoQ, but mobile DRAM prices should rise further. As for NAND prices, we expect to see an increase of less than 5% in 3Q, but in 4Q uncertainties will loom as Samsung's Pyeongtaek fab comes on line. Meanwhile, the portion of 64GB eMMC will likely exceed the portion of 32GB products from 3Q as Chinese companies' demand escalates.
There are concerns that if the iPhone 8 shipments in 3Q are limited to 3mn units, it would negatively affect memory prices in 3Q. However, Apple's QoQ net-increase in demand generated from its new model is 10mn units in 3Q whereas Chinese firms' net-increase in demand is 30mn units, which we think creates an offsetting effect. We also note that the Apple uses 2GB-3GB mobile DRAM whereas Chinese makers use 4GB-6GB mobile DRAM, another factor that limits iPhone's impact on the DRAM market. As for NAND, iPhone impact should also be limited given the potential delay of capex at Toshiba and supply shortage caused by the industry-wide migration to 3D NAND architecture.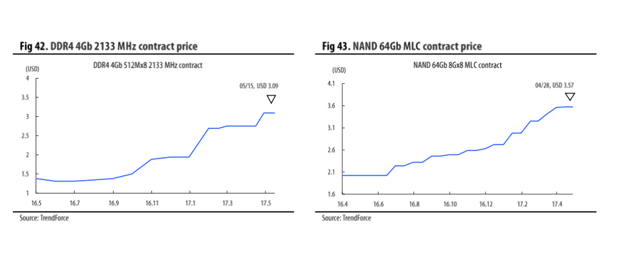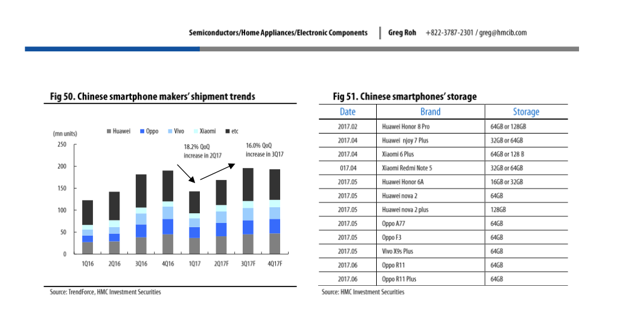 Server DRAM to overtake mobile DRAM in 2021
Although PC DRAM demand is weak, mobile and server DRAM shipments remain strong. Despite the pedestrian growth of smartphone shipments and a sharp rise in DRAM prices, the bit growth of mobile and server DRAM is projected to reach 24.4% and 28.2% in 2017, respectively. Server DRAM demand outlook is brisk, as the majority of market participants including cloud service providers (Google (GOOGL), IBM (IBM), HP (HPQ), Microsoft (MSFT)), e-commerce players (Amazon (AMZN), Alibaba (BABA), finished product makers (Apple (AAPL), Samsung, Huawei), hospitals, and the healthcare industry are moving to build their own data centers and servers. In particular, those who are interested in AI-enabled services are likely to invest in their own servers. The key point to note is that mobile DRAM and eMMC are consumer-oriented products and thus have high price resistance; however, for server DRAM, price resistance is relatively low because it determines the service quality of servers. We believe Samsung's and Hynix's decision to shift some of their mobile DRAM capacity to server DRAM in 2Q is in line with this trend.
Server DRAM, along with SSD for data centers, should drive memory semiconductor demand for the next decade. The biggest reason is that market participants who want to improve the value of all devices and services through deep learning are expected to grow exponentially over time. Against this backdrop, Google has installed a tensor processing unit (TPU) on its own AI server, and demand for Nvidia's (NVDA) GPU is growing exponentially, driven by major data centers. ARM is also making all-out efforts to improve the competitiveness of CPU IP for AI, in which it has a relatively low market share. Demand for server memory is expected to grow as well thanks to solid growth in downstream industries. Mobile DRAM has driven demand for the past seven years, but going forward, server DRAM should emerge as a key growth driver. In our view, by 2021 server DRAM shipments will have overtaken mobile DRAM shipments. From 2020 in particular, the spread of the 5G mobile communication service worldwide should lead to massive data transmission/reception between servers and terminals. Accordingly, demand for 3D NAND for data centers should surge. We expect Samsung to be able to distance second-tier companies further, by upgrading the performance of its fourth-generation 64-layer V-NAND flash chip.

Turning into a formidable data center memory producer
1) Investment highlights
We maintain BUY on SK Hynix and adjust up our six-month-forward target price from KRW69,000 (1.6x 2017F BPS) to KRW74,000 (the average of 1.6x 2017F BPS and 6x 2017F EPS). We expect Hynix's 2Q consolidated revenue and operating profit to beat our previous forecasts by 1.9% and 10.2% to come in at KRW6.7tn and KRW3tn, respectively, driven by sharper-than-expected DRAM price hikes. In 2Q, Hynix met market demand more flexibly by increasing the capacity for server DRAM toward which price resistance is low. It also appears that the company has obtained client approvals for its 48-layer TLC 3D NAND flash for eMMC and SSDs used in client PCs. Hynix is slated to supply 48-layer 3D NAND eMMC to its US strategic client in 2H, which should help strengthen its presence in the smartphone embedded memory market. Furthermore, if it succeeds in developing 72-layer 3D NAND flash in 2H, any uncertainties there might have been over the company's 3D NAND technology would quickly dissipate. As for 3Q, we believe QoQ growth momentum will sustain, with escalating DRAM and NAND prices bolstering revenue and operating profit by 9.9% and 9.7% QoQ to KRW7.4tn and KRW3.3tn, respectively.
2) Major issues and earnings outlook
Hynix has upped the proportion of LPDDR4X to increase its market share within the strategic client. It appears that the company is responding flexibly to market demand by transforming its mobile DRAM capacity into server DRAM capacity. Hynix is the world's second-biggest producer of server DRAM and we expect its sales volume to grow further, led by data centers. If Hynix gains competitiveness in 3D NAND enterprise SSD, that will help it to satisfy the swelling demand from data centers, and Hynix shares would be able to re-rate further. In 2018, we expect DRAM and NAND prices to come off from the peak but believe operating profit will still grow 7.1% YoY to KRW13tn thanks to efficient cost controls.
3) Share price outlook and valuation
We maintain our view that a buy-and-hold strategy is a sound idea given the robust momentum of memory prices.
1) Investment highlights
We maintain BUY on Samsung Electro-Mechanics (SEMCO) and raise our six-month-forward target price from KRW85,000 (1.6x 2017F BPS) to KRW120,000 (2.1x 2017F BPS). We expect SEMCO's 2Q results to be in line with our forecasts, with increased Galaxy S8 shipments nudging up consolidated revenue to KRW1.7tn and operating profit to KRW74.7bn. While the market's expectations are growing even further, we do not expect 2Q results to beat the consensus after a review of the Galaxy S8's June sell-in shipments. However, we believe 3Q will enjoy a visible earnings turnaround in light of growing dual camera module demand for the Galaxy Note 8, increased shipments by Chinese strategic clients, and stronger demand for high-capacitance MLCC from the US strategic client. We expect 3Q revenue and operating profit to exceed consensus by jumping 17.4% and 53.9% QoQ to KRW2tn and KRW115bn, respectively. So far, we have highlighted the following as the company's key investment points: 1) earnings growth of the DM division driven by rising dual camera sales; and 2) turnaround of the ACI division through higher sales of panel level package (PLP) and substrate-like PCB (SLP). However, our visits to several Japanese passive component manufacturers lead us to believe that Japanese passive parts makers' increased focus on automotive electronics has squeezed the supply of high-capacitance MLCC for smartphones, which is likely to provide new momentum for passive components. In particular, with passive components, it is important to note that raw material costs account for roughly 20% of the total manufacturing cost; thus, higher price tags swiftly translate into higher margins.
2) Major issues and earnings outlook
SEMCO's client portfolio is expanding not only for smartphone MLCC but for automotive MLCC. The synergy effects coming from the collaborations with Harman are also increasing. If MLCC applications expand further to include powertrains, SEMCO's earnings should grow considerably. We expect SEMCO to utilize its Busan plant as a base for automotive MLCC production.
3) Share price outlook and valuation
We advise a buy-and-hold strategy as we see the upcycle of MLCC to have just begun.
Disclosure: I/we have no positions in any stocks mentioned, and no plans to initiate any positions within the next 72 hours.
I wrote this article myself, and it expresses my own opinions. I am not receiving compensation for it (other than from Seeking Alpha). I have no business relationship with any company whose stock is mentioned in this article.
Editor's Note: This article discusses one or more securities that do not trade on a major U.S. exchange. Please be aware of the risks associated with these stocks.