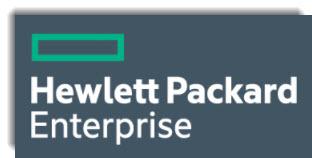 Quick Take
IT giant Hewlett Packard Enterprise (HPE) has participated in a $22 million funding round for DevOps technology company Platform9.
Platform9 has created an application suite that assists open-source developers in deploying and managing applications across all types of computing environments.
The deal gives HPE an inside track in partnering with and potentially acquiring Platform9 as it continues its growth trajectory in open-source DevOps markets.
Investee Company
Sunnyvale, California-based Platform9 was founded in 2013 to make deploying complex, hybrid cloud environments easier using open-source frameworks.
Management is headed by co-founder and CEO Sirish Raghuram, who has previously held engineering and management roles at VMware (VMW).
Below is a brief keynote video about Platform9's OpenStack Omni hybrid cloud management system:
(Source: Platform9 Systems)
Platform9 has developed the ability to provide 'OpenStack and Kubernetes as SaaS managed solutions', enabling companies to run testing and production workloads across internal data centers and public cloud environments.
The company counts partners from major hardware companies, public cloud providers including the 'big three' of Amazon (AMZN), Microsoft (MSFT) and Google (GGOG), virtualization platforms and resellers.
Platform9 has raised a total of $36.5 million to-date, and investors in the current $22 million round were led by active Enterprise IT firm Canvas Ventures and included other VC firms Redpoint Ventures and Menlo Ventures.
Investment Terms and Rationale
The amount of HPE's investment within the $22 million round isn't known, nor is the valuation of the investment.
Prior to the deal, HPE was listed as a 'hardware' partner to Platform9, so the two companies had a preexisting relationship.
Platform9's system essentially allows open-source developers to 'decouple' their cloud configurations from hardware, OS platforms or public cloud providers.
This simplifies the process of developing, deploying, and managing open-source applications in an increasingly complex hybrid cloud environment, as middle market and large enterprises transition from siloed private clouds into public, lower cost cloud environments.
As lead investor Gary Little of Canvas Ventures highlighted,
Enterprises know they have to move to the cloud sooner or later. But getting there is no small feat. Platform9 simplifies the challenge, helping companies migrate to cloud computing more quickly and cost effectively than any other solution. It also helps customers avoid being locked into a single cloud provider. That's something that resonates with chief technology officers across industries.
Platform9 is showing traction in the marketplace, with over 200 clouds managed by its service and customer base growth of 360% vs. 2016.
HPE has made numerous investments in the Enterprise IT space, as the Excel spreadsheet below shows:
HewlettPackardVentures_Investments.xlsx
(Source: VentureDeal)
Corporate investors such as HPE invest in startups for a variety of reasons.
HPE has noticed this growth and wants an inside track with the company, to learn more about how Platform9 is succeeding and potentially to position itself in first place in the event of an acquisition opportunity.
HPE has been busy on the acquisition front, focusing its efforts on companies that operate in the enterprise cloud IT, storage, and security sectors: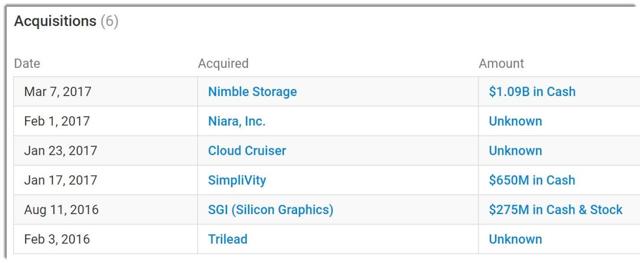 (Source: Crunchbase)
With a once-in-a-generation enterprise transition to the cloud underway, I expect more investments and acquisitions as HPE moves to compete against industry rivals.
I write about M&A deals, public company investments in technology startups, and IPOs. Click the Follow button next to my name at the top or bottom of this article if you want to receive future articles automatically.

Supporting Documents
Disclosure: I/we have no positions in any stocks mentioned, and no plans to initiate any positions within the next 72 hours.
I wrote this article myself, and it expresses my own opinions. I am not receiving compensation for it (other than from Seeking Alpha). I have no business relationship with any company whose stock is mentioned in this article.